This Cheesy Broccoli, Chicken and Rice Bowls recipe is easy to make for lunch meal prep or weeknight dinners, it is tossed with a lightened-up cheddar cheese sauce, and it's totally comforting and delicious! (This post contains affiliate links.)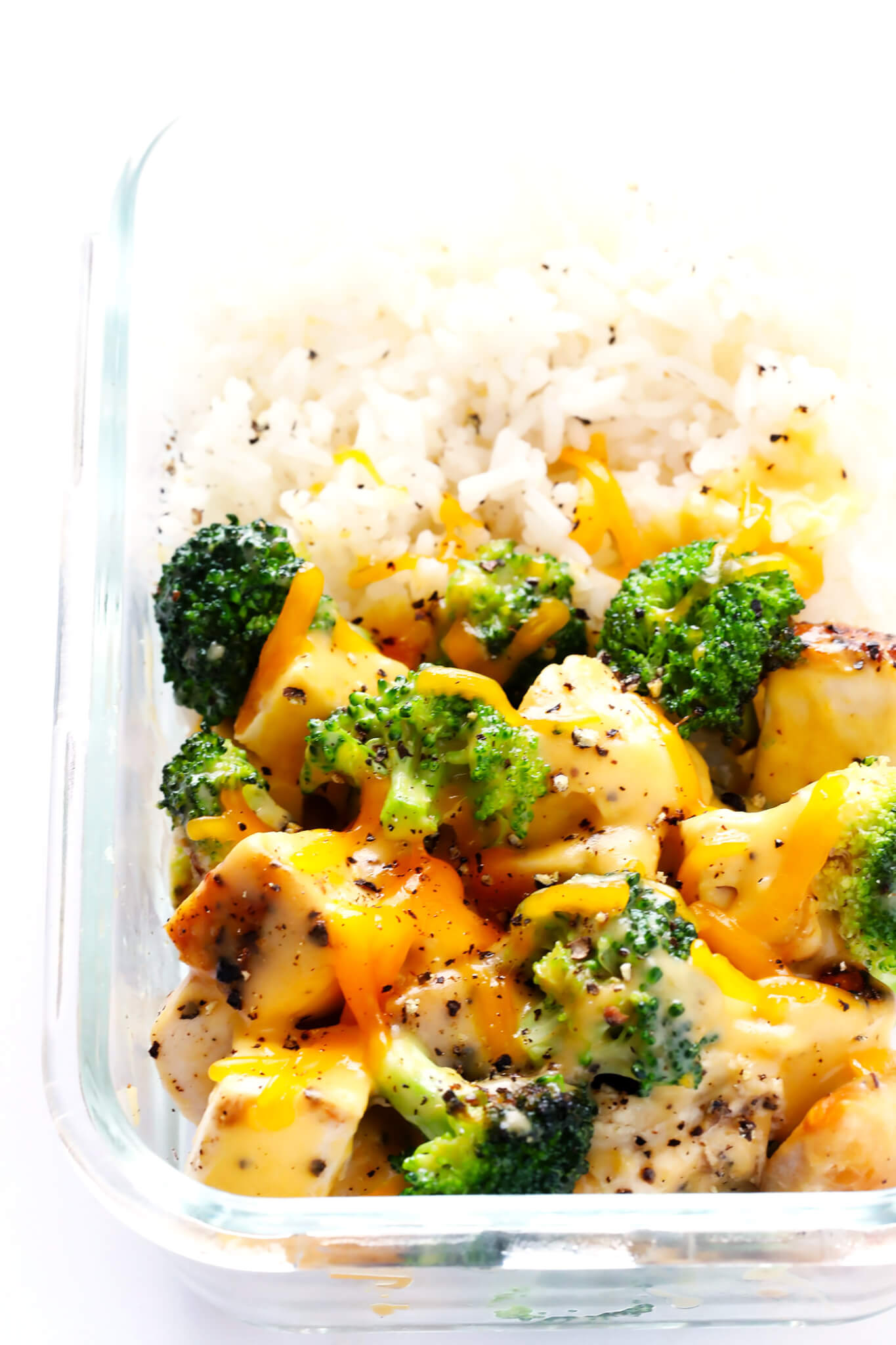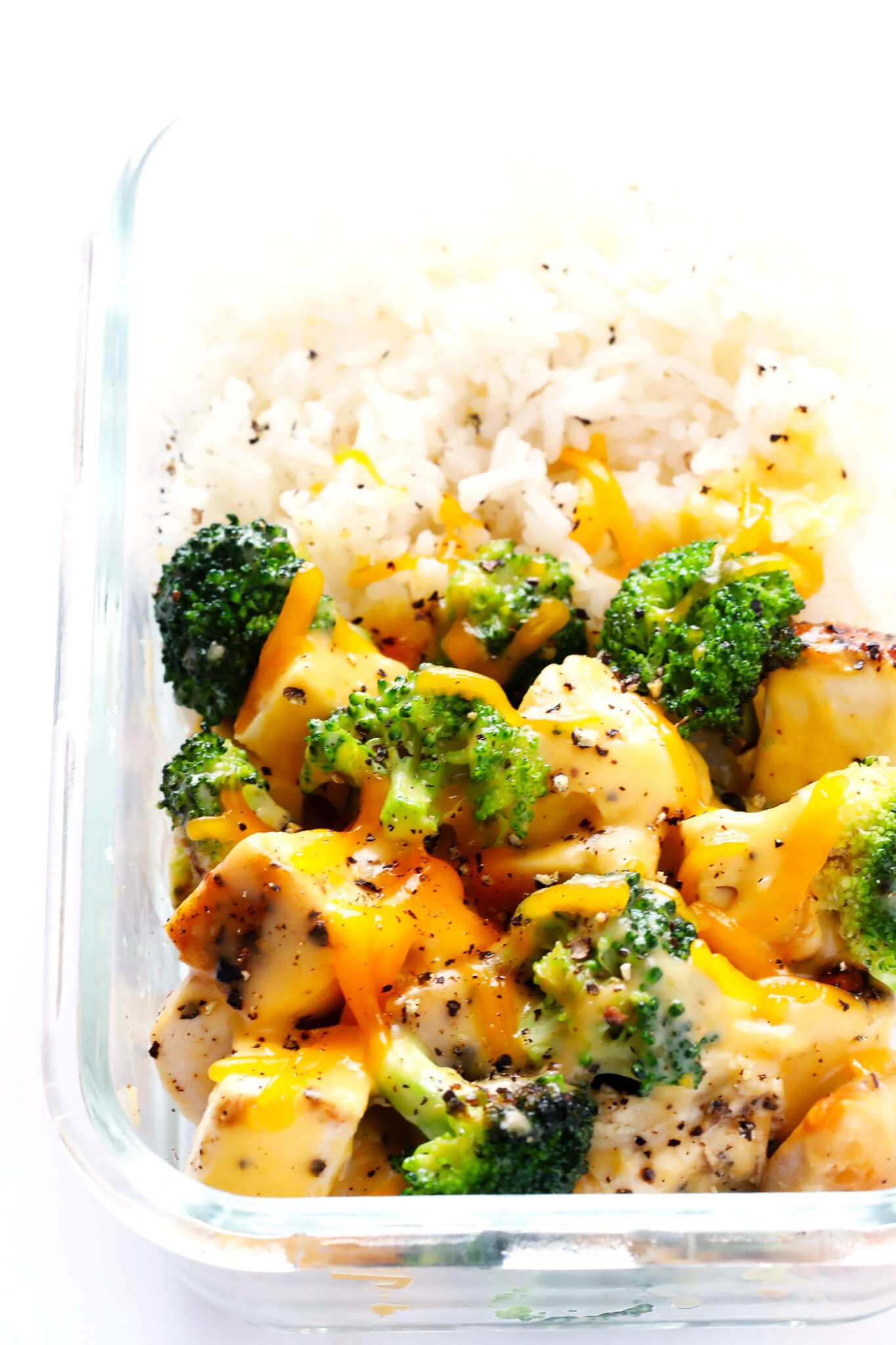 Happy Monday, guys!
First off, I just wanted to say thanks for sticking with me through all of last week's posts (and approximately 1.2 million photos) about our wedding. I know that many of you guys have been following along here since my not-so-long-ago single days, and it meant so much to me to be able to share this new season of life with you as well. So for all of you who tuned in, and for all of you who left such awesome and kind comments, thank you.  I read every single one, and am so thankful — for the thousandth time — for how the internet has brought us all together, especially during times in life that mean so much. Your presence here means the world to me. ?
Also, can we just talk about the fact that summer has somehow flown by, and so many of your kiddos are heading back to school this month?! Even if you're like me and don't have young ones at home, it still feels like we're reached that summer tipping point and a new season is officially beginning…which is wild. I feel like I was just unpacking my summer sundresses and flip-flops like a month ago. ?
Still, I have to admit that I'm already getting excited about fall baking and soup season and cozy warm food days ahead. And on a chilly day last week, I even found myself craving some old-school casserole loaded up with cheesy broccoli and chicken. It still seemed a little too summery out to heat up the oven. So instead, I decided to sauté up some juicy chicken and tender broccoli, toss them all with a (lighter!) garlicky cheddar cheese sauce, and then portion them up with rice (or quinoa) in single servings for meal prep throughout the week. And maybe I will just always be a casserole-loving-Midwesterner at heart, but I've gotta say…these delicious bowls absolutely hit the spot.
And if you're looking for a quick stovetop dinner, or some meal prep ideas for the back-to-school season, I feel like you all just might love this one too.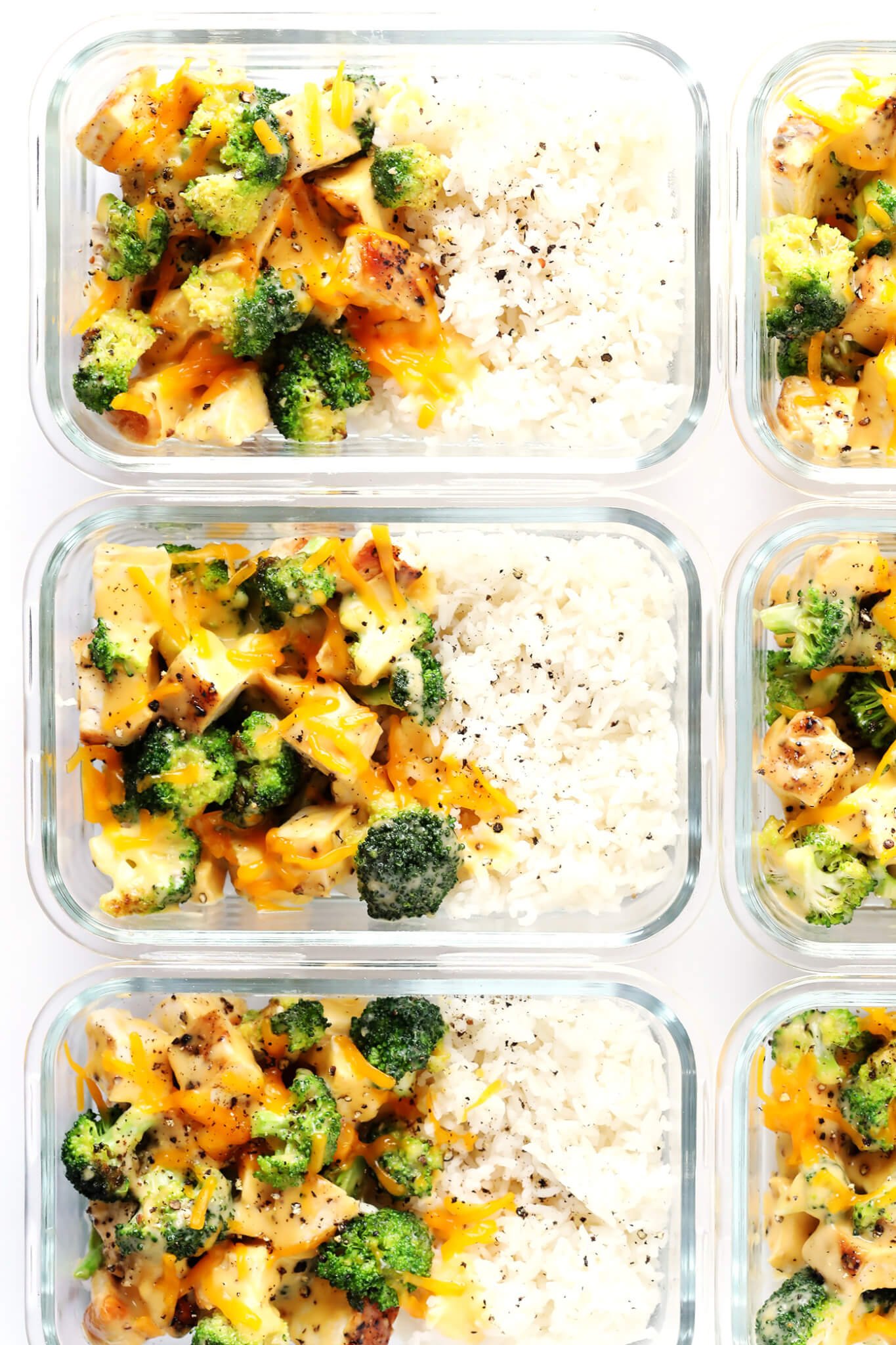 The two main ingredients for this retro recipe?
You guessed it. Chicken + broccoli.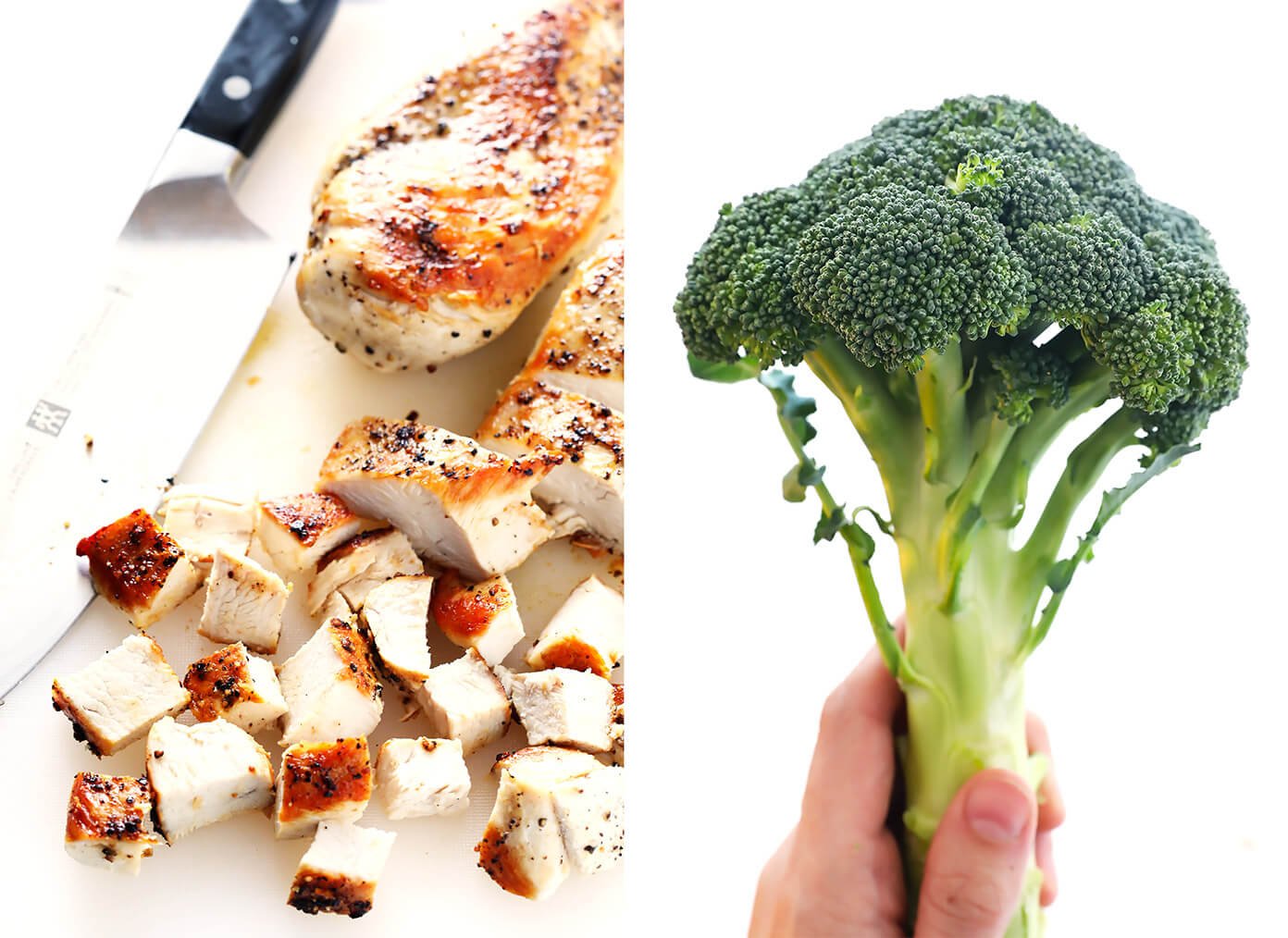 Feel free to cook them however you'd like. You could either roast them together in the oven. Or do what I did, and just sauté the chicken in a skillet until it is crispy and browned on the outside, and cooked through and juicy on the inside. Then follow that up with some fresh broccoli, cooking it until it is vivid and crisp-tender. (Meanwhile, cooking some rice or quinoa on the side. I made mine in a rice cooker.)
Then — either in the same skillet (if you want to only wash one pan) or in a separate saucepan (if you want to multi-task and save time) — whip up a quick garlicky cheddar cheese sauce per the directions below.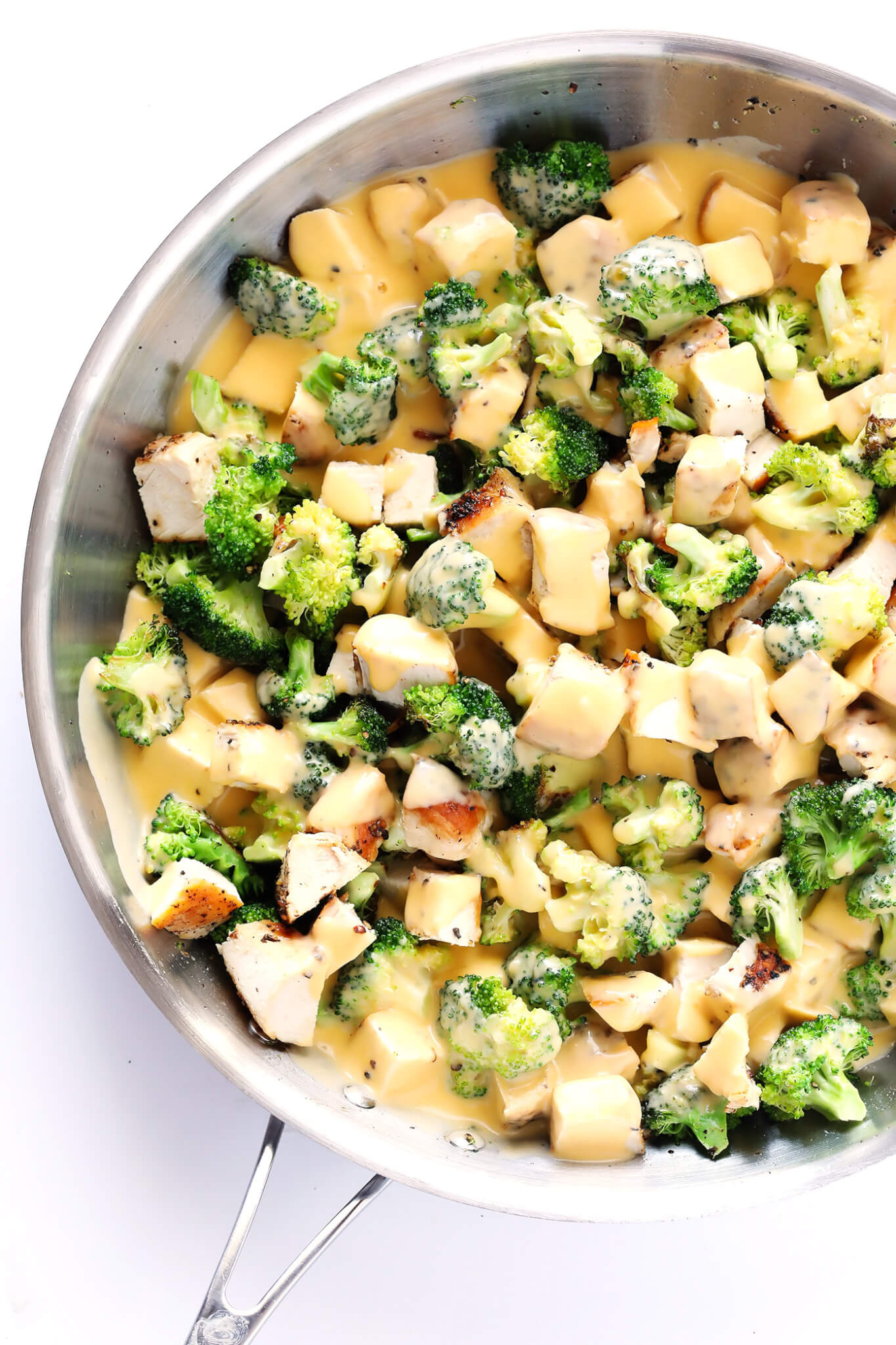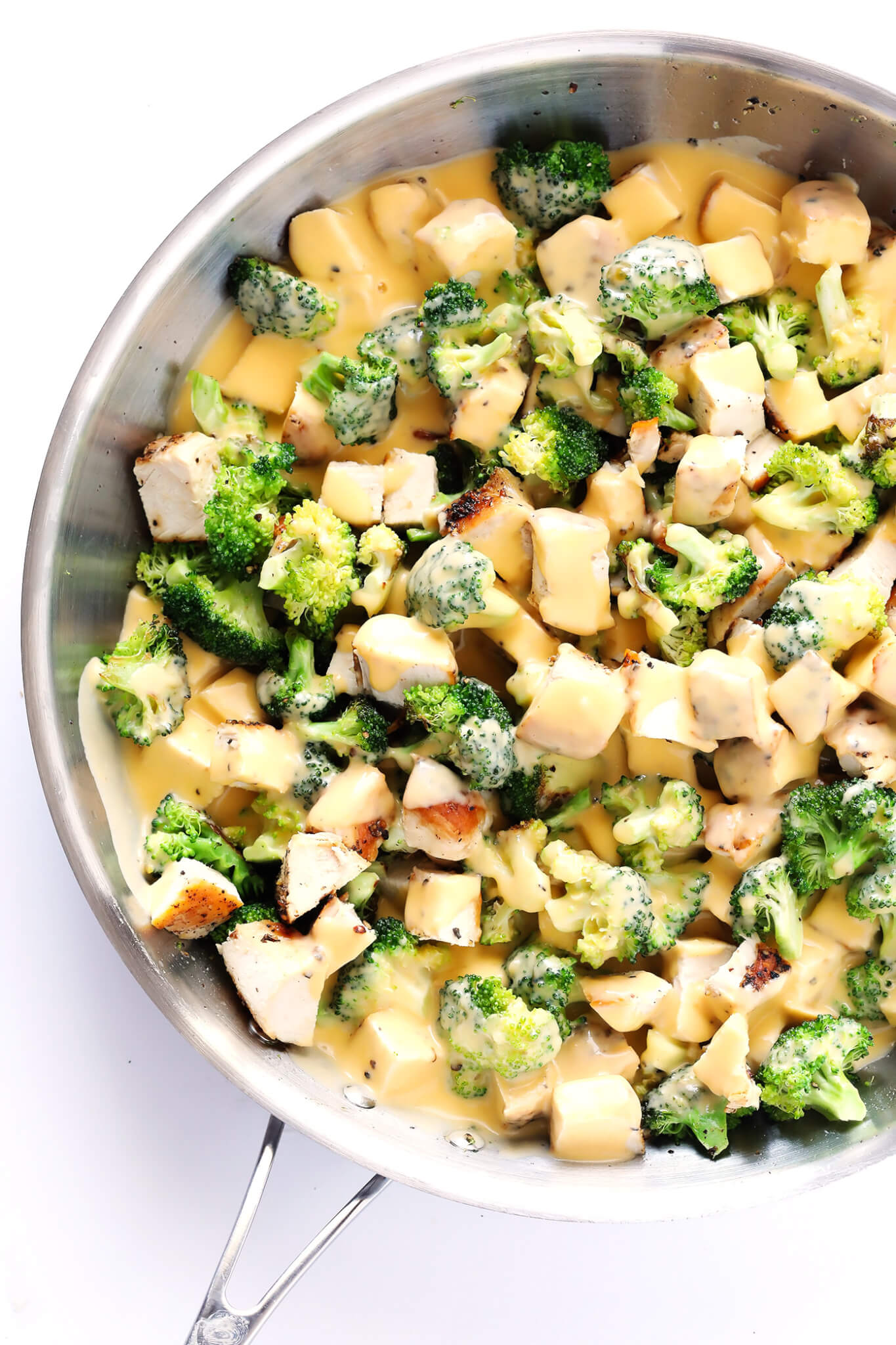 Then toss the cooked chicken and broccoli with the cheese sauce, and serve it up immediately over your rice. OR, you can portion it out into 6 little individual food storage containers if you want an easy meal prep for the week ahead. I topped mine with some extra cheddar cheese while they were still warm, so that it added a nice melty cheesy layer on top. (And even still, that only yields you a little over 1/4 cup shredded cheese per serving thanks to that lighter cheese sauce!)
The result?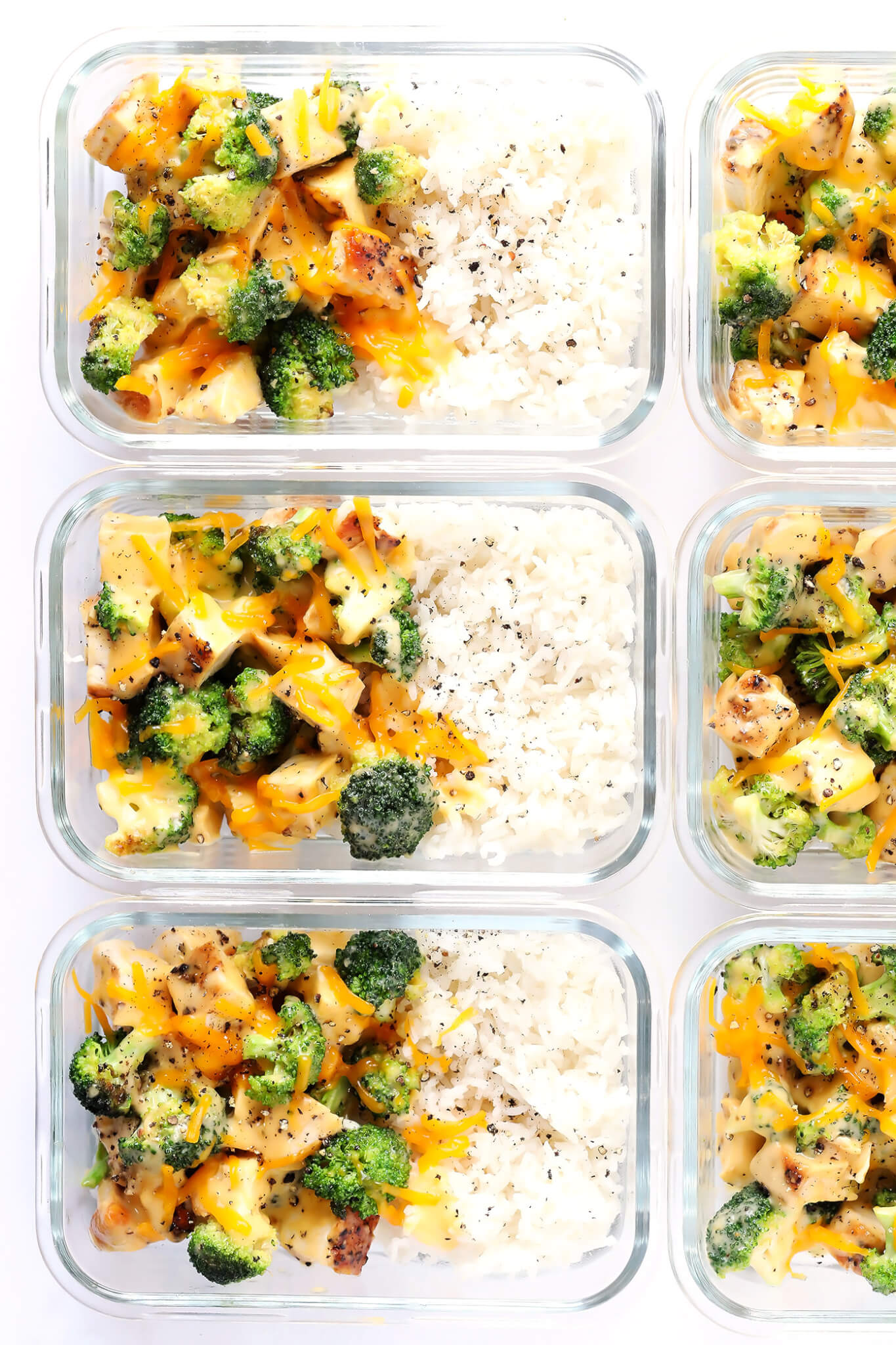 The most flavorful, comforting, savory, creamy, cheesy, delicious meal bowls around. Perfect for this season, or anytime you're craving some lightened-up comfort food.
Enjoy, everyone!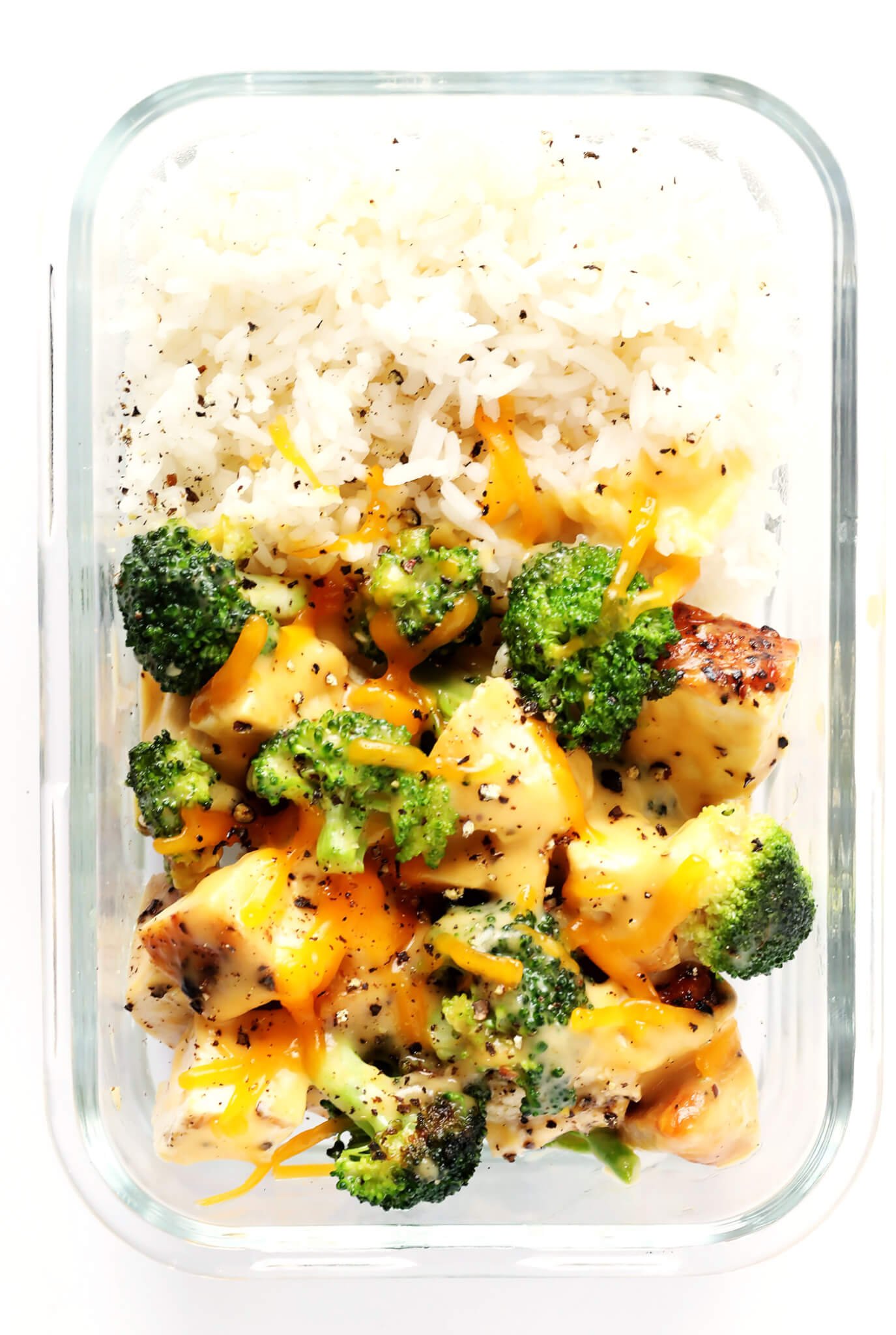 How To Cut Broccoli | 1-Minute Video
Print

Cheesy Broccoli, Chicken and Rice Bowls (Meal Prep)

Prep Time: 25 minutes


Cook Time: 20 minutes


Total Time: 45 minutes


Yield: 6 –8 servings 1x
---
Description
This Cheesy Broccoli, Chicken and Rice Bowls recipe is easy to make for lunch meal prep or weeknight dinners, it is tossed with a lightened-up cheddar cheese sauce, and it's totally comforting and delicious!
---
Meal Prep Bowls Ingredients:
1.5

pounds boneless skinless chicken breasts

Kosher salt and freshly-cracked black pepper

2 tablespoons

olive oil, divided

2

heads broccoli, cut into bite-sized florets

1

batch cheddar cheese sauce (see below)

3 cups

cooked rice or quinoa

extra shredded cheddar cheese*, for topping
Cheddar Cheese Sauce:
1 tablespoon

butter

2

cloves garlic, pressed or minced

2 tablespoons

 flour

1/2 cup

chicken or vegetable stock

1/2 cup

warmed milk

¼ teaspoon

pepper

⅛ teaspoon

salt

1 cup

(4 ounces) shredded sharp cheddar cheese*
---
Instructions
To Make The Meal Prep Bowls:
To Make The Chicken: Season the chicken breasts on both sides with salt and pepper.  Heat 1 tablespoon olive oil in a large sauté pan over medium-high heat.  Cook chicken for 4-5 minutes per side, or until the chicken is no longer pink on the inside (and registers 165°F with a meat thermometer).  Transfer the chicken to a plate and let it rest for at least 5 minutes before dicing into bite-sized pieces.

To Make The Broccoli: Heat the remaining 1 tablespoon olive oil in the same sauté pan.  Add the broccoli and season with salt and pepper, tossing to combine.  Sauté for 4-5 minutes, stirring occasionally, until the broccoli is cooked and tender, but still slightly crispy.  Transfer broccoli to a separate plate, and set aside.

To Make The Cheddar Cheese Sauce: Heat the butter in the same sauté pan (or a separate saucepan) until melted.  Add garlic and sauté for 1-2 minutes or until fragrant, stirring occasionally.  Whisk in the flour until evenly combined and sauté for 1 more minute, stirring occasionally.  Gradually add in the stock, whisking to combine.  Then add in the milk, pepper and salt, and whisk together until smooth.  Continue cooking until the mixture reaches a simmer and thickens.  Then stir in the shredded cheese, and stir until melted.  Remove from heat and use immediately.

To Assemble: Toss the cooked chicken and broccoli with the cheese sauce until evenly combined.  Serve immediately over rice.  Or portion the mixture evenly into food storage containers along with the rice, garnishing with an extra sprinkle of shredded cheese and pepper.  Refrigerate in sealed containers for up to 4 days.
---
Notes
*I recommend purchasing a block of cheddar cheese and grating it yourself, rather than buying a pre-shredded bag of cheese.  The pre-shredded cheese usually contains a coating that prevents the cheese from melting quite as smoothly.