This Chai Eggnog recipe is lightened up a bit, quick and easy to prepare, and simmered with vanilla and chai tea bags for an extra delicious kick. Feel free to spike your eggnog with a pour of bourbon, rum or brandy if you'd like.
As much as we're loving learning about all of the new holiday traditions here in Spain this year, I've gotta say, being away from home has given us a new appreciation for how stellar our traditions are back home in the States.
Especially when it comes to food.
Like, truly. We were just talking the other day about how crazy it feels to not be tempted here by Christmas cookies and treats popping up everywhere you go during the month of December. (Cookies just aren't a big deal here around the holidays.)  Also, candy canes and peppermints here are noticeably absent on everything. (Even in those famous red cups at Starbucks!)  And we still have yet to run across hot apple cider anywhere in Barcelona. (Good think I know a good homemade recipe…)
HOWEVER. I must say that we do feel right at home here when it comes to other cozy, comforting holiday drinks. Case in point — we've already been invited to three mulled wine holiday gatherings with friends. (Or vino de Navidad, as they call it here.)   People here in Barcelona also take their hot chocolate very, very seriously. (And will always be sure to casually slip into conversation that Spain takes the credit for introducing chocolate to Europe.)  And brewing a quick cup of espresso here with friends 24/7 is just a given.
But there is one remaining holiday drink we've been missing that here that we decided to just whip up ourselves before setting out for an evening of Christmas light hunting last week:
Classic eggnog. ? ? ?
Better yet…classic eggnog lightened-up a bit (or even made vegan, if you'd like). And simmered with vanilla and chai tea bags for some extra cozy spices. And spiked with a generous pour of bourbon or rum or brandy, if you're feeling extra festive. And served up stat in your home this season, wherever in the world the holidays may find you. ?
Chai Eggnog Recipe | 1-Minute Video
Alright, let's talk ingredients here…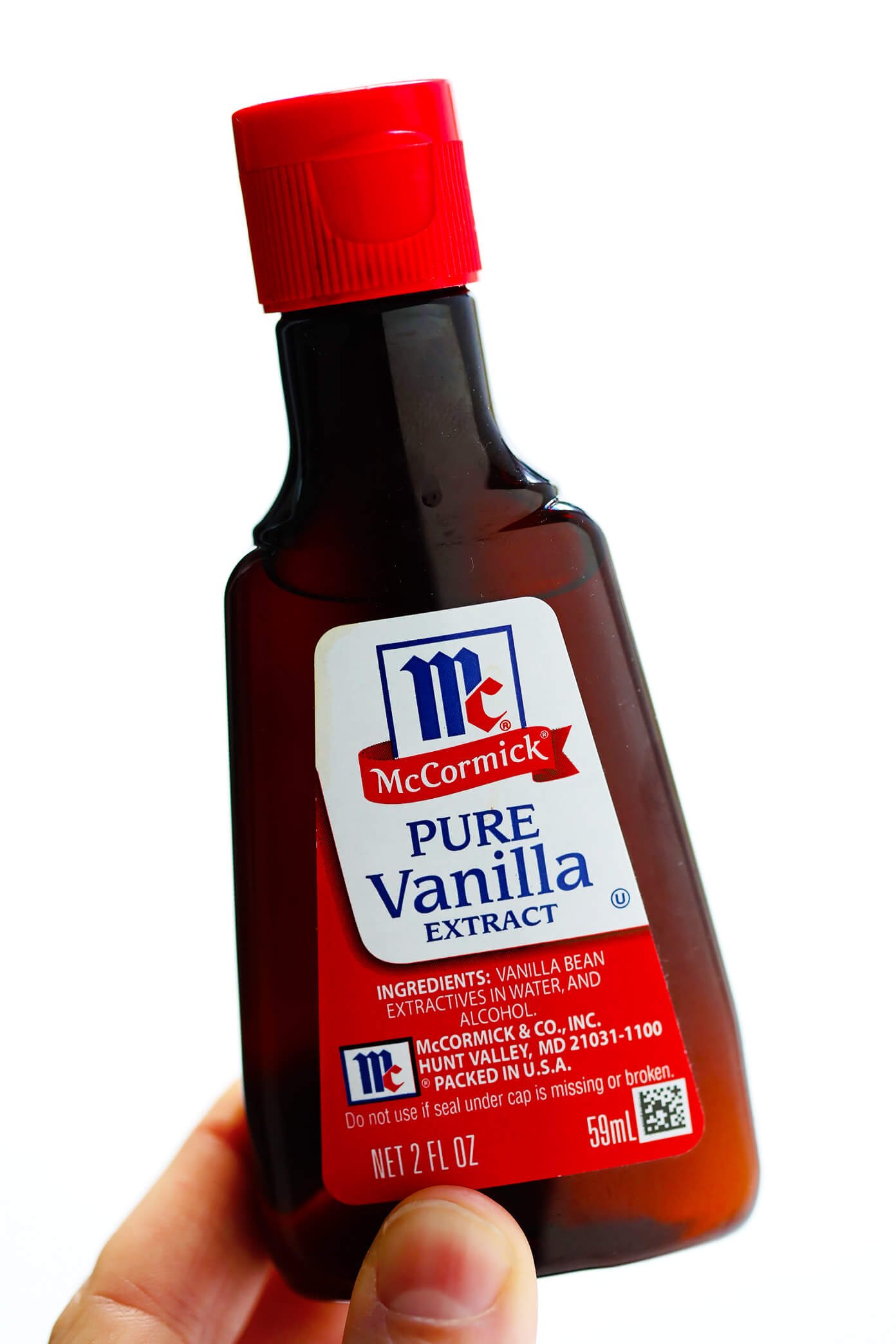 First, vanilla extract. Good vanilla is essential when it comes to good eggnog, and McCormick has been my go-to extract for years and years. (And it has been fun to see it in stores here in Spain too!)  Plus, vanilla pairs beautifully with chai spices, so I've added a good amount to this recipe.
Second, chai. For simplicity's sake, I just used some chai tea bags to spice this eggnog, and they worked like a charm. But if you don't have access to chai bag, you're welcome to use 2-3 tablespoons (to taste) of my homemade chai concentrate, if you'd like.
Third, eggs.  Traditionally, eggs are the starring ingredient in eggnog. But if you happen to be vegan, or just aren't that into a drink full of eggs, check out the option below for cashew blend instead. I also skipped the step of whipping the egg whites and adding them back in, and also cut down a bit on the number of yolks included in traditional eggnog, to make the drink a bit easier and lighter. (Traditional eggnog is usually way too rich and heavy for my taste.)
Fourth, milks. I also swapped in coconut milk and almond milk, in place of traditional cream and whole milk, to lighten things up a bit and make this recipe dairy-free. Feel free to use any milks that you prefer in this recipe, though. It's very versatile.
Finally, maple syrup.  I chose to use maple syrup as my sweetener of choice here, but just about any (i.e. honey, various kinds of sugar, etc.) will do. Feel free to add more/less to taste.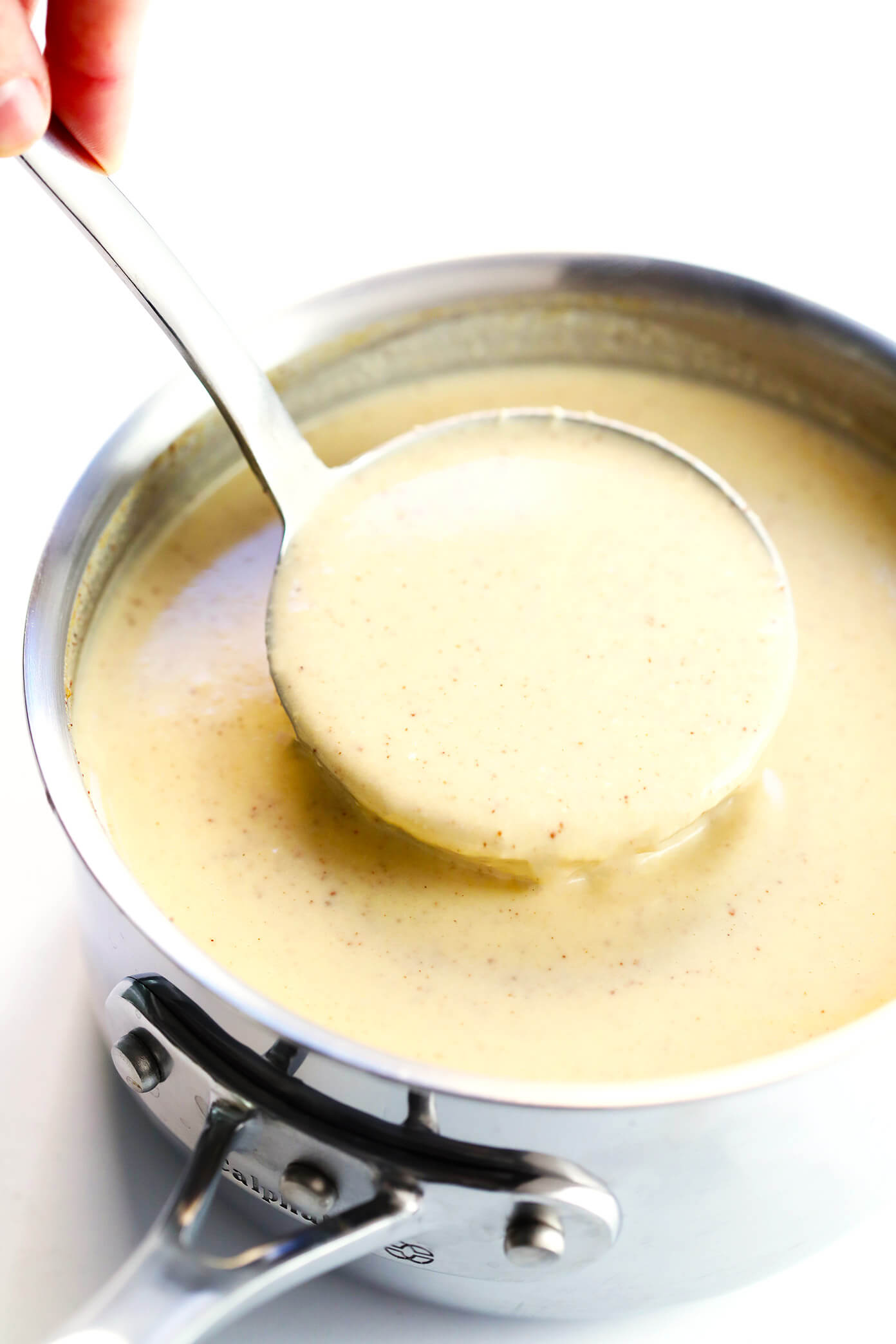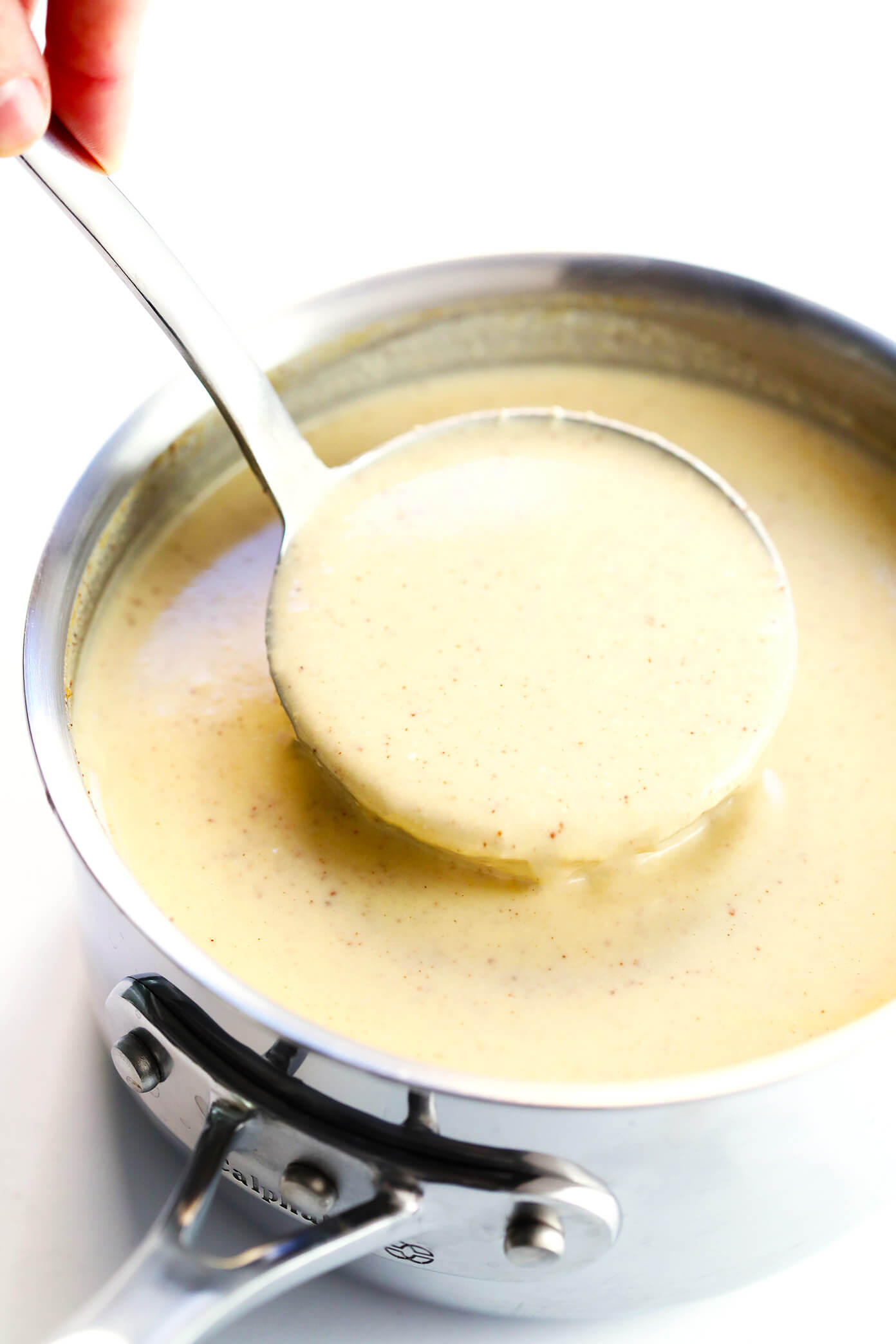 The other good news with this recipe is that there are no blenders or mixers required! Simply add your milks, sweetener, egg yolks, cinnamon and salt to a saucepan, and give the mixture a good whisk by hand. Heat until simmering. Then steep the chai tea bags in the mixture for a few minutes, and add the vanilla.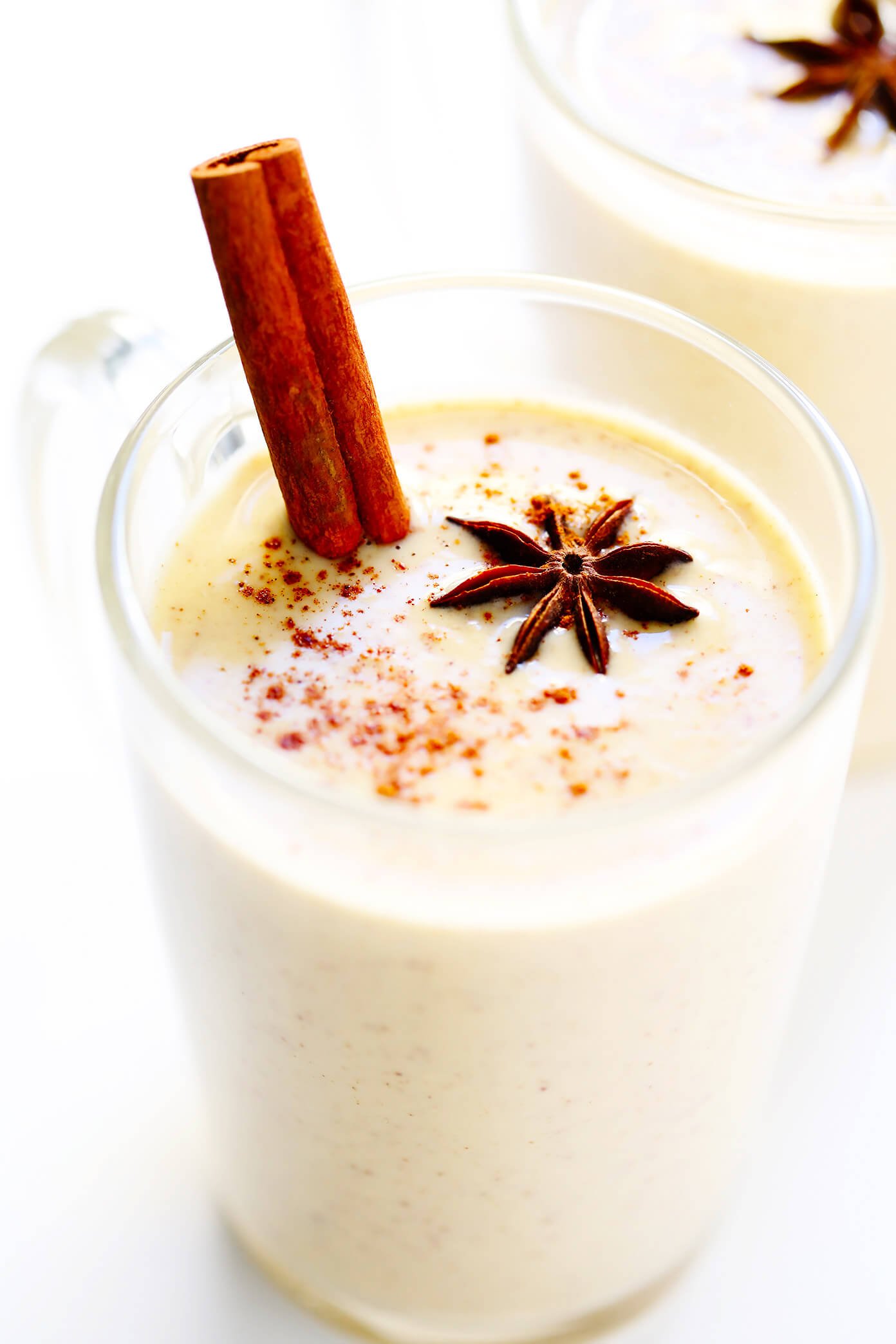 Then this creamy, flavorful goodness will be ready to dish up and enjoy warm, or chill for awhile and serve cold, your choice!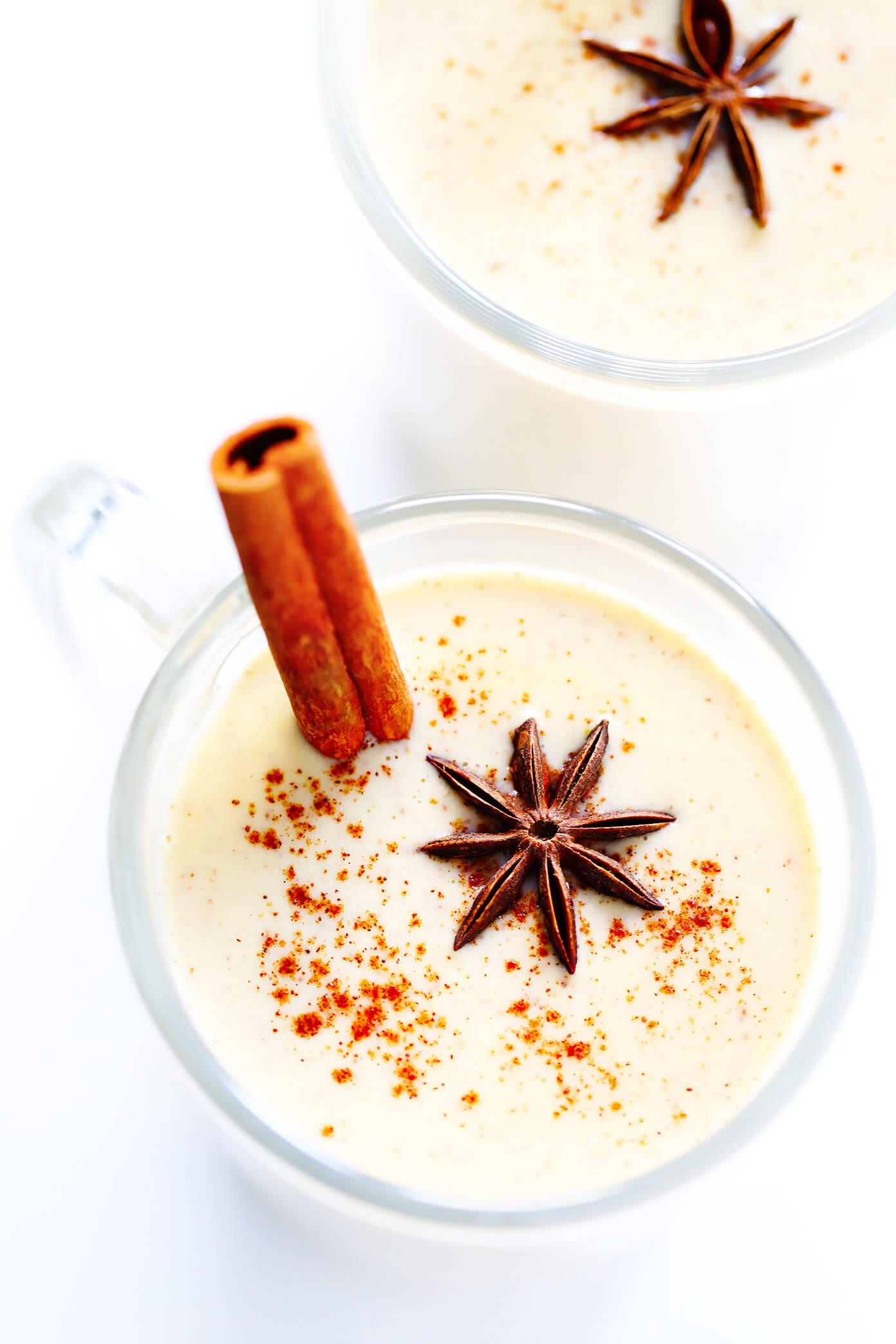 I will say that this recipe tastes even better the second and third day, so feel free to whip up a batch in advance, if you have the time. And of course, an extra pour of bourbon, rum or brandy will always kick your eggnog up a delicious notch too.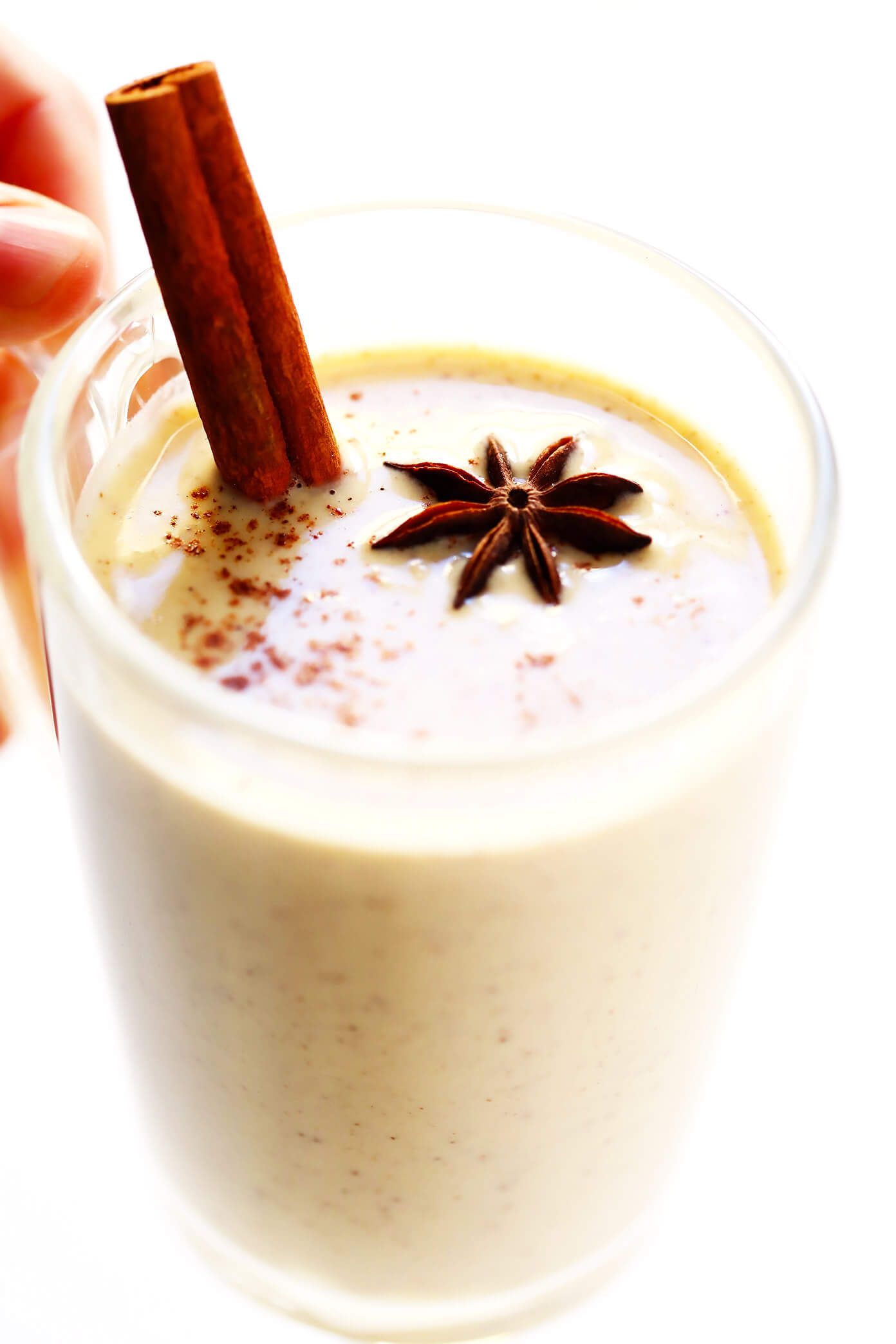 So simmer yourself up a batch! And also, if you're looking for more holiday baking and cooking (and eggnog) inspo this season, be sure to check out the #NoFlavorLikeHome hashtag. Lots of deliciousness, plus a chance to win a goody bag from McCormick for yourself (details here).
Cheers, friends!
Print

Chai Eggnog

Prep Time: 5 minutes


Cook Time: 20 minutes


Total Time: 25 minutes


Yield: 4 servings 1x
---
Description
This Chai Eggnog recipe is lightened up a bit, quick and easy to prepare, and simmered with vanilla and chai tea bags for an extra delicious kick.  Feel free to spike your eggnog with a pour of bourbon, rum or brandy if you'd like.
---
1

(15-ounce) can coconut milk

2 cups

almond milk

5

egg yolks

1/3 cup

maple syrup

1/2 teaspoon

 McCormick ground cinnamon

pinch of salt

2

chai tea bags

1 teaspoon

 McCormick vanilla extract

(optional add-ins: bourbon, rum or brandy)
---
Instructions
Combine coconut milk, almond milk, egg yolks, maple syrup, cinnamon and salt in a large saucepan.  Whisk vigorously for 1 minute until completely combined and slightly frothy.

Heat over medium heat until the mixture just barely reaches a simmer (tiny bubbles popping up), stirring occasionally so that the eggs do not cook on the bottom of the pan.  Reduce heat to medium-low.  Add the tea bags and simmer for 3 minutes, stirring occasionally.  Remove and discard the tea bags.  Stir in the vanilla until combined.  Taste, and add extra maple syrup to sweeten, if desired.  And if you would like to spike your eggnog, I recommend adding 1.5 ounces of bourbon, rum, or brandy per cup of eggnog.

Transfer to a heat-safe container and refrigerate for up to 3 days.  Serve chilled.
---