This Catalan Tomato Bread recipe is easy to make with just 5 ingredients and always tastes so fresh and delicious!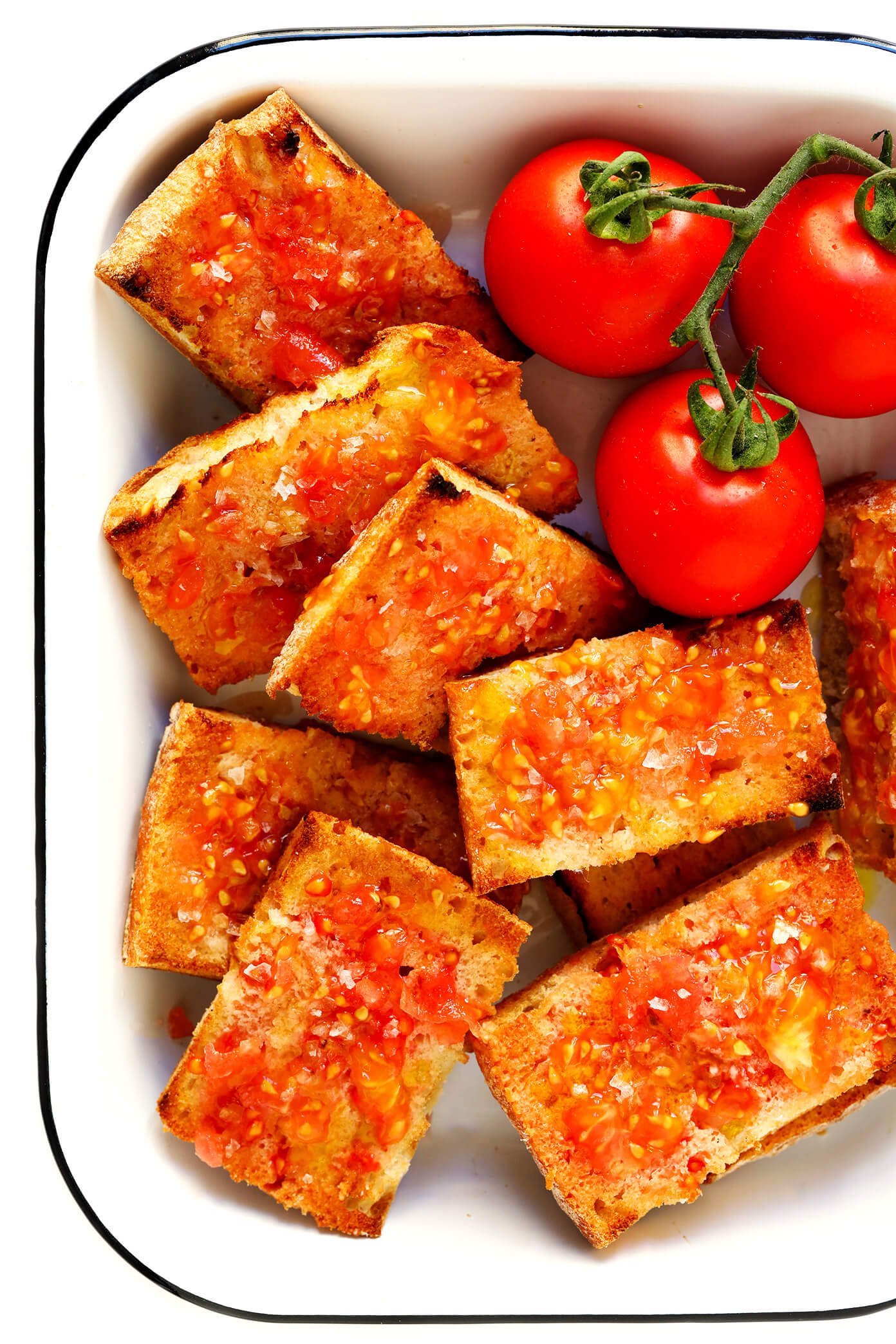 Ever since we moved to Barcelona, I've been getting lots and lots of requests for some authentic tapas recipes here on the blog. So this week, I'm excited to finally share two of my faves with you! Specifically, two of my Catalan faves, beginning with probably the most famous tapa in all of Catalonia…
…tomato bread. ♡
Or as its called in Catalan, pa amb tomàquet. Or in Spanish, pan con tomate.
If you ever come to Barcelona, be prepared to eat your weight in tomato bread because it is served absolutely everywhere here. Whenever we go out for tapas, it's pretty much always the first dish brought out to the table. Whenever we eat at our Catalan friends' houses, there is always a basket of fresh tomatoes and garlic served alongside the bread (never butter!). Whenever our friends from the States come to visit and want to learn an authentic Catalan recipe to bring home with them, we tell them they've gotta start with tomato bread. And I've even gotta say that — after a lifetime of reaching for bread with our butter — both Barclay and I have come to prefer this crispy Catalan tomato bread instead.
It's made with just five easy ingredients — toasted bread, raw garlic, fresh tomatoes, olive oil and sea salt — and it always just tastes so light and fresh and flavorful. And now that fresh tomato season is rolling back around, it's the perfect time to give it a try!
So grab some good-quality bread and let's toast up a batch together. I'm certain you're going to love it!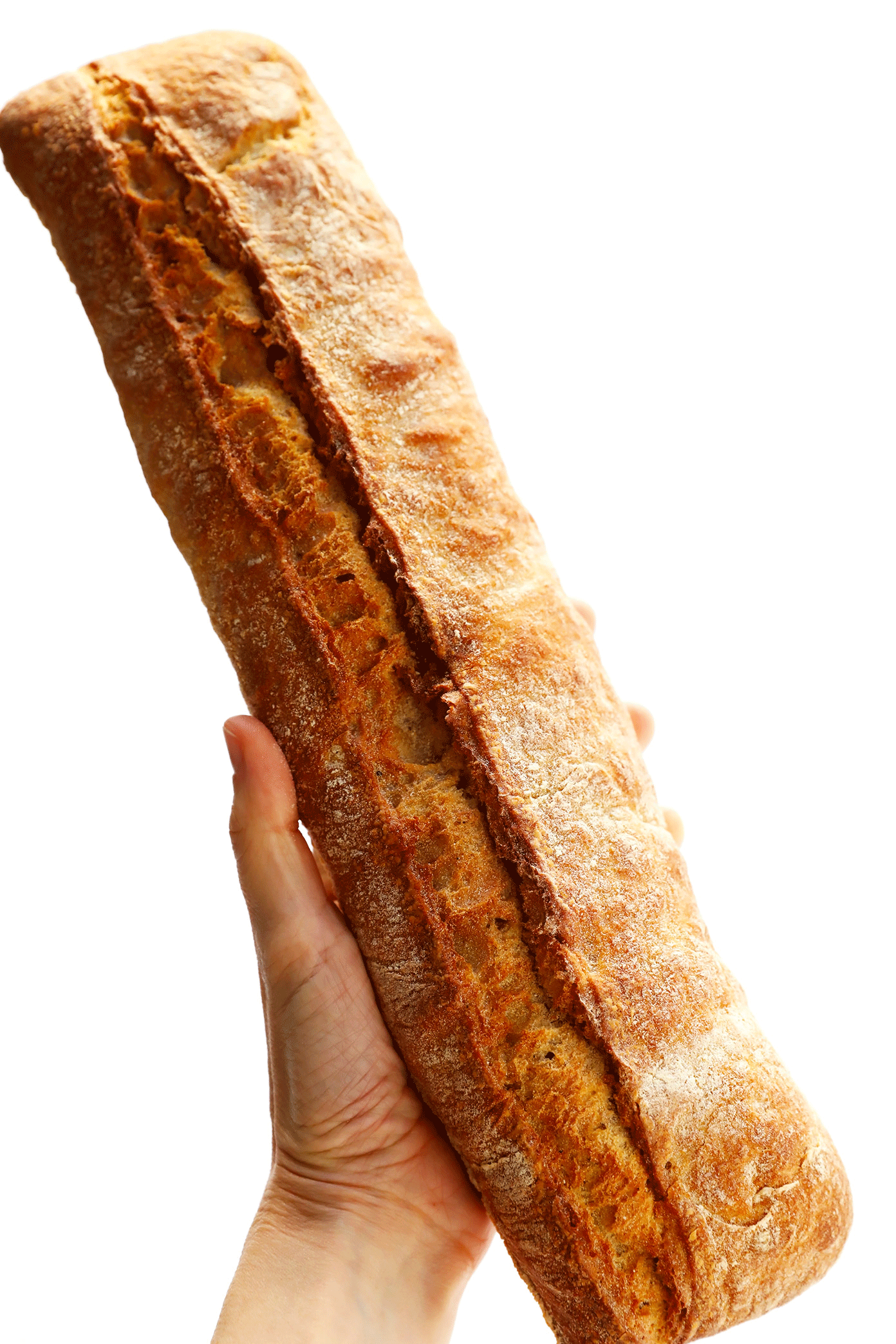 Catalan Tomato Bread Ingredients:
To make Catalan tomato bread, you will need the following ingredients:
Bread: In Catalonia, it is traditional to use coca bread (pictured above), which is kind of like a flat baguette that is then halved, sliced and toasted. But really, any type of bread will do for tomato bread. It's just important that you toast the bread well so that it is nice and crispy on top, which will help the bread to "grate" the garlic.

Garlic: It's traditional to serve tomato bread with large, whole, unpeeled garlic cloves that are sliced in half. This allows you to still get a good grip on the cloves without letting the raw garlic touch your fingers.

Tomatoes: Whatever tomatoes are most ripe and juicy!

Olive oil: Good-quality extra virgin olive oil, for drizzling.

Sea salt: It's typical to serve tomato bread with a normal sea salt grinder. But I really like to use flaky sea salt for a little extra texture and crunch.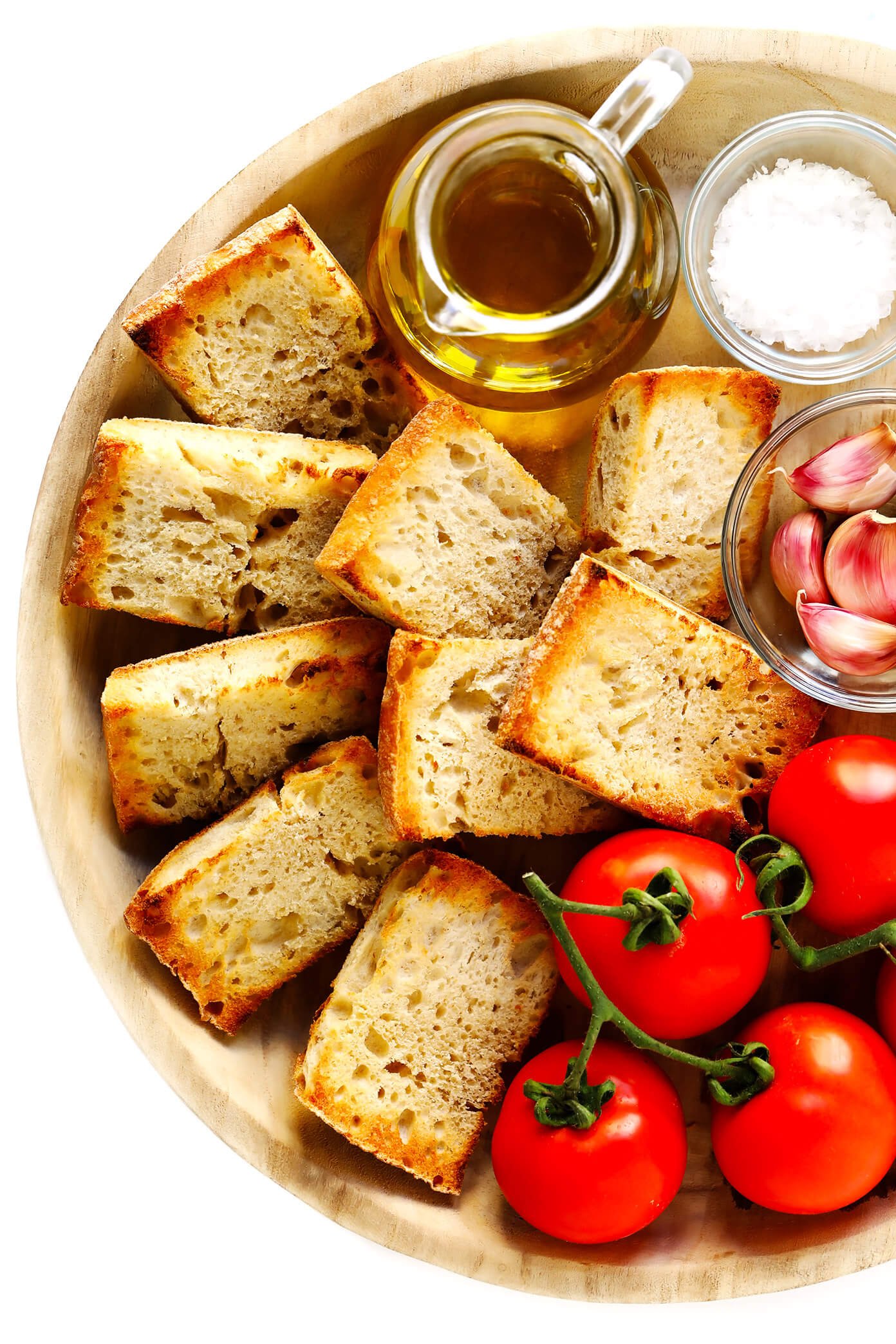 How To Make Tomato Bread:
So here's the fun of tomato bread — you can either prepare it yourself before a meal or (much more fun) serve it DIY-style at the table! Often in Catalonia, restaurants will just bring you a board with all of the five ingredients laid out and then everyone passes it around to prepare a slice or two for themselves. But if you would prefer to prepare it in advance, I just advise waiting until the very last minute to add the tomatoes, since the bread can tend to get soggy if it sits out for too long.
Here's how to make tomato bread (full instructions in the recipe below):
Toast the bread: As mentioned above, it's important that the bread be nice and crispy for the tomatoes and garlic to "grate" well on top of it. So slice the bread nice and thin. Then pop it in the toaster (or you can do a big batch in the oven) until it is nice and toasty and golden.

Rub the garlic. Next, slice an unpeeled garlic clove in half. Then rub the clove all over the surface of the bread. I love the flavor of raw garlic on this bread, so I tend to add a lot here. But heads up — raw garlic is spicy! So if you're not a big fan of garlic, I suggest going light on this step to begin.

Rub the tomato. Next, slice a juicy ripe tomato in half. Then rub the tomato (cut side down) all over the surface of the bread, being sure to squeeze out lots of the rind.

Drizzle the oil. Next, add a quick drizzle of good-quality olive oil to the top of the bread.

Sprinkle with salt. However much you prefer, to taste.

And…serve. Right away! Tomato bread can go soggy quickly. So serve it up ideally while they bread is still warm and crispy right out of the toaster. And enjoy!!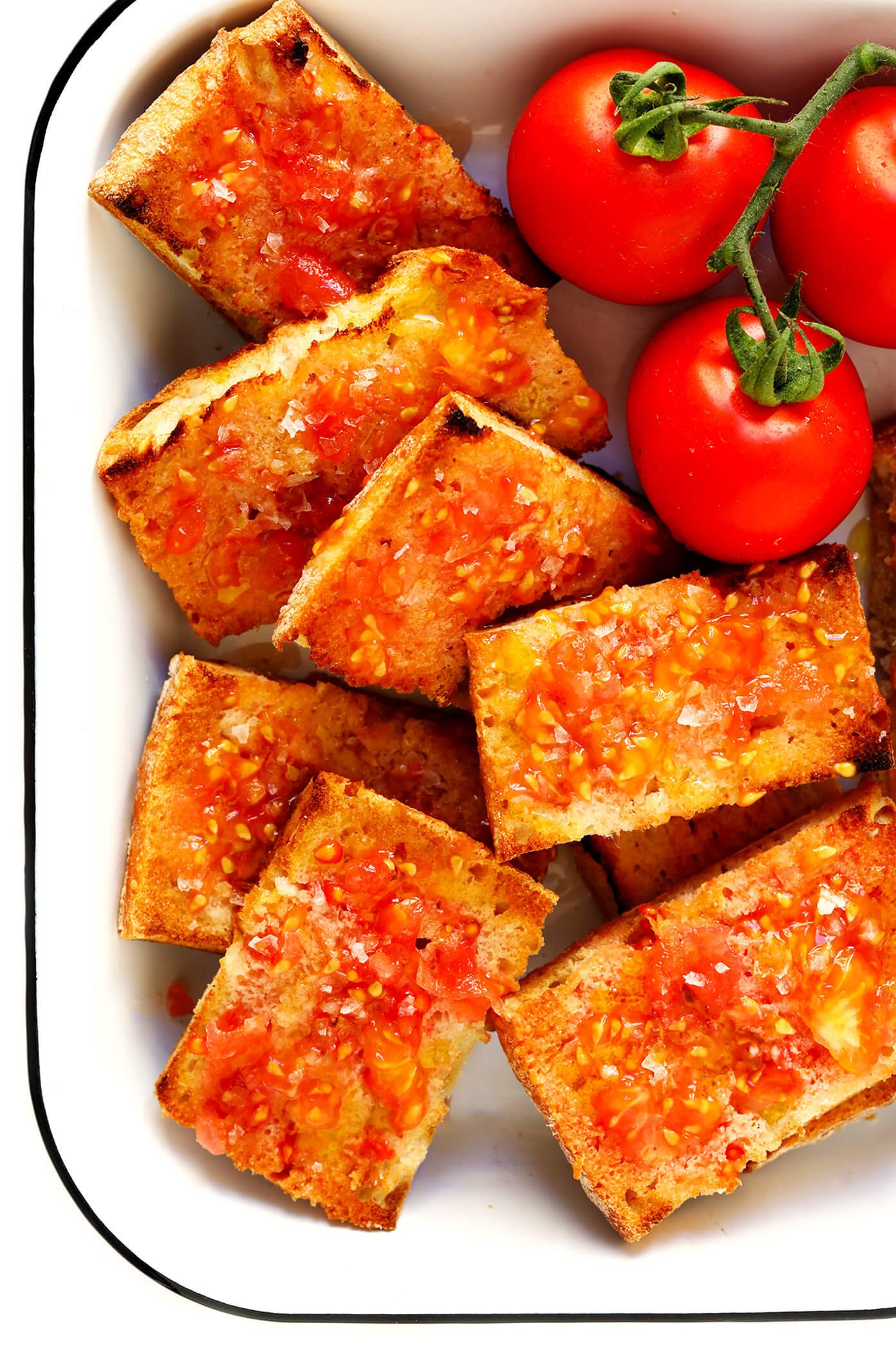 What To Serve With Tomato Bread:
This bread would be a delicious side dish with all sorts of meals. But we especially love serving it with:
Authentic Gazpacho

Catalan Chickpeas and Spinach

My Everyday Salad

Sangria or Vermouth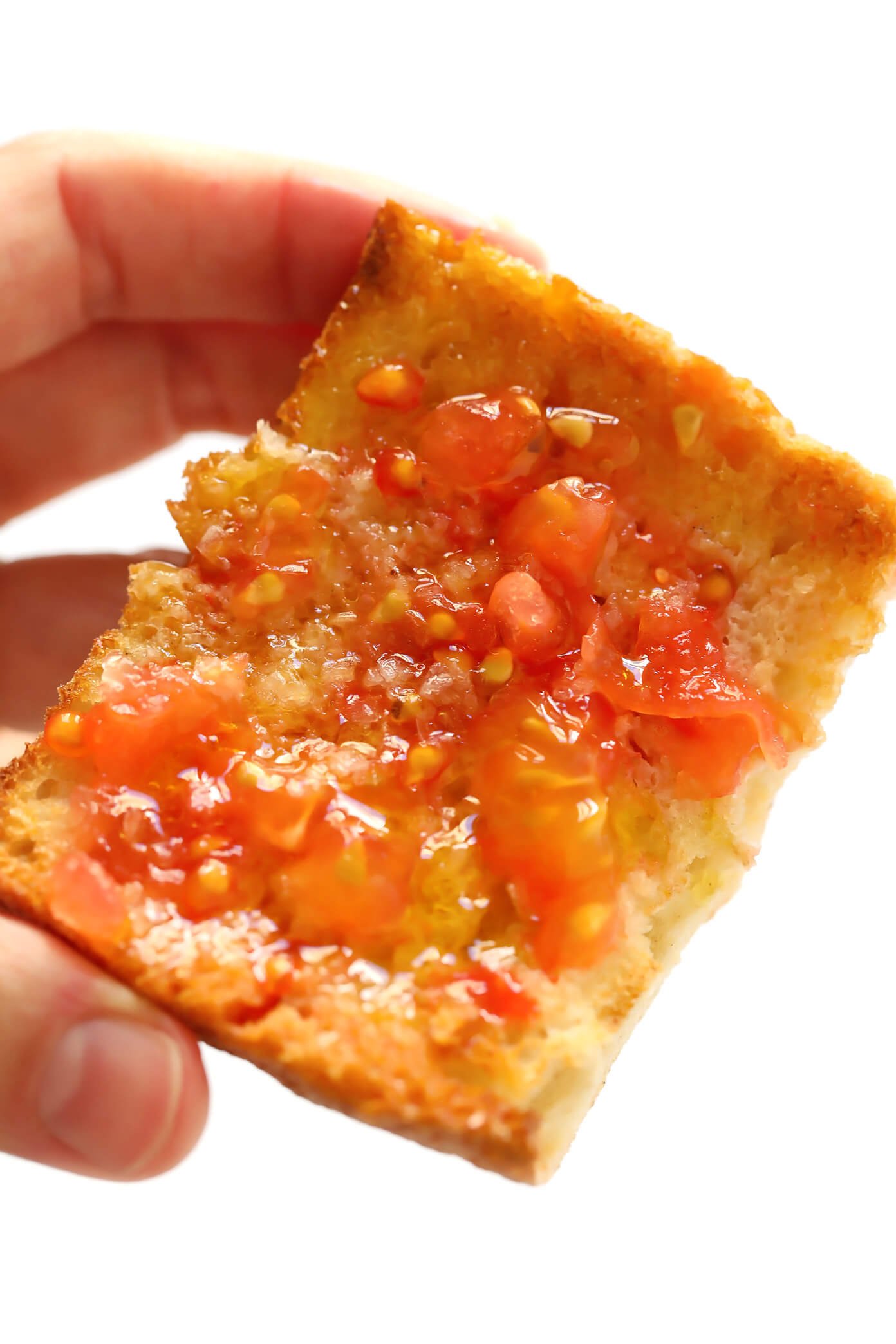 Print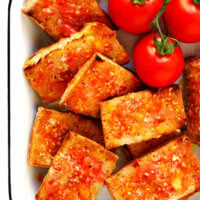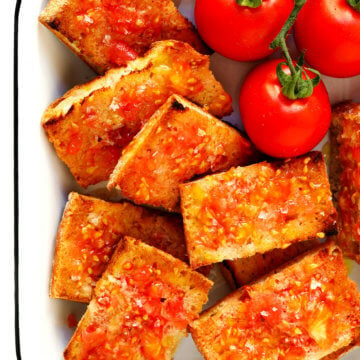 Catalan Tomato Bread (Pa Amb Tomàquet)

Prep Time: 5 minutes


Cook Time: 5 minutes


Total Time: 10 minutes


Yield: 12 servings
---
Description
This Catalan Tomato Bread recipe is easy to make with just 5 ingredients and always tastes so fresh and delicious!
---
thin slices of good bread

unpeeled whole garlic cloves, halved

ripe fresh tomatoes, halved

extra-virgin olive oil

sea salt (I prefer flaky sea salt)
---
Instructions
Toast the bread slices — either in a toaster, or by baking them in the oven at 400°F — until crispy and golden.  (Toasting/baking time will totally depend on the type and thickness of your bread.)

Take a clove of garlic and rub it cut-side-down all over the top of a slice of bread.

Take a tomato half and rub it cut-side-down all over the top of the bread.

Drizzle the bread evenly with a hint of olive oil.  Sprinkle with a pinch of salt.

Repeat with the remaining slices of bread.  Then serve immediately while they're nice and warm!
---
This post contains affiliate links.