This post is sponsored by Chex.
Sometimes my random little cooking experiments go well.
And sometimes they go very, very well. 🙂
Mmmm, this Candied Pecan Chex Mix would be a delicious case in point. I'm constantly whipping up new batches of my favorite candied pecans recipe for snacking and salad-topping, especially this time of year when those pecans also make for easy food gifts. Then as I mentioned last week, I'm always (always) cooking up fresh batches of Chex party mix to have on hand for snacking. (And, um, let's be real — both recipes are two of my favorite ways to make my home smell a-m-a-z-i-n-g.)
But it wasn't until last month that the lightbulb went off and I had the idea to try a mashup of these two recipes together! Because all of that salty and savory goodness of Chex Mix? Topped with that irresistible sweet and cinnamon-y crunchy candied pecan topping, along with a few handfuls of actual pecans mixed in?
In theory, it sounded like a good idea. In reality, it turned out to be a very, very good idea. 🙂
So here was the inspiration for this recipe — my all-time favorite recipe for Candied Pecans. I've made these for years, and this recipe never fails. It simply calls for cinnamon, sugar, salt, cayenne, egg whites, and lots and lots of pecans.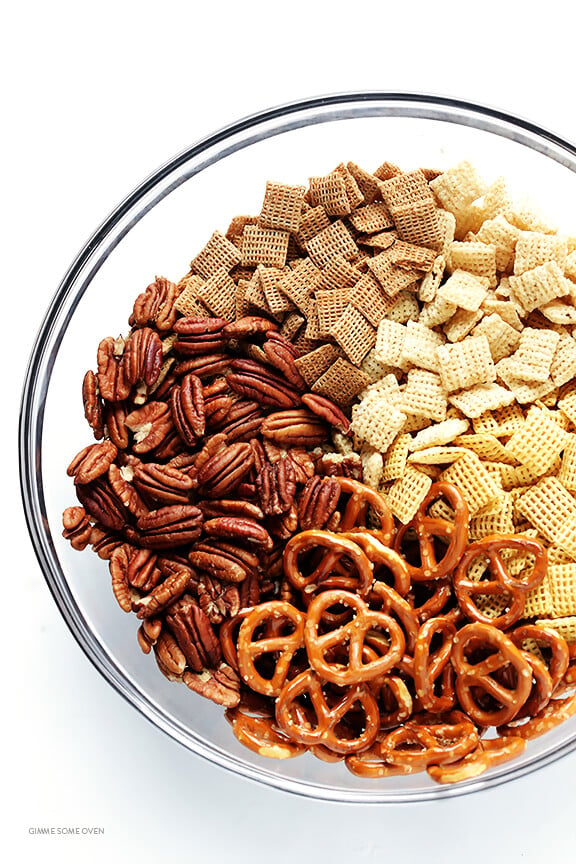 Then when paired with the base ingredients for Chex Mix (my favorite trio of Chex (rice, wheat and corn), plus pretzels, and lots of pecans instead of peanuts)…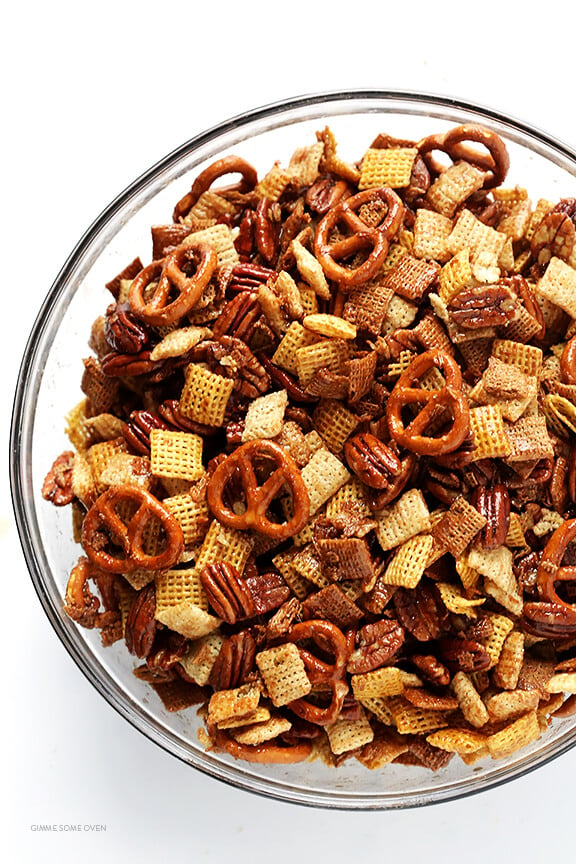 …everything stirred up into a delicious-smelling mixture. But then once it was baked up…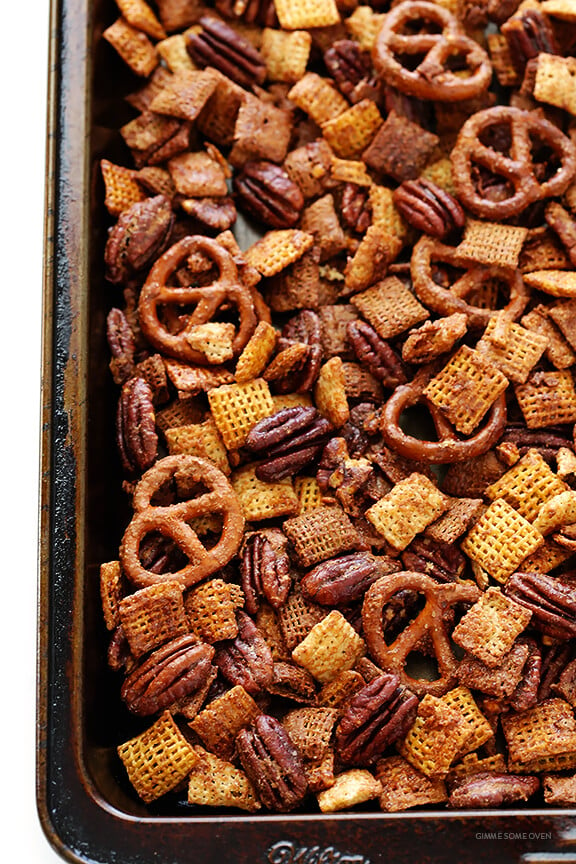 …those egg whites worked their magic and everything suddenly was coated in an extra fluffy, crispy layer of candied coating.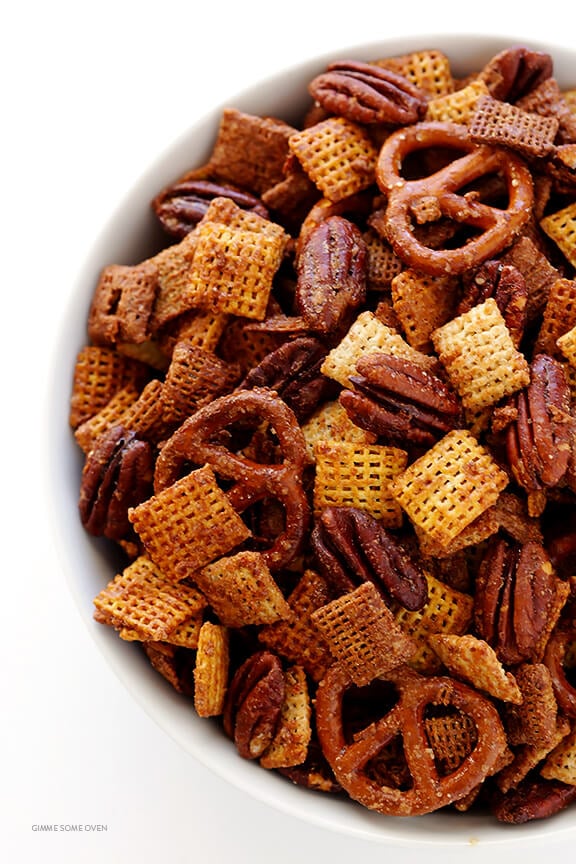 And the result was one of my (new!) favorite salty and sweet snacks of all-time.
Nooooo kidding.
I will just warn you now that this stuff is wonderfully, irresistibly delicious. And if you decide to set a few bowls of it out for a party, it's pretty much a guarantee that you won't have any leftovers. I literally just had the pan of this sitting out on my counter for an afternoon when a few friends stopped by for various reasons, and — even before I had the chance to move it into serving bowls!! — they immediately spotted it on the counter and had to try a bite. And then another bite. And then by the end of the afternoon half of the pan was gone.
Seems to be how things go with Chex Mix. 😉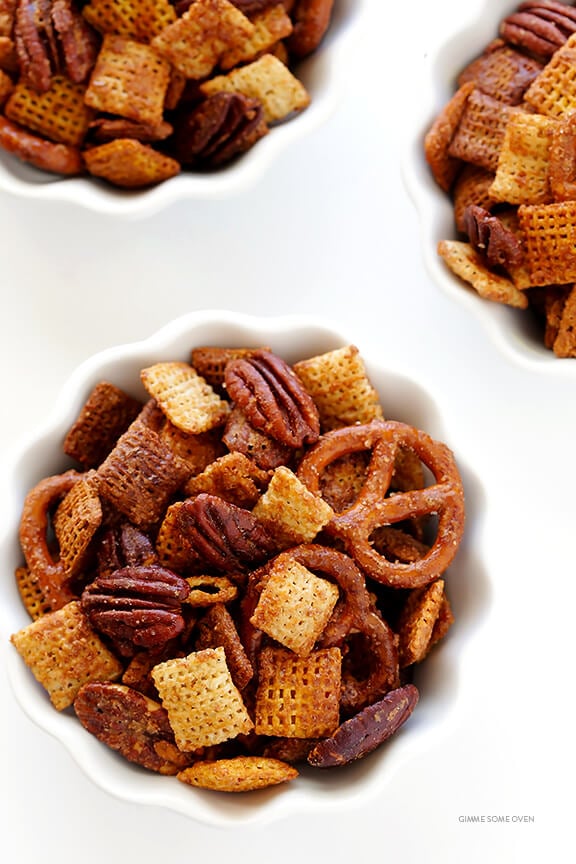 So anyway, this one is definitely a treat, but it's perfect for the season and worth every bite. 🙂
Stay tuned next week for one more new Chex Mix recipe (my final recipe of three, after this one and my Coconut Oil Chex Mix recipe from last week.)
And also, be sure to check out Chex.com for more creative Chex Mix recipes, as well as the fun Holiday Party Guide (and video!!) that some blogging friends and I worked on together. This Candied Pecan Chex Mix recipe actually is part of a fun "Mad For Plaid" party guide that we came up with that pairs with Alie & Georgia's Liquid Flannel Cocktail (rimmed with crumbled Chex Mix – brilliant!), and Pizzazzerie's cute party decor and printables — pretty fun!
Happy Chex-ing!
Print

Candied Pecan Chex Mix

Prep Time: 10 minutes


Cook Time: 45 minutes


Total Time: 55 minutes


Yield: 24 servings 1x
---
Description
This Candied Pecan Chex Mix recipe is everything you love about traditional Chex Mix, tossed with pecans and a light candy coating.
---
9 cups

Chex™ cereal (I used equal parts Rice Chex™, Corn Chex™ and Wheat Chex™)

½ cup

granulated sugar

½ cup

brown sugar

1 Tablespoon

ground cinnamon

1 teaspoon

salt

¼ teaspoon

cayenne

4 cups

raw pecan halves

2 cups

pretzels

4

egg whites, whisked
---
Instructions
Visit Chex.com for the recipe directions to make this Candied Pecan Chex Mix.
---
This recipe was sponsored by Chex. I am partnering with them this season to create some tasty new Chex Party Mix recipes for holiday parties (and any parties!), and all Chex-loving opinions are entirely my own as always. Thanks for continuing to support the brands who help make this site possible. ♥