This butternut squash, kale, rosemary and goat cheese quiche is easy to make and full of the best sweet and savory seasonal ingredients.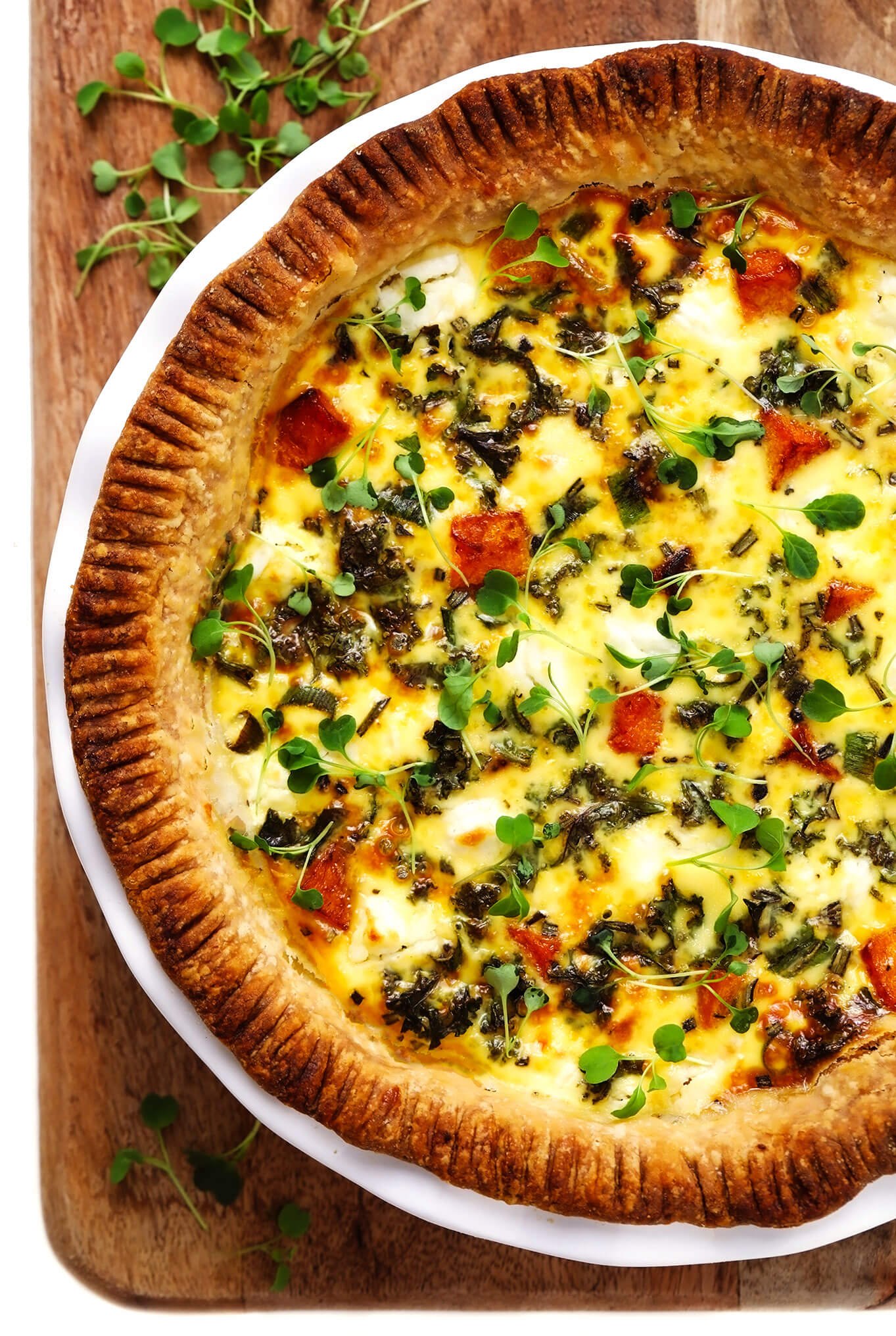 This butternut quiche, you guys. ♡
I made it for the first time a few weeks ago as a bit of a clean-out-the-crisper-drawer recipe when cooking brunch for friends. (Along with my fave pumpkin bread, winter fruit salad, and a round of mimosas, yum.)  But this quiche ended up being my surprise new favorite of the meal. And it couldn't be more perfect for autumn!
I happened to have half of a butternut squash leftover in the fridge at the time, so I diced it up and sautéed it with some scallions and garlic to form the base for the quiche filling. Then to that combo, I added in few handfuls of chopped kale and a generous sprinkling of chopped fresh rosemary. I'm also always a big fan of butternut and goat cheese paired together, so I crumbled in a bunch of cheese to give the quiche some of that signature earthy tang. (Or if you're not a fan of goat cheese, you could easily swap in feta, cheddar or gouda.)  And once everything baked up together in a buttery flaky pie crust with creamy eggs, oh my goodness, this quiche was autumn brunch perfection.
We've made it again twice since that weekend and our friends and neighbors have given it rave reviews. So I wanted to pop on quickly and share it here with you too, especially while butternut squash is still in season. Clearly, we're big fans of serving this butternut quiche for weekend brunch, but it would also be a great recipe to bookmark for the holidays ahead too. You're going to love it!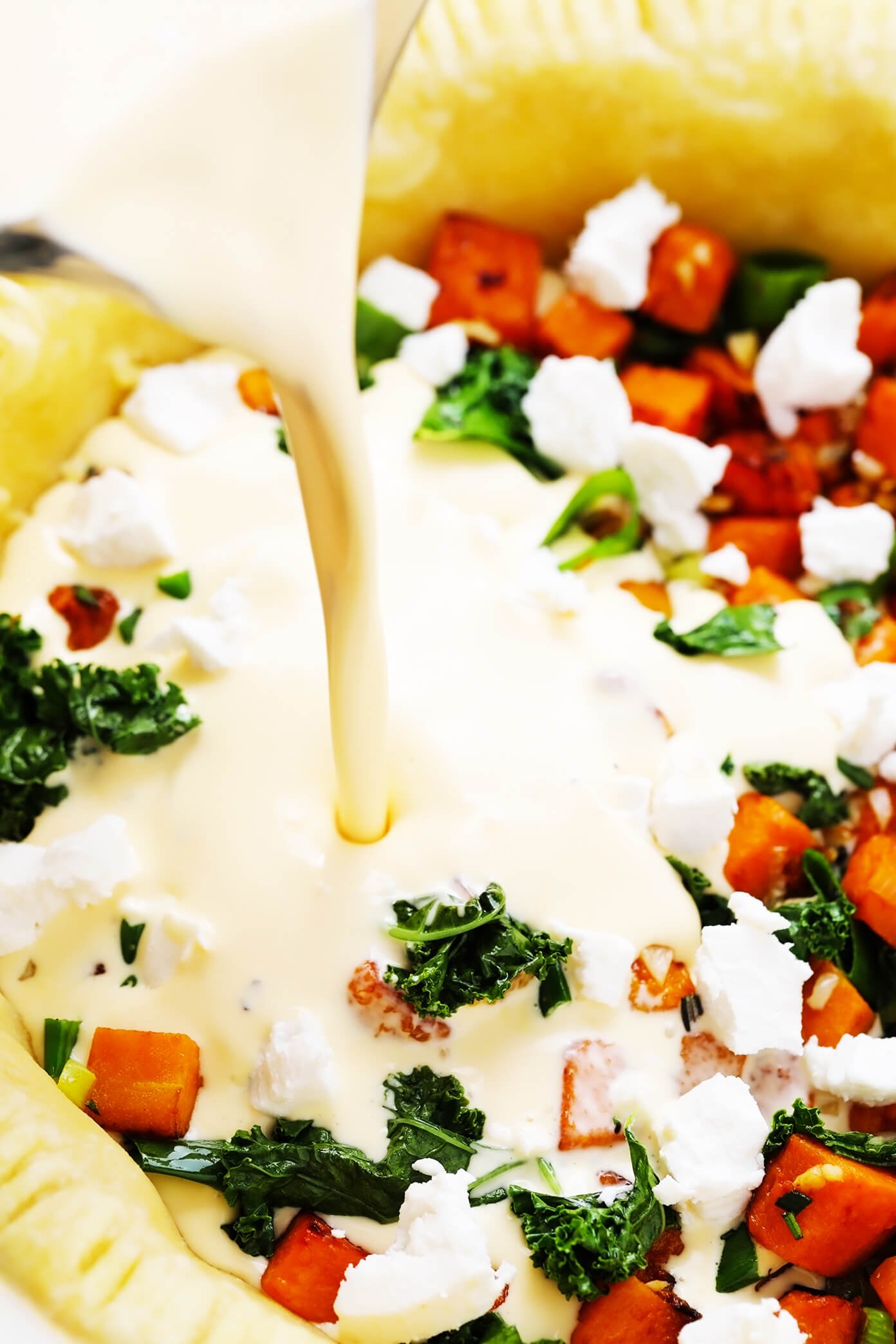 Butternut Squash Quiche Ingredients:
First, a few notes about the ingredients that you will need to make this butternut squash quiche recipe (amounts are included in the full recipe below)…
Pie Crust: I used my favorite all-butter homemade pie crust recipe for this quiche, but feel free to sub in a store-bought pie crust if you would like to save time.

Butternut squash: Which we will dice into 1/2-inch cubes and sauté in olive oil until softened. (Here is a tutorial for how to safely peel and cut butternut squash.)

Scallions: Whose white parts we will chop and sauté in with the squash, then we will stir the chopped green parts later.

Garlic: I like lots of garlic in this quiche, but feel free to use less if you prefer.

Fresh rosemary: I adored the flavor of fresh rosemary mixed in, but you could also use fresh sage or any other herb that sounds good.

Kale: A handful or two of chopped fresh kale, with the tough stems removed.

Goat cheese: Or if you don't happen to love goat cheese, feel free to sub in crumbled feta, shredded cheddar, gouda, gruyere, or any other cheese that sounds good.

Eggs: Because, quiche. 🙂

Half and half: Finally, I like to mix the eggs with half and half (half milk, half heavy cream). Or if you would like to make a richer quiche, you can use all heavy cream. Or for a lighter quiche, all whole milk.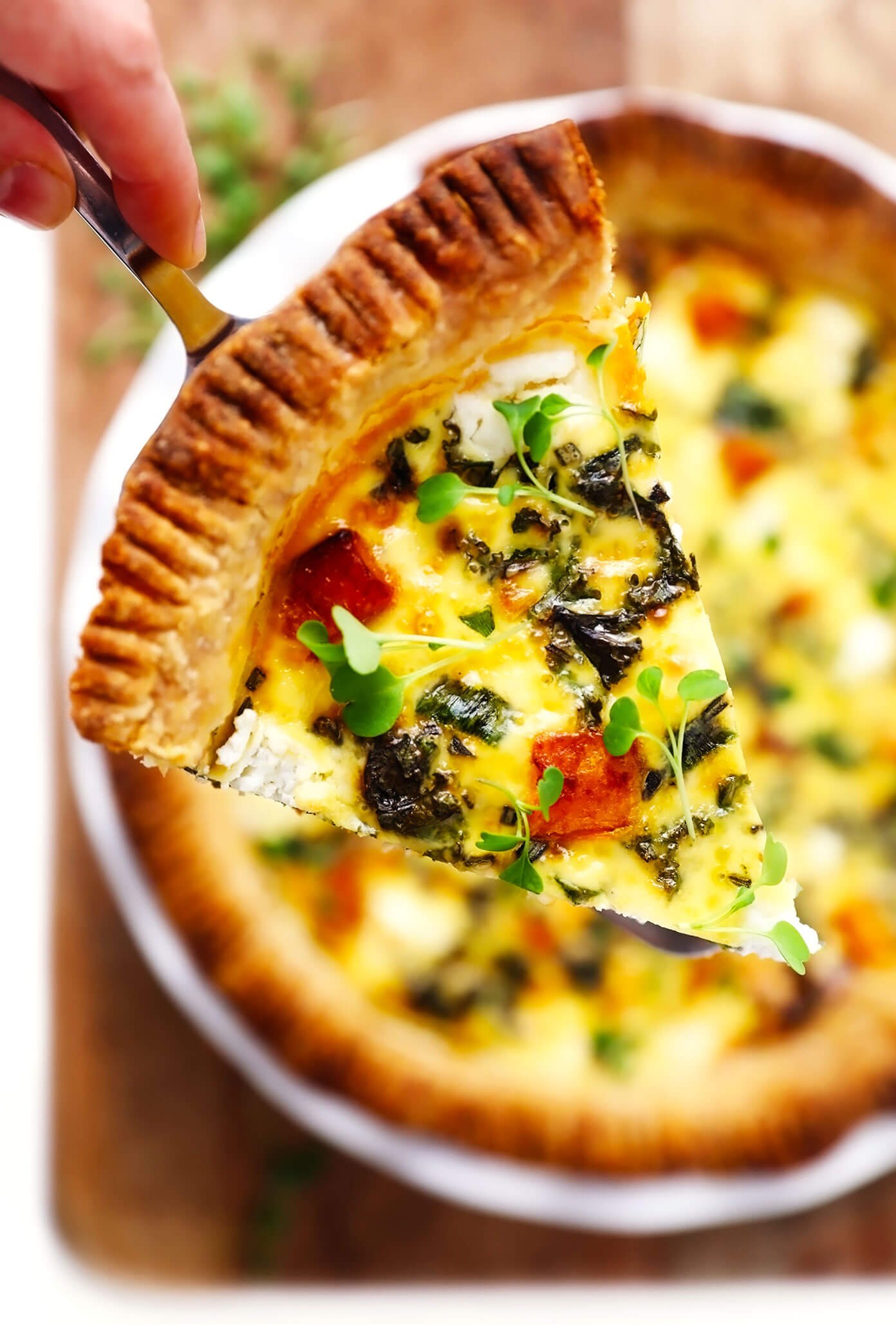 Possible Recipe Variations:
This recipe is quite flexible, so please don't hesitate to play around with ingredients and make this recipe your own! For example, feel free to…
Make it gluten-free: Use a gluten-free pie crust. Or omit the crust altogether and make this more of a frittata.

Add meat: Any sort of cooked bacon or sausage would also be delicious in this quiche.

Use different cheese: Crumbled feta would be a delicious and easy swap here. Or feel free to instead use shredded sharp cheddar, gouda, gruyere, or any other cheese that sounds delicious.

Use different greens: Fresh baby spinach would also work as a stand-in for the fresh kale.

Use different herbs: Fresh sage would be a delicious substitution for the fresh rosemary.

Use different onions: If you don't happen to have scallions (green onions) on hand, you can sub in 1/2 cup of diced white or yellow onion in place of the scallions.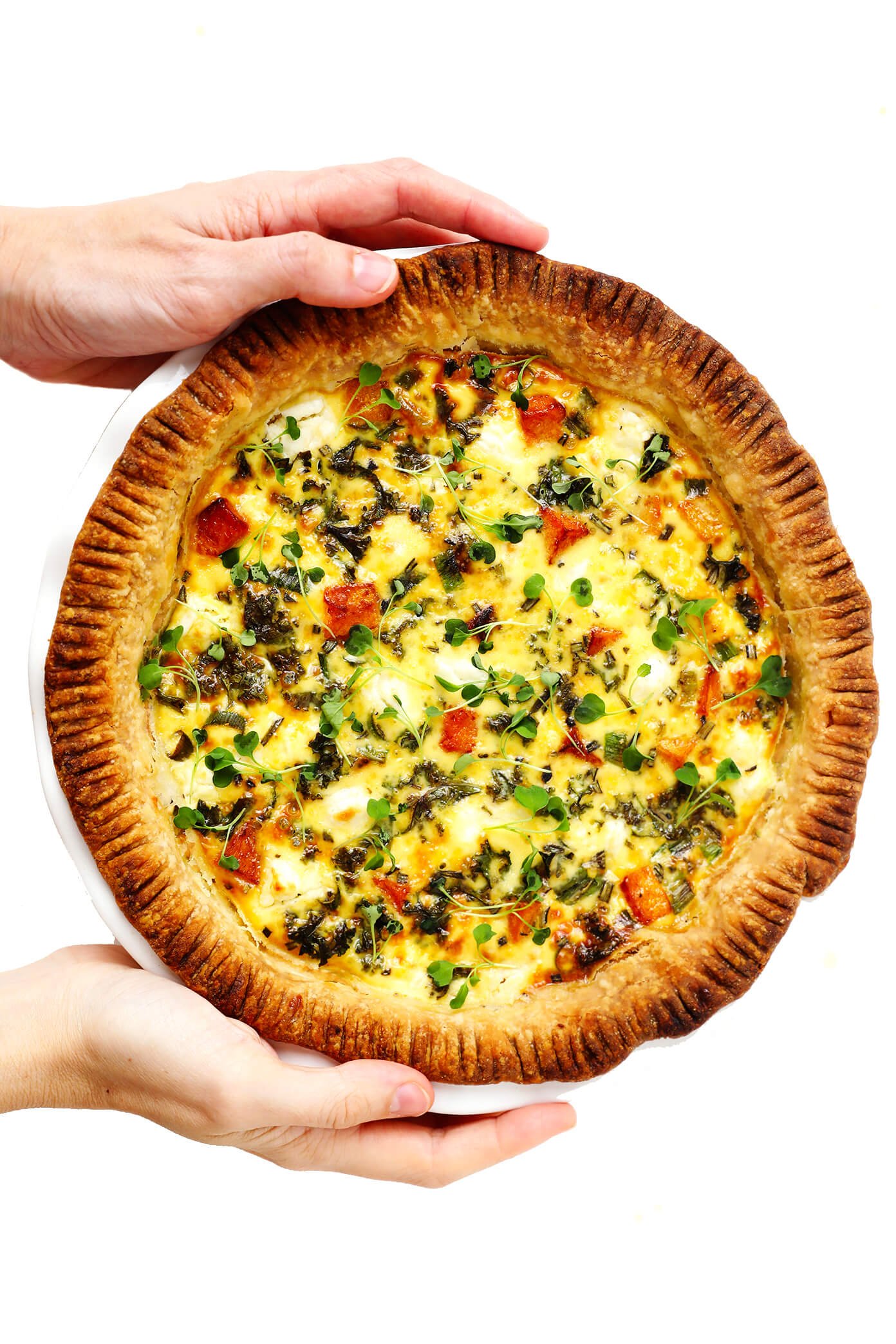 More Butternut Squash Recipes:
Looking for more butternut squash recipes to try this season? Here are a few of my faves:
Butternut Squash Soup

Butternut Squash Mac and Cheese

Healthy Butternut Squash Muffins

Roasted Butternut Squash, Kale and Cranberry Couscous

Gnocchi with Butternut Squash, Kale and Brown Butter Sage Sauce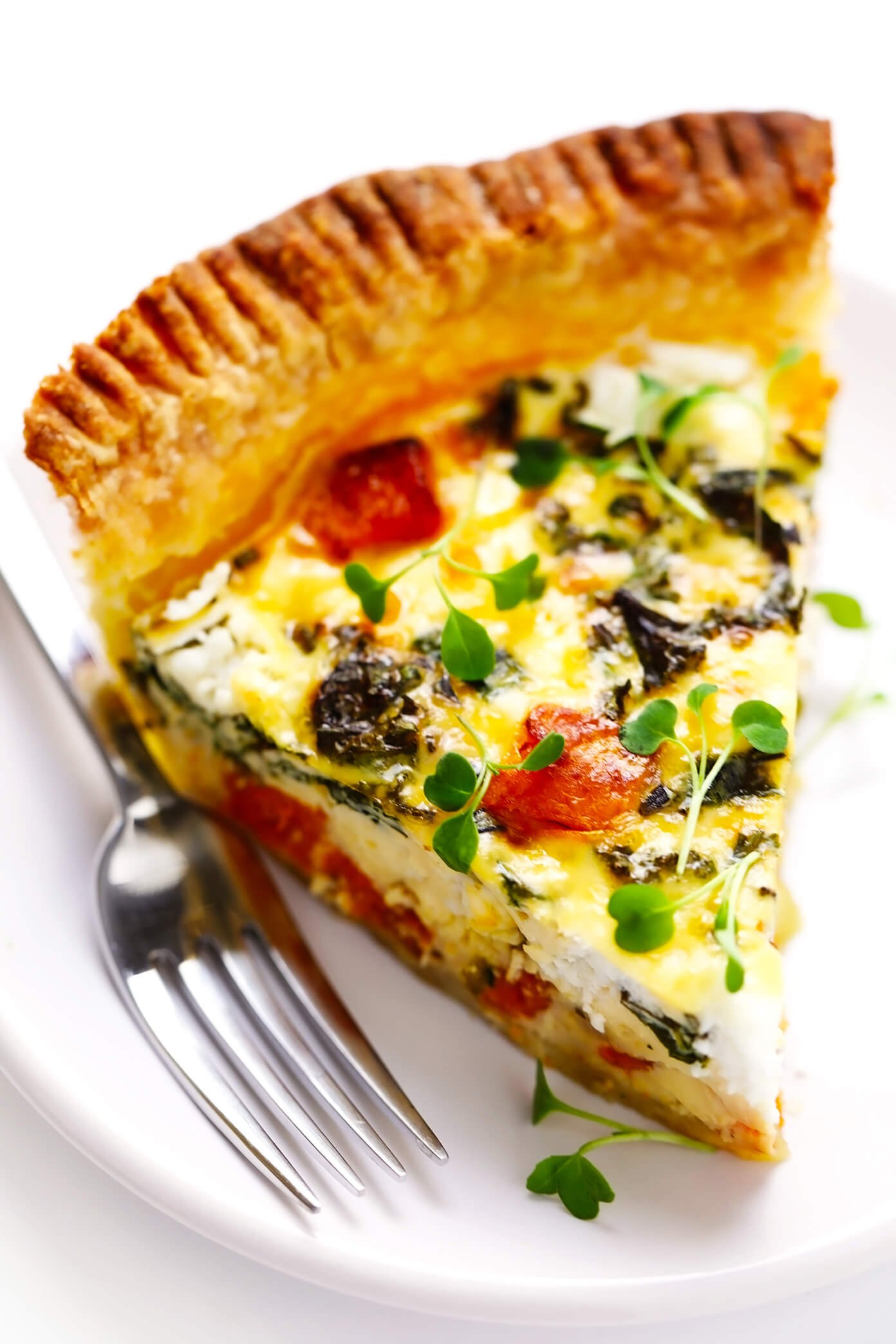 Print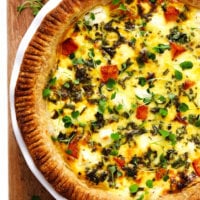 Butternut Squash Quiche

Author: Ali


Prep Time: 15 mins


Cook Time: 1 hour


Total Time: 1 hour 15 mins


Yield: 8 to 12 servings 1x
---
Description
This butternut squash, kale, rosemary and goat cheese quiche is easy to make and full of the best sweet and savory autumn flavors.
---
1

unbaked 9-inch pie crust

1 tablespoon

olive oil

2 cups

diced butternut squash (diced into 1/2-inch cubes)

2

scallions, chopped with the white and green parts separated

3

cloves garlic, pressed or minced

1

handful chopped fresh kale (tough stems removed)

1 teaspoon

minced fresh rosemary

5 ounces

crumbled goat cheese

6

large eggs

1 cup

half and half*

1/2 teaspoon

fine sea salt

a few twists of freshly-cracked black pepper
---
Instructions
Partially blind-bake the pie crust. Press the pie crust evenly into a 9-inch pie pan.  Transfer the pie crust to the freezer to chill for 15-20 minutes, while your oven heats to 400°F (205°C).  Once the crust is chilled and firm, carefully line it with parchment paper.  Then fill the crust with pie weights (or dried beans) and bake for 10-12 minutes, until the edges of the crust are lightly golden.  Transfer the pie pan to a wire baking rack and carefully remove the parchment paper with the pie weights.

Sauté the veggies. Meanwhile, heat the olive oil in a large non-stick sauté pan over medium-high heat.  Add the butternut squash and sauté for 8 to 10 minutes, stirring occasionally, until mostly cooked through.  Add the 

white

parts of the chopped scallions and garlic.  Sauté for 2 more minutes, stirring constantly, until the garlic is fragrant and the veggies are softened.  Stir in the green parts of the scallions, kale and rosemary until combined, then remove the sauté pan from the heat.

Layer the quiche. Arrange the veggie mixture in an even layer in the pre-baked pie crust and sprinkle the crumbled goat cheese evenly on top.  In a separate mixing bowl, whisk together the eggs, half and half, salt and pepper until combined, then pour the mixture evenly over the veggies and cheese.  Give the quiche filling a brief gentle stir so that some of the veggies and cheese float to the top.

Bake. Then bake the quiche for 45 minutes, or until the top is golden and puffy, and a toothpick inserted in the center comes out clean.

Cool and serve. Transfer the quiche back to the wire rack and let it rest for at least 10 minutes.  Then slice, serve and enjoy!
---
Equipment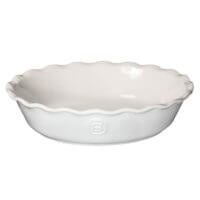 Pie Dish

Buy Now →

Pie Weights

Buy Now →

Nonstick Pans

Buy Now →

---
Notes
Cream options: I like to use half and half for this recipe (which you international readers can make with 1/2 cup milk, 1/2 cup heavy cream).  Or if you prefer a richer quiche, you can use all heavy cream.  Or for a lighter quiche, all whole milk.
Topping: I also sprinkled some microgreens on top of my quiche before serving, but they are completely optional. 🙂