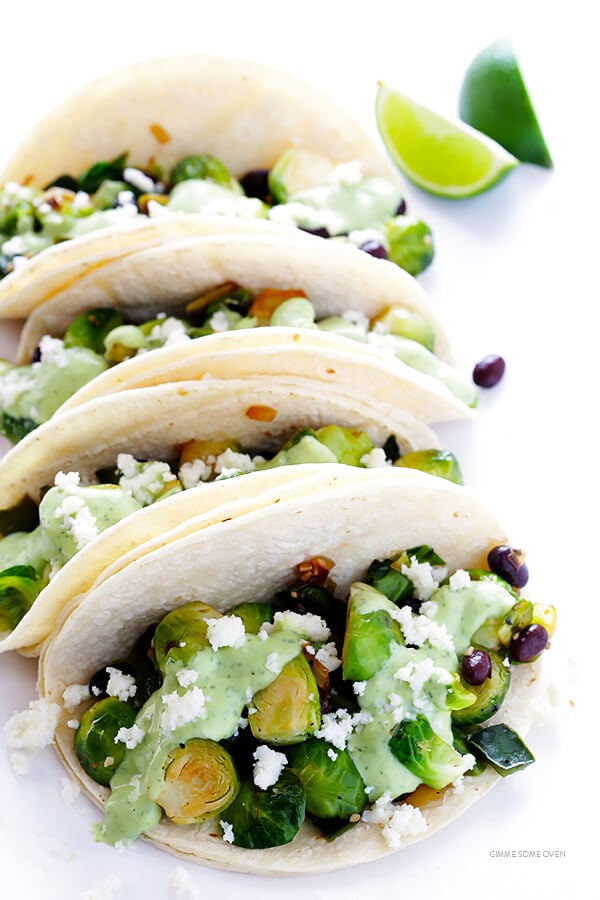 Can I just say how much I'm loving road trips lately?!
Especially with this guy? ♥
I keep talking the talk this year with all of my friends about how we need to take advantage of low gas prices and plan more short little 2-3 day weekend getaways, versus just saving all of our pennies for the big trips we want to take. So when Barclay and I randomly realized that we both had an open schedule this weekend, we decided to hop in the car and make it happen. We had been wanting to get up to Chicago to visit my sister now that the weather's warmer, so after work on Thursday, we loaded up the car and set off. And it was so dang easy!!
I mean, first off, we calculated that our grand gas total for the weekend was a whopping $42 (yeah!). And even with an 8-hour drive, we were still able to spend pretty much 3 full days exploring Chicago, only having to take a day off work (plenty!). And instead of having to tune out flight attendants and crying babies in the seats behind us, we got to crank up some of our favorite podcasts (omg, this one, wow) and have a little ode to Prince (RIP) and relax just chatting our way across the Midwest (my favorite). So great!
And of course, no road trip is complete without some tasty snacks. So since we were scooting out of town right after work at 5pm and didn't want to stop for dinner, I made a batch of these to bring along for the journey — Brussels Sprouts Tacos with a Creamy Avocado Sauce.
I was quite partial to the sprouts. But Barclay insisted I tell you that the "magical" sauce is the best part. 😉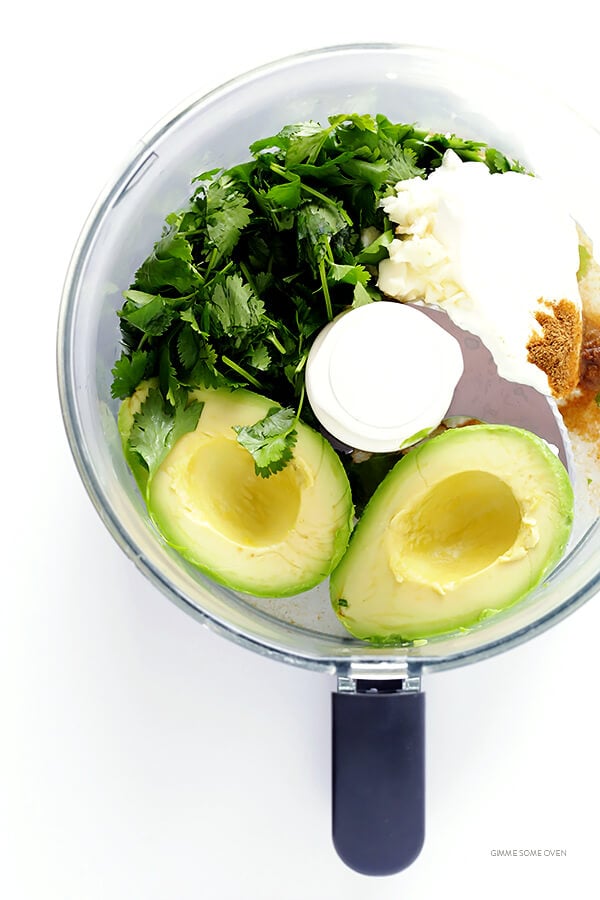 I have been dreaming about these tacos for awhile. And any of you who follow along on snapchat (@gimmesomeoven) know that I've experimented with a few variations this month — trying first a shredded sprouts version (delish, but they kind of looked like seaweed by the end), then a creamy sauce version, and then a creamy avocado sauce version.
Barclay may be right. I think this sauce may have stolen the show. 🙂
It's so simple! Just blend up some avocado, sour cream, cilantro, garlic, cumin, salt and some fresh lime juice together until combined, and then thin it out with some water until it reaches your desired consistency.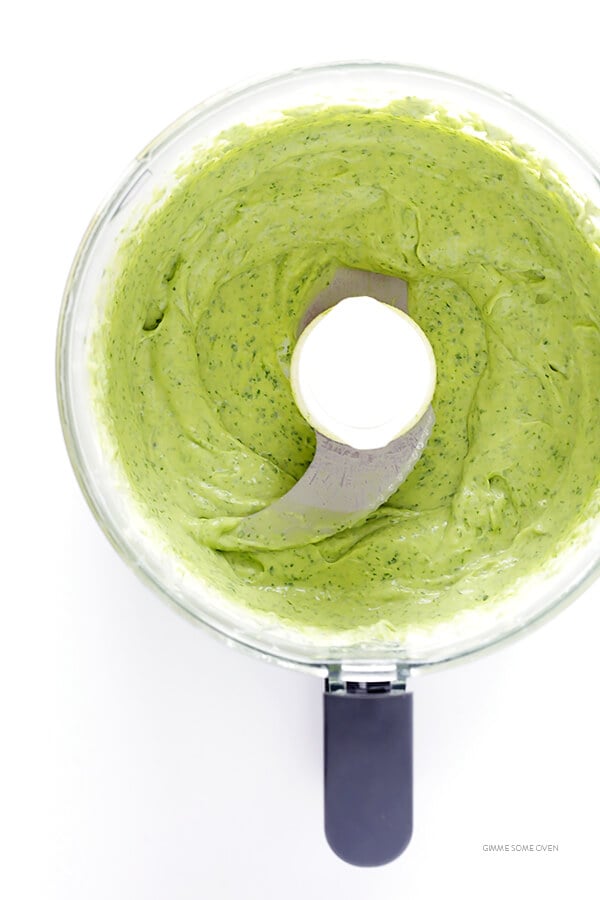 (<–Think, guacamole in a sauce.)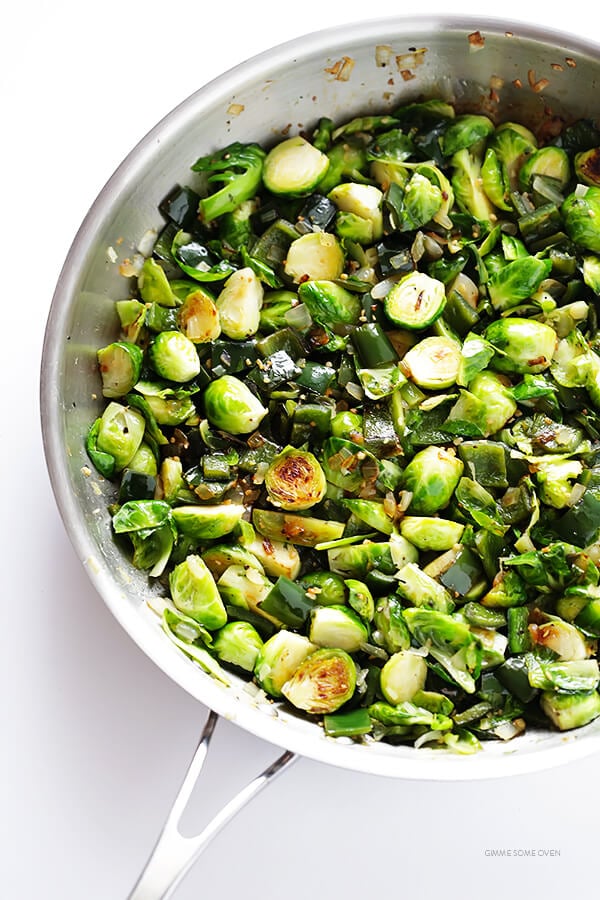 Then saute up some Brussels sprouts, poblano peppers, onion, garlic, and toss them with a can of black beans.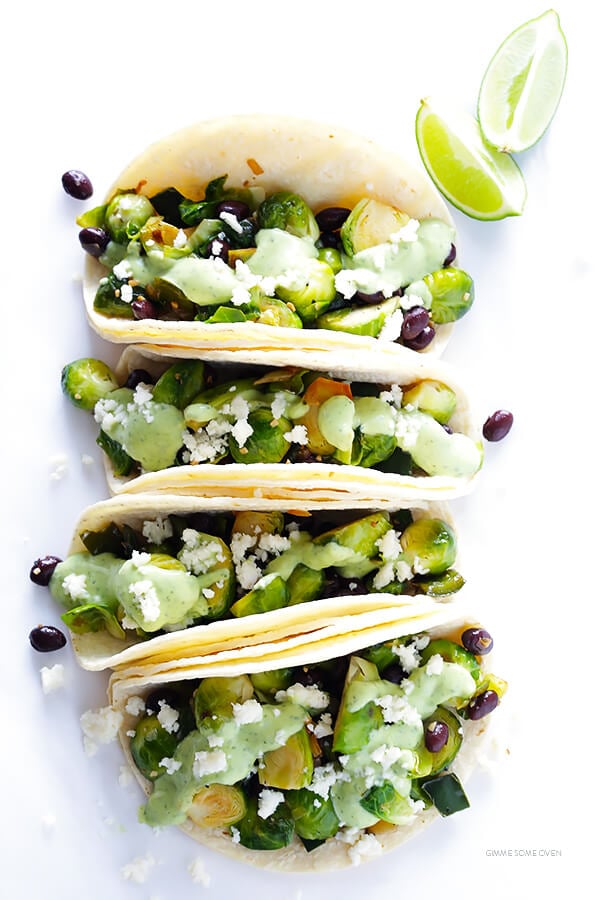 Load your favorite tortillas up with the filling, drizzle with the sauce, sprinkle on some cheese…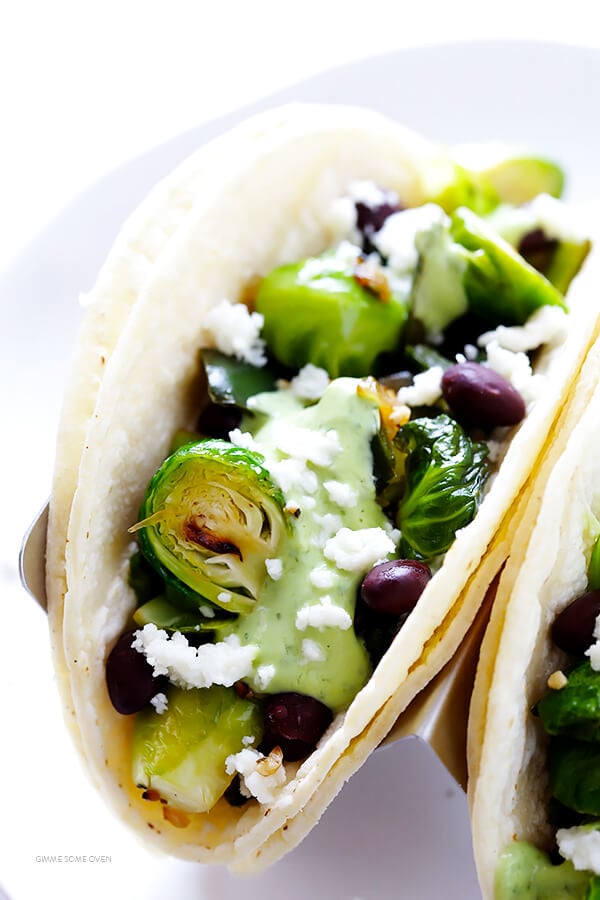 …and then this green goodness is all yours to enjoy. Wowza.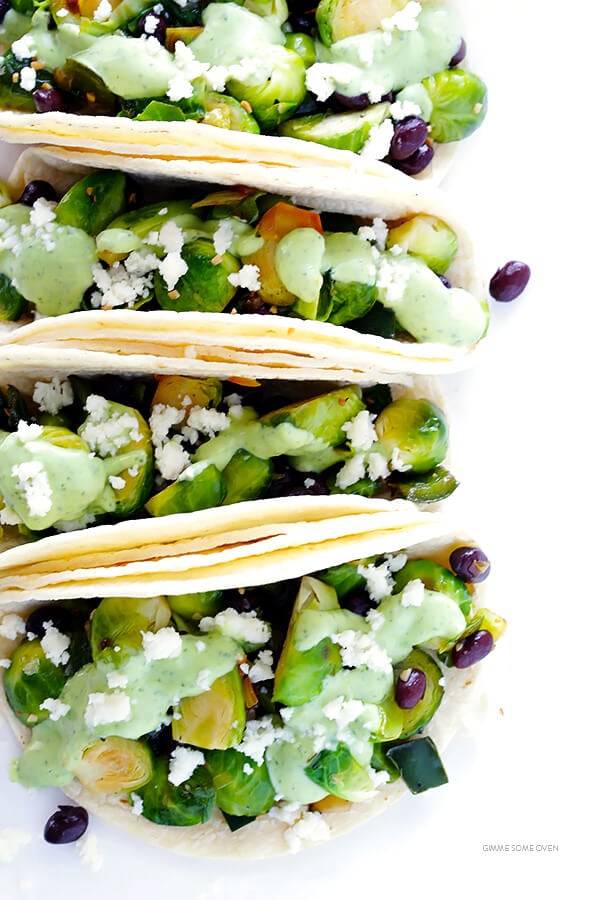 Even better? They're naturally vegetarian (yet still so hearty and filling), also naturally gluten-free, and they can be ready to go easily in under half an hour.
Perfect for a road trip, or Taco Tuesday, or for Cinco de Mayo next week, or any ol' time you feel like a stellar taco.
Buen provecho!
How To Cut Brussels Sprouts | 1-Minute Video
Print

Brussels Sprouts Tacos with Creamy Avocado Sauce

Prep Time: 15 minutes


Cook Time: 10 minutes


Total Time: 25 minutes


Yield: 4 servings (about 2 tacos each) 1x
---
Description
This Brussels Sprouts Tacos recipe is quick and easy to make, packed with tons of delicious fresh veggies, and drizzled with the most heavenly creamy avocado sauce.
---
Brussels Sprouts Tacos Ingredients:
1 tablespoon

olive oil

1

small white onion, peeled and diced

1

pound brussels sprouts, halved and ends trimmed off

3

poblano peppers, cored and diced

2

cloves garlic, minced

1

(15-ounce) can black beans, rinsed and drained

corn or flour tortillas

1

batch avocado sauce (see below)

crumbed queso fresco or cotija cheese
Creamy Avocado Sauce Ingredients:
1

large ripe avocado, peeled and pitted

1 cup

loosely-packed fresh cilantro leaves

1/2 cup

sour cream

2 tablespoons

lime juice

1/2 teaspoon

 salt

1/4 teaspoon

ground cumin

1/4

–

1/2

teaspoon water
---
Instructions
How To Make The Brussels Sprouts Tacos:
Heat oil in a large saute pan over medium-high heat.  Add onion and saute for 3 minutes, stirring occasionally.  Add brussels sprouts, poblano peppers and garlic, and stir to combine.  Continue sauteing for 4-5 more minutes, stirring occasionally, until the brussels sprouts are softened and cooked through.  Stir in the black beans and cook for 1 more minute to warm through.  Remove pan from the heat and set aside.

Meanwhile, as the veggies are sauteing, make your sauce.  (See instructions below.)

Once you're ready to assemble the tacos, place the 3-4 tortillas on a plate covered with a damp paper towel and microwave for 10-20 seconds until they are warmed through.  Remove the tortillas, and fill them with a few spoonfuls of the brussels sprouts filling, a heaping spoonful of sauce, and a few pinches of the crumbled cheese.  Repeat with the remaining tortillas and ingredients.

Serve warm, garnished with extra lime wedges for serving if desired.
How To Make The Creamy Avocado Sauce:
Place all ingredients except the water in a blender or food processor and pulse until smooth.  Add in the water 1/4 cup at a time until the sauce reaches your desired consistency.  Serve with the tacos immediately.
---