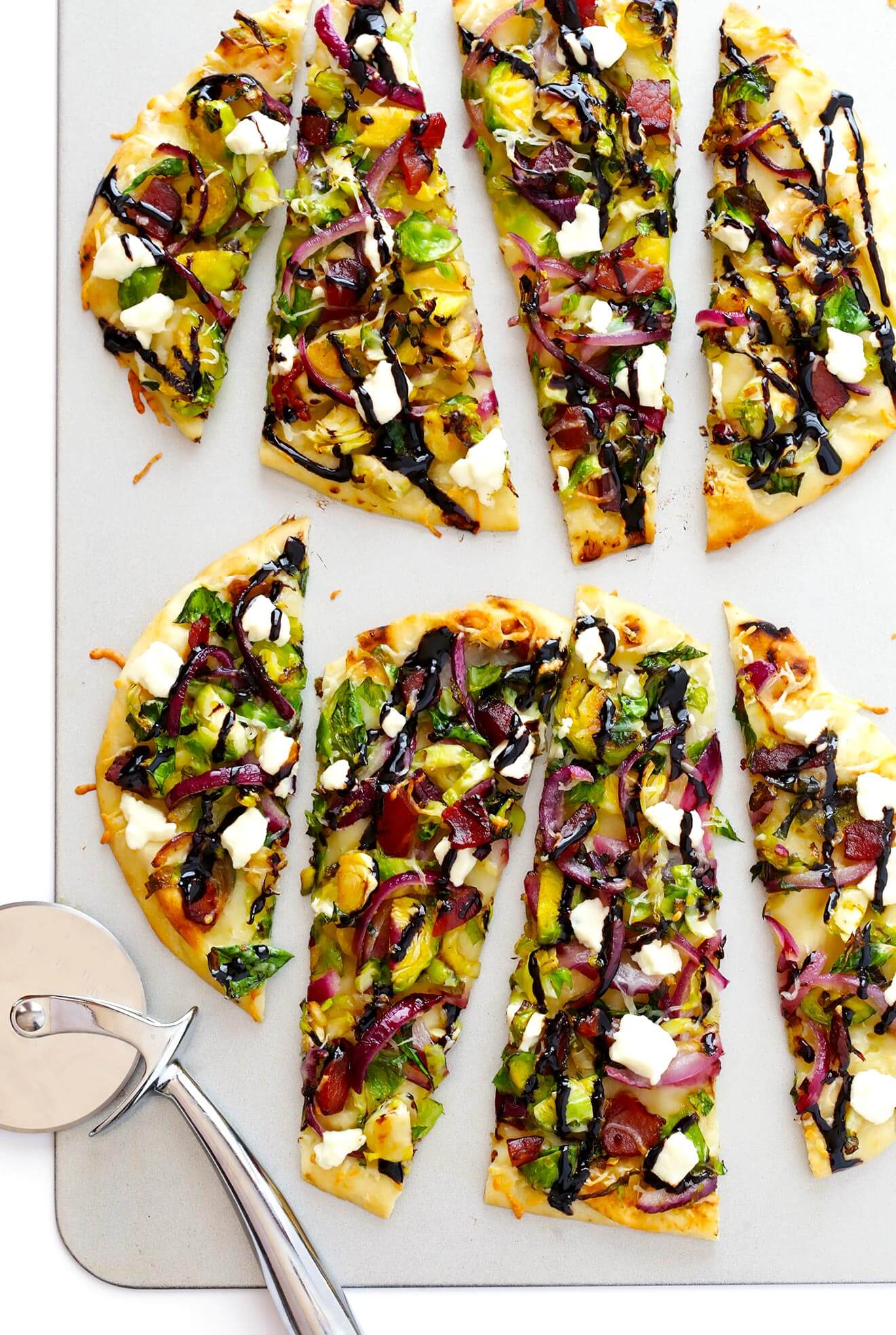 It's Friday, friends!
I don't know about you all, but I'm ready to get this weekend started.
After a week of working overtime on all of our current projects (i.e. wedding planning, remodeling Barclay's house, taxes, car stuff, and — you know — work-work), my calendar for the weekend ahead looks refreshingly chill. Lots of good downtime to recharge my introverted batteries. A few hangs with some of my favorite people. And to top things off, the forecast says the entire weekend is supposed to be sunny…and in the seventies!
Finally. ?
Well, I hope that your weekend ahead is a lovely and restorative one as well. And if you happen to be looking for a delicious dinner or appetizer recipe to make that's easy, breezy, and speedy to prepare, I can't recommend this delicious flatbread enough.
Brussels Sprouts and Bacon Flatbread Pizza Recipe | 1-Minute Video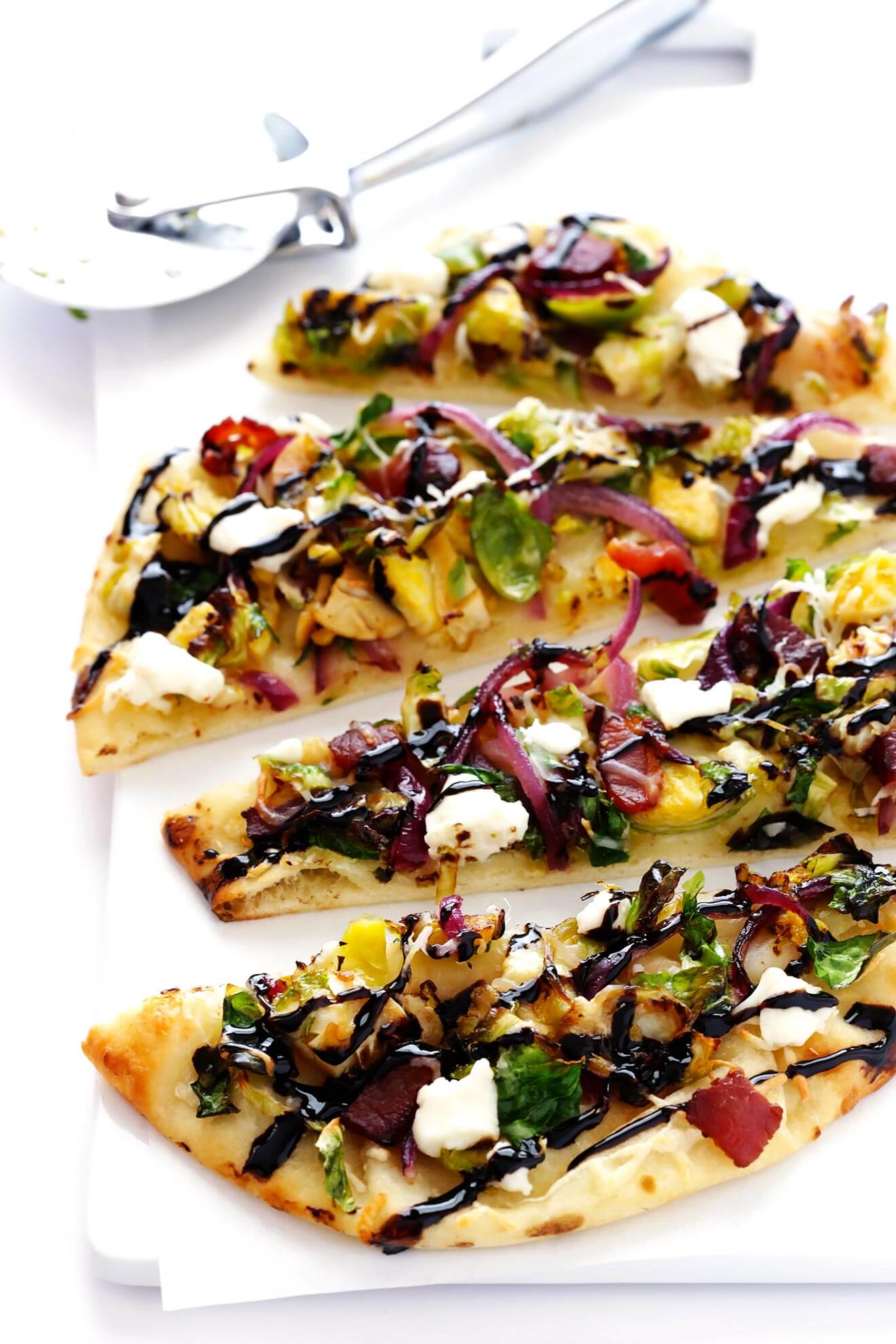 I wrestled with what to call this one, because pretty much every single ingredient in it seems to steal the show. I mean, we're talkin'…
Brussels!

Bacon!

Balsamic!

Garlic!

Goat Cheese! (<– Or blue, or feta!)

CARBS!
What's not to love?! ?
But, alas, I landed on bacon and Brussels sprouts. Because…I ? alliteration. And because they're so dang good.
Also?
They're so dang easy to prepare.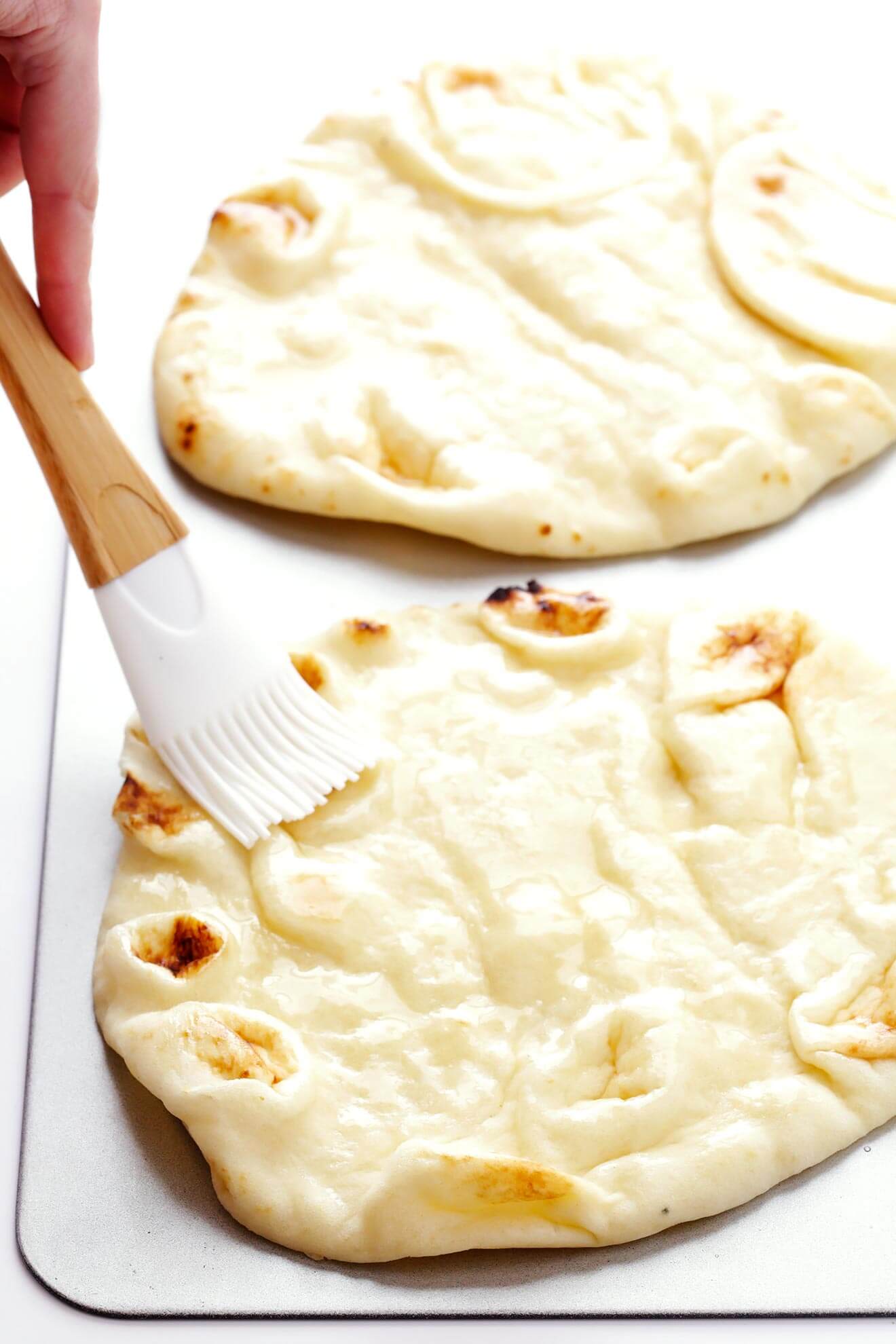 Simply fry up some bacon. ? (<– Pro tip: If you live near a Trader Joe's, I've become obsessed recently with their Uncured Bacon Ends & Pieces. Amazing, ultra-thick, delicious bacon for like half the price!)
Then while the bacon is frying, thinly slice your Brussels sprouts, red onion, and garlic. Then give them a quick sauté in the leftover bacon grease until they're mostly softened. Then brush your flatbread (or pita, or partially-baked pizza dough) with olive oil, sprinkle with Mozzarella (and a little Parmesan, if you'd like), spread the Brussels mixture over the top, add on some crumbled goat (or blue, or feta) cheese.
Then pop it all in the oven for 10 minutes…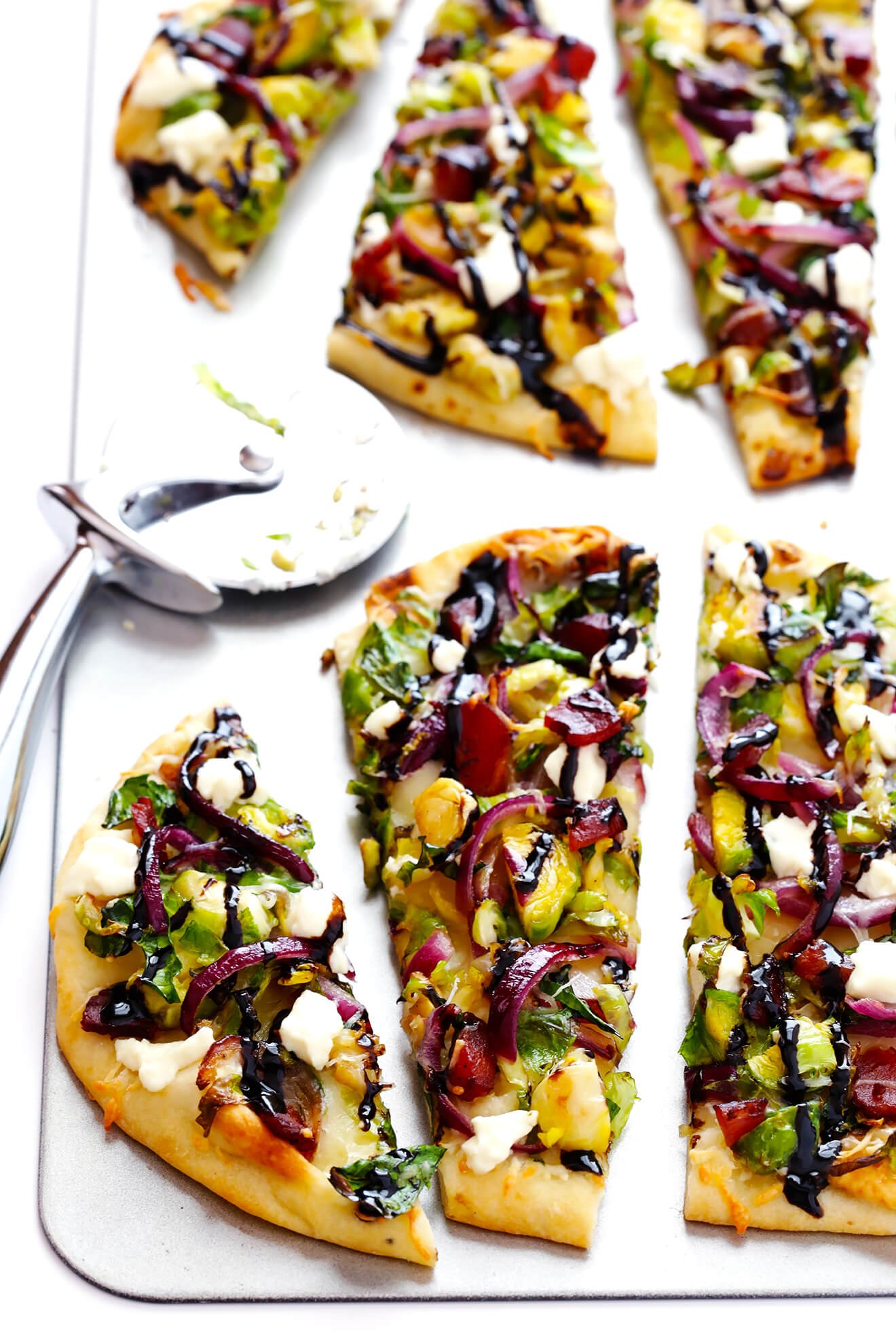 …and then as soon as it's done, drizzle those slices with a yummy balsamic glaze…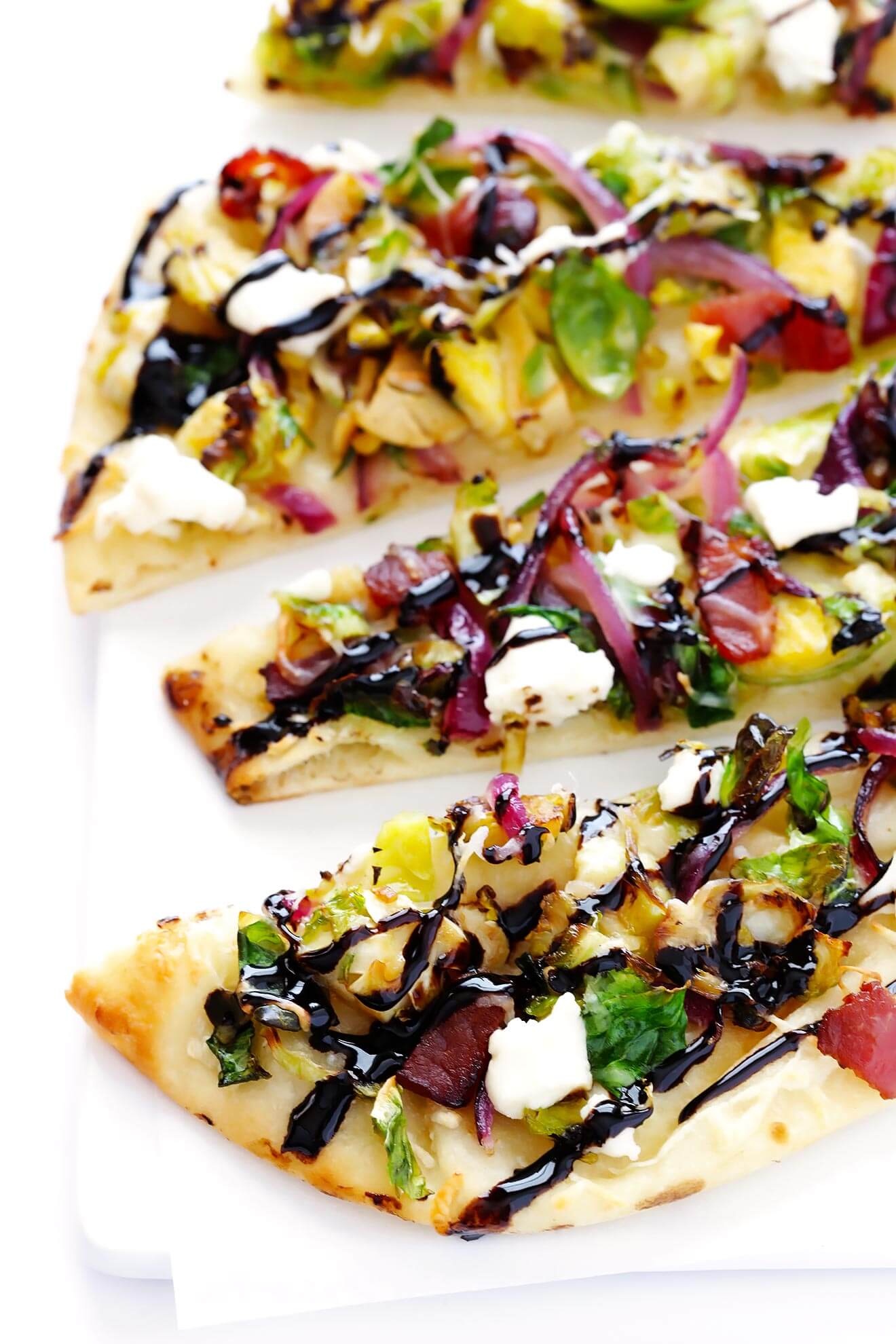 …and voila. This ultra-flavorful, ultra-simple, and ultra-delicious flatbread will be yours to share and enjoy. Perfect for the weekend. ?
Let's all make it a good one!
How To Cut Brussels Sprouts | 1-Minute Video
Print

Brussels Sprouts and Bacon Flatbread

Prep Time: 5 minutes


Cook Time: 25 minutes


Total Time: 30 minutes


Yield: 8 servings 1x
---
Description
This Brussels Sprouts and Bacon Flatbread Pizza recipe is quick and easy to make, and packed with bold flavors that everyone will love!
---
2

slices thick-cut bacon, diced

8 ounces

Brussels Sprouts, thinly-sliced (with ends trimmed and discarded)

1

small red onion, peeled and thinly sliced

4

cloves garlic, peeled and thinly-sliced

2

pieces flatbread (I used store-bought naan)

1 tablespoon

olive oil

1 cup

shredded Mozzarella cheese

2 ounces

crumbled goat cheese, blue cheese or feta cheese

balsamic glaze*
---
Instructions
Preheat oven to 400°F.

Fry bacon in a large saute pan over medium-high heat until cooked.  Transfer bacon to a separate plate with a slotted spoon, and set aside.

Meanwhile, keep about 1 tablespoon of the remaining bacon grease in the saute pan (you can discard the extra if there's too much grease in there).  Stir in the Brussels sprouts, red onion, and sliced garlic.  Saute for 4-5 minutes, stirring frequently, until the mixture is softened and the garlic is fragrant.  Remove from the heat and set aside.

Place the two pieces of flatbread on a large baking sheet, and brush the tops of each with olive oil.  Sprinkle each piece of flatbread evenly with about 1/3 cup Mozzarella cheese, leaving a 1/2-inch border around the edges of the flatbread.  Then divide the Brussels mixture, bacon and crumbled cheese evenly between the two pieces of flatbread, and spread them out evenly.  Sprinkle with the remaining Mozzarella cheese.

Bake for 8-10 minutes, or until the Mozzarella has melted and the crusts are slightly golden.

Remove from the oven and drizzle with the balsamic glaze.  Serve immediately.
---
Notes
*You're welcome to use store-bought balsamic glaze.  (I love this one from DeLallo.)  Or you can simply place 1/2 cup of balsamic vinegar in a small saucepan and let it simmer on the stove over medium-heat until it has reduced by half and is nice and thick and syrupy.  Delish!