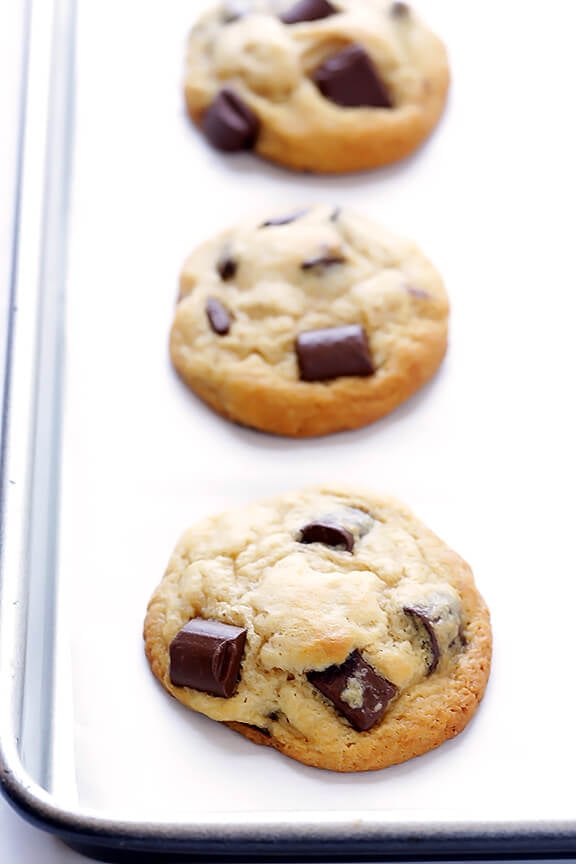 Bourbon. And chocolate.
Um, need I say more?
Well just in case anyone needs a little extra convincing, let me just tell you that even this girl (who barely eats sugar anymore) went back for seconds on these guys. And thirds. And mayyybeee also snuck in a few bites of dough too…
Because bourbon.  And chocolate.
'Nuf said.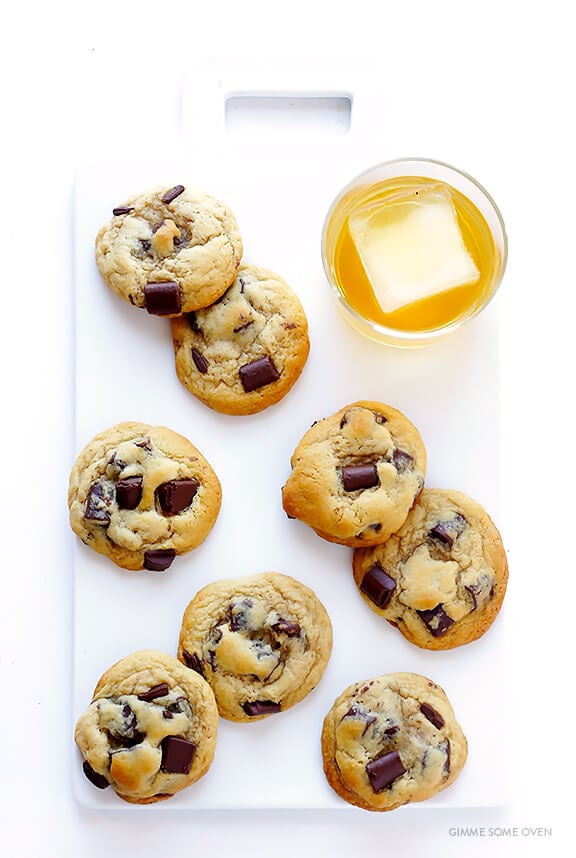 Actually, I must admit that I've gone back for seconds and thirds on these cookies each time I've made this recipe…which I think is now up to a grand total of five times just within this summer. So many bourbon chocolate chip cookies happening at my place!
I mean, what can I say?
I had to be sure that this recipe was absolutely perfect before sharing it with you. 😉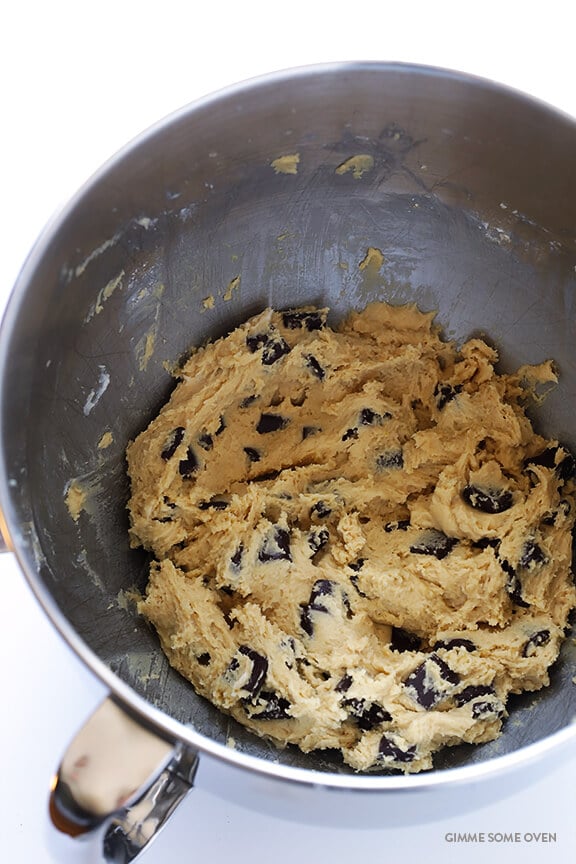 As always, my friends were more than happy to serve as willing taste testers, especially once the magic "b" word was mentioned. I brought a batch to a neighbor night, some to the 4th of July, some to a party with friends, and each time the response was the same — people seemed shocked that they could "actually taste the bourbon" in them!
To be sure, the whiskey flavor is very subtle and blends perfectly with the buttery cookies and sweet chocolate. But it's absolutely there. And absolutely amazing.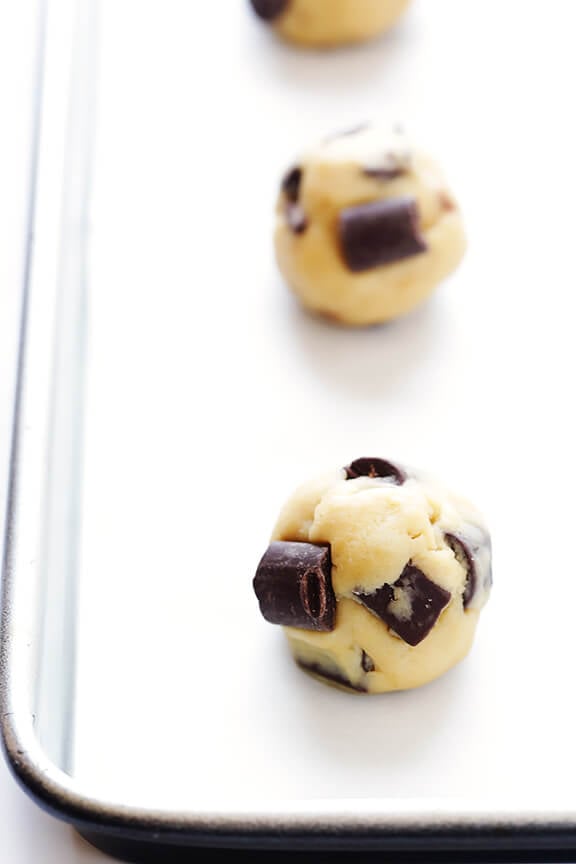 The base cookie recipe is just a slight variation from my favorite Coconut Oil Chocolate Chip Cookies. I decided to revert back to using butter for this one for a little extra stability, since the extra liquid from the bourbon paired with coconut oil is bound to flatten more quickly. But if you don't mind a flatter cookie, you're totally welcome to stick with the coconut oil.
And then I went with some big ol' chocolate chunks, because they somehow seemed an appropriate pairing with bourbon. (Although traditional chocolate chips would be quite lovely as well.)  And I couldn't resist employing that ol' food styling secret of poking a few extra chocolate chips/chunks on the outside of the dough balls once they have been rolled so that you can clearly see the chocolate in each bite.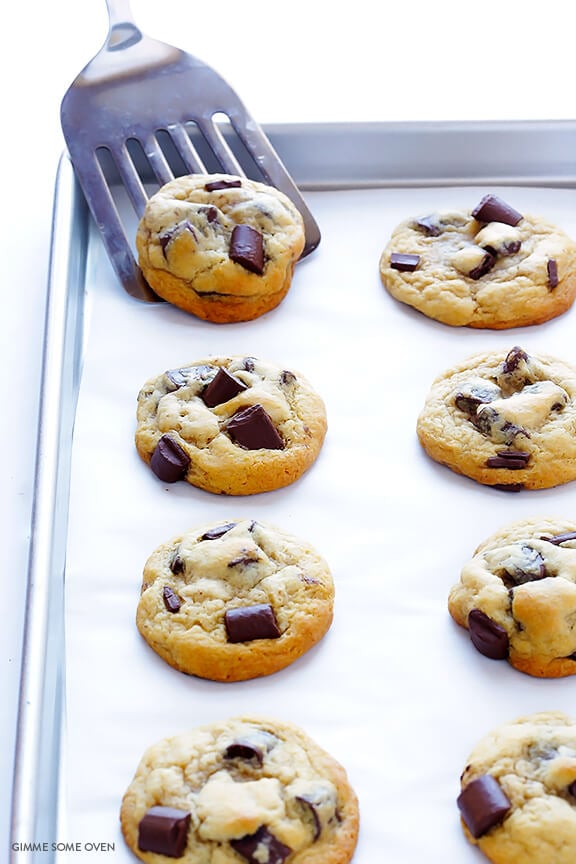 The result? Beautiful cookies that are soft and chewy and vanilla-y and butter-y and all of the good y's.
AND BOURBON-Y.
Which I'm now convinced belongs forever and always in a good batch of CCC's. But I'll let you give it a try and see what you decide. Cheers! 🙂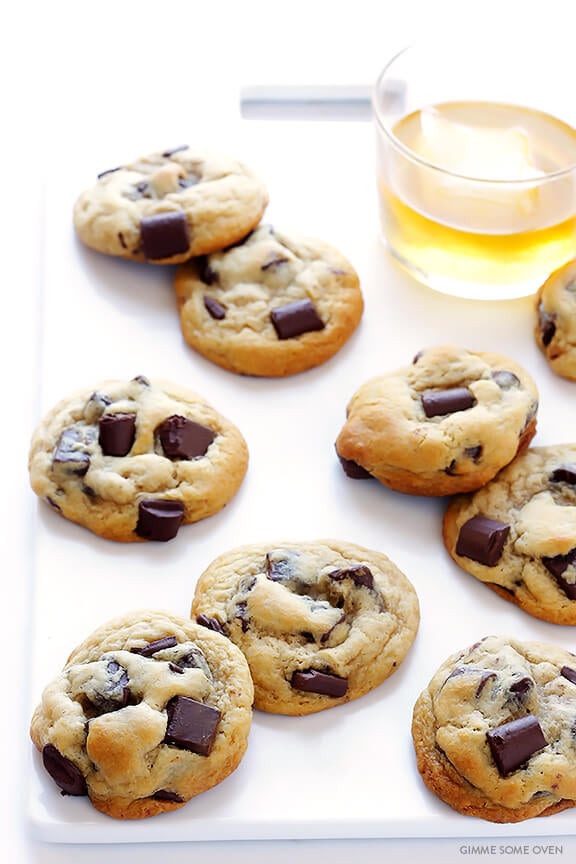 Print

Bourbon Chocolate Chip Cookies

Prep Time: 15 minutes


Cook Time: 10 minutes


Total Time: 25 minutes


Yield: 0 About 12 cookies 1x
---
Description
This Bourbon Chocolate Chip Cookies recipe is easy to make, soft and chewy, and flavored with the most delicious hint of bourbon.
---
1/2 cup

butter, softened

1/2 cup

brown sugar, packed

1/3 cup

granulated sugar

1

egg

2 tablespoons

bourbon

2 teaspoons

vanilla extract, store-bought or homemade

1 1/2 cups

all-purpose flour

2 teaspoons

cornstarch

1/2 teaspoon

baking soda

1/4 teaspoon

salt

1 cup

semisweet chocolate chunks (or chocolate chips)
---
Instructions
In the bowl of a stand mixer, use the paddle attachment to cream together the softened butter and sugars on medium-high speed until light and fluffy, about 3 minutes.  Add the egg, bourbon and vanilla extract, and beat on medium-low speed for another minute until combined.  Add in the flour, cornstarch, baking soda and salt, and beat on medium-low speed until combined. Fold in (stir in) the chocolate chunks/chips by hand until just combined.

Use a large cookie scoop (equivalent to 3 tablespoons) or a spoon to shape the dough into balls, and place them on a large plate. Cover with plastic wrap and chill the dough balls for at least 2 hours, for best results.  (You can bake them after less chilling time, but they will be more flat.)

When you are ready to bake the cookies, preheat oven to 350 degrees F. Place chilled dough balls at least 2 inches apart on a parchment-lined baking sheet. (Or a baking sheet that has been covered with a Silpat, or greased with cooking spray.)

Bake for 10-12 minutes until the edges are just set and the cookies are slightly golden on top.  (The centers may look ever-so-slightly undercooked.) Cool cookies on the baking sheet for about 5 minutes, then transfer to a wire rack to finish cooling. Serve immediately or store in a sealed container for up to 1 week. You can also freeze the cookies for up to 3-4 months.
---