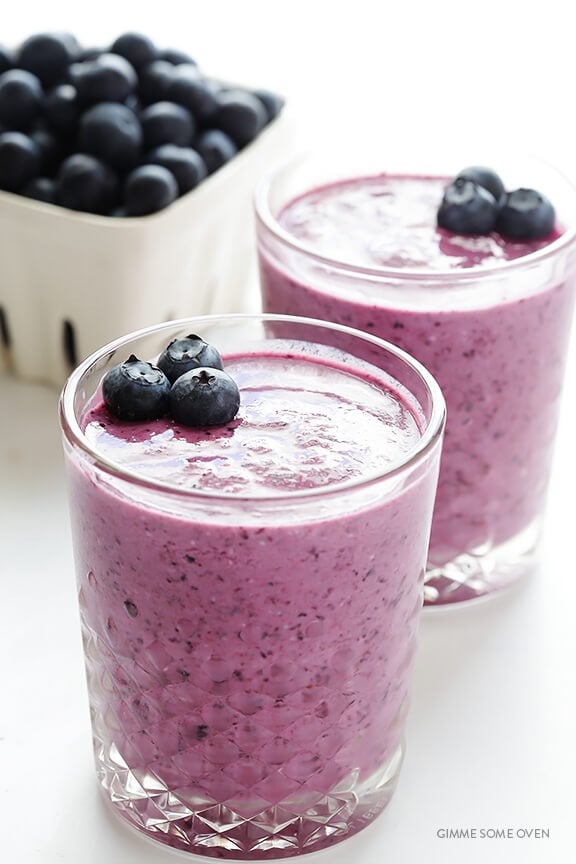 Pretty sure that the smoothie recipe index on this blog is starting to look like a dessert buffet lately.
We've got recipes for you to make a Banana Bread Smoothie, Carrot Cake Smoothie, Apple Pie Smoothie, Oatmeal Cookie Smoothie, Chocolate (Chia) Smoothie, and the list goes on. And, oh, I have a half dozen other "dessert" smoothies coming your way soon. I'm on a roll!
I mean, as much as I adore a nice sweet treat, I have a pool party and a wedding coming up this month and a cute new dress that I'd like to squeeze into. So I'm taking any opportunity I can find to take some healthier shortcuts for my favorite dessert recipes, as well as some of my favorite breakfast treats. My latest experiment was to see if I could smoothie-fy one of my all-time favorite breakfast indulgences — blueberry muffins. Now of course, nothing quite compares to a warm, buttery, fluffy muffin bursting with juicy fresh blueberries. But, if you decide to pass on the muffin, I'm pretty sure that the next best thing is this blueberry muffin smoothie.
It's quick and easy to make, packed with tons of protein and antioxidants, and it is mighty delicious.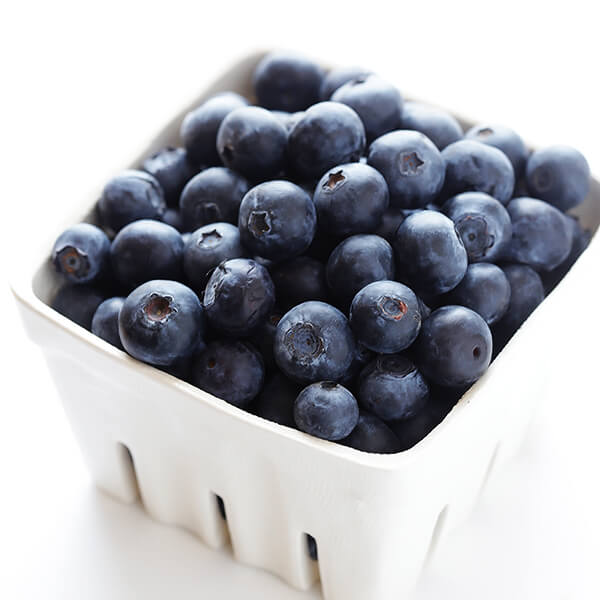 I have confessed on the blog before that I tend to be a bit of a berry hoarder whenever I find fresh (or frozen) blueberries on sale at the store. And this month has been no exception. I believe that at one point there were no less than 8 cartons of fresh blueberries taking up residence in my refrigerator.
Sorry I'm not sorry.
I LOVE BLUEBERRIES!
They're crazy delicious, super good for you, and — how I justify said hoarding — they taste delicious fresh and freeze beautifully if you don't eat them in time. 😉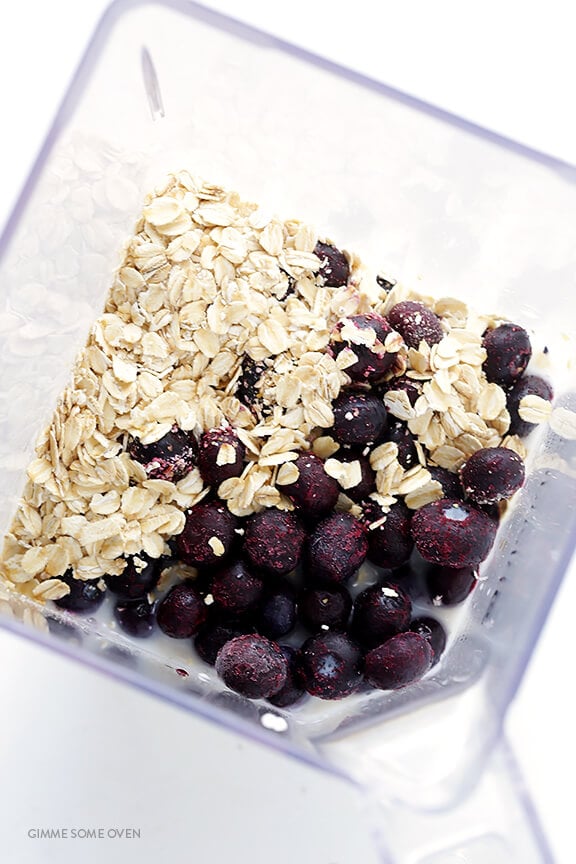 I just so happened to have a batch of (ahem) "freshly" frozen blueberries on hand one morning last month when I decided to experiment with this smoothie. And when blended up with some oats, almond milk, Greek yogurt, vanilla, and a pinch of salt (important)…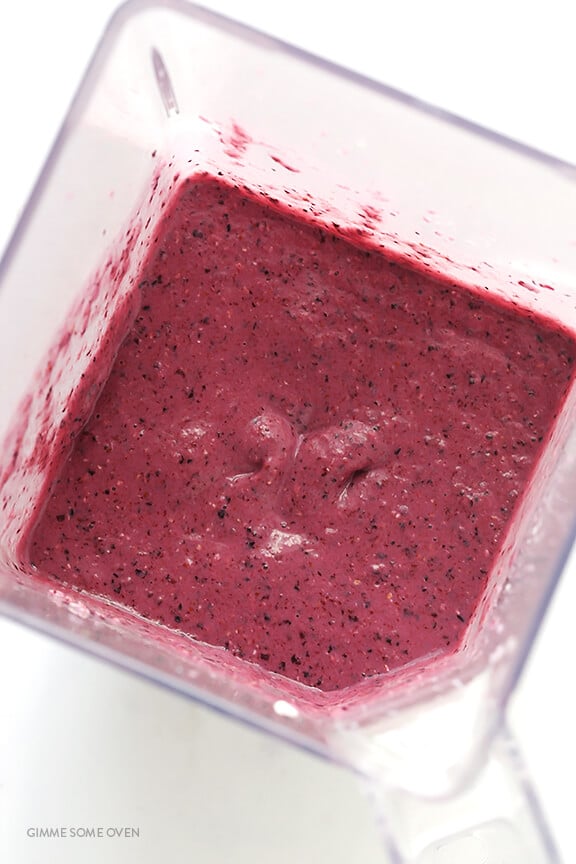 …turns out, the result tasted surprisingly similar to my favorite indulgent muffin!
And thanks to those frozen blueberries, it was super vibrantly purple as well. (Heads up — I highly recommend drinking this puppy with a straw. Otherwise, your lips and teeth may be super vibrantly purple as well.)  😉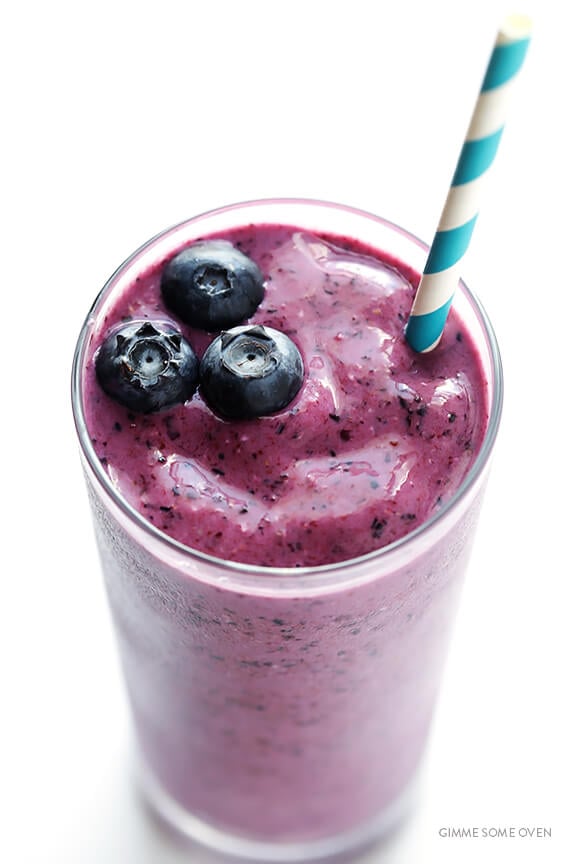 I topped mine with a few fresh blueberries for flare. And…then proceeded to drink half of it for breakfast…followed by the second half for lunch. It tasted like such a treat!
I thought the blueberries made the smoothie plenty sweet on its own, but if you insist, you're welcome to add in a little extra maple syrup of honey. And then I like adding in Greek yogurt for extra protein, but you can omit that if you're making the smoothie dairy-free or vegan. And if you only have fresh (instead of frozen) blueberries on hand, just add in a little extra ice to thicken things up. Basically, feel free to make whatever modifications you need.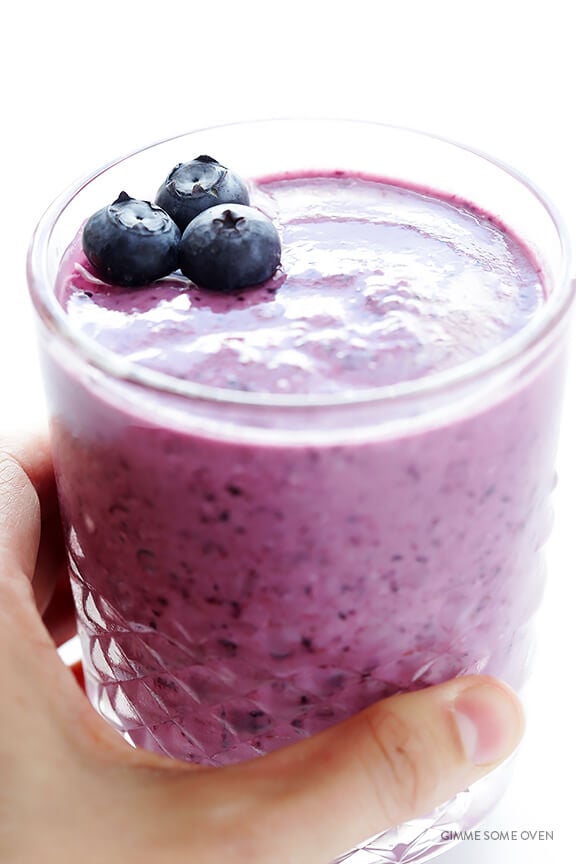 Bottom line, if you love blueberry muffins, make this smoothie. I have a feeling it just might make your day. 🙂
Print

Blueberry Muffin Smoothie

Prep Time: 2 minutes


Total Time: 2 minutes


Yield: 2 servings 1x
---
Description
This Blueberry Muffin Smoothie is made with fresh and healthy ingredients, yet tastes like the blueberry muffin flavors that inspired it!
---
1 cup

frozen blueberries

1/2 cup

plain non-fat Greek yogurt

1/3 cup

milk (I used almond milk)

1/4 cup

old-fashioned oats (use gluten-free oats if making this smoothie GF)

1/4 teaspoon

 vanilla extract, store-bought or homemade

pinch of salt

(optional) 1-2 teaspoons maple syrup or honey, to sweeten
---
Instructions
Add all ingredients to a blender.  Pulse until smooth, adding more milk if needed to thin out the smoothie.

Serve immediately, garnished with extra blueberries if desired.
---