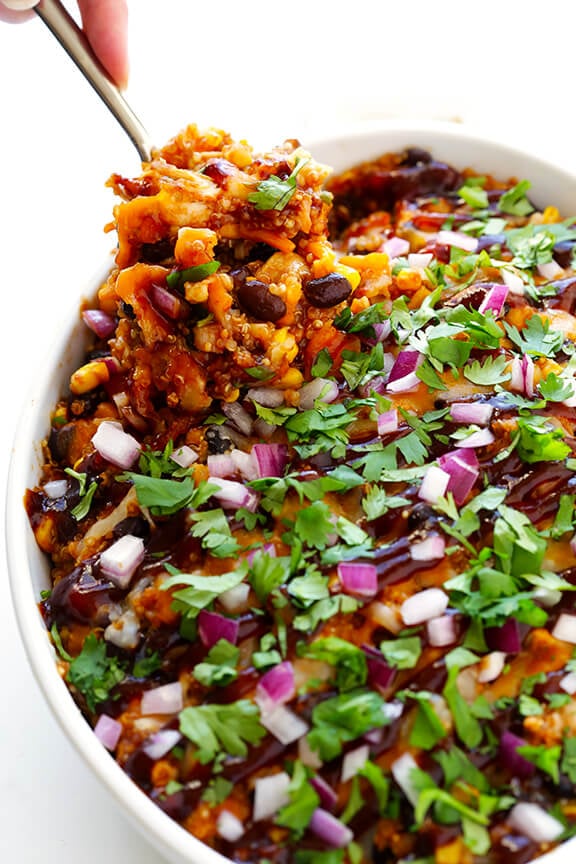 This post is sponsored by KC Masterpiece.
I must say, this has been quite the year to live in Kansas City.
Between our hometown team killin' it last month at the World Series (Royalssssss!), to watching a gorgeous new streetcar roll into the city (with a stop oh-so-conveniently in front of my building), to cheering on a handful of awesome new restaurants and bands and entrepreneurs, even to watching on our hometown Gone Girl author flip the switch last night for our annual Plaza lighting event, I feel like everyone I know in this city is just beaming lately with local pride. And I'm definitely one of 'em. It's a great time to live in Kansas City.
That said, though, whenever I'm traveling and tell people that I'm from Kansas City, the first subject that comes up in conversation is inevitably the first subject that has always come up. One that is very near and dear to the hearts of all who live here. One that you are expected to form strong opinions about, and "research" often. One that makes this town more sweet, more smoky, and more delicious than just about any other I know.
Oh yes.
Everyone always wants to talk about Kansas City BBQ.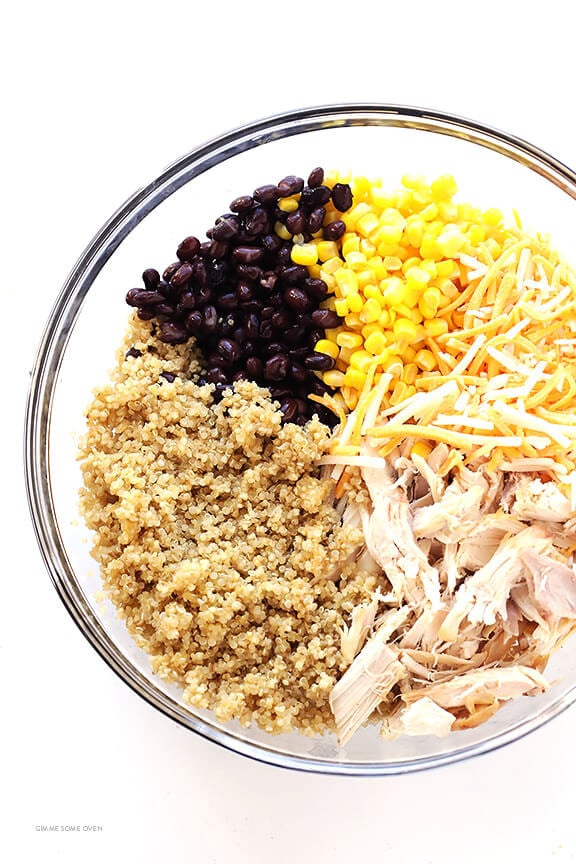 Having grown up just 3 hours away from here in Wichita, Kansas, I had always heard the rumors about how seriously KC took its bbq. From the American Royal competition, to the legendary bbq joints around town, and — of course — always associating the bottles of KC Masterpiece with "the big city" nearby, I learned from a young age that Kansas City loves its bbq.
Now after having lived here for over a decade, I can vouch that this is probably an understatement. Kansas City loves its bbq to the moon grill and back, and any Kansas Citians I know will arm wrestle you any day — or bbq up a dish or take you to a favorite restaurant — to prove to you that our bbq is indeed the best. I'm now definitely one of 'em.
But the good news for all of us home cooks is that you don't even necessarily need to be in town or dining out at one of our local joints to get good bbq. The original winner of the American Royal Barbeque (the world's largest bbq competition that's held annually in KC) is actually available in stores for you to pick up any day — good ol' KC Masterpiece Kansas City Classic.
I recently found out that this sauce was created back in 1978 by a home cook himself who loved the "Kansas City style" bbq sauce that's a little bit sweet, a little tangy, a little smoky, and a whole lotta delicious. I've been a big fan of it for years too, especially because the Kansas City Classic sauce is sweetened with molasses instead of high-fructose corn syrup, and made with everyday ingredients. It also happens to be naturally gluten-free, and iss perfect for grilling, marinades, soups, enchiladas, and even simple 1-dish casseroles like this one!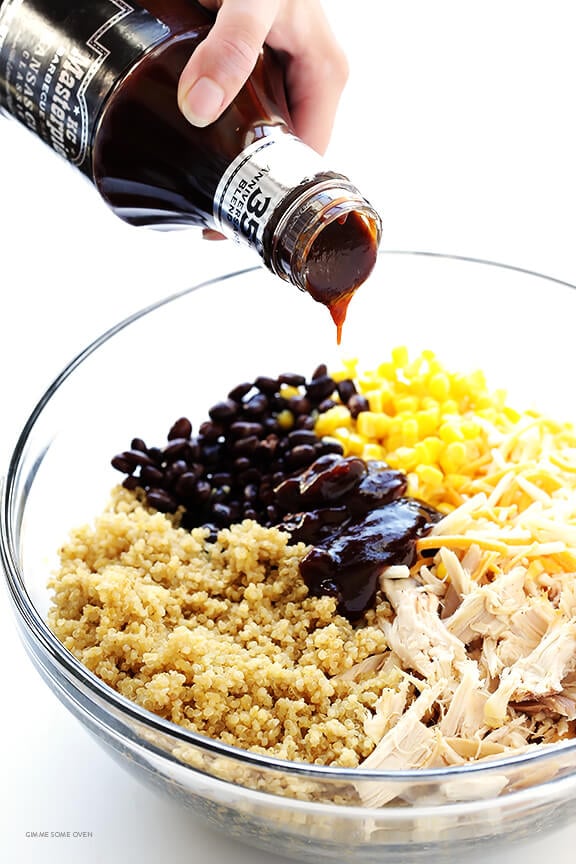 For any of you who are burned out on cooking after Thanksgiving this week, rest easy — this easy chicken casserole only calls for 6 main ingredients, it can be stirred together in minutes, and will bake up quickly to warm, cheesy, delicious perfection. Oh and bonus? It's also gluten-free!
To make the casserole, simply stir all of the casserole ingredients together — either in the baking dish you're going to use, or in a separate bowl if that's easier.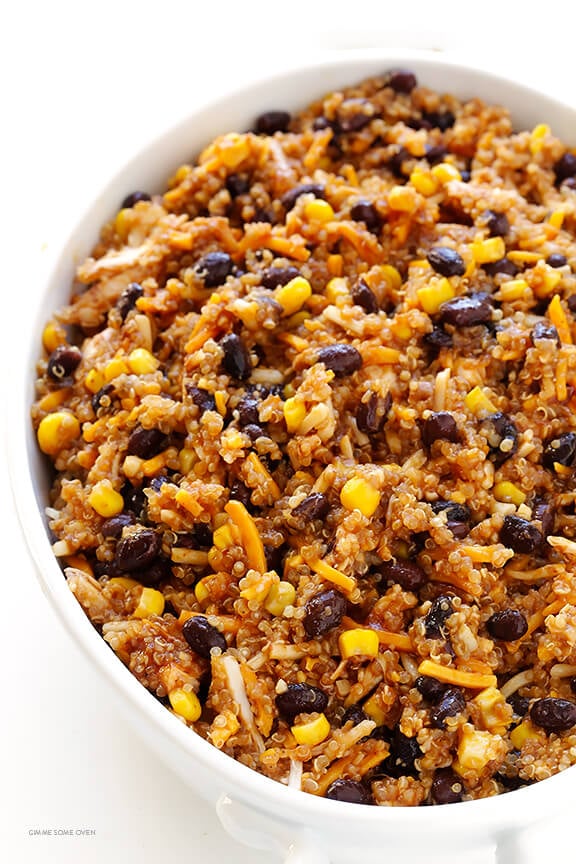 Then transfer and/or spread the mixture out in your baking dish, top it all with a little extra cheese, and bake it up until everything's warmed through and the cheese is melted.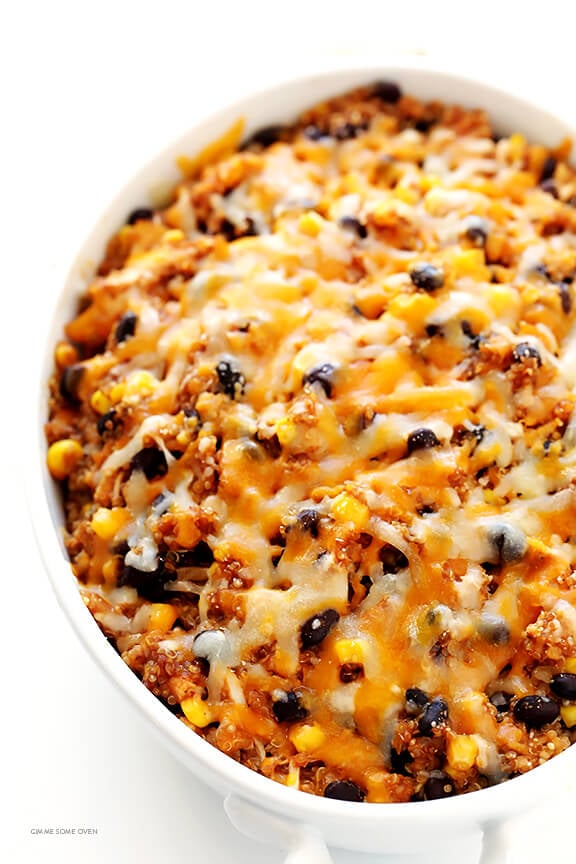 Liiiiiike that. Easy peasy.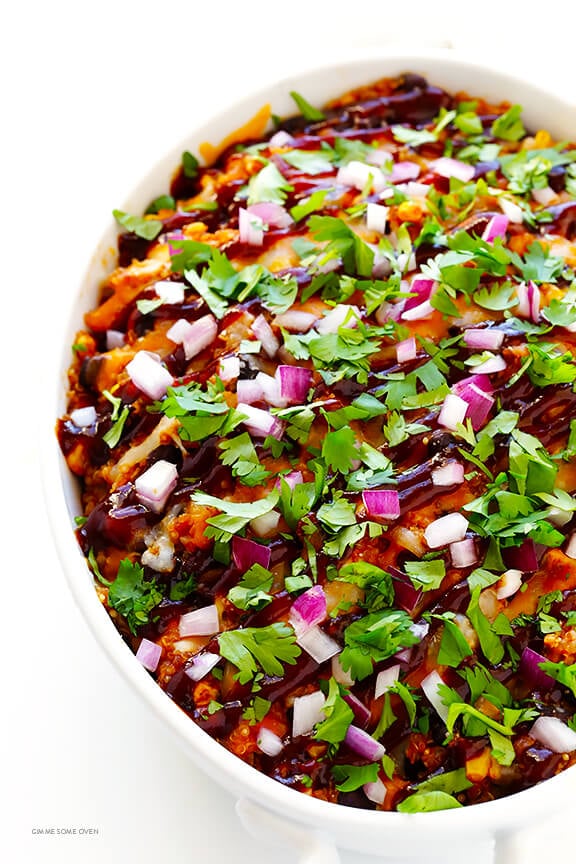 Then drizzle it all with a little extra bbq sauce, sprinkle on your desired garnishes, and voila!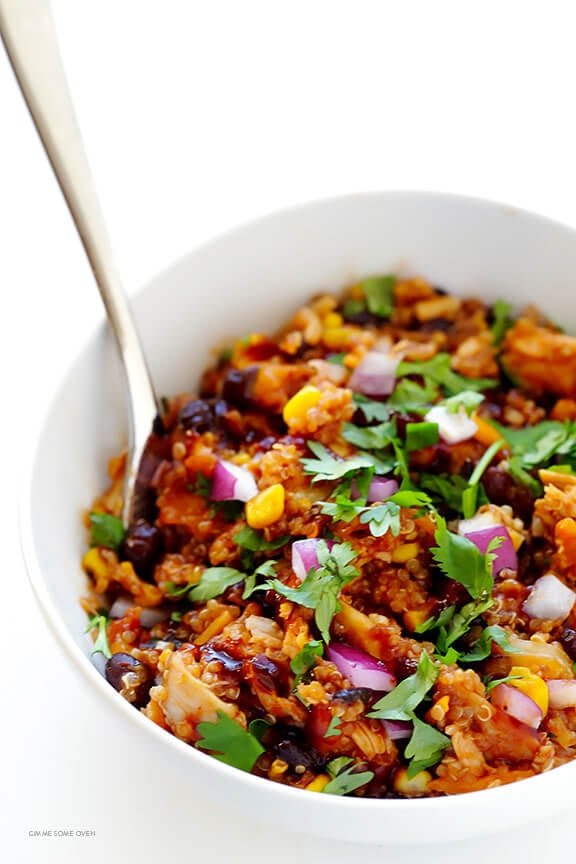 Dinner is served.
Kansas City style. 🙂 🙂 🙂
Yet one more delicious reason I'm proud to be from this city. So from my hometown to yours — enjoy!
Print

BBQ Chicken Quinoa Casserole

Prep Time: 10 minutes


Cook Time: 20 minutes


Total Time: 30 minutes


Yield: 6 –8 servings 1x
---
Description
This BBQ Chicken Quinoa Casserole only calls for 6 main ingredients, it's quick and easy to make, and it is so hearty and delicious!
---
3

 cups cooked quinoa* (see tutorial for how to cook quinoa)

2 cups

(

8 ounces

) shredded Colby Jack cheese**, divided

2 cups

shredded cooked chicken

1

(15-ounce) can black beans, rinsed and drained

1 cup

whole-kernel corn, canned or frozen (then thawed)

1 1/4 cups

 KC Masterpiece Kansas City Classic BBQ Sauce, plus extra for drizzling on top

optional garnishes: chopped fresh cilantro, finely-chopped red or green onions, diced avocado, sour cream, etc.
---
Instructions
Preheat oven to 375°F.

In a large bowl or baking dish, stir together quinoa, 1 1/2 cups cheese, chicken, black beans, corn and bbq sauce until combined.  Transfer the quinoa mixture to a baking dish (or leave it, if you're mixing this up in the baking dish), and sprinkle the remaining 1/2 cup cheese evenly on top.

Bake for 15-20 minutes, or until the cheese is melted and the casserole is warmed through.  Remove from the oven, and drizzle the top of the casserole with a little extra bbq sauce, and top with your desired (optional) garnishes.

Serve immediately.
---
Notes
*3 cups cooked quinoa is made from 1 cup uncooked quinoa, cooked with 2 cups chicken or vegetables stock.
**Feel free to use just about any shredded cheese here.  I used part-skim Colby Jack.
This recipe has been sponsored by KC Masterpiece. I'm partnering with them because I love some good Kansas City bbq, and all opinions are my own as always. Thanks for continuing to support the brands who help make this site possible!