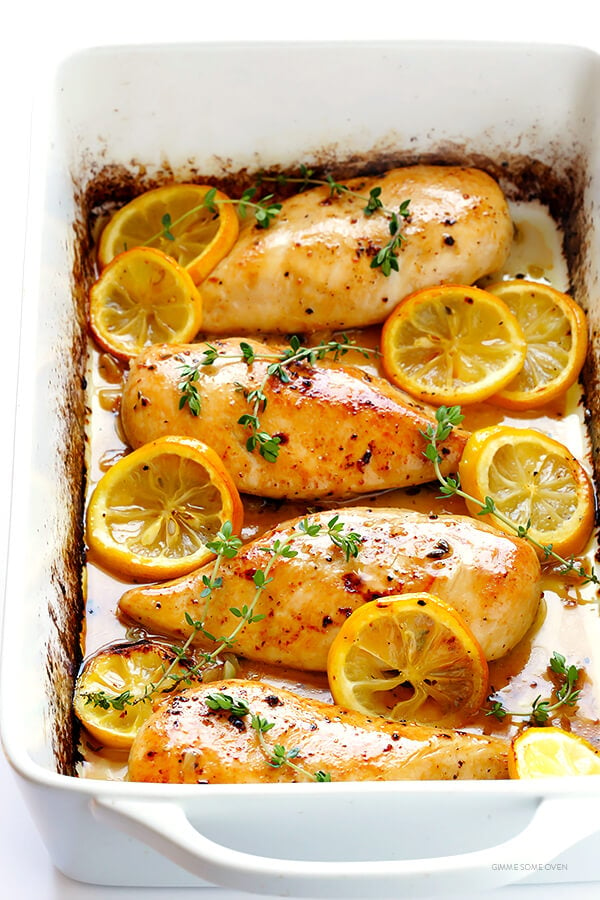 One of my favorite things in the world is getting requests from you guys for recipes. (Like, favorite — it seriously makes me so happy when I can hear what kind of recipes you want to be making!)
Without a doubt, one of the biggest recipe request successes we've had here at Gimme Some oven was my 5-step method for perfectly baked chicken breasts that I shared a few years ago, which tons of you had asked about and has now become one of the top-viewed recipes of all time here on the blog. (Amazing!!)  But ever since then, we've had more and more people ask how to make a lemony version of the recipe. So today, that request is my delicious command again.
I made you some baked lemon chicken breasts!
And I think you're going to love them.
They're incredibly easy to make, and only call for a few simple ingredients. They're perfectly juicy and tender, not at all rubbery or dry. They're perfect when served on their own, or mixed into any number of other recipes or repurposed as leftovers. And more than anything, they are full of the best, delicious, fresh lemony flavor.
Mmmm, let's make some. ♥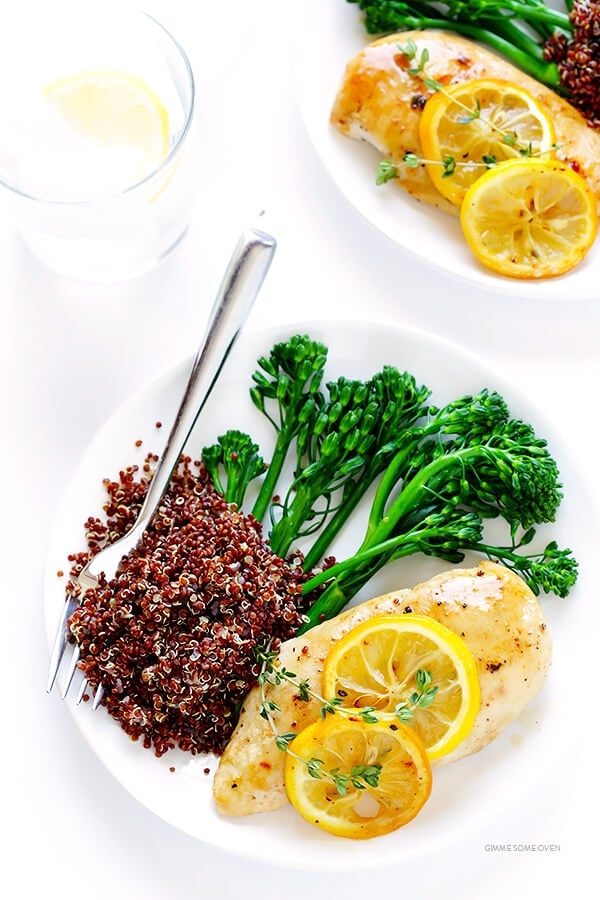 As I mentioned in my earlier tutorial, it seems as though chicken breasts are definitely one of the most popular cuts of chicken that people prefer to buy. But when it comes to baking, they can definitely be a little difficult at times to work with. (Raise your hand if you've had a choke down a dry and rubbery chicken breast before — oof.)
But hakuna matata.
All you need is my simple 5-step method to remembering how to cook perfectly baked chicken breasts: B.R.R.R.R.
Brine

Brush

Rub

Roast

Rest
You can read more about that in detail here. But it's all included in the recipe below. Just brine the chicken in warm salt water for at least 15 minutes before baking, then brush on some melted butter, rub on some seasonings (or salt and pepper, in this case), roast the chicken on high heat, and then let it rest so that all of those yummy juices can collect before slicing.
Perfect chicken every time! Yeah!!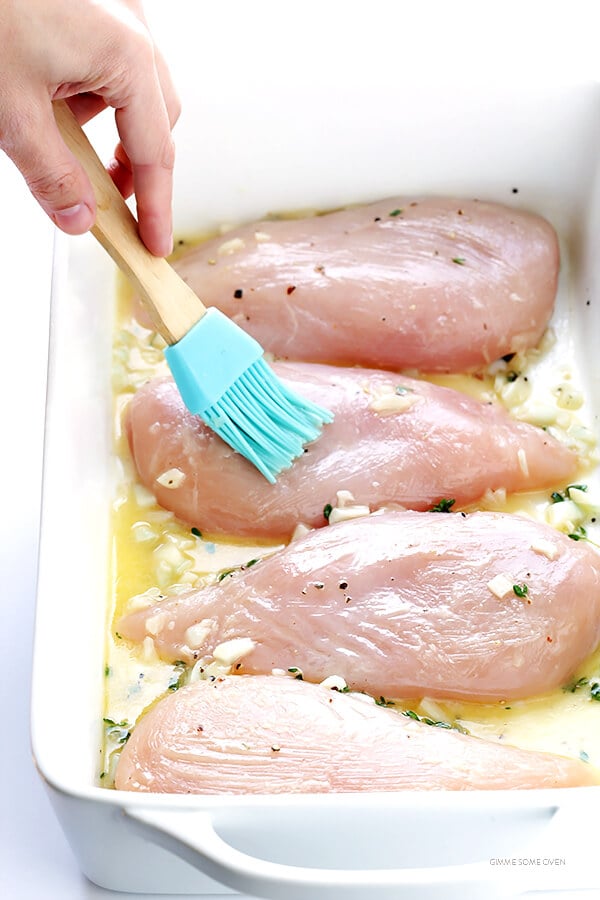 For this recipe, I went with a simple lemon garlic butter sauce, seasoned with salt and pepper and a few sprigs of fresh thyme. If you're someone who cooks with white wine, I also highly recommend adding in a splash of something dry.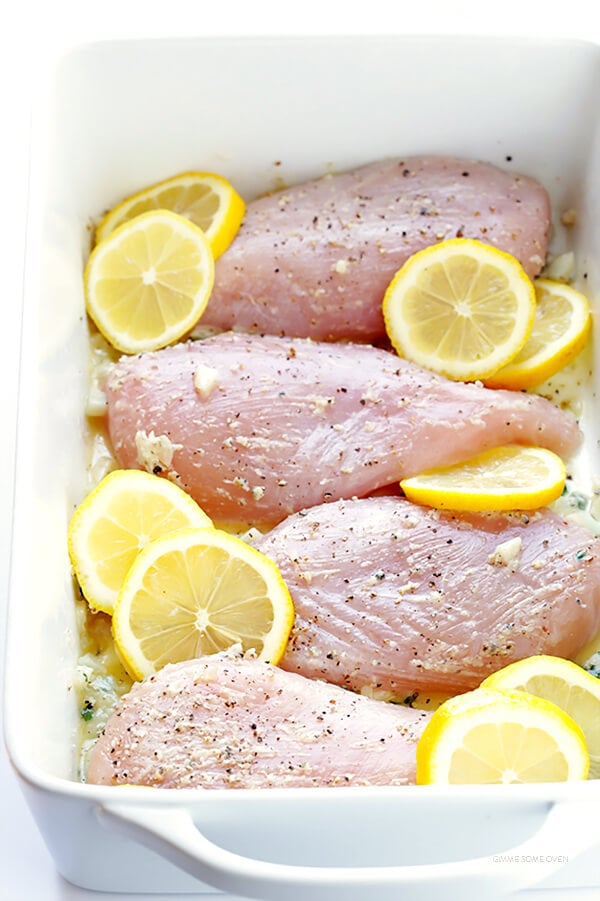 Then feel free to add in a few extra lemon slices to the mix to look pretty when it all bakes up. (Although disclaimer — I don't recommend eating these or laying them directly on top of the chicken breasts, since they get a little bitter the longer they cook.)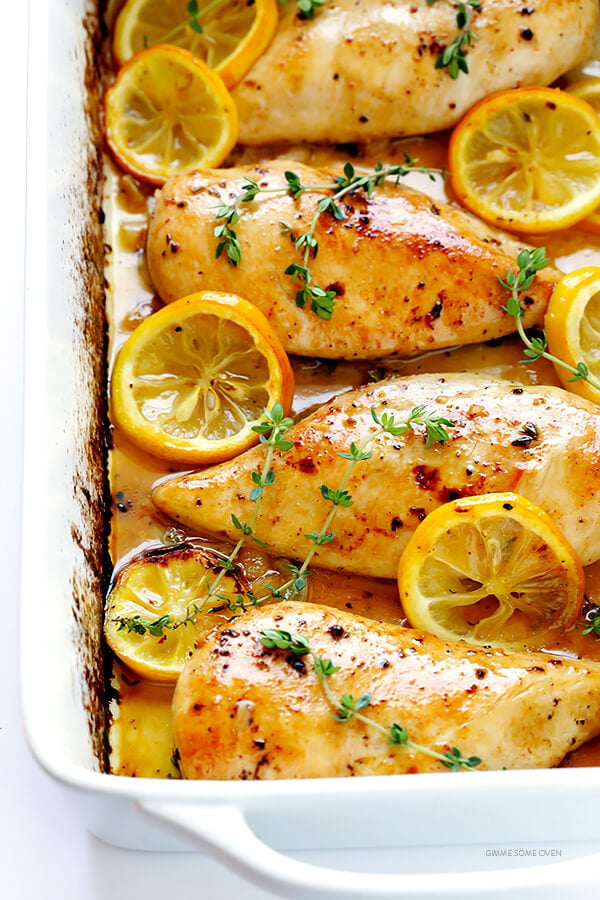 And after 15 minutes or so of baking — being sure to take the pan out every 5 minutes to re-baste the chicken with that yummy lemony butter sauce — this gorgeous chicken should be ready to go! I use a this cooking thermometer (purchased on Amazon for about $15) to ensure that the chicken is fully cooked (160-170 degrees F). Then you know it's totally ready to go!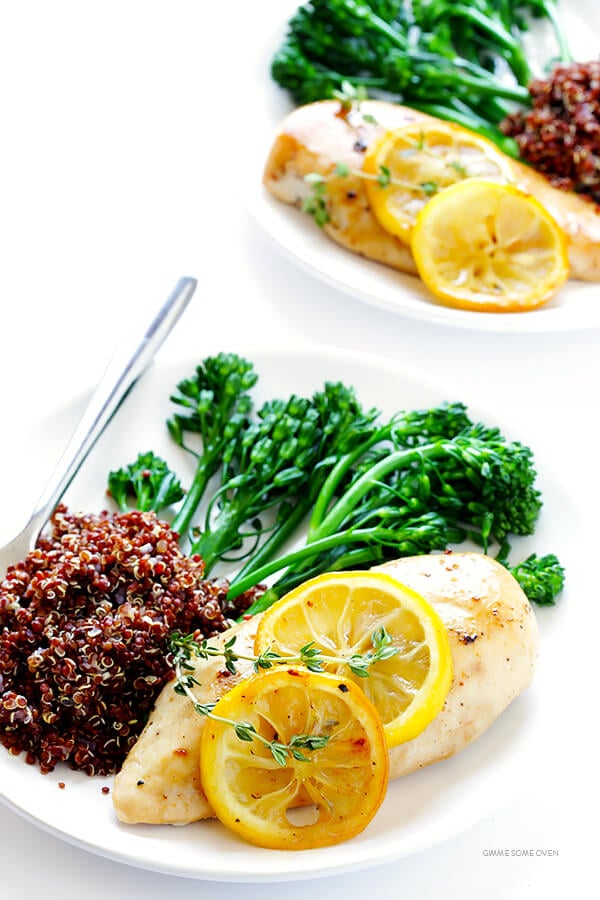 Again, feel free to serve it plain along with your favorite sides. Or get creative, and add it to a big green salad, or pasta, or panini, or whatever else floats your boat. (Pro tip: I also definitely recommend making extra for leftovers, which you can dice or shred and add to just about anything, or freeze for later!)
However you serve it, I feel like you really can't go wrong with some classic lemon chicken. 🙂
So grab some fresh lemons, and give it a try soon!
Print

Baked Lemon Chicken

Prep Time: 20 minutes


Cook Time: 15 minutes


Total Time: 35 minutes


Yield: 4 servings 1x
---
Description
This baked lemon chicken recipe is perfectly juicy and tender, easy to make, and full of the best fresh lemony flavor.
---
4

boneless skinless chicken breasts, that have been pounded to even thickness and brined in saltwater (*see easy instructions below)

4

cloves garlic, peeled and minced

3 tablespoons

melted butter

2 tablespoons

freshly-squeezed lemon juice

1 teaspoon

fresh thyme leaves

1 teaspoon

Kosher salt

1/2 teaspoon

freshly-cracked black pepper

optional garnishes: fresh lemon slices, extra fresh thyme sprigs
---
Instructions
*To brine your chicken breasts, simply fill a large bowl with 1 quart of warm water and 1/4 cup kosher salt.  Stir to combine until most of the salt is absorbed.  Add the chicken breasts and let them sit in the mixture to brine for 15 minutes.  Or you can also also cover the bowl and refrigerate for up to 6 hours.  Remove the chicken breasts from the brine, rinse them with cold water, then pat them dry with some paper towels.

Heat oven to 450°F.

In a medium bowl, whisk together the garlic, melted butter, lemon juice, and thyme until combined.  Set aside.

Pour the melted butter mixture into a large baking dish, and place the chicken breasts on top of it in an even layer.  Use a pastry brush to brush the butter mixture all over the chicken breasts until they are completely coated on both sides.  Then sprinkle each chicken breast evenly with a generous pinch of salt and pepper.

Then feel free to add in a few extra lemon slices to the mix to look pretty when it all bakes up.  (Although disclaimer — I don't recommend eating these or laying them directly on top of the chicken breasts, since they get a little bitter the longer they cook.)

Bake for 5 minutes.  Then remove the pan from the oven and brush the chicken again thoroughly with the butter mixture.  Bake again for 5 minutes, remove and brush.  Bake again for 5-8* minutes, or until the chicken is cooked through and no longer pink.  (So the chicken will bake for 15-18 minutes total.  If you use a cooking thermometer to measure the temperature thickest part of the breast, it should be between 160-170°F.  The FDA recommends 170°F.)

*Or, if you want the chicken to be a little bit browned and crispier on top, you can turn the broiler on high for the final 3-5 minutes and broil the chicken until it is cooked through and extra browned on top.  Keep a close eye on the chicken so that it does not overcook and/or burn.

Once the chicken is cooked, remove the pan from the oven and brush the chicken thoroughly with the butter mixture once more.  Loosely cover the pan with aluminum foil, and let the chicken rest for at least 5-10 minutes.  Serve immediately, garnished with extra lemon slices and thyme sprigs if desired.

Or, refrigerate in a sealed container for up to 3 days, or freeze for up to 3 months.
---
This post contains affiliate links.