This recipe is sponsored by ALDI.
Does anyone else feel like this month just keeps getting better and better?
Let's review:
Two weekends ago, we got to set our clocks forward for sunny long evenings ahead — Daylight Savings! Then last weekend, we got to bid farewell to my least favorite season of the year on Sunday and say hello to — Spring! Then this weekend, it still gets better, because we get to celebrate my favorite holiday of the year with its promise of hope and goodness and all-things-newness — Easter!
Seriously, 2016, well done. Couldn't have planned it better myself.
That said, though, I think Easter did sneak up on all of us extra-early this year. So for anyone else who might be in the same boat as me, looking for some fresh new recipes to go with that Easter ham, I have a tasty one for you today that I think you're going to love. It's everything we all love about traditional potato salad, but modernized with some lighter Greek yogurt instead of mayo, an extra handful of fresh veggies and herbs, and — you guessed it — so much avocado.
My kind of potato salad. 🙂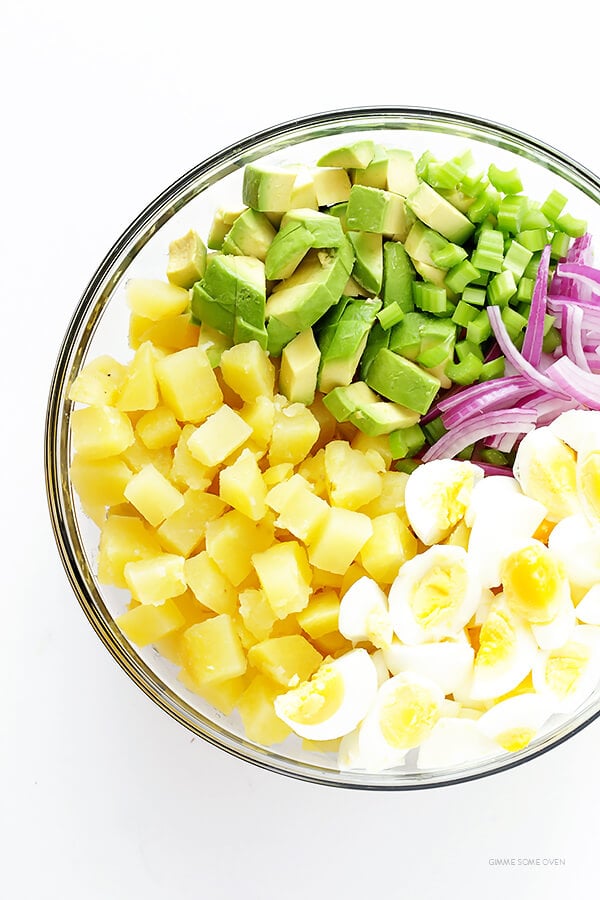 The other great thing about this salad?! It's made entirely from ingredients from my all-time favorite little grocery store, whom I'm also happy to announce that I'm partnering with again — ALDI!
Those of you who have followed this blog for years know that I have been a mega-fan of ALDI for the past decade. I'm love the store's business model that helps keep overhead and prices low. I have dozens of favorite ingredients there that are staples in my kitchen (especially their ever-expanding SimplyNature and organic lines of products, and always always their fresh pineapple). And as of this year, I'm now extra-excited that all of the ALDI-branded products (about 90% of the store) are completely free of certified synthetic colors, partially hydrogenated oils, and added MSG.
It just gets better and better.
Also awesome news? I recently discovered that ALDI is now selling organic avocados, which you'd better believe I snatched up in a hurry. And then promptly used to make a mega batch of my favorite guacamole. And then used a few others to make some avocado toast. And then diced some more up and added them to this awesome potato salad…which I highly recommend you do as well. Because what recipe isn't better with avocado?!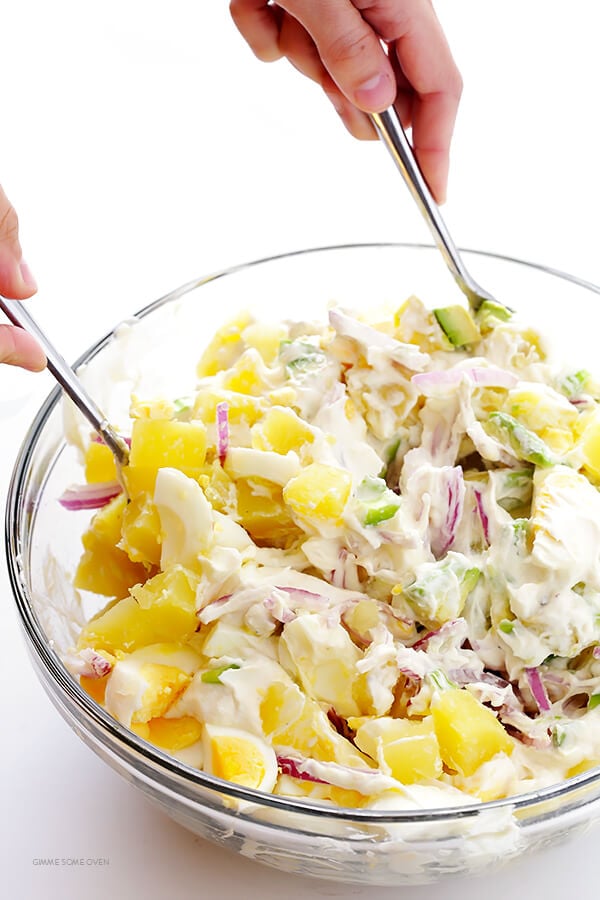 The instructions to make it are quite simple. Just boil up a bunch of Yukon Gold potatoes (my favorite variety for creamy potato salad). Add them to a bowl with your other classic potato salad ingredients and lots of fresh avocado. Then gently toss it all tother until the salad is combined…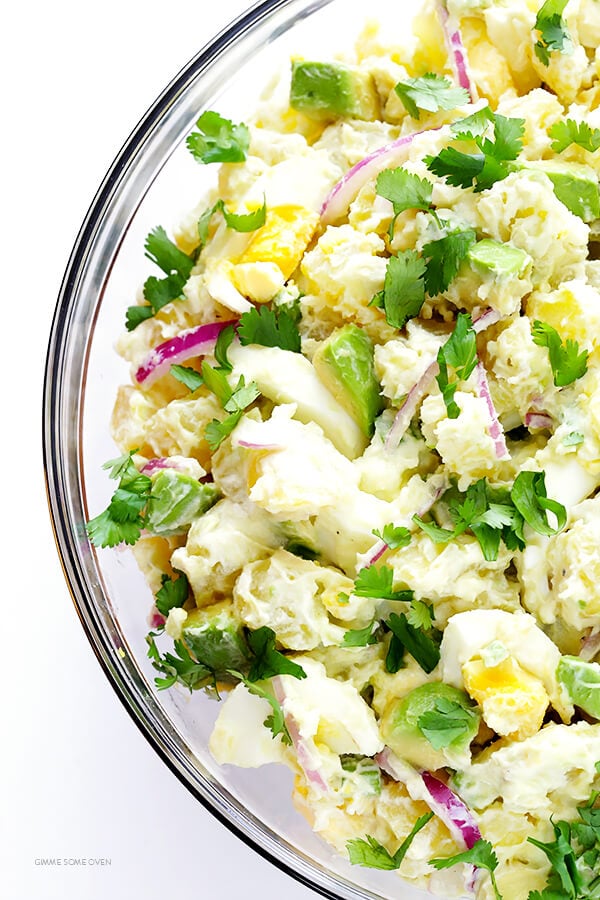 …and then…voila! This green goodness is all yours to enjoy. Or well, it serves at least 8, so I recommend sharing it with some family and friends. 😉
It's creamy and hearty, just like traditional potato salad. But in lieu of mayo, I lightened up the sauce a bit with some plain Greek yogurt. And instead of paprika or dill, I added in some fresh cilantro and chili powder and cracked black pepper to compliment the avocado. And instead of being avocado-free? Well, let's just say that I fully recommend adding lots of organic avocado to kick this recipe up a mega notch.
So good, so simple to make, and SO guaranteed to be a crowd-pleaser.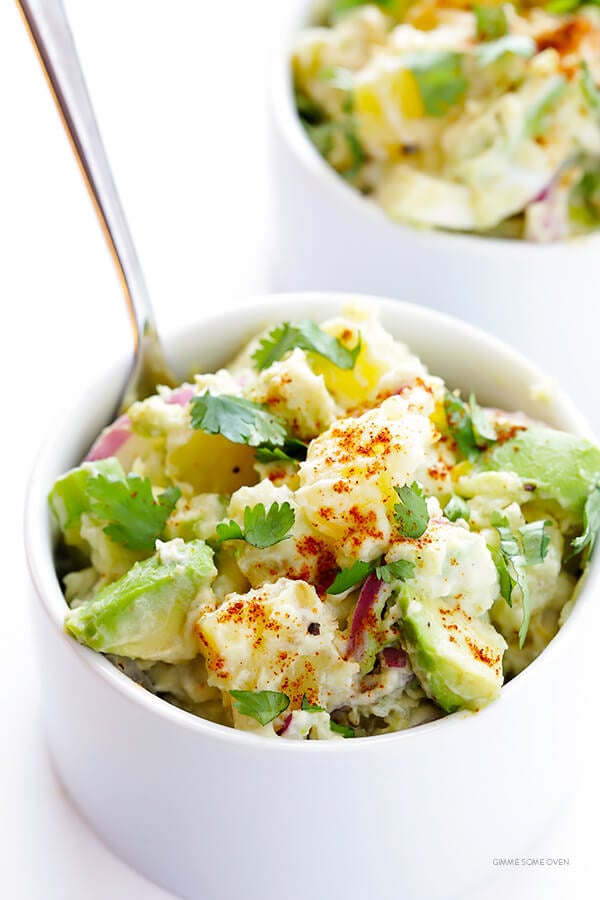 Enjoy, and stay tuned for some more ALDI-inspired recipes coming your way this year!
Print

Avocado Potato Salad

Prep Time: 15 minutes


Cook Time: 25 minutes


Total Time: 40 minutes


Yield: 8 –10 servings 1x
---
Description
This Avocado Potato Salad recipe is easy to make, perfect for a crowd, and kicked up a notch with lots of delicious avocado!
---
3

pounds Yukon Gold or red potatoes, quartered

Kosher salt

2 Tablespoons

ALDI SimplyNature apple cider vinegar

1 1/4 cups

ALDI FriendlyFarms plain Greek yogurt or mayonnaise

1 tablespoon

Dijon mustard

1/4 teaspoon

freshly-cracked black pepper

4

 hard-boiled eggs, peeled and diced

2

medium organic avocados, peeled, pitted and diced

half of a

small red onion, peeled and thinly-sliced (or diced)

1/2 cup

chopped celery (about

2

–

3

celery ribs)

1/4 cup

chopped fresh cilantro

optional toppings: pinch of chili powder, extra chopped fresh cilantro, extra black pepper
---
Instructions
Place the potatoes in the bottom of a large stockpot.  Fill the pot with cold water until it reaches an inch above the potatoes, then add a tablespoon of salt to the water.

Heat the potatoes over high heat until the water reaches a rolling boil.  Then reduce heat to medium, and simmer for 15-20 minutes, or until the potatoes are fork-tender and cooked through.

Remove from heat and strain out the water.  Then once the potatoes have cooled for a few minutes, remove and discard the potato skins.  Then dice the potatoes into small bite-sized pieces, and sprinkle with the vinegar.  Set aside.

In a large mixing bowl, whisk together the Greek yogurt (or mayo), Dijon mustard and black pepper until combined.

Add the diced potatoes, hard-boiled eggs, avocado, red onion, celery and cilantro to the mixing bowl.  Then very gently toss the potato salad until all of the ingredients are combined and evenly coated with the Greek yogurt sauce.

Garnish with optional toppings if desired.

Serve immediately.  Or cover the salad with plastic wrap so that the plastic is completely touching the top of the salad with no air bubbles, and refrigerate for up to 2 days.  (The avocados may brown slightly after a few hours, but they will still be safe and delicious to eat.)
---
Notes
I shopped for all of these ingredients at ALDI, which are available while quantities last. Items may not be available in all stores, and prices and labels may vary by location. Check out ALDI on Facebook, Twitter & Instagram to keep up with new recipes and products this Easter season!
Adapted from Inspired Taste and Foodie Crush.
This is a sponsored post in partnership with ALDI. Thanks for supporting the brands who help make this site possible!