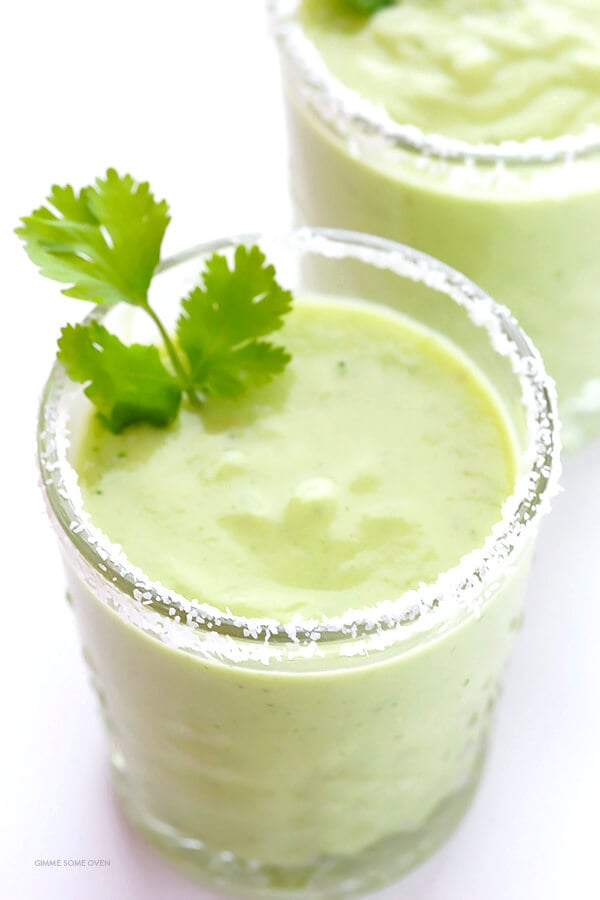 At the time this post goes live, I will be soaking up the sunshine and kickin' back with my girlfriends on our weekend trip back to the Land Where I First Tasted An Avocado Margarita.
That's right.
We're going back to Austin, baby!!!
Those of you who follow the blog may remember that last year, my good friend Kathryne and I spent the entire month of February in Austin — working remotely in the kitchen of the cute little AirBnB that we rented, scoping out as many music venues and hiking trails as possible, and eating and drinking our way around town like you wouldn't believe. I think both of us would agree that it was one of the best months of our lives, and we've been missing the city like crazy. And all of those margaritas…
So anyway, I'm happy to report that this weekend, we're finally going back! And this time, we're bringing along a few more good girlfriends too. Kathryne and I, of course, have dozens of places we'd love to return to. But we only have four days this time, so I suppose we'll find a way to narrow down the list somehow. 😉
What I do know is that good margaritas are at the top of the list for all of us girls, so we'll definitely be hitting up a few of our favorite happy hours to make 'em happen. Austin was, after all, the first place I tried a mezcal margarita, and the place where I fell in love with the spicy cucumber margaritas. It also happened to be the first place I tried an avocado margarita, which seemed like the perfect recipe to share with you today.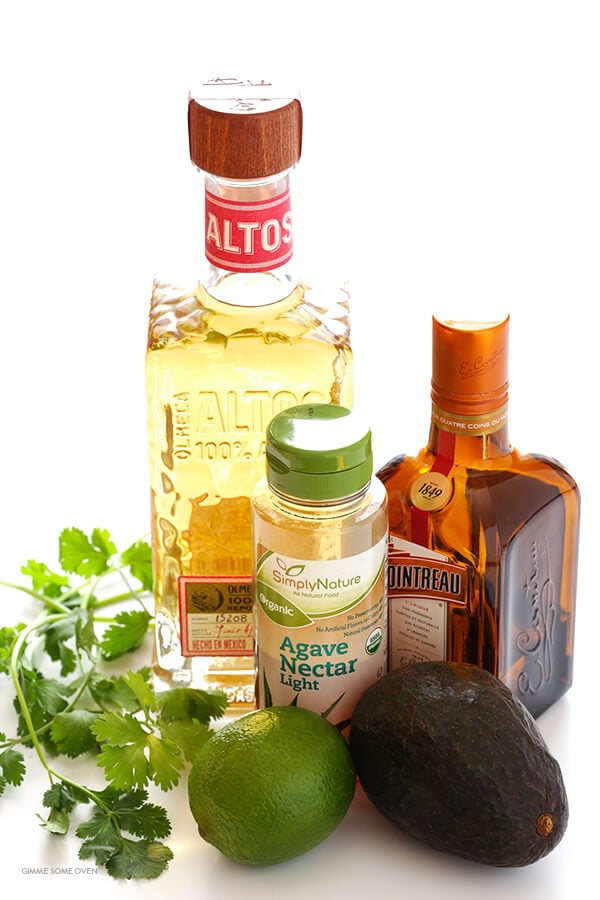 Interesting, after traipsing all over Austin in search of the city's best margaritas all month, we discovered (at the end of our trip) that some of our favorite margaritas were actually at this neighborhood restaurant just a few blocks away from our AirBnB — a place called Curra's Grill.
As opposed to many of the uber-hipster Mexican restaurants around town, Curra's was a more traditional, casual, family-friendly joint that had been around for years. I instantly fell in love with their chips and salsa. And then loved the place even more when we saw that they had 15+ margaritas on the menu! Their claim to fame was their Avocado Margarita, which I (of course) had to try. I wasn't entirely sure what to expect. But as it turns out, an avocado margarita is light and creamy and quite lovely!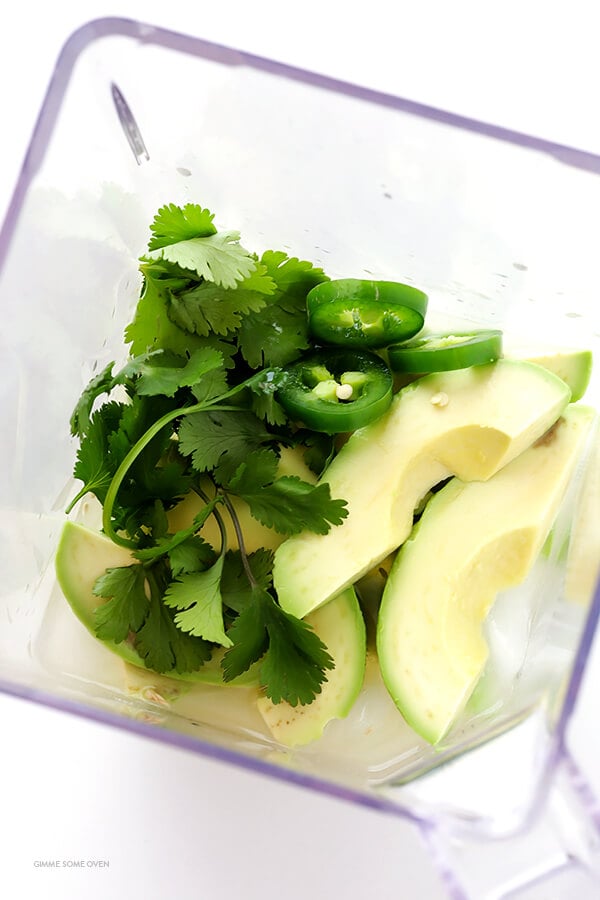 And yes, I do mean "light". The mild and buttery flavor of the avocado definitely tones down some of the usual "kick" of the margarita in a refreshing way, and gives it a nice smooth and creamy texture. I've made a few of them since, and have decided that I like adding a little fresh cilantro and jalapeno in there, along with all of the other classic margarita ingredients, to give it an extra kick. But you're welcome to just stick with the addition of avocado if you'd like.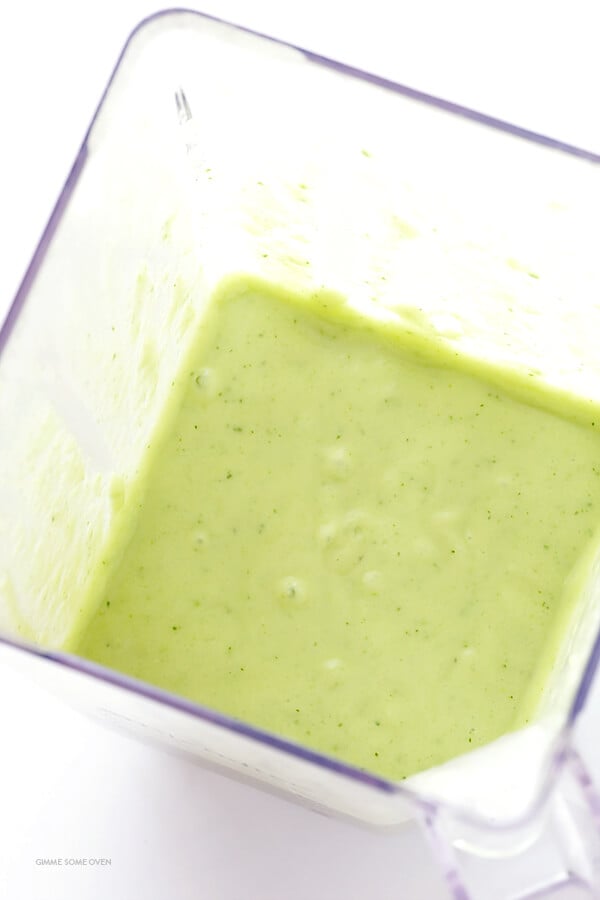 To make avocado margaritas, simply toss all of the ingredients in a blender, and pulse until smooth.
(I generally make these frozen, but you're also welcome to nix adding ice to the blender and serve these on the rocks instead.)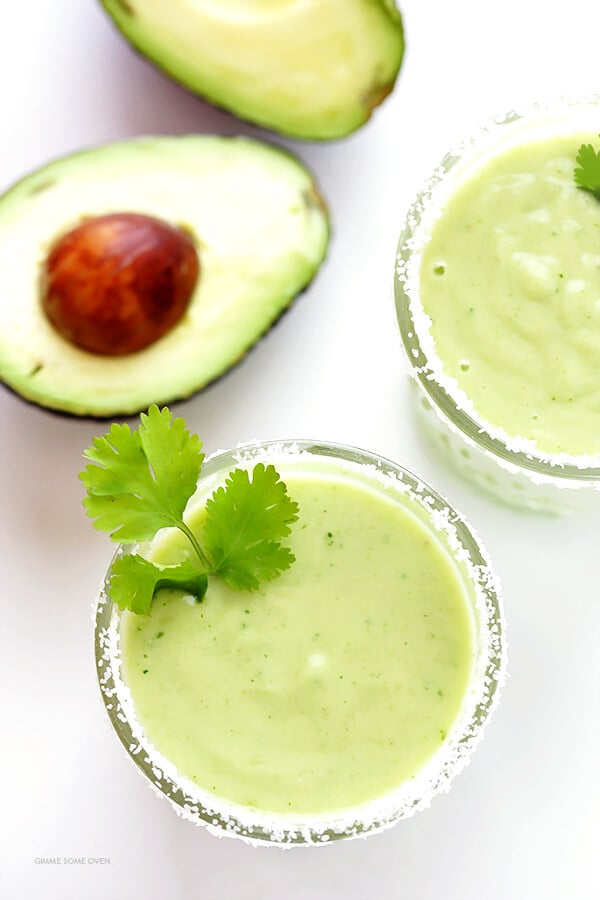 Then serve them up with in glasses with some well-salted rims (a must, I would say, to bring out the flavor of the avocado in these margs). And then within minutes, a delicious batch of these creamy and refreshing drinks will be yours to enjoy.
So thanks for the inspiration, Austin! And I'm looking forward to searching out more delicious ideas this trip to share with you all when I get back! 🙂
Print

Avocado Margaritas

Prep Time: 5 minutes


Total Time: 5 minutes


Yield: 2 servings 1x
---
Description
This recipe for Avocado Margaritas is simple to make, and tastes so light and creamy and refreshing!
---
1

ripe avocado, peeled and pitted

2

 cups ice

4 ounces

tequila

2 ounces

Cointreau (or any orange liqueur)

2 ounces

fresh lime juice

1/4 cup

fresh cilantro leaves, optional

pinch of salt

1

–

3

teaspoons agave nectar, optional

1

–

3

slices fresh jalapeno, optional

optional garnishes: fresh lime wedges, extra fresh cilantro, extra avocado slices
---
Instructions
Add avocado, ice, tequila, Cointreau, lime juice, cilantro, and salt to a blender.  Pulse until smooth.

Taste and add extra agave nectar to sweeten, and/or extra jalapeno to kick up the heat, if desired.  Pulse until smooth.

Serve immediately in glasses that have been rimmed with salt*.  Top with optional garnishes, if desired.
---
Notes
*To rim glasses with salt, simply take a lime wedge and run it around the rim of the glass.  Then pour some coarse Kosher salt in a small bowl, and dip the rim of the glass in the salt.