This post is sponsored by Almond Breeze.
Welp, the weather is officially normal in Kansas City right now:
70° and sunny on Monday. ? 41° and overcast on Tuesday.? 64° and knock-your-socks-off-windy on Wednesday.? Snow in the forecast next week. ⛄️  Eh, I doubt anyone would blink an eye if a random tornado or mild earthquake showed up somewhere in there too… ???
Ah, gotta love the Midwest.
Actually, my friend Maux has a no-complaints policy specifically about loving the weather in the Midwest. If any of our friends dares to complain about a snowstorm in May or tropical climates around Christmas, Maux is always the first to kindly remind them that they chose to live here. And that unexpected weather is to be expected. And that this happens ever year, don't you remember?!
I'll admit, she has a point. But when I woke up yesterday morning to snow flurries after buzzing around town in a tank top the day before, I knew I was going to need a little pick-me-up to, well, warm me up. So after taking my pup for a chilly walk, I came inside and whipped up an extra-warm batch of my latest sweet obsession — Almondmilk Cashewmilk Hot Chocolate.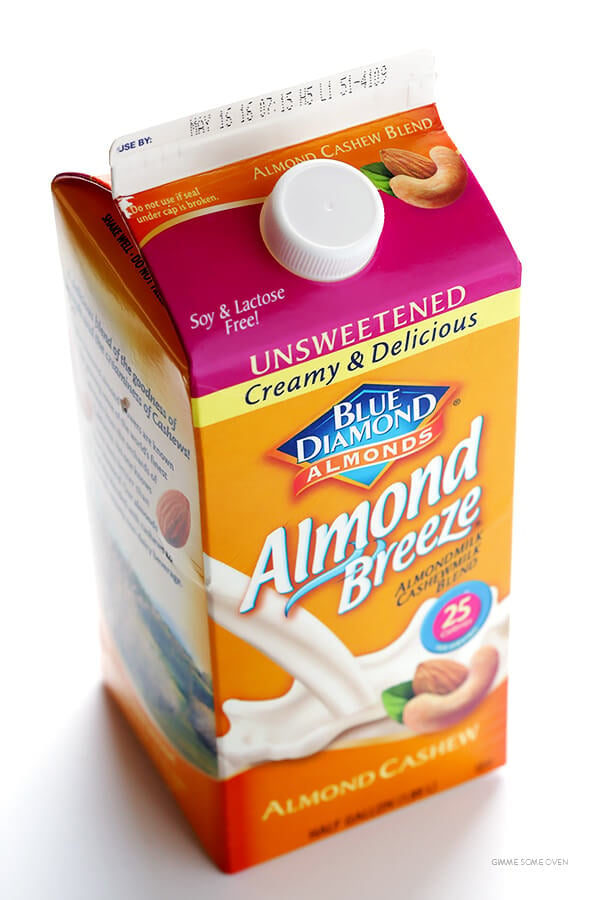 Actually, I can't even take credit for this deliciousness. The idea for it came from the Imagine The Blendabilities contest that I helped host with Almond Breeze this winter, where thousands of you submitted your favorite recipe ideas for their new Almondmilk Cashewmilk Blend. (<– And can I just pause for a minute to say, wow, you guys came up with the best stuff!!!)  I spent a few hours pouring over all of the submissions that came in. And while many of you went the savory route, I kept getting drawn back to the simple and sweet goodness of hot chocolate.
Why?
Well first off — need I say more — hot chocolate!  It has been one of my favorite sweet treats on chilly winter days ever since I was a kiddo. But more importantly, I was intrigued by the idea of making it specifically with the new Almondmilk Cashewmilk Blend, because that stuff is ultra-creamy and delicious. And I knew it would kick my homemade hot chocolate recipe up a mega notch.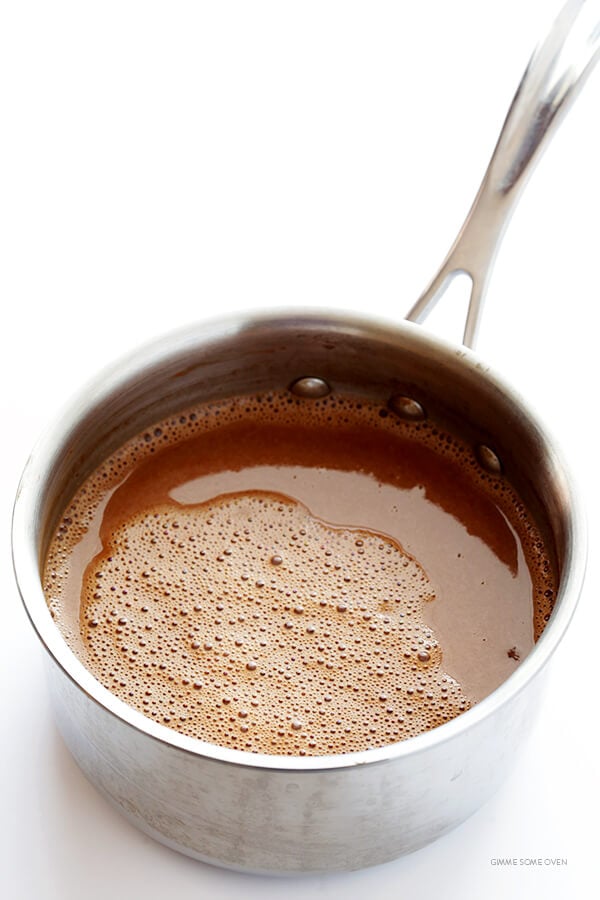 So, I gave it a whirl, and mixed the Almondmilk Cashewmilk Blend with some unsweetened cocoa powder, maple syrup (or you can use any kind of sweetener), a splash of vanilla, and a pinch of salt for extra flavor.
And the result?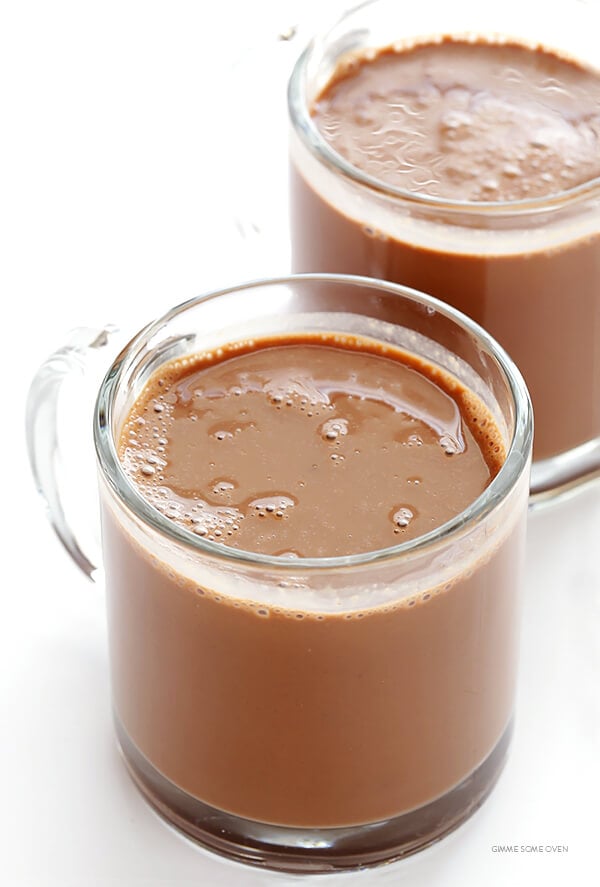 So rich, so creamy, so decadent, and SO FREAKING GOOD.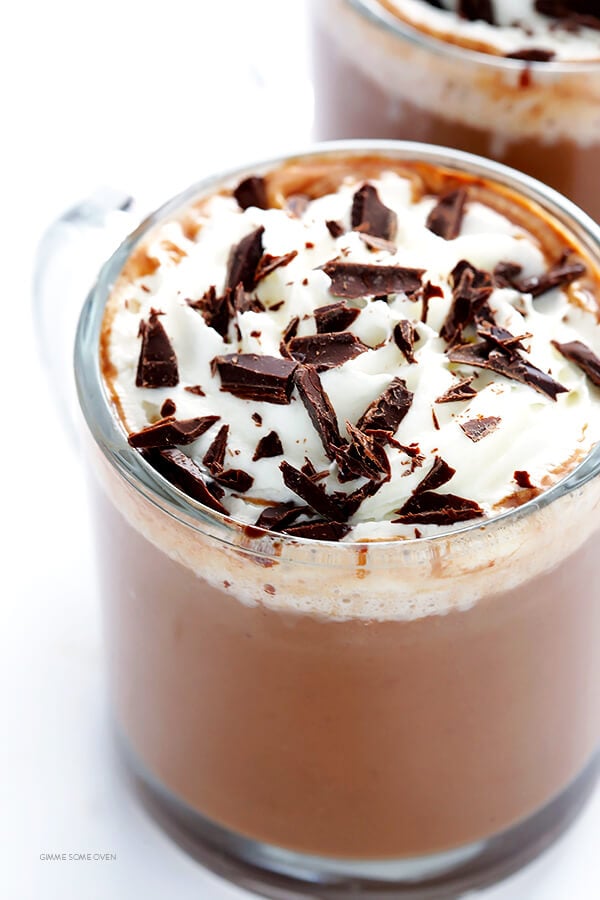 And, you know, since it was all cold and terrible outside and I wasn't allowed to complain about it, I decided to instead treat myself to adding a little whipped cream (or you could use coconut whipped cream) and chocolate shavings on top. Excellent idea.
So if you find yourself stuck with another chilly winter day this year, or for any days you might just be craving a sweet and creamy treat (that's naturally sweetened, and made without cream!), I highly recommend picking up a carton of the new blend and giving this one a try.
I'm pretty positive it will make your day all the warmer and brighter. 🙂
Print

Almondmilk Cashewmilk Hot Chocolate

Prep Time: 2 minutes


Cook Time: 8 minutes


Total Time: 10 minutes


Yield: 2 –3 servings 1x
---
Description
This Cashewmilk Hot Chocolate recipe is easy to make, naturally vegan, and wonderfully rich and creamy and delicious!
---
3 cups

 Almond Breeze Almondmilk Cashewmilk Original Unsweetened*

1/3 cup

unsweetened cocoa powder

2 Tablespoons

maple syrup (or your desired sweetener), or more/less to taste

1 teaspoon

vanilla extract, store-bought or homemade

pinch of Kosher salt

optional toppings: whipped cream (or coconut whipped cream), chopped dark chocolate, marshmallows, chocolate syrup, etc.
---
Instructions
Heat the Almondmilk Cashewmilk in a medium saucepan over medium heat until simmering, stirring occasionally.

Add in the cocoa powder, maple syrup, vanilla extract and salt, and whisk until combined and completely smooth.

Taste, and add extra sweetener if needed.

Ladle the chocolate into serving mugs, and top with your desired toppings if desired.  Serve immediately.
---
Notes
*You could also use the Almond Breeze Almondmilk Cashewmilk Original variety, and reduce the amount of maple syrup (or other sweetener) that you add to the recipe.
This recipe is sponsored by Almond Breeze. I'm partnering with them this year to bring you some tasty new recipes using almondmilk (and this new almondmilk cashewmilk blend), and all opinions are my own. So thanks for continuing to support them and the other brands I love who help make this site possible!