One of my absolute favorite memories from living with my host family in Costa Rica back in high school — and then visiting them again this past summer — was waking up each morning to the sound of a whirring blender making a fresh fruit refresco.
Or, as this drink is called in Mexico and many other Latin-American countries, agua fresca.
Actually, I should probably 'fess up and clarify that mealtimes back in the 90's weren't exactly my favorite time of day. I was a ridiculously picky eater back in high school. And the black beans and fried plantains that were served with nearly every meal in Costa Rica weren't exactly my fave, much less most of the other main courses that were so lovingly prepared. (<– I know, who was this girl? I did my best to make up for lost time — and meals — the last time I was back!)
That said, though, I always knew that I could count on a big glass full of some deliciously-sweet refresco to sip on at every meal. My host mom would blend up an enormous batch first thing every morning, and then serve up the leftovers at lunch and dinner. So the highly-anticipated moment of the morning was always walking into the kitchen to see what new color of juice would be filling the pitcher. Would it be yellow juice day? (My favorite — pineapple!)  Or orange juice day? (Costa Rica's national fruit — mango.)  Or white juice day? (A fun word to say — guanabana.)  Or the dreaded brown juice day? (Ok, I should admit there was one I couldn't do — tamarind.)
Every day, there was always a new juice. And every day, those fresh-fruit juices always felt like such a sweet treat.
So ever since then, I've loved using any fresh fruit I have in the house to blend up refrescos (aguas frescas) of my own. They are the perfect way to use up leftover fruit, they take literally just a minute to make, and they always add a deliciously sweet note — along with some sweet memories — to any meal. Granted, I now make mine with natural sweeteners, instead of the heaps of granulated sugar that are traditionally used in most Latin American countries. But they're still plenty sweet, and still just as delicious.
So if you've never made agua fresca before, I'd love to show you how!
Agua Fresca Recipe | 1-Minute Video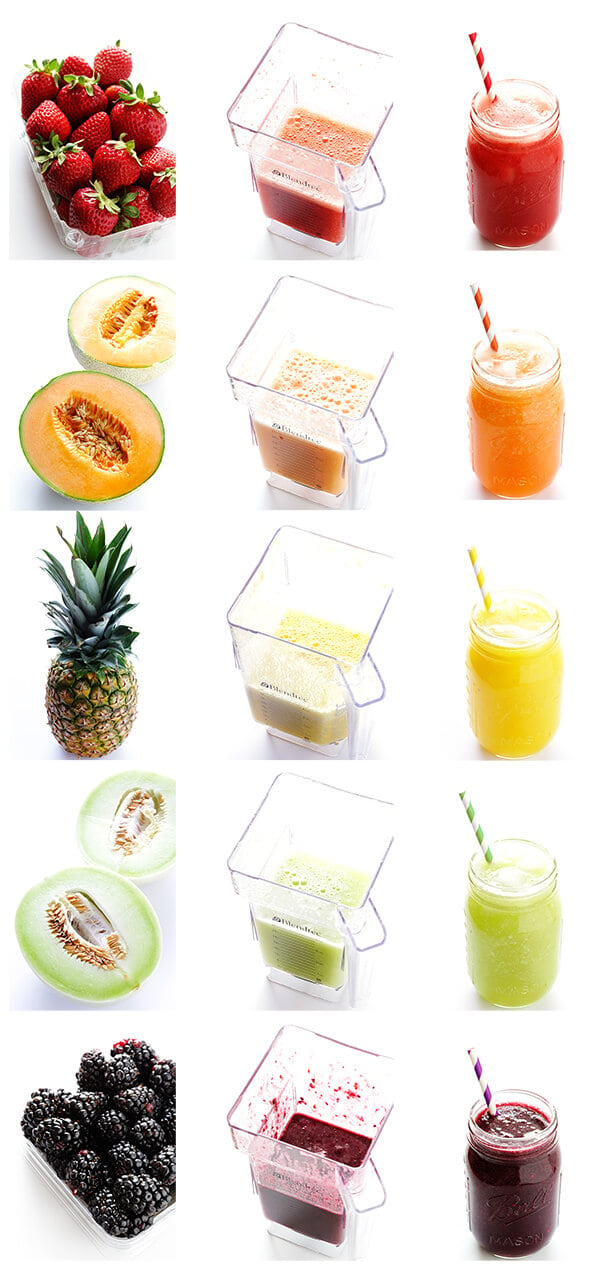 The beauty of aguas frescas is that you can make them with literally just about any fresh fruit. In general, I recommend going for the juicy ones, like citrus, berries, melons, stone fruit, etc. But just about any fruit that you can blend up will do. I went with some strawberries, cantaloupe, pineapple, honeydew, and blackberries from ALDI for this tutorial, which I always love.
Just toss them in a blender with a 2:3 water-to-fruit ratio, or more/less depending on the juiciness of your fruit (you want the juice to be about the consistency you can sip through a straw, not as thick as a smoothie)…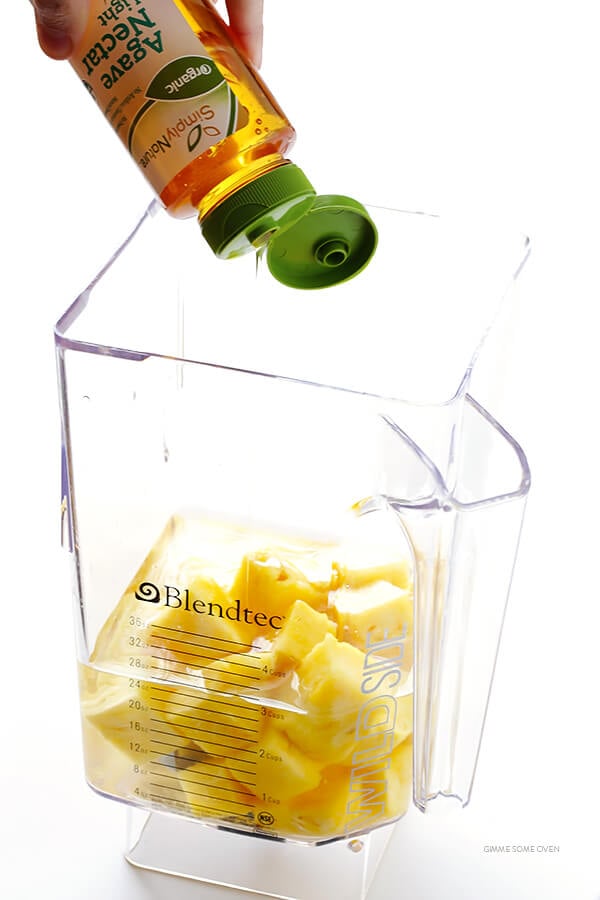 …then add in some agave, honey, maple syrup, or any sweetener that you'd like. (<– Actually, many fruits don't need extra sweetener. So I recommend blending up the agua fresca and giving it a taste, and then adding extra sweetener if needed.)  I always keep extra bottles of SimplyNature Organic Light Agave Nectar from ALDI stocked in my pantry to make these…and maybe my famous margaritas. So good!
In Mexico, it's also traditional to add in a good squeeze of lime juice to give it an extra-zesty kick, which I love.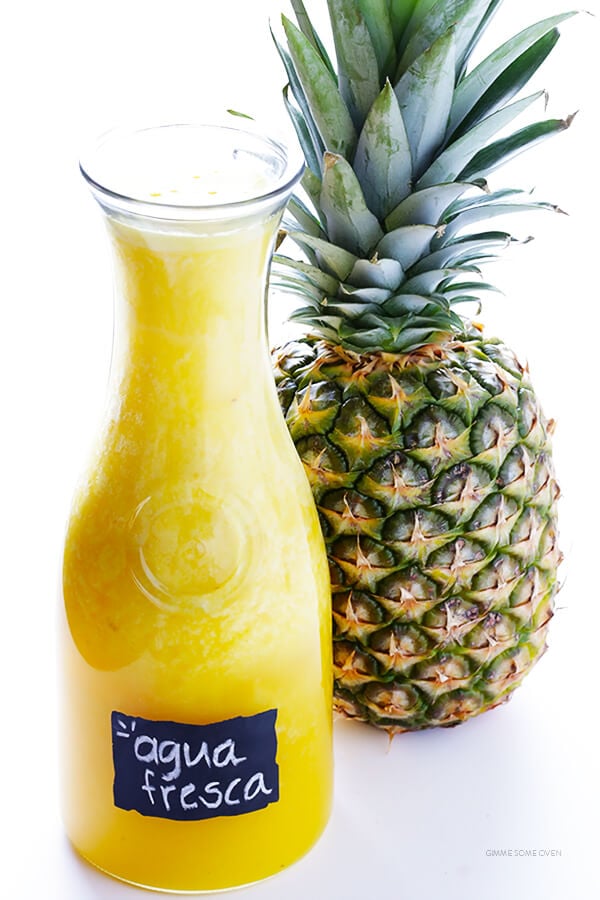 Then blend everything up until it's completely smooth and free of chunks.
At this point, you can either strain out the agua fresca through a fine-mesh strainer to remove the pulp and have a nice smooth juice. Or — as I like to do — you can leave the pulp (and all of that good fiber) in there, and serve the juice up with that extra pulp-y froth on top. Up to you.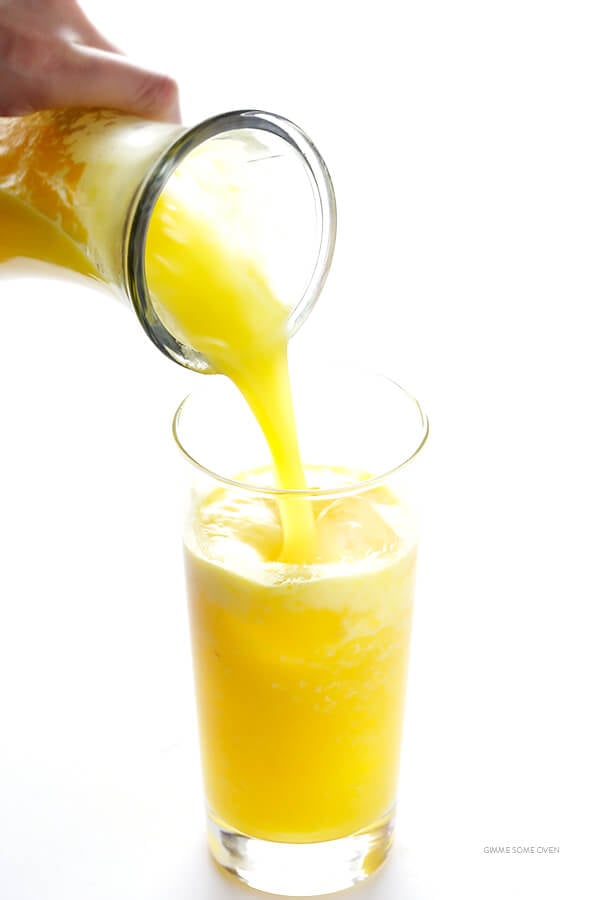 Either way, the result is a wonderful, fresh, and oh-so-delicious fruity drink that I imagine everyone — even the pickiest of eaters — will enjoy. Perfect for picnics, perfect for special occasions (hint hint: these would be great for Memorial Day this weekend), or as is the custom in Latin America, perfect for regular everyday meals. 🙂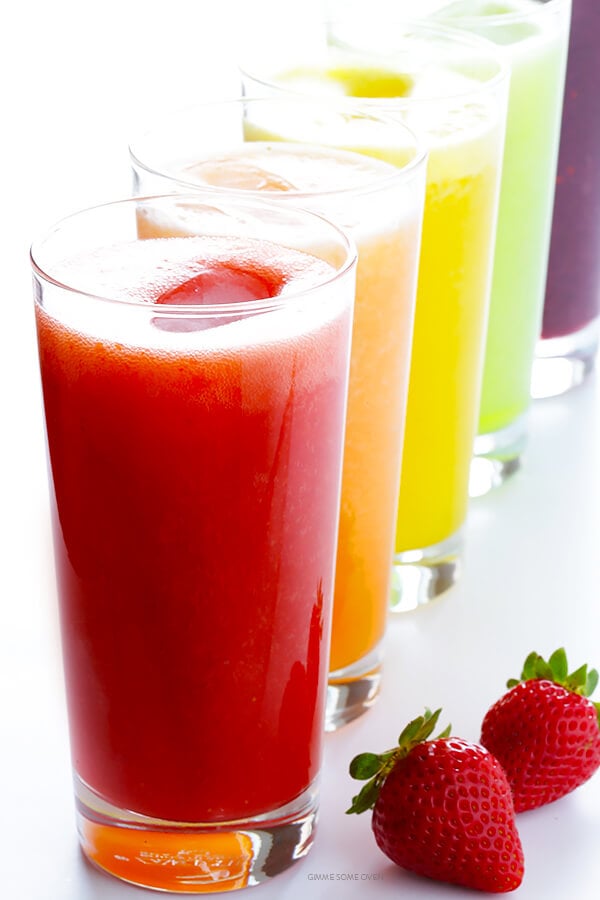 So the next time you're at ALDI, gather up your favorite fresh fruits (you all know about my pineapple obsession there)…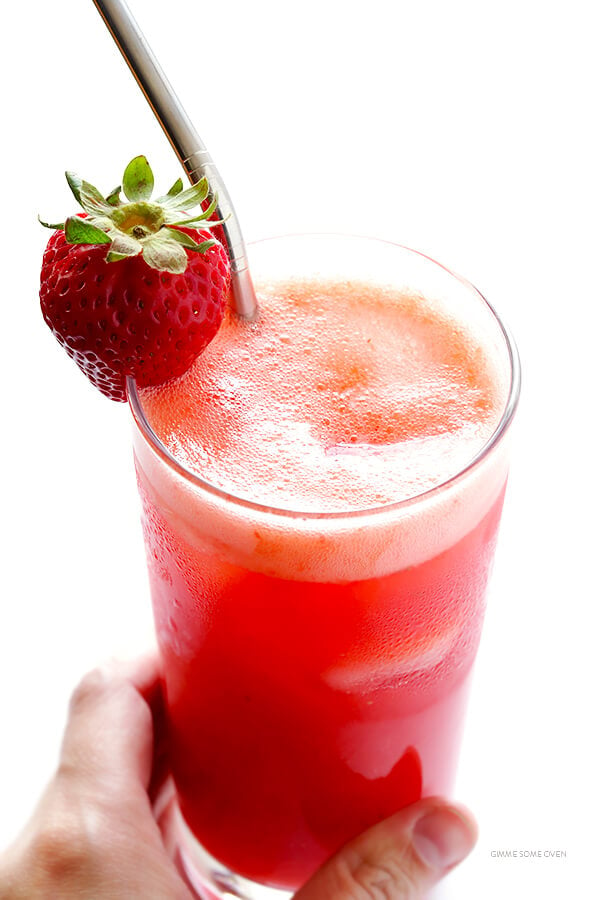 …and blend up a batch for yourself. 🙂
Cheers, friends!
Print

Agua Fresca

Prep Time: 5 minutes


Total Time: 5 minutes


Yield: 2 –3 servings 1x
---
Description
Learn how to make traditional agua fresca drinks with this easy and delicious recipe that's naturally sweetened with agave.
---
2 cups

chopped fresh fruit

1 1/3

 cups cold water

1 tablespoon

fresh lime juice, optional

1

–

3

teaspoons SimplyNature Organic Light Agave Nectar (or SimplyNature Organic Wildflower Honey, Specially Selected 100% Pure Maple Syrup, or whatever sweetener you'd like)
---
Instructions
Add fruit and water and lime juice (if using) to a blender, and pulse until smooth.

Taste, and add in your desired amount of agave nectar (or your desired sweetener) if needed, and pulse until combined.

Serve immediately over ice.  Or cover and refrigerate for up to 24 hours.
---
Notes
Feel free to blend in any other fresh herbs or ginger or fresh jalapeno (for some kick!) if you'd like to!
This is a sponsored post in partnership with ALDI. It's no secret that I've been a mega fan-girl of ALDI for years, and all opinions here are my own. Thanks for continuing to support the brands who help make this site possible!