This post is sponsored by Blue Diamond Almond Breeze Almondmilk.
I'm headed to the lake today!
Well actually, I'm headed to my parents' brand new house in Wichita, that just so happens to be on a lake. They just moved in two weeks ago, and the back door of the house is literally just a dozen or so steps away from their new mini-dock on this quiet little sandpit lake where my mom used to go swimming when she was growing up. After having lived in their last house for 20 years, this is the first time that they've ever lived on the water, so this "lake life" is (literally) new territory for all of our family. But hey — my parents already bought a used boat from a neighbor down the block, my sister and brother-in-law gave them a bunch of floaty rafts for Christmas, we scored some great kayaks in a clearance sale last weekend, and I even picked up a little life jacket for Henry. So I'd say we're all off to a good start!
The whole family was actually in Wichita this past weekend to celebrate my dad's 60th birthday, when we spent the majority of that time either rafting or swimming or kayaking or chillaxin' on the back patio together. But after being home for 3 days, I'm heading back down there again today (with my pup in tow) to take care of my mom after her knee surgery this week. Everyone in our family knows that I get squeamish at the faintest sight of anything "medical". So I volunteered to be in charge of food for the family while I'm home, and plan to cook up a storm in their new kitchen. Mom has been dropping hints for weeks about — oh — a few hundred or so of her favorite dinner recipes from the blog that she's counting on me to make for her. But I happen to know that her favorite meal of the day is dessert, especially when it has anything to do with chocolate and peanut butter.
So since her recovery happens to fall smack dab in the middle of July heat, I thought a batch of these homemade Chocolate Peanut Butter Fudge Pops might be just what the doctor ordered… 🙂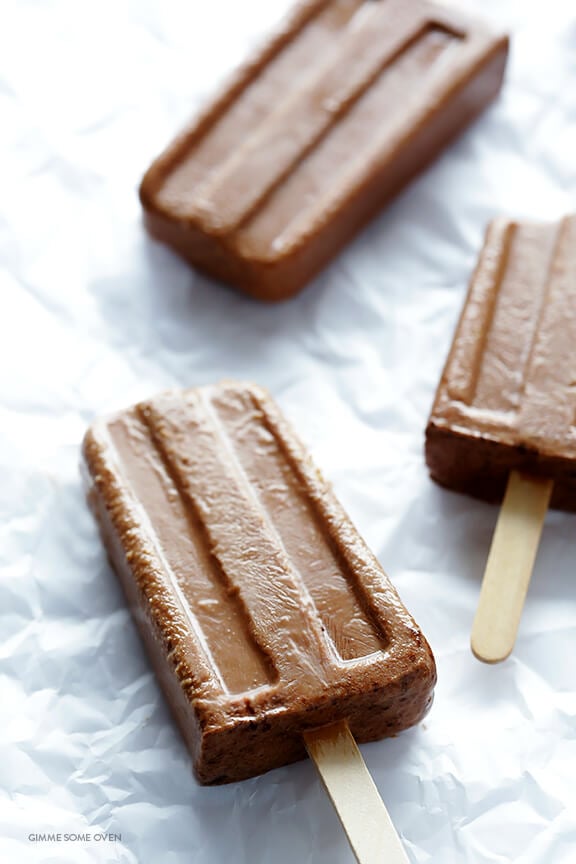 Actually, I think my friends would agree that these were also just what the doctor ordered for us in Kansas City too. I ended up making three batches of these last month as I was tinkering around with the recipe, and everyone was more than happy to sample a frozen pop while the temperatures were climbing up and up and up outside. Apparently adults are never too old for a good ol' fashioned fudge pop. 😉
But the good news is that these pops are actually made with 6 healthier, non-processed ingredients. And with all of that good almond milk, peanut butter and Greek yogurt in there, they are also chocked full of protein. So let's make a batch, shall we?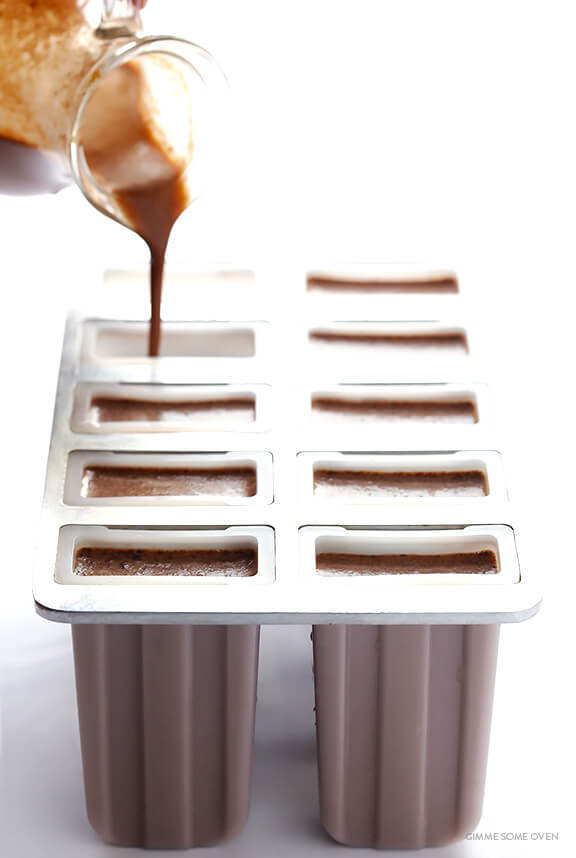 The six ingredients in these are quite simple:
Blue Diamond Almond Breeze Original AlmondMilk

Greek yogurt (I used non-fat)

Peanut butter (I recommend natural)

Unsweetened cocoa powder

Honey (or your desired sweetener)

Vanilla
Just mix all of those ingredients together, and pour them into some popsicle molds.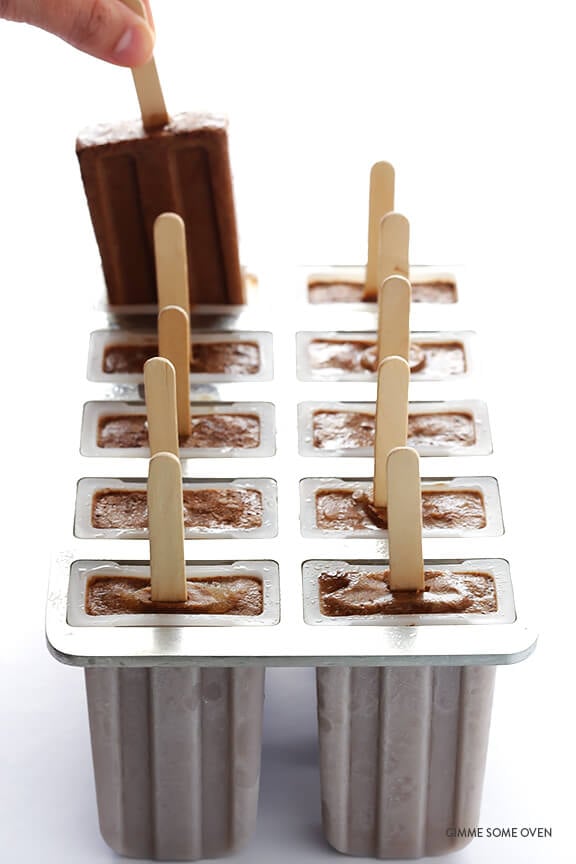 Then once they're nice and frozen, dive in!
They're nice and fudgy, creamy, decadent, sweet (but not too sweet), and they are the perfect treat for cooling you off on a hot day.
(And get ready, Mom, these are comin' your way.)  🙂
Enjoy, everyone!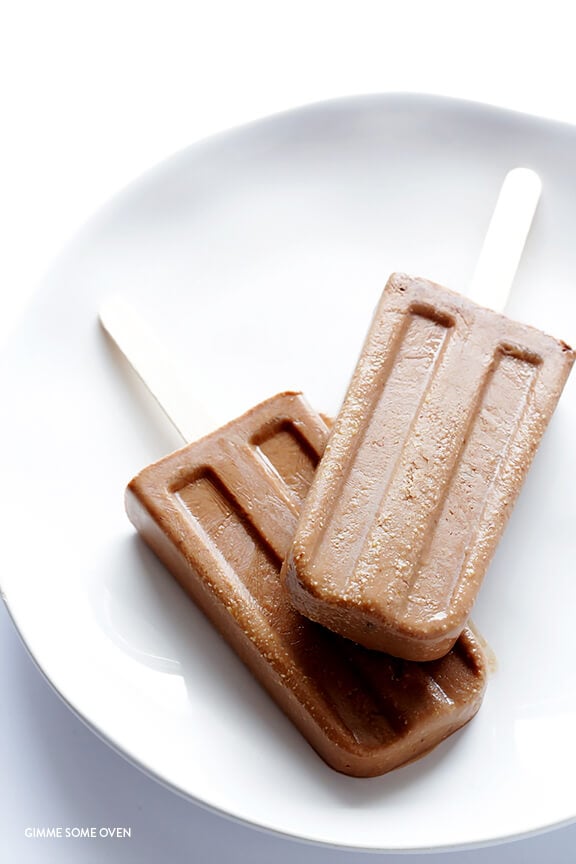 Print

6-Ingredient Chocolate Peanut Butter Fudge Pops

Prep Time: 5 minutes


Total Time: 5 minutes


Yield: 12 servings 1x
---
Description
These 6-Ingredient Chocolate Peanut Butter Fudge Pops are easy to make, full of protein, naturally sweetened, and an absolutely delicious frozen treat!
---
1 1/2 cups

 Blue Diamond Almond Breeze Original Almondmilk

1 cup

non-fat plain Greek yogurt

1/2 cup

peanut butter, slightly warmed

1/3 cup

honey (or your desired sweetener), using more or less to taste

1/3 cup

unsweetened cocoa powder

2 teaspoons

vanilla extract, store-bought or homemade

popsicle sticks
---
Instructions
Stir all ingredients together until combined, adding more or less sweetener as needed (to your taste).

Pour the mixture into popsicle molds, placing popsicle sticks in the center of each, then freeze for 6-8 hours or until completely frozen.

Serve frozen.
---
This is a sponsored post in partnership with Blue Diamond Almond Breeze Almondmilk. I am partnering with them to develop some tasty new recipes this year, and all almond-milk-loving opinions are my own as always. Thanks for continuing to support the brands who help make this site possible.