This 5-Minute Iced Rooibos Latte is caffeine-free, easy to make with your preferred kind of milk, and so refreshing and tasty.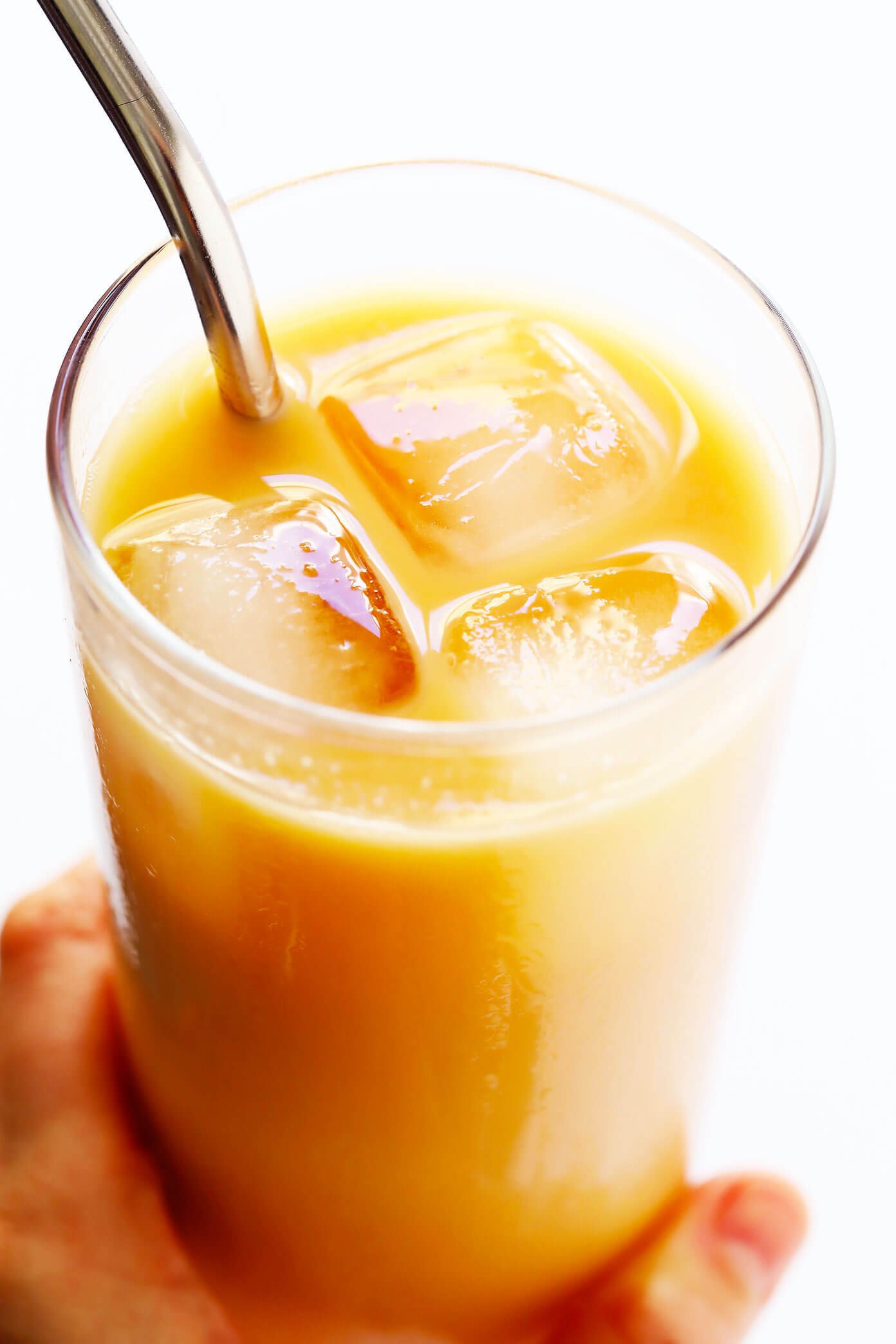 Meet…my latest obsession this spring.
This Iced Rooibos Latte. ♡
Actually, it seems I'm not alone in this latte love. Starbucks just released a new line of tea lattes on their European spring menu, and their new rooibos lattes seem to be the hit of Barcelona right now. And with good reason. Its warm, earthy, smoky, sweet flavors mixed into a refreshing chilled latte make for the perfect drink for spring. And, by contrast to most chai lattes, rooibos is herbal, which makes it naturally caffeine free. Which works out well for this body of mine that recently decided to call it quits on caffeine post-12pm. (Bah, adulthood.)
That said, as much as I love paying for good coffee at my favorite cafés, I've always struggled to justify paying $5 for tea drinks when they're so easy (and so inexpensive!) to make at home. So when the iced rooibos latte crazy hit Europe this spring, I was the first to hit up our neighborhood market to bring home a fresh box of rooibos and brew up a quick latte for myself. And now, weeks later, I'm still hopelessly, happily hooked on this one.
Wanna have a tea date?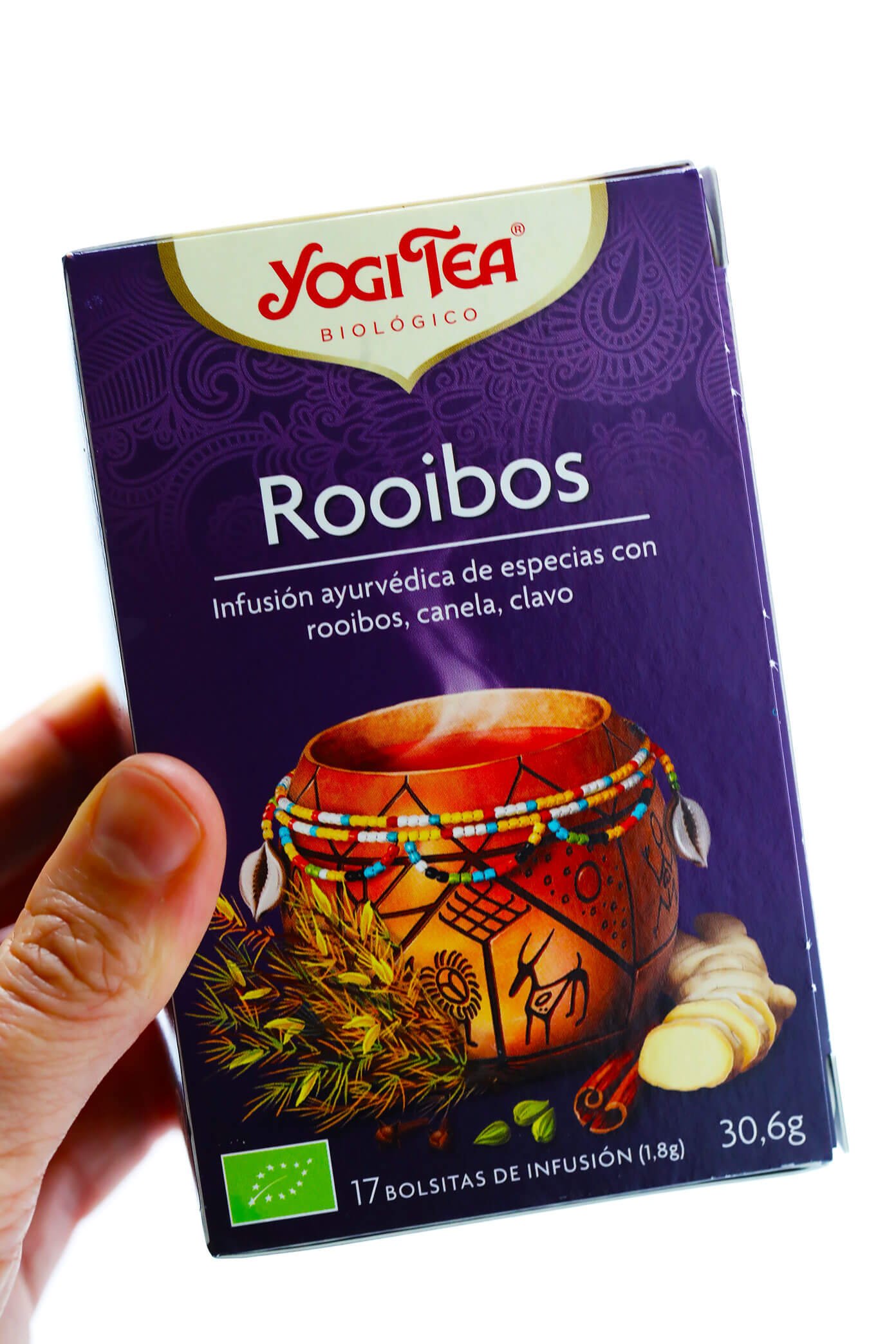 What Is Rooibos Tea?
Alright, first off, let's talk about rooibos tea. (Hehe, feel free to practice your Spanish on my box above. ?)  If you happen to be new to this tea, here are a few important things to know:
It's pronounced "roy-bus". I still remember the first time I ordered it at a coffee shop years ago and asked for "roo-ee-bose" tea, and the barista kindly smiled and very kindly corrected me. 😉

It's also known as "red tea"…but it's not technically made from black or green tea. Similar to other herbal teas, rooibos is actually an herbal plant used to make teas. It comes from the red rooibos bush, grown in South Africa. And since it's herbal…

It's naturally caffeine-free.  Big win in my book.

It tastes…all the things, depending on who you ask. I find it earthy, smoky, and slightly sweet. Often it's combined with other flavors in tea bags, such as vanilla, berries, or cocoa.

It's said to be all kinds of healthy. It's rich in iron, calcium, potassium, zinc, magnesium, and all sorts of other antioxidants. And people claim that it helps with everything from headaches to insomnia, asthma, eczema, allergies, and more. Google it to learn more.
I became a big fan of rooibos tea about a decade ago when I was transitioning into caffeine-free drinks in the later half of my day, and was looking for something with a bit more complex flavor than the usual herbal teas. (Here's lookin' at you, chamomile and mint.)  And it's still one of my faves today. I prefer mine with a hint of vanilla mixed in, which I find really compliments the rooibos flavors well. So speaking of…let's talk about how to make this latte!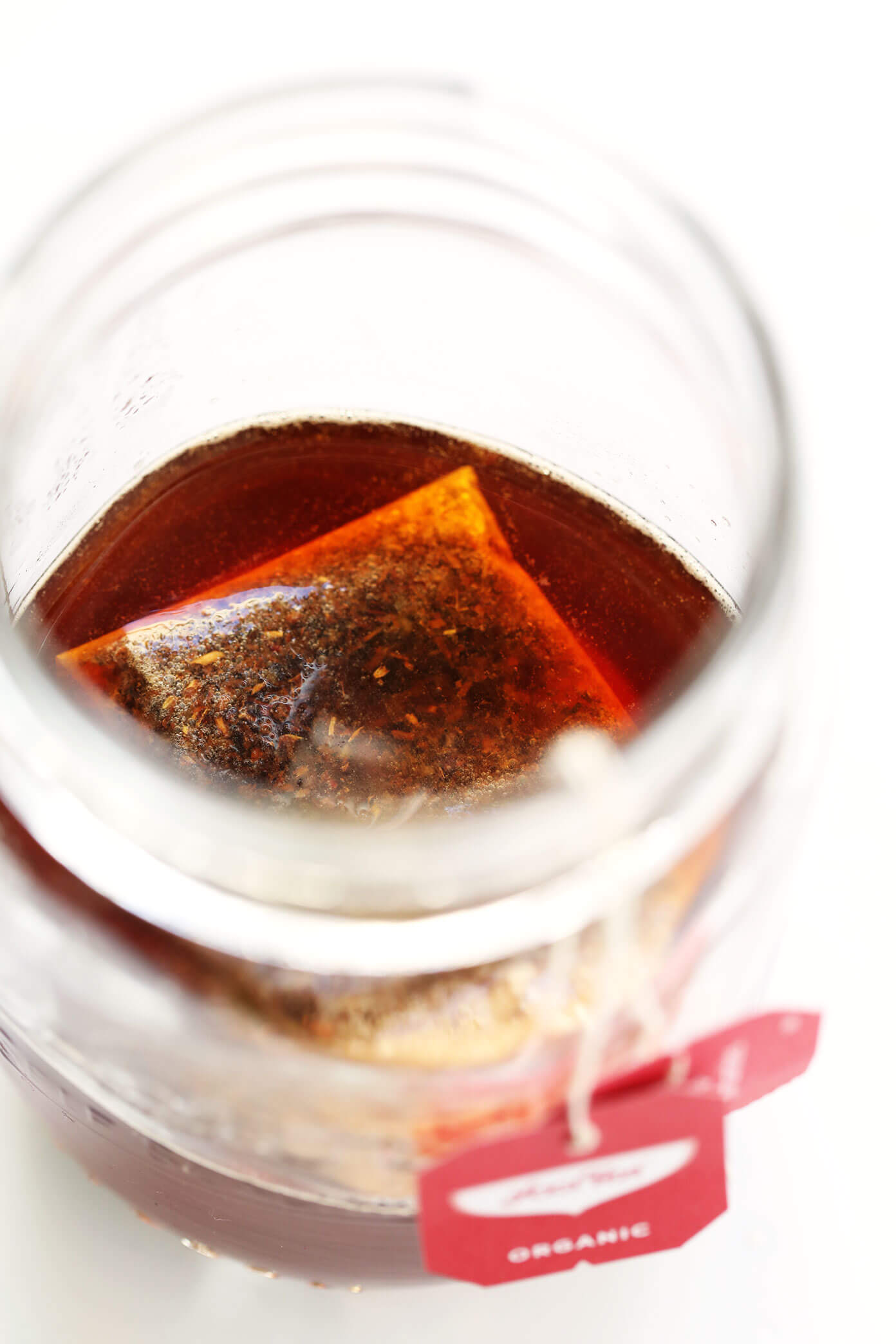 Rooibos Tea Latte Ingredients:
I keep mine pretty simple! You'll need:
Rooibos Tea:Nowadays, rooibos tea is available at most grocery and specialty stores. But if you'd like to order online, here is my favorite brand of organic rooibos tea bags, or you can order loose-leaf.

Milk: Your choice on what kind! I prefer almond or oat milk, but up to you.

Vanilla Extract: Just a little splash.

Honey: Or your preferred kind of sweetener. I don't usually like sweetener in my tea, but enjoy just a touch in this latte.
Also, I almost always make my iced lattes in these mason jars, for easy heating/mixing/shaking (with these stainless steel straws). But go with whatever works for you!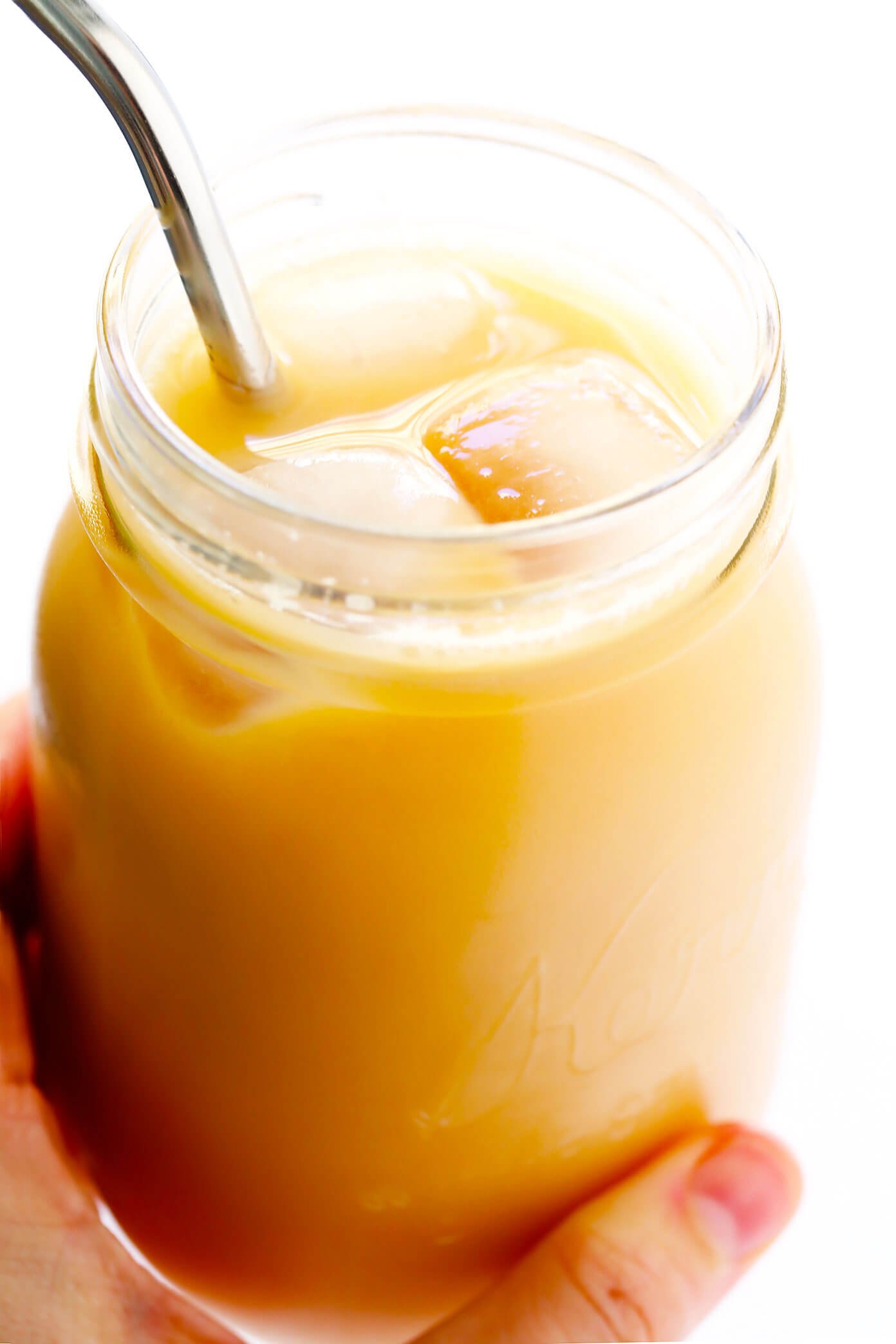 How To Make A Rooibos Tea Latte:
It's super simple! Simply…
Bring some water to a simmer.  (I pop mine in the microwave in a mason jar because it's speediest. But feel free to use the stovetop instead.)

Steep two tea bags for about 2 minutes.  You want the tea to be nice and strong (which is no prob, since it's caffeine free!), so I recommend at least two tea bags.

Stir in a splash of vanilla extract and honey.  Both are technically optional, but I recommend them. Stir until the honey is dissolved.

Add ice, then milk.  In order to prevent any kind of milk from curdling or separating, I add the ice in first and give it a quick stir. Then add in the milk (any kind will do, I generally use almond), and give it a good stir. Or if you're using a mason jar, pop the lid on and give it a good shake. Add extra ice if needed.
Then…enjoy!!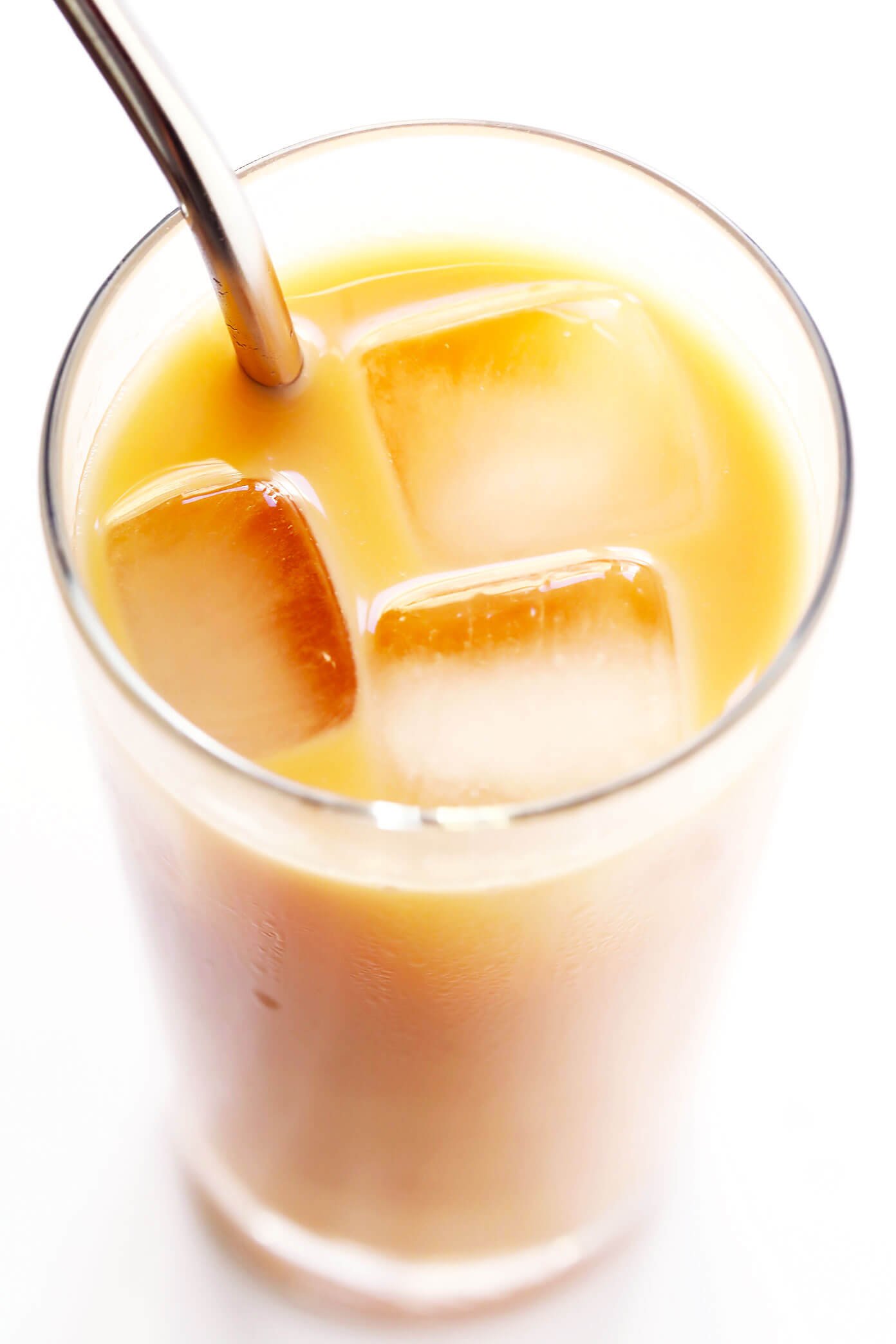 Cheers, friends! ♡
Print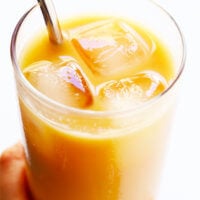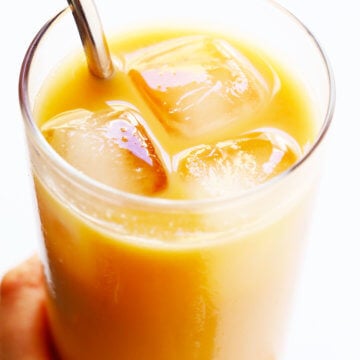 5-Minute Iced Rooibos Latte

Prep Time: 3 minutes


Cook Time: 2 minutes


Total Time: 5 minutes


Yield: 1 serving 1x
---
Description
This 5-Minute Iced Rooibos Latte is caffeine-free, easy to make with your preferred kind of milk, and so refreshing and tasty.
---
3/4

 cup water

2

 rooibos tea bags

1/2 teaspoon

vanilla extract

honey, to taste (optional)

ice

3/4

 cup milk (I used almond milk)
---
Instructions
Heat water (in the microwave, or on the stovetop) until it comes to a simmer.  Add tea bags and steep for 2-3 minutes.  You want the tea to be nice and strong.

Remove and discard the tea bags.

Add in the vanilla and honey, and stir until the honey is completely dissolved.  Add in the ice, followed by the milk, and stir (or if using a mason jar, shake) until combined.

Serve immediately.
---