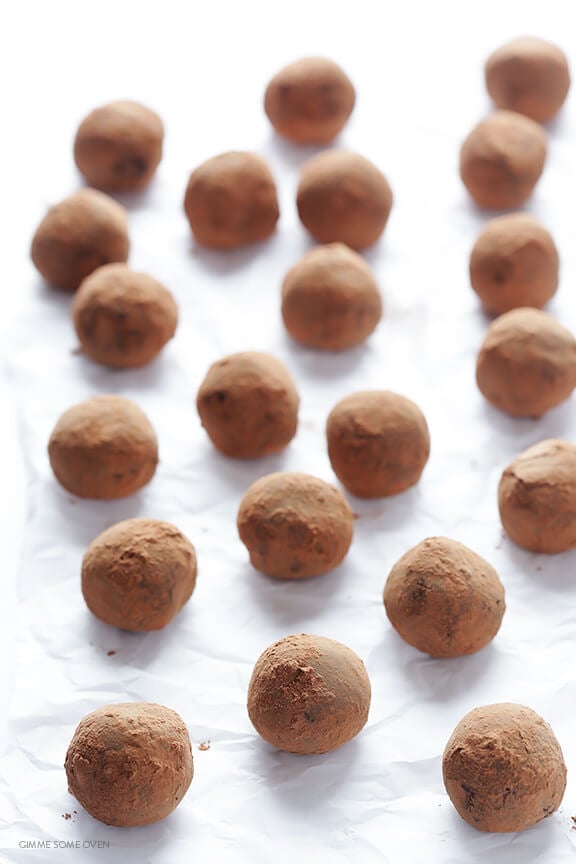 Something new is brewing lately in Kansas City. Actually make that — something very old is distilling again lately in Kansas City, for the first time since Prohibition. And I must say, everyone I know in town is pretty "high-spirited" about it. Oh yes.
Kansas City whiskey is back!!!
And let me be the first to give you a heads up — you're going to want to check it out. After years in the making (after far too many years not in the making), the first bottles of J. Rieger & Co Kansas City whiskey were finally released in bars and stores this past fall. And they has been flying off the shelves at record pace ever since. Why?!
It's "O-So Good".  Back in the day when J.Rieger & Co whiskey was one of the best-selling spirits in the country, this is what the labels on their bottles claimed. And I couldn't agree more. Why? Well….

It's made with a special ingredient. Sherry! I never knew this, but apparently back in the 1800s before Prohibition, it was customary to blend a small amount of Spanish sherry into whiskey. And after tasting it, I understand why. It balances out the whiskey perfectly, smooths out any harshness, and adds a subtle hint of sweetness that is positively yummy. Since this was the style for making Kansas City whiskey back in the day, it has now becoming a legal thing that any sherry-blended whiskey will be classified as "Kansas City Whiskey". Pretty cool.

It's made in my neighborhood. Well technically, the East Bottoms neighborhood that's next door to my neighborhood in downtown Kansas City that's newly being revitalized, but I'll claim it as my own. You know how much I love neighbors!

The story behind it is the best. I'd heard bits and pieces about how the owner of my favorite speakeasy stumbled upon the history behind this brand. But it wasn't until he and his business partner (great-great-great-somthing-grandson of the original J. Rieger) were featured alongside me in the ShowMeKC series that I understood more of the context. And then when some friends and I popped over to the distillery last month for a tour, we were blown away by all of the cool (and incredibly serendipitous) details that explained so much more about the booming whiskey business in Kansas City in the 1800s, the far-reaching consequences of Prohibition, and what it looks like to revive a century-old brand and start a whiskey distillery nowadays. You can watch a short little 5-minute ShowMeKC clip about them here. But I'm telling you, if you're ever in Kansas City, you must go on the tour. It's the most fascinating history lesson ever!!
Anyway, this is totally not a sponsored post. Just the whiskey-loving, downtown-living, small-business-supporting, Kansas City food blogger shouting from the rooftops that I am very excited about this…because I have a blog, and I can. 😉
Also exciting? This recipe for 5-Ingredient Whiskey Chocolate Truffles. I made a few million of these truffles back in March for the screening of my ShowMeKC clip, which I have been tweaking and making and remaking ever since. After many requests from friends for the recipe, I'm finally getting around to sharing it with you today!
Whiskey Dark Chocolate Truffles Recipe | 1-Minute Video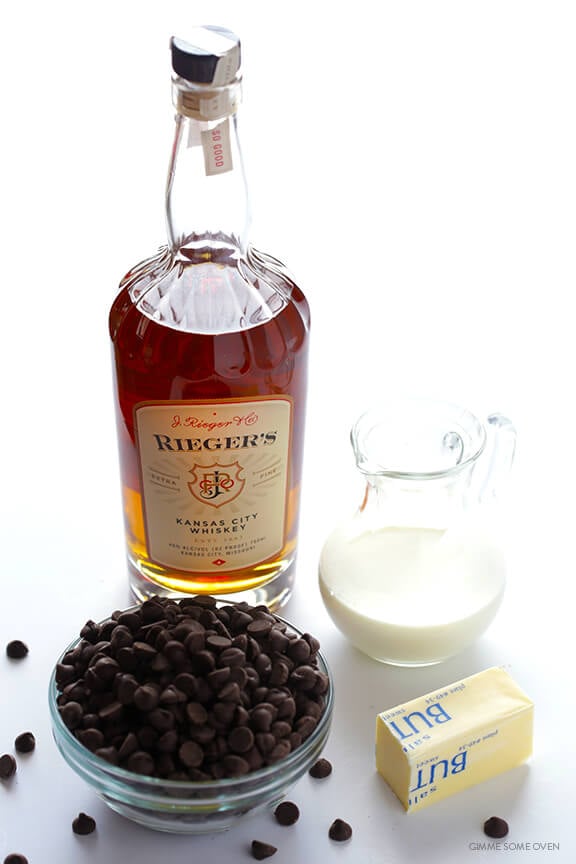 Oh man. When I found out that 50+ people were going to be attending this screening and that I was in charge of providing any treats, I panicked slightly for a hot minute. I may be a food blogger, but I have said a hundred times that I am not a caterer. Cooking for very large groups of people gives me mega anxiety, and after trying it a few times in the past, I quickly decided that I am much more of a "small batch" type of cook.
However.
I figured that with so many kind friends showing up to attend a mini-documentary screening about a food blog, I had probably better serve at least something from the blog. So I made a half dozen big batches of my Slow Cooker Chex Mix (which was surprisingly one of the top recipes of 2014). And then to balance out the savory, I decided to try mixing some Kansas City whiskey into a batch of dark chocolate truffles.
And I'm pretty sure the truffles stole the show.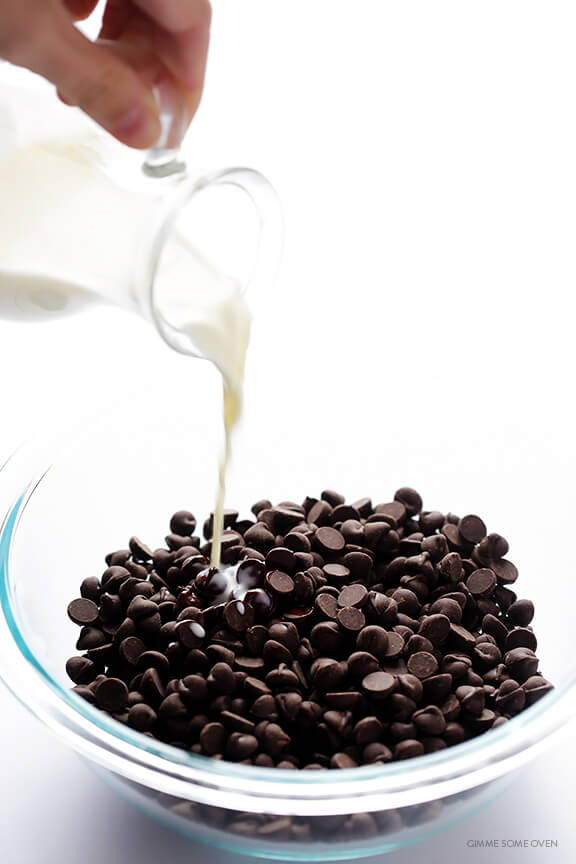 The great news was that — per my style (mwahaha) — they were actually incredibly easy to make behind the scenes. All you need are 5 easy ingredients (well, 6 ingredients, if you want to roll the truffles in something like cocoa powder or sprinkles or nuts), a few minutes to mix them up…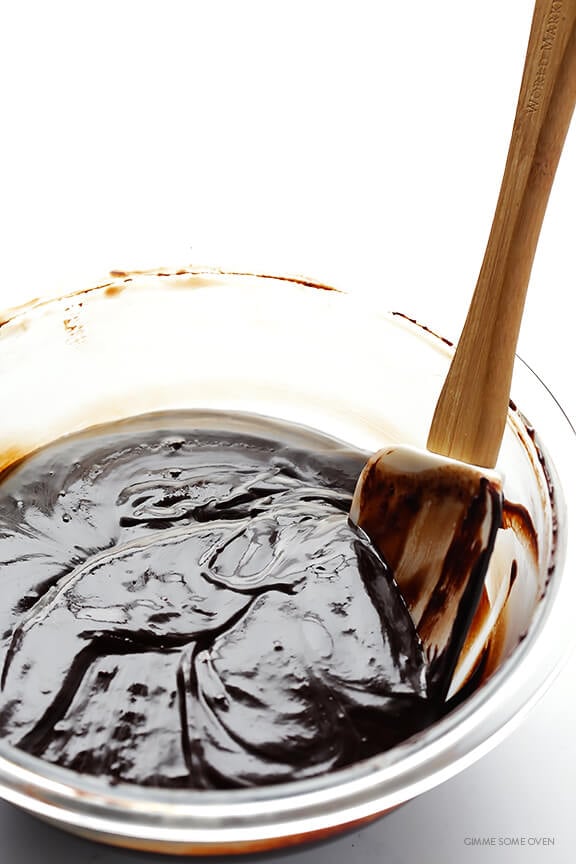 …a few hours to let them chill…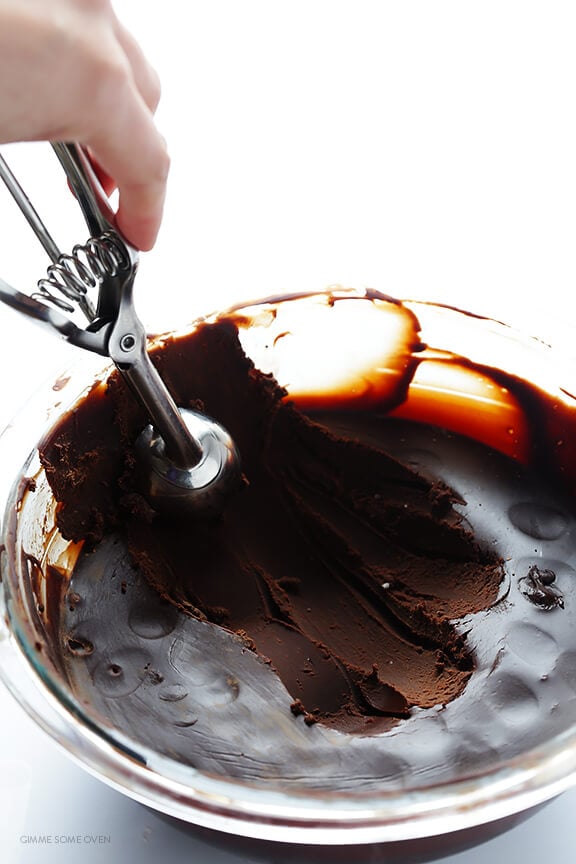 …and then a few more minutes to roll them into balls. (I used a cookie scoop to make this part go faster.)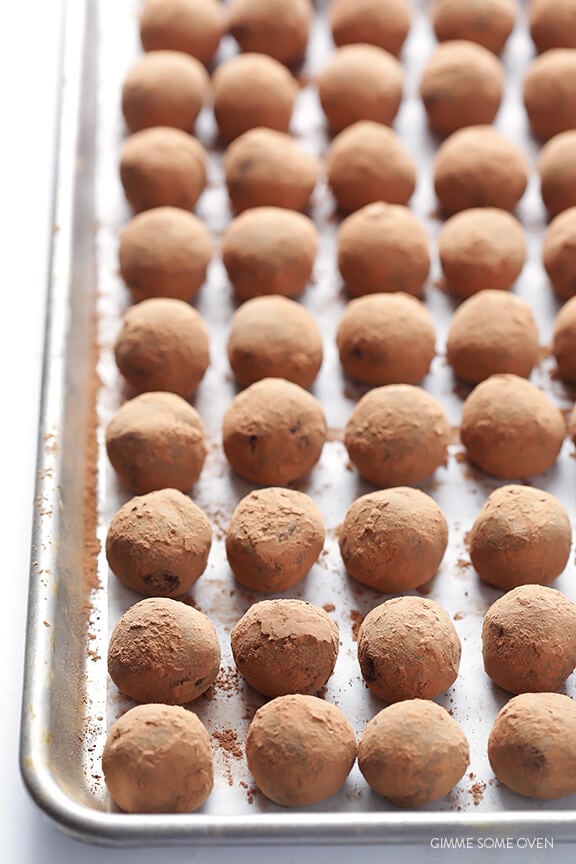 Then voila!! In a short amount of time, I literally made hundreds of these truffles to serve that evening.
They were decadent, they were rich, they were sweet-but-not-too-sweet, and the sea salt was a must. But without a doubt, the number one comment was how much everyone loved the surprise kick of whiskey at the end. You're of course free to use whatever kind of whiskey you love. But whenever I make these, I'm pretty sure that they will be KC Whiskey Dark Chocolate Truffles from now on. 😉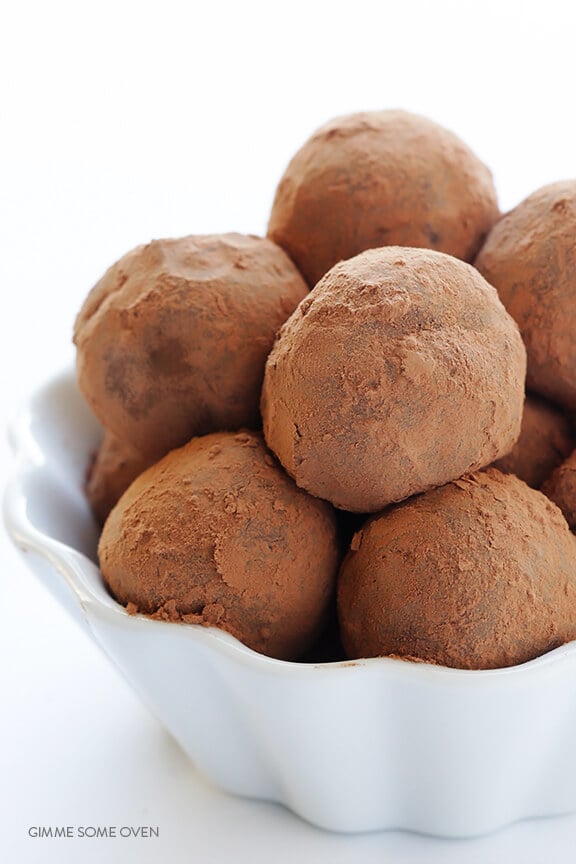 Anyway, big cheers to local distilleries and breweries for doing such cool things across the country right now. I raise my glass (and my chocolate truffle) to all of you!
Print

5-Ingredient Whiskey Dark Chocolate Truffles

Prep Time: 20 minutes


Cook Time: 5 minutes


Total Time: 25 minutes


Yield: 0 About 3 dozen truffles 1x
---
Description
These 5-Ingredient Whiskey Dark Chocolate Truffles are
---
1

pound dark chocolate, finely chopped (or chocolate chips)

1/3

 cup heavy cream

2 tablespoons

butter

1/3 cup

whiskey

1 teaspoon

sea salt

optional: unsweetened cocoa powder or sprinkles for rolling
---
Instructions
To Make In The Microwave:
Add chocolate, heavy cream and butter to a microwave-safe bowl.  Heat in 30-second intervals, stirring between each interval, until the chocolate is completely melted and the mixture is smooth.  Stir in whiskey and sea salt, and whisk until smooth.  Refrigerate the mixture for 2-3 hours, or until completely chilled.

Remove from the refrigerator, and use a small cookie scoop (or a mellon baller or spoon) to shape the truffles into your desired size and shape, rolling between your hands quickly to smooth out the edges into a ball if needed.  Roll each ball in a bowl of cocoa powder or sprinkles if desired.  Then transfer to a serving place or storage container, and repeat with the remaining truffles.

Enjoy immediately, or refrigerate in a sealed container for up to 1 week.  (These truffles are best served chilled, so that they hold their shape better.)
To Make On The StoveTop:
Add chocolate, heavy cream and butter to a medium saucepan.  Heat over medium heat, stirring frequently, until the chocolate is completely melted and the mixture is smooth.  Stir in whiskey and sea salt, and whisk until smooth.  Refrigerate the mixture for 2-3 hours, or until completely chilled.

Remove from the refrigerator, and use a small cookie scoop (or a mellon baller or spoon) to shape the truffles into your desired size and shape, rolling between your hands quickly to smooth out the edges into a ball if needed.  Roll each ball in a bowl of cocoa powder or sprinkles if desired.  Then transfer to a serving place or storage container, and repeat with the remaining truffles.

Enjoy immediately, or refrigerate in a sealed container for up to 1 week.  (These truffles are best served chilled, so that they hold their shape better.)
---