This 5-Ingredient Carnitas Soup recipe is quick and easy to make, and it's the perfect use for leftover carnitas! Stove-top, Instant Pot, and Slow Cooker instructions are all included.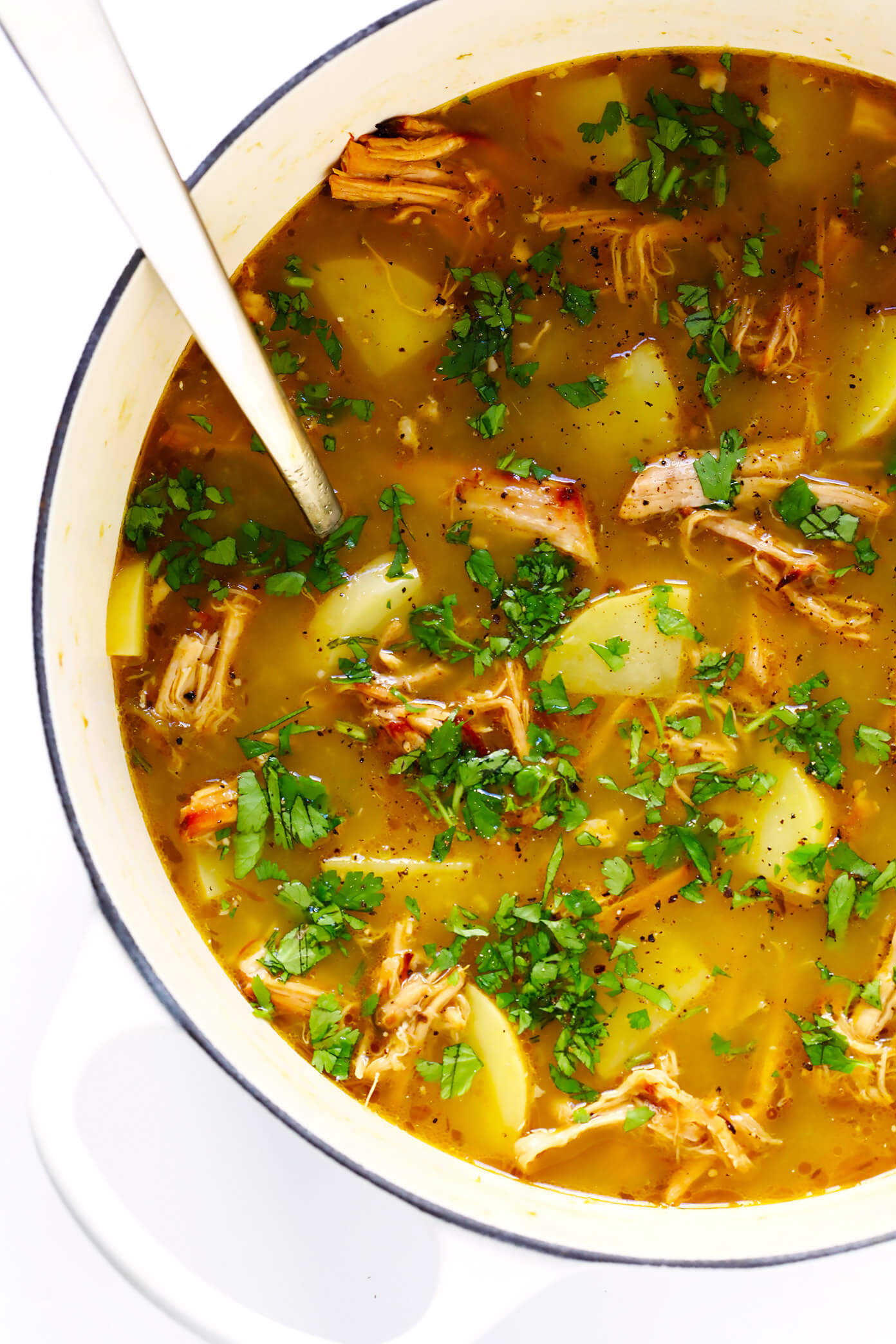 A few weeks ago, we had a very important milestone in our lives as newbie expats living in Barcelona.
You guys, we actually had friends over to our place for dinner for the very first time! ?
Like, actual new friends that we've met! All together our new apartment! Eating food that I was (finally) able to cook with the new ingredients and cookware that we've slowly been collecting from all over town in our new little Spanish kitchen! It may sound like no big deal, but after a month full of transition, being able to do what we love to do and host friends together in our new home here felt sooo refreshingly normal and good. Also, totally fun. And also, totally delicious.
Since our party was on a martes, Barclay and I thought it would be fun to introduce all of our European friends to the brilliance that is Taco Tuesday. So I cooked up a big batch of my favorite Instant Pot carnitas and a sweet potato/black bean mixture for tacos, some homemade salsa and elote to serve with chips, and Barclay juiced up a mega batch of our favorite margaritas. And I'm happy to say, they were a hit!!
I was pretty proud of myself for making homemade salsa by hand sans food processor or blender, since we have yet to finish stocking our kitchen here (potato masher for the win!). But as it turns out, the surprise favorite of the night actually ended up being the elote. Turns out that none of our European friends had ever heard of it, and they absolutely loved it and polished off every last bite, ha! Since I made intentionally large batches of everything, though, I'm happy to say that Barclay and I still had lots of leftovers afterwards to pop in the freezer for when our Mexi cravings stuck again. And since he's pescatarian, I had the leftover carnitas all to myself. ?
And last week, I officially discovered the absolute best thing to do with them:
Carnitas soup, guys!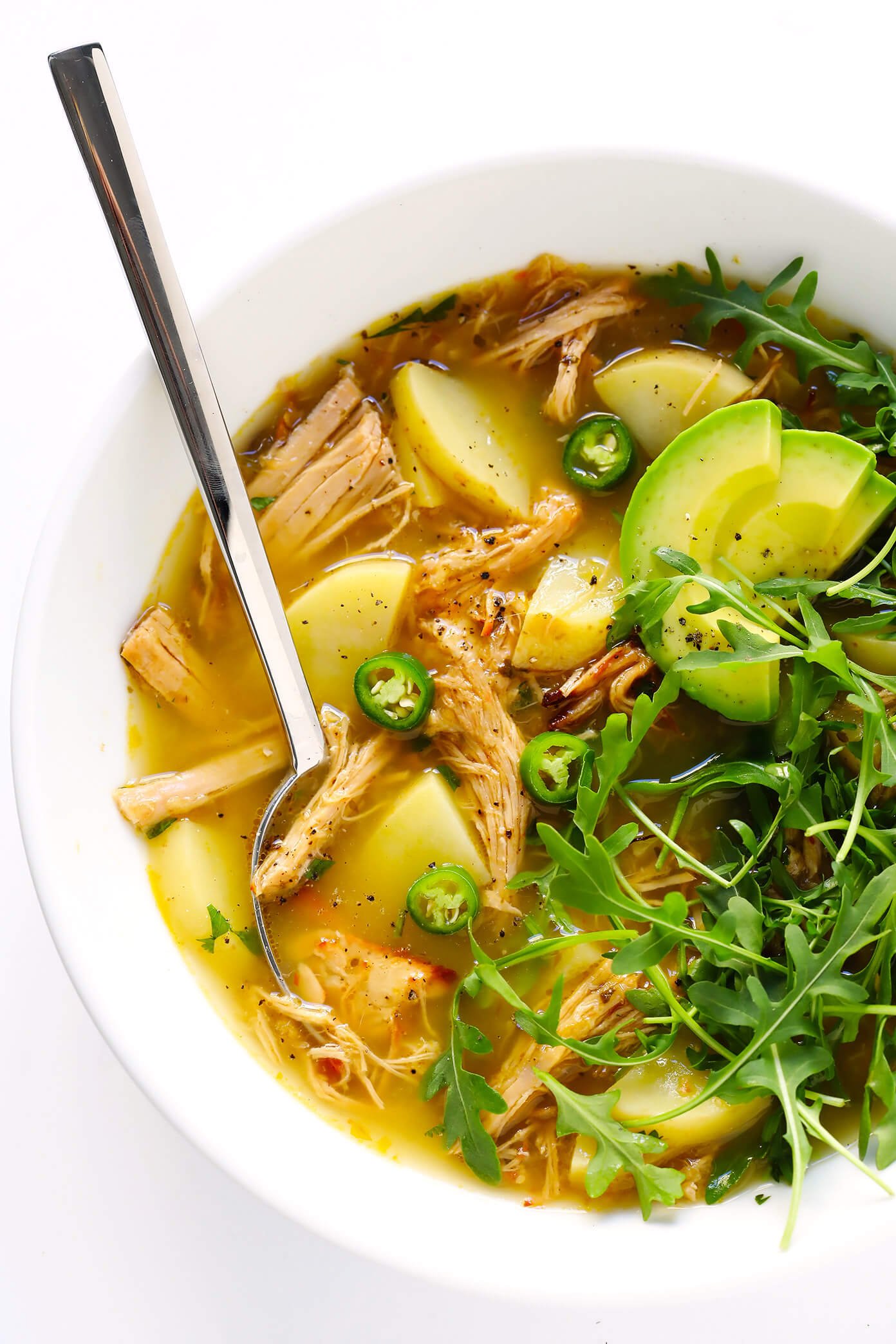 Even better? 5-ingredient Carnitas Soup. ?
Basically, this ended up being a carnitas version of my 5-Ingredient White Chicken Chili recipe, subbing the leftover pork carnitas in for chicken. And I also decided to sub potatoes in for white beans, since I had a bag of Yukon golds that needed to be used up. (Although beans, or potatoes + beans would work great too!)
So the ingredients are incredibly simple! You just need:
Leftover carnitas

Chicken (or veggie) stock

Salsa verde

Potatoes (or beans)

Cumin
The key ingredient here being — you guessed it — salsa verde. It's the mega burst of flavor that basically seasons the entire soup. So feel free to grab your favorite jar at the store (some are spicier than others), or I have a terrific homemade salsa verde recipe that I love and recommend (and you can customize the heat level to taste).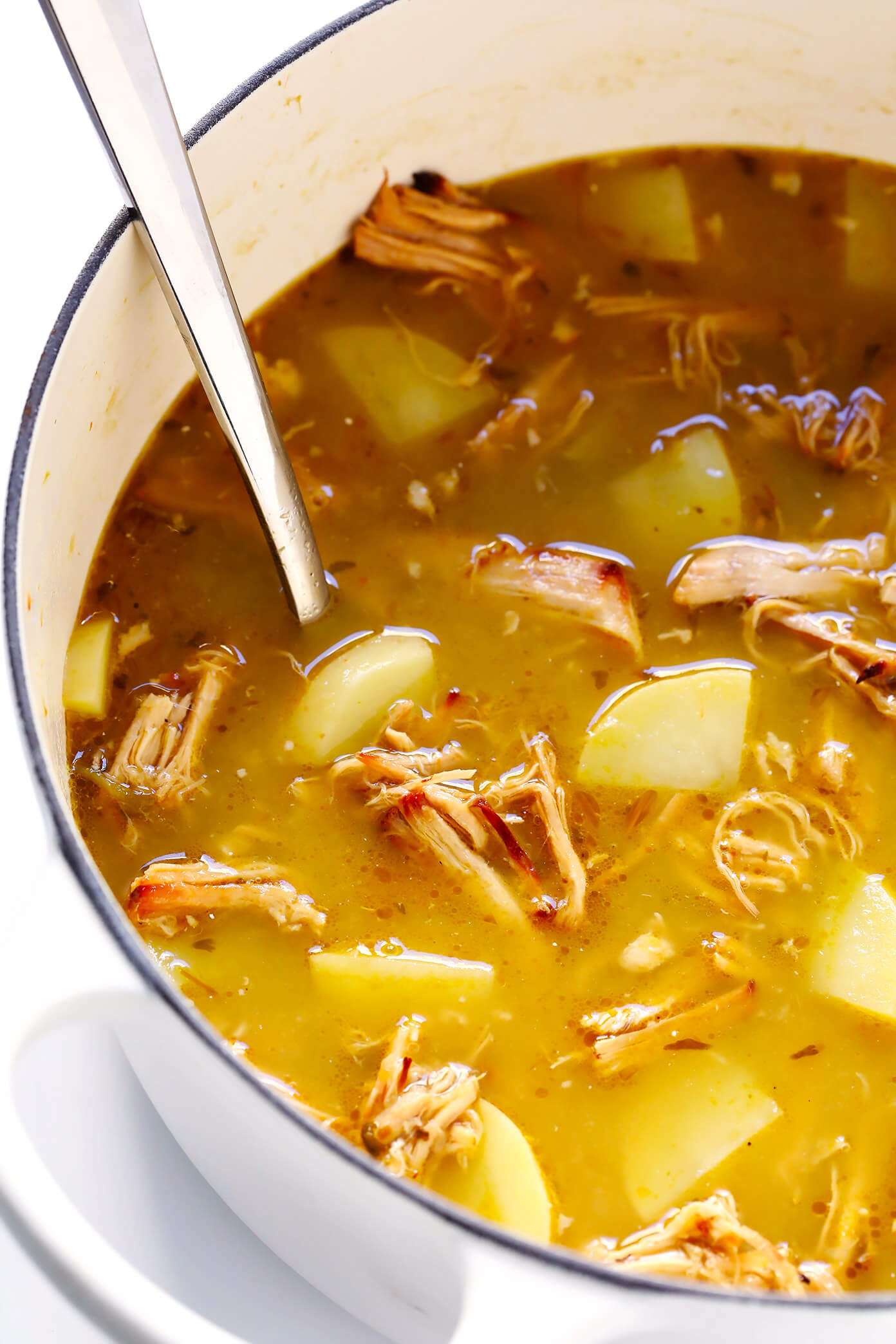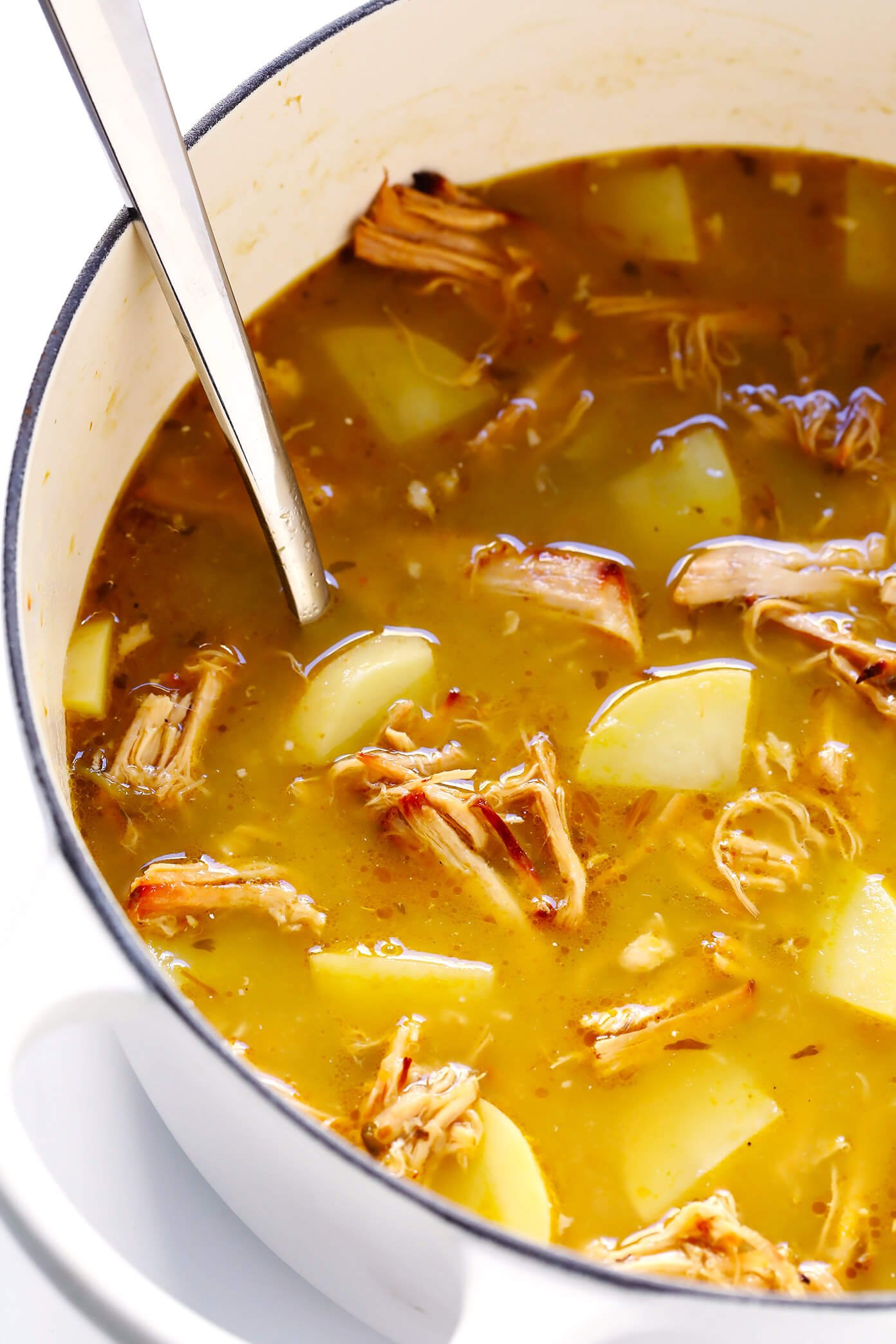 Just combine everything in on the stovetop, or in the slow cooker, or in an Instant Pot, and cook until the potatoes are nice and tender.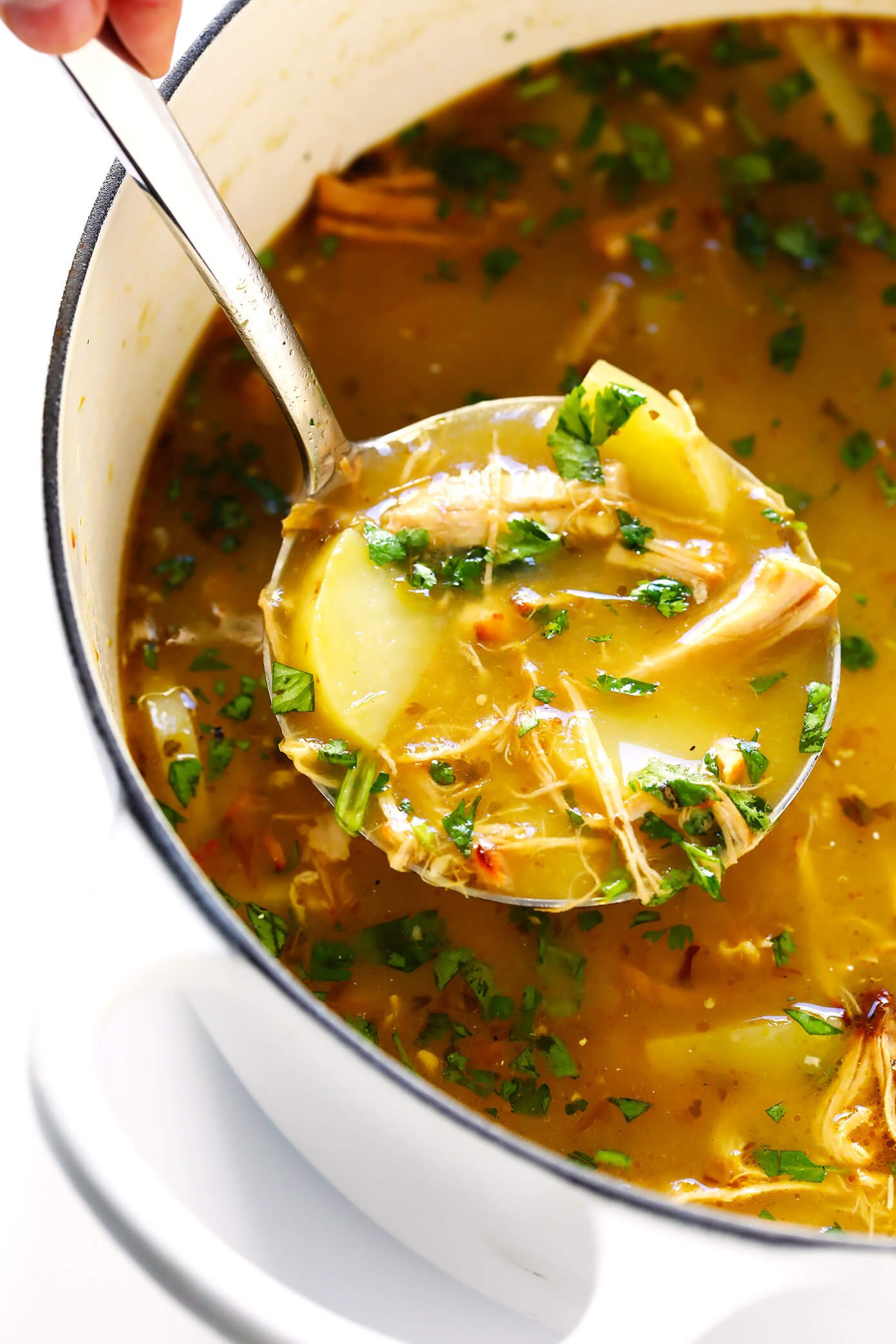 Then ladle it up…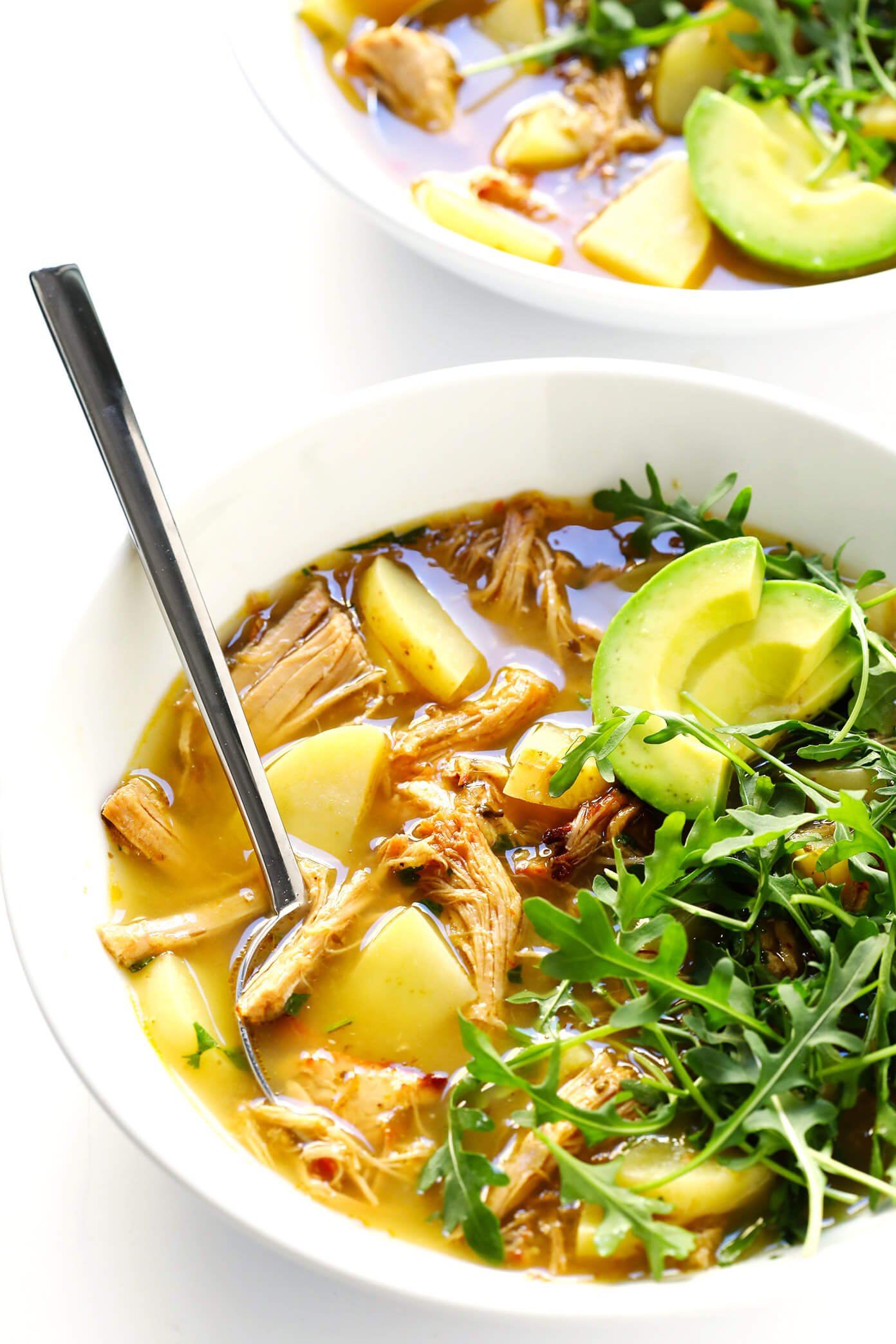 …and serve nice and hot, garnished with all of your favorite toppings.
But…I've gotta be honest here.
In the recipe below, I noted that all of these are optional. But I can't encourage you enough to top yours with a big handful of fresh baby arugula. I learned the arugula tip from Rick Bayless' famous caldos (my faaaaves) at his XOCO restaurant in Chicago, and have been adding fresh arugula to my Mexican soups ever since. And it is an absolute game-changer. So fresh, so peppery, and so delicious.
Plus, you can never go wrong with some fresh avocado and cilantro. (And maybe a few spicy peppers, if you're so inclined.)
The more toppings the merrier here, as far as I'm concerned.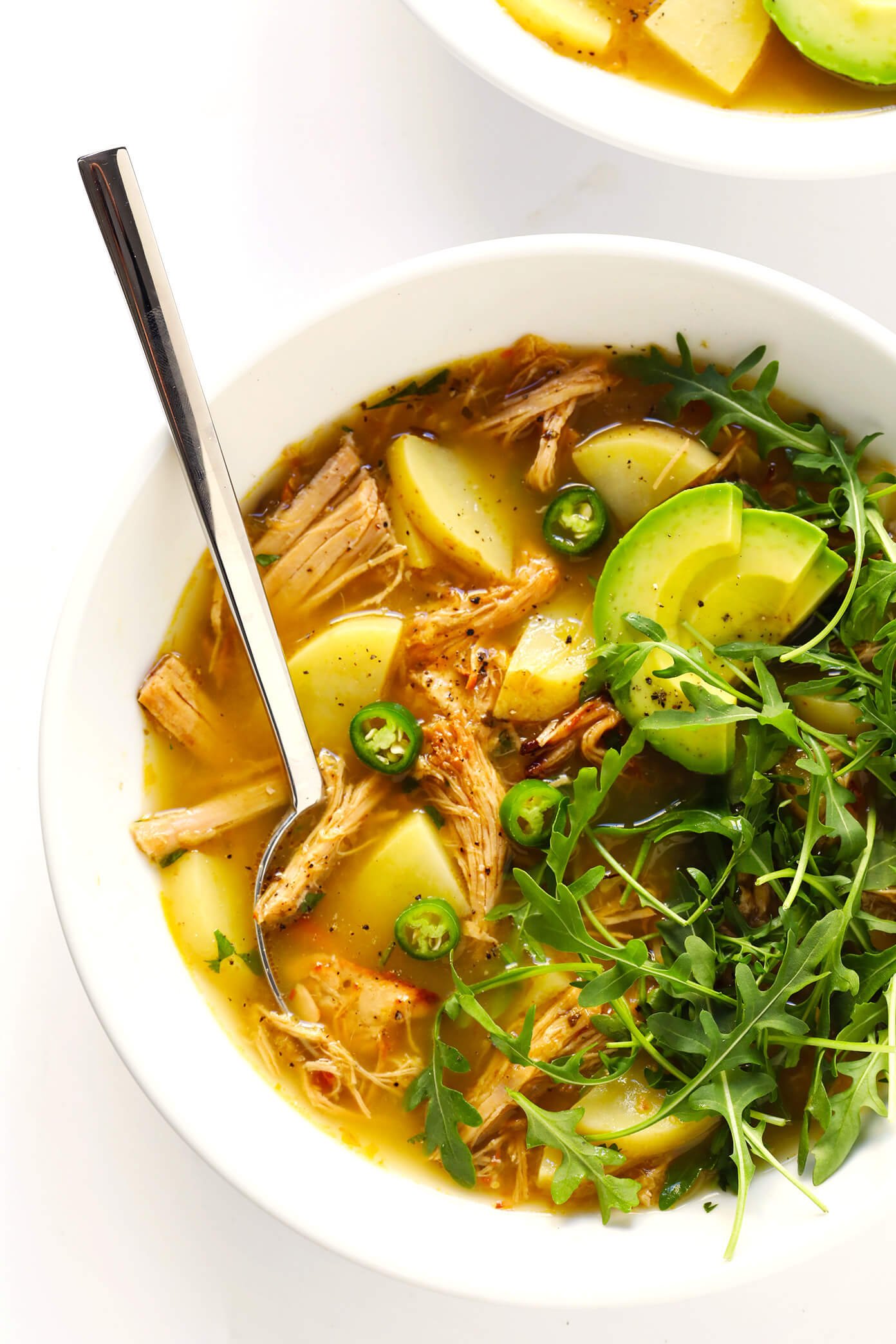 And the result?
A big, gorgeous, fresh, and flavor-packed bowl of soup that's guaranteed to warm you up during these chilly winter months ahead. I've been enjoying leftovers from my bowl of soup every day this week. And juuuust might need to make another batch of carnitas to enjoy another round soon.
So if you too happen to be Taco Tuesday-ing with carnitas sometime soon, I can't recommend trying this one enough.
Carnitas win-win.
Print

Carnitas Soup

Prep Time: 5 minutes


Cook Time: 15 minutes


Total Time: 20 minutes


Yield: 4 servings 1x
---
6 cups

chicken stock

1

pound Yukon gold potatoes, diced

3

–

4

cups carnitas (made in the slow cooker or Instant Pot)

2 cups

(

16 ounces

) salsa verde (store-bought or homemade)

2 teaspoons

ground cumin

optional toppings: fresh arugula, chopped fresh cilantro, sliced avocado, sliced jalapeños (or serranos) and/or grated pepperjack cheese
---
Instructions
Stovetop Method: Add chicken stock, potatoes, carnitas, salsa verde and cumin to a large stockpot, and stir to combine.  Heat over medium-high heat until boiling, then cover and reduce heat to medium-low and simmer for at least 10 minutes or until the potatoes are fork-tender.  Taste and season with salt and pepper, if needed.  Serve warm with desired toppings.

Slow Cooker Method: Add chicken stock, potatoes, carnitas, salsa verde and cumin to a slow cooker, and stir to combine.  Cook on low for 6-8 hours, or high for 3-4 hours.  Taste and season with salt and pepper, if needed. Serve warm with desired toppings.

Instant Pot Method: Add chicken stock, potatoes, carnitas, salsa verde and cumin to an Instant Pot pressure cooker, and stir to combine.  Close lid securely and set vent to "Sealing".  Press "Manual", then press "Pressure" until the light on "High Pressure" lights up, then adjust the +/- buttons until time reads 8 minutes.  Cook.  Once the soup has cooked, very carefully turn the vent to "Venting" for quick release, and wait until all of the steam has released and the valve has dropped.  Remove the lid. Taste and season with salt and pepper, if needed. Serve warm with desired toppings.
---