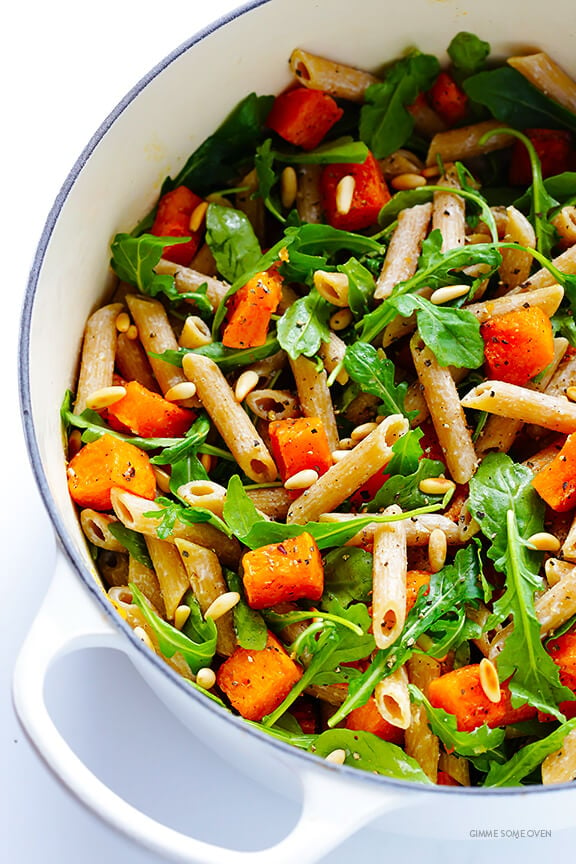 It's officially fall in my kitchen!
I made a mega trip to the grocery store yesterday and somehow made it home with all of my seasonal favorites — a big butternut squash (plus an extra bag of pre-cut butternut squash, which I'm obsessed with), far too many cans of pumpkin (still paranoid about running out after that unfortunate national shortage a few years ago!), and my all-time favorite hot cinnamon spice tea (which I basically drink every day in life that the temperature dips below 70 degrees). Mmmm. I may not love cold weather, but I do love me some good fall comfort foods.
So to kick off butternut squash season, I decided to cut up the squash and roast it to sweet perfection (cheating a little with the 5-ingredient title, and also using some oil, salt and pepper). Then while it roasted, I cooked up a batch of my favorite whole wheat pasta. And then instead of whipping up a sauce, I took one of my favorite shortcuts and just stirred a bunch of goat cheese into the pasta (once it was cooked and drained) until it was nice and melty and creamy. Then I stirred in the roasted butternut, a ton of fresh arugula, some toasted pine nuts, and topped it all with a little extra black pepper. And the result?!?
Oh my goodness. Can I please just say…
…you HAVE to make this one.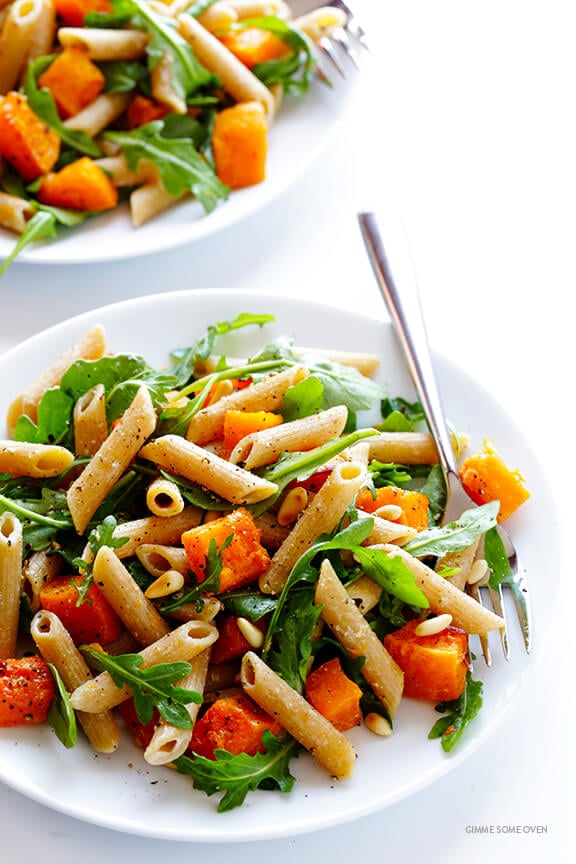 Seriously. I mean, I expected the dish to be good with that ingredient combination. But it was beyond great.
The sweet and savory ingredients came together absolutely perfectly. I'm pretty sure that no one would ever guess that the "sauce" was made in about 20 seconds with just one ingredient. And, as always, knowing how ridiculously easy it was to prepare made the dish taste all the more delicious. 🙂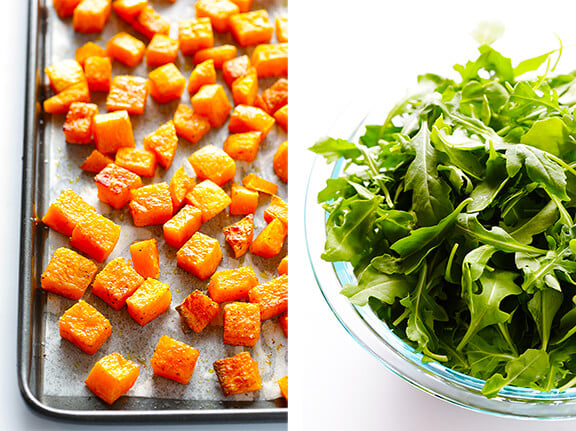 Of course, much of the deliciousness was due to some of my favorite ingredients that never fail — sweet roasted butternut squash (which I like to make with some generous pinches of salt and black pepper) and a few big handfuls of fresh baby arugula (which is always a staple in my fridge).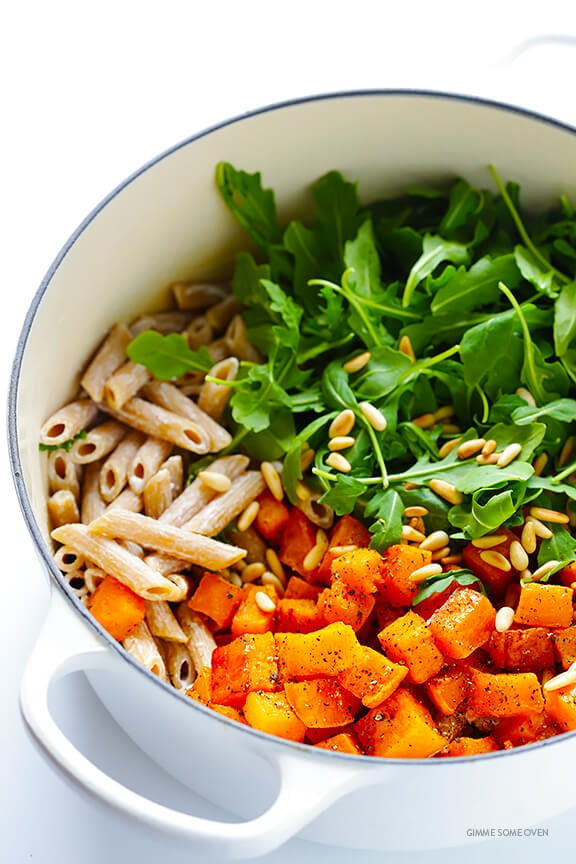 I forgot to snap a picture of the "sauce"-making. But to make a goat cheese sauce, or a sauce with any soft cheese (blue cheese, feta, brie, etc.), simply reserve some of the hot pasta water before you drain off the pasta. Then drain the pasta, and immediately stir the cheese into the hot pasta. It will melt and coat the pasta on its own, but I find that the consistency is a little better and the cheese melts more evenly if you also add in a 1/4 cup (or more) of the reserved pasta water while stirring in the cheese.
Either way, it literally just takes a few seconds, and then — voila!! — you have a delicious pasta sauce all ready to go!
Then add back in the roasted butternut, some toasted pine nuts, and the fresh arugula…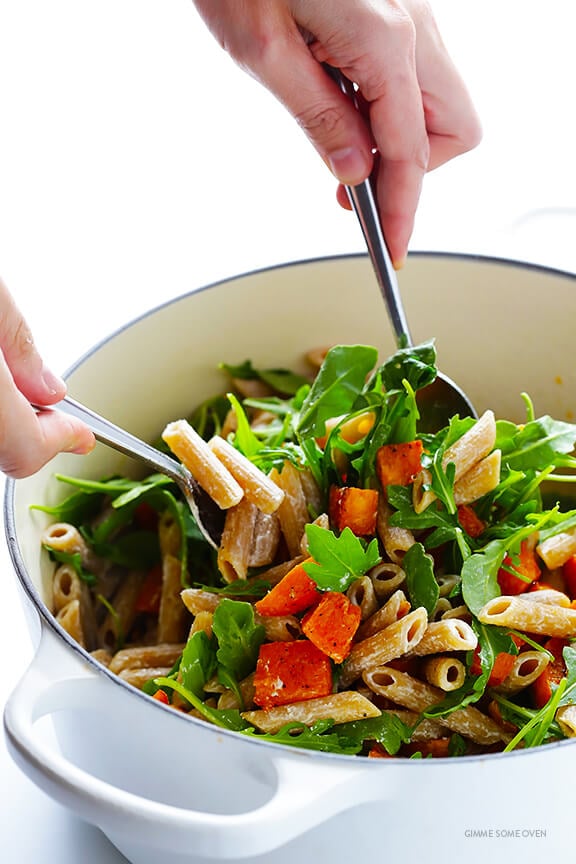 …give it all a good toss, maybe along with a few extra twists of freshly-cracked black pepper…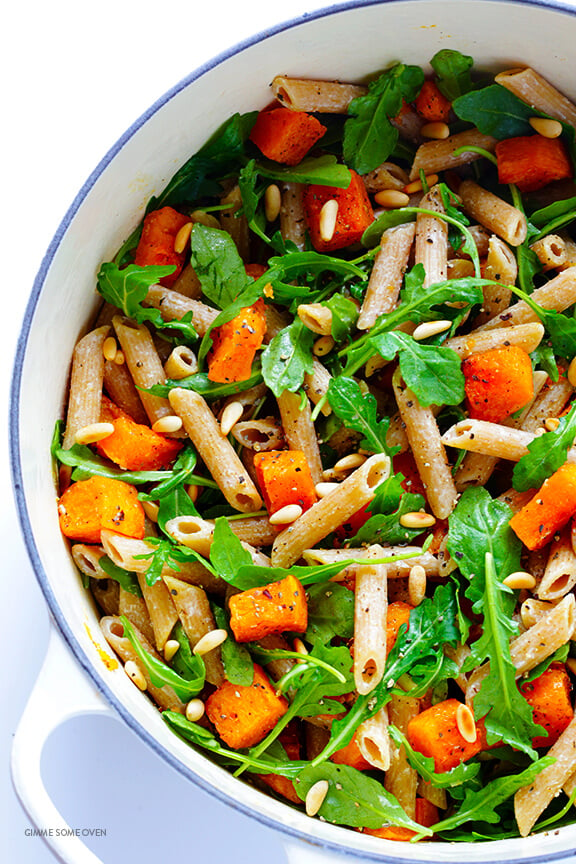 …and then just look at that. A beautiful, colorful, fall pasta dish is ready to go.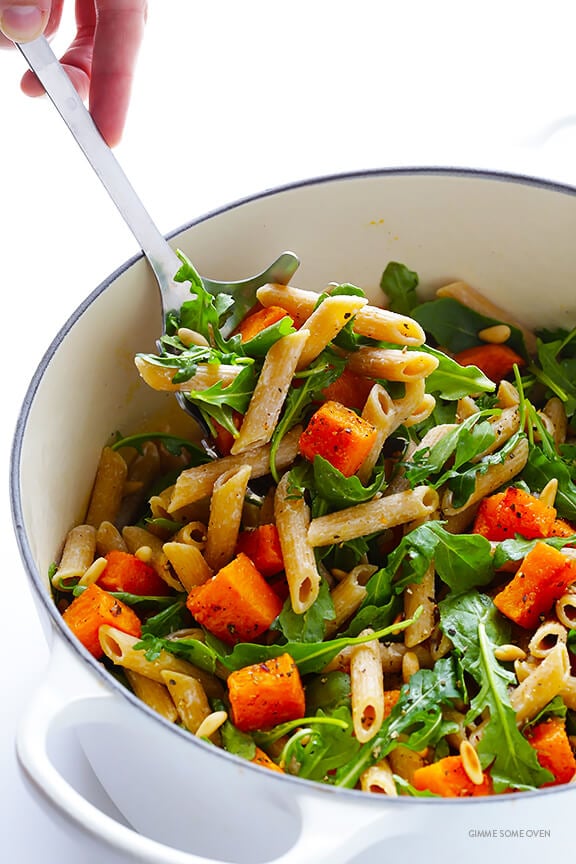 I just love those colors!!!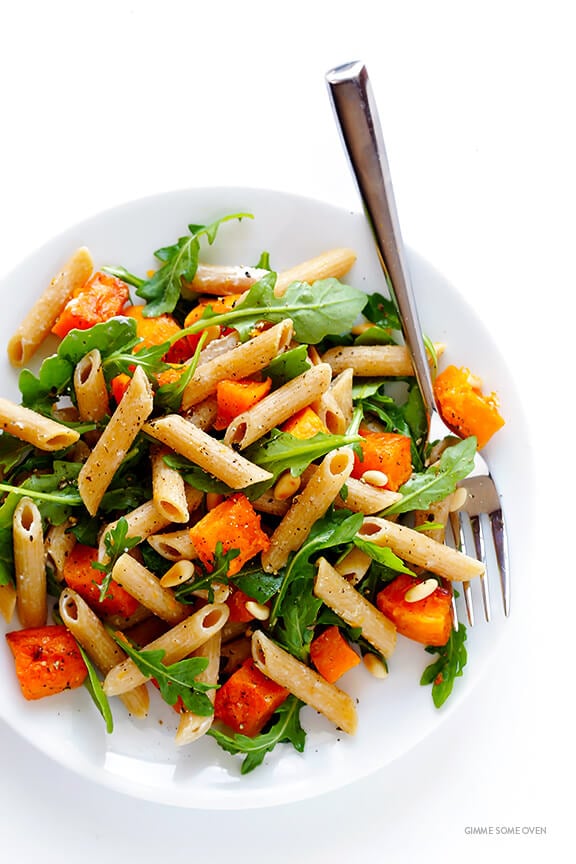 And it tastes 100x more delicious than it looks. Win = WIN.
If you feel like going beyond the 5-ingredient list, you could easily also add some protein to the dish (like chicken sausage, bacon, or even prosciutto or pancetta). Ooooh, and I'd also totally recommend roasting up a head of garlic along with the squash and then adding in some roasted garlic cloves to the mix. And always feel free to sub in your favorite kinds of nuts (walnuts or pecans would also work well instead of pine nuts). Or…whatever else you might like!
Frankly, I was completely satisfied with the pasta, butternut, arugula, goat cheese, and pine nuts. So I'm going to call this a 5-ingredient recipe success…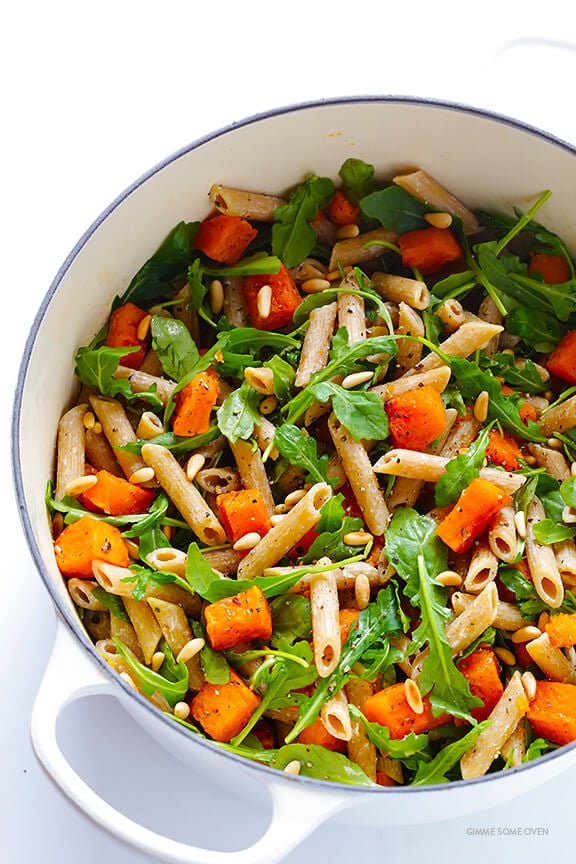 …and I already can't wait to make this again. Hope that you do too!!
Print

5-Ingredient Butternut Squash, Arugula and Goat Cheese Pasta

Prep Time: 10 minutes


Cook Time: 30 minutes


Total Time: 40 minutes


Yield: 4 –6 servings 1x
---
Description
This 5-Ingredient Butternut Squash, Arugula and Goat Cheese Pasta is easy to make, and full of the most delicious fall flavors!
---
1

medium butternut squash, peeled, seeded and diced into

3/4

-inch cubes

1 tablespoon

vegetable oil (or any high-heat oil)

salt and freshly-cracked black pepper

12 ounces

whole wheat dried pasta

2 ounces

goat cheese

2

big handfuls fresh baby arugula

1/3 cup

toasted pine nuts
---
Instructions
Heat oven to 425°F.  Line a baking sheet with parchment paper (or mist it with cooking spray).

In a large mixing bowl, combine the butternut squash and oil, and toss until the squash is evenly coated.  Spread the squash out the prepared baking sheet in an even layer.  Bake for 20-25 minutes, flipping the squash at the halfway point then returning them to the oven, until the squash are cooked through and soft on the inside.  Remove and set aside.

While the squash is cooking, bring a large stockpot of generously-salted water to a boil.  Add the pasta and cook al dente, according to package instructions.  Once it reaches al dente, scoop out about 1 cup of the pasta water and set it aside for later.  Then drain the rest of the water and return the pasta to the stockpot.  Immediately add in the goat cheese along with 1/4 cup of the reserved pasta water, and toss until the cheese is completely melted and is evenly coating the pasta.  (If it seems too thick and you'd like a lighter "sauce", add in a few more tablespoons of the pasta water at a time until the cheese reaches your desired consistency.)  Add in the arugula, pine nuts and roasted butternut squash, and toss until combined.

Serve immediately, garnished with extra black pepper if desired.
---