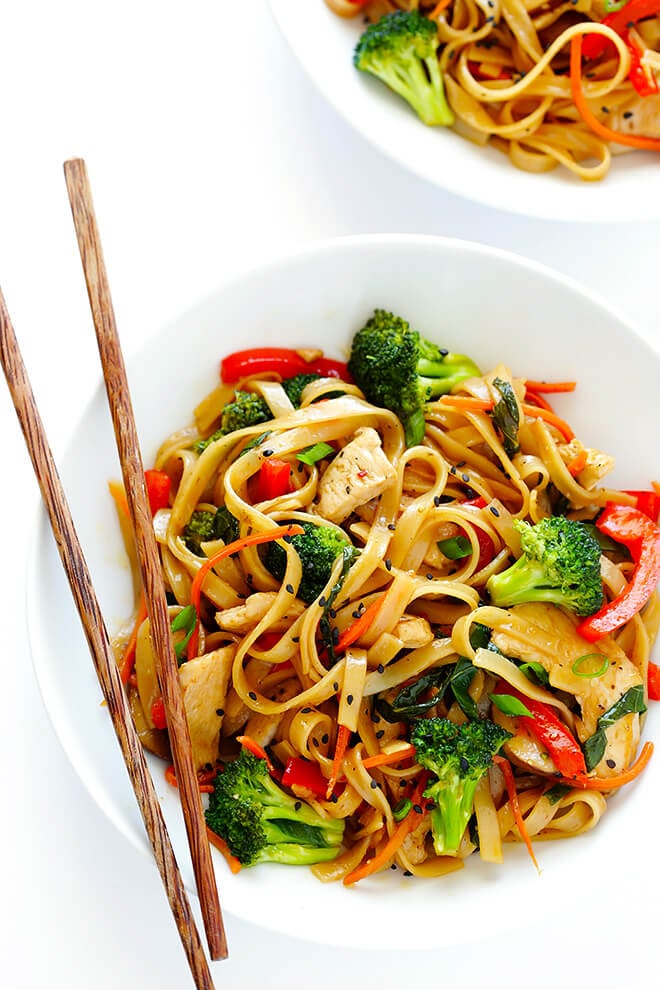 Every now and then, I have a little bit of an identity crisis about this blog.
As in, I sometimes struggle how to explain Gimme Some Oven's identity when people ask, "So what's your blog about?"
Business pros are always advising bloggers that they need to niche way (way) down in order to be successful. Which always makes me wonder whether I should have chosen to focus exclusively on a popular topic like slow cooking, or simple vegetarian dinners, or gluten-free desserts, or 5-ingredient meals. I mean, I get it — choosing to stick to one specific topic might make for a clear, well-focused blog. But the reality is that I cook all of these kinds of meals in any given month! And I really love that! Sure, I tend to go more for the quick and easy recipes in any category (and try to eat as healthy and seasonally and plant-based as possible), but the honest truth is that I love just cooking up a little bit of everything.
So when people ask what kind of recipes are shared on here, I generally just tend to shrug and say, "I just blog what I normally eat!" Sure, it might not be the most business-savvy answer, and may never be refined to the perfectly marketable elevator pitch. But I've never been the most well-spoken girl anyway, so a rambling answer about all of the random recipes I've been enjoying lately will probably always be my style. 😉
This month, for example, I've pulled my slow cooker back out, and I'm loving experimenting with ways to have it save us time and make the house smell freaking amazing when you come home from a long day at work. This month, I have fallen in love with healthier caramel sauces (recipes coming soon!) that I want to drizzle on every single dessert this fall. This month, I'm wrapping up the end of my CSA, and am making salads galore with all of those delicious end-of-summer veggies and greens. This month, I'm determined to master some of the traditional dishes I loved in France (and loved reading about in Julia's delightful memoir), like classic coq au vin and boeuf bourguignion. This month, my calendar is super full, so I'm whipping up dinners in the amount of time it takes to watch The Daily Show on Hulu (28 minutes!).
And this month, this simple Sesame Chicken Noodle Stir-Fry absolutely made my night.
It's quick and easy to make, as you might have guessed from the title. It's made with a zillion veggies from my CSA, like broccoli, carrots, and bright bell peppers. It's made extra-flavorful with a simple sesame-soy-ginger sauce. And to be honest, it is just the kind of simple dinner I normally eat. 😉
Sesame Chicken Noodle Stir Fry Recipe | 1-Minute Video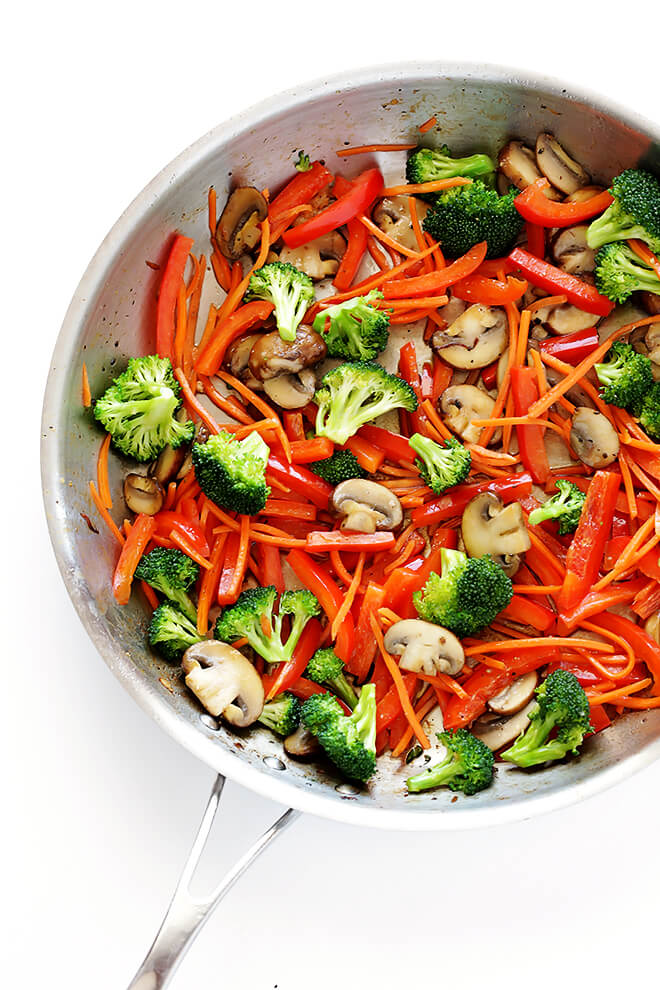 So of course, I wanted to share it with you. 🙂
It's nothing super profound. Simply cook a pot of rice noodles, according to the package instructions. And while the water is heating, chop up whatever stir-fry-friendly veggies and greens you have on hand, and saute them up in some peanut oil (<– my favorite, or you can also use whatever cooking oil you have on hand.)
Then whip up a simple stir-fry sauce with soy sauce, rice wine vinegar, sesame oil, ginger, garlic powder, and some chili garlic sauce (<– if you'd like to spice things up). And if you'd like to make this gluten-free, just swap some tamari in place of the soy sauce.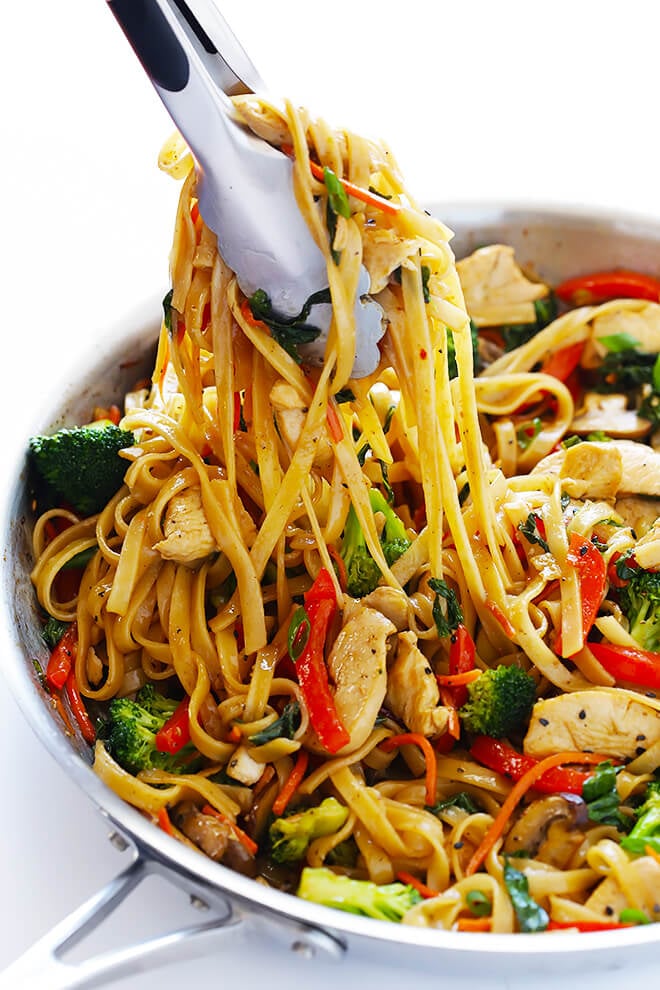 Toss it all together…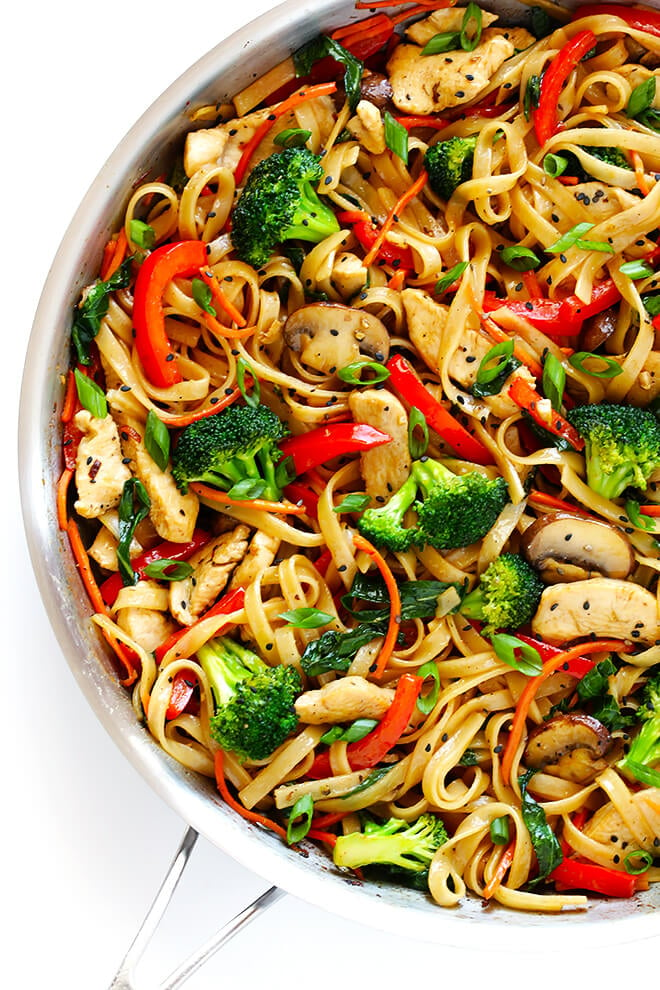 …sprinkle with some toasted sesame seeds and sliced green onions…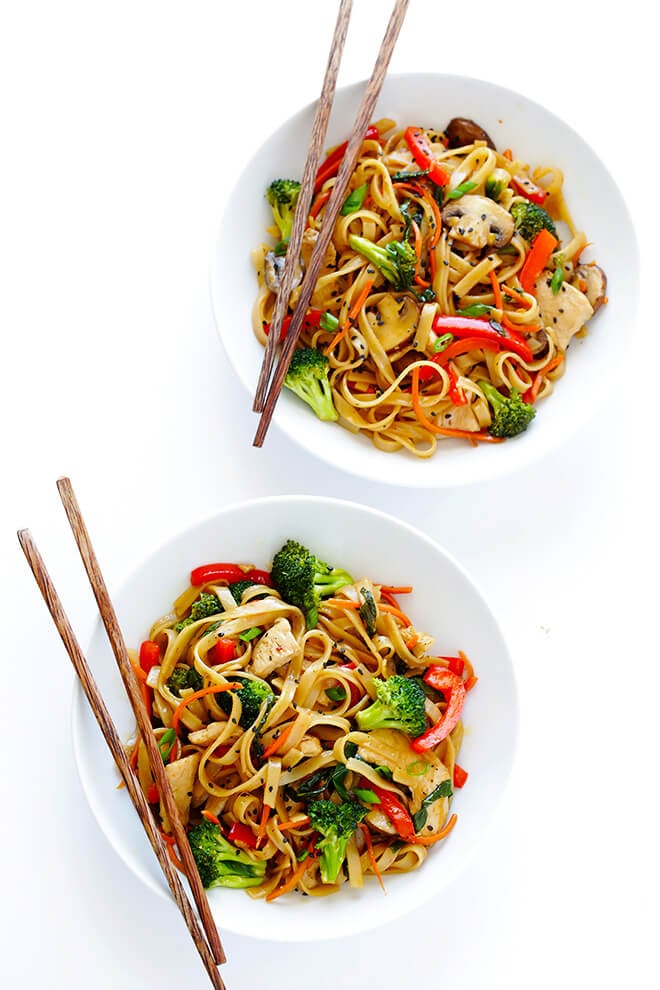 …and then dive the heck in.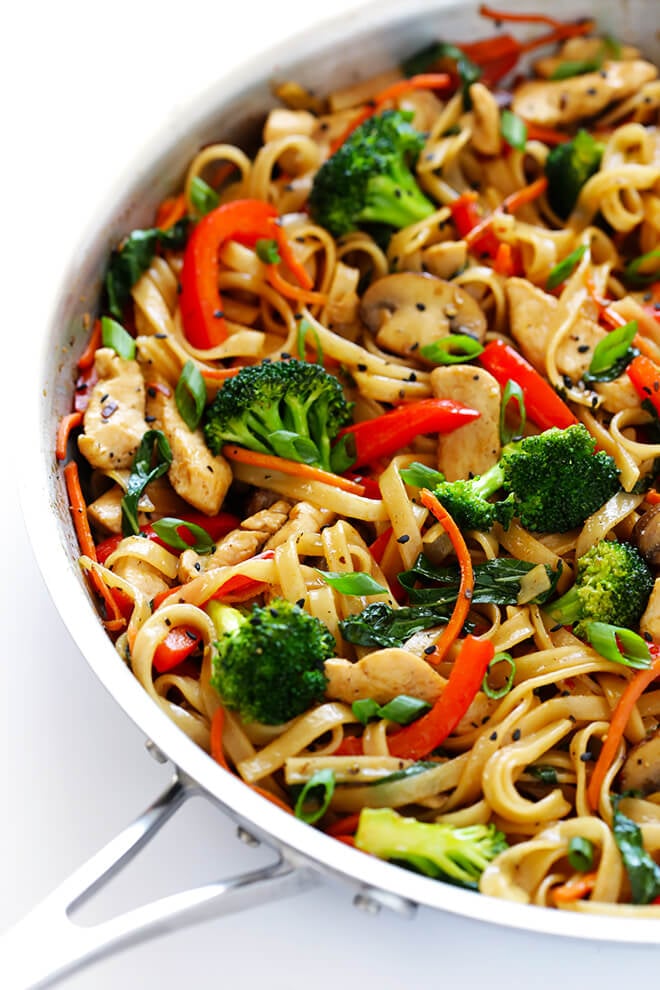 I mean, let's be real, I'll always be excited about any dish that involves noodles. 🙂  But this particular stir-fry definitely hit the spot last week. It's full of great flavor, easy to make with whatever veggies you have on hand, it's ready to go in about half an hour, and it's my total kind of comfort food.
So thanks for rollin' with whatever sounds good to me, and I sincerely hope this one will hit the spot for you too!!
Print

30-Minute Sesame Chicken Noodle Stir-Fry

Prep Time: 15 minutes


Cook Time: 15 minutes


Total Time: 30 minutes


Yield: 4 –6 servings 1x
---
Description
This 30-Minute Sesame Chicken Noodle Stir-Fry recipe is quick and easy to make, easy to customize with whatever fresh veggies or greens you have on hand, and it's tossed with the most delicious sesame-soy vinaigrette!
---
Chicken Noodle Stir-Fry Ingredients:
7

 ounces rice noodles

3 tablespoons

peanut oil (or olive oil), divided

2

boneless skinless chicken breasts, thinly-sliced

salt and pepper

2 cups

broccoli florets, chopped into bite-sized pieces (about

1

small head of broccoli)

2/3 cup

shredded carrots

1

red bell pepper, cored and thinly-sliced

8 ounces

baby bella* mushrooms, thinly sliced

1 cup

roughly-chopped collard greens**, tough stems removed

1

batch stir-fry sauce (see below)

toppings: thinly-sliced green onions, toasted sesame seeds
Stir-Fry Sauce Ingredients:
1/4 cup

low-sodium soy sauce

2 tablespoons

rice wine vinegar

2 tablespoons

 oyster sauce

2 teaspoons

 toasted sesame oil

1/2 teaspoon

 ground ginger

optional: 1-3 teaspoons chili garlic sauce, to taste
---
Instructions
To Make The Chicken Noodle Stir-Fry:
Cook noodles according to package instructions.  Drain and set aside.

In a large saute pan, heat 1 tablespoon oil over medium-high heat.  Add chicken and season evenly with a generous pinch of salt and pepper.  Cook the chicken, stirring and flipping occasionally, for until it is just cooked through and no longer pink on the inside (about 3-5 minutes).  Transfer chicken with a slotted spoon to a separate plate, and set aside.

Add the remaining 2 tablespoons oil to the saute pan, and increase heat to high.  Add broccoli, carrots, bell pepper and mushrooms, and saute for 5 minutes, or until they reach your desired level of softness.

Add in the collard greens, sauce, cooked chicken, noodles, and immediately toss to combine.  Continue cooking for 2 minutes, stirring frequently, until the greens have wilted a bit.

Remove from heat and serve immediately, garnished with your desired toppings.
To Make The Stir-Fry Sauce:
Whisk all ingredients together until combined.  Then whisk in as much chili garlic sauce as you'd like.
---
Notes
*You could really use just about any mushrooms here — baby bella, white button, shiitakes, or a combination!
**Feel free to sub in whatever greens you have on hand here — fresh spinach, kale, chard, or mustard greens.
This post contains affiliate links.