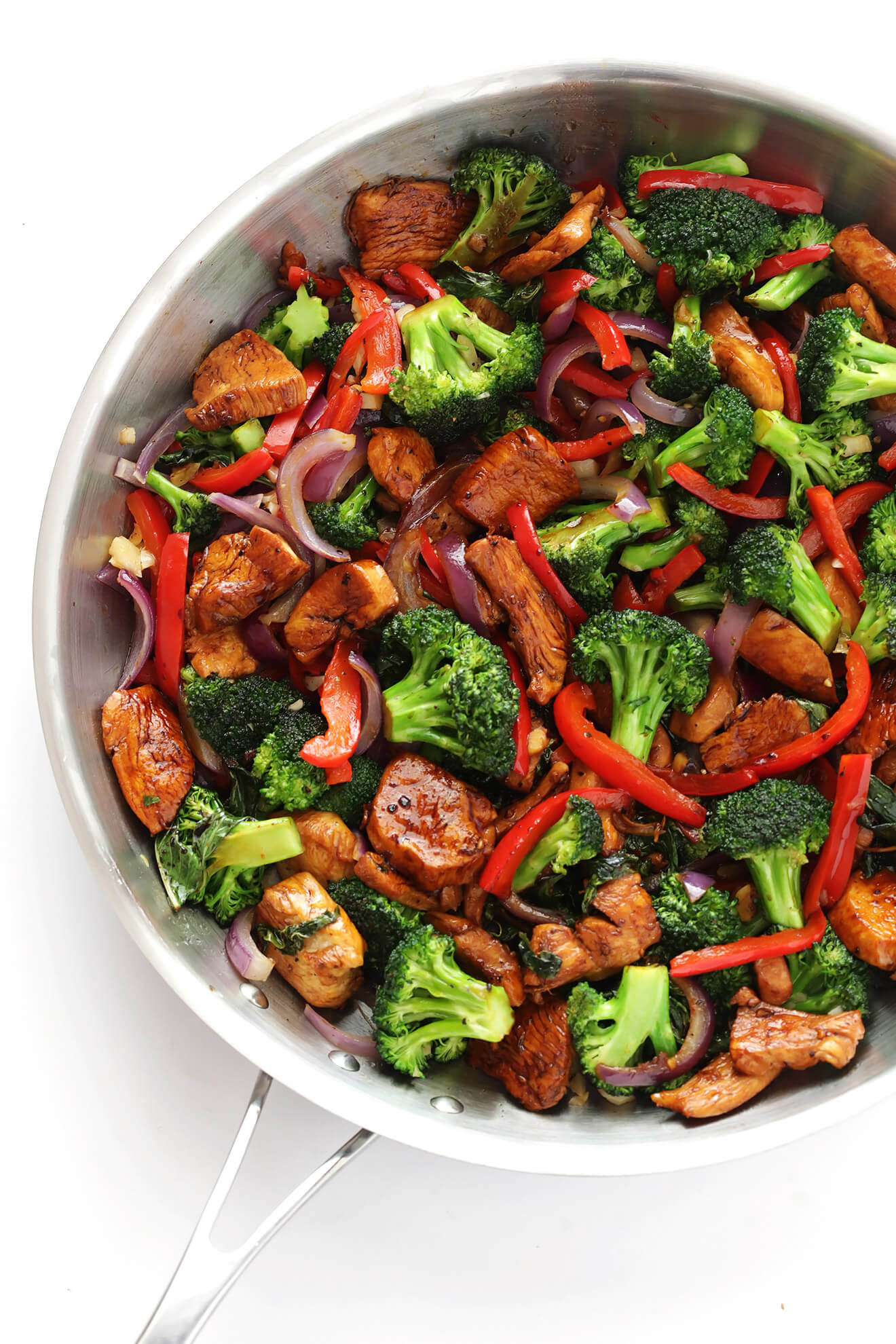 As excited as I am to be moving into Barclay's house when we get married in June, I'm definitely starting to feel All The Feels about leaving the River Market in downtown Kansas City — the neighborhood I've called home for these past five years.
Gosh, there are a million reasons why I have loved living down here. And there are, I'm realizing, a million things that I'm deeply going to miss about calling this neighborhood home — namely, walking next door every morning to order an iced pour-over at my home-away-from-home, and of course, bumping into dozens and dozens of the world's best neighbors every day as we're all out and about. But, I've also been realizing lately how much I'm going to miss the central spot that originally inspired me to move downtown way back in the day — our amazing City Market.
Oh my goodness. Living across the street from Kansas City's largest farmers market for so many years has been just as magical as I had dreamed it might be, back when I first moved to town over a decade ago and started making the trek downtown every Saturday morning to visit the City Market. And then once I started this site and — as any food blogger will tell you — started making more and more and more drives to the grocery store each week, I . But man, having had the chance to spend these years simply walking across the street, browsing through produce in the open-air sunlit markets, getting to chat with vendors who amazingly now know me by name, and then carrying my groceries back to a beautiful loft I call home has been even more meaningful than I had imagined. It's just a rhythm that has felt so good. And I already know it's a season of life that I will forever look back on with such gratitude.
So anyway, with just a little over three months left here, my little River Market-loving heart seems to have clicked into the gotta-soak-up-every-second-of-my-remaining-time-here mode these past few weeks. Which has meant — amongst other things — that I've been making almost daily trips to the City Market to buy fresh fruit and veggies and spices and herbs and find inspiration for what to cook next. And I'm happy to say that there have been some absolutely delicious results, such as this awesome chicken stir-fry that came about after gorgeous bunches of fresh Thai basil happened to be on sale at the market yesterday.
City Market FTW!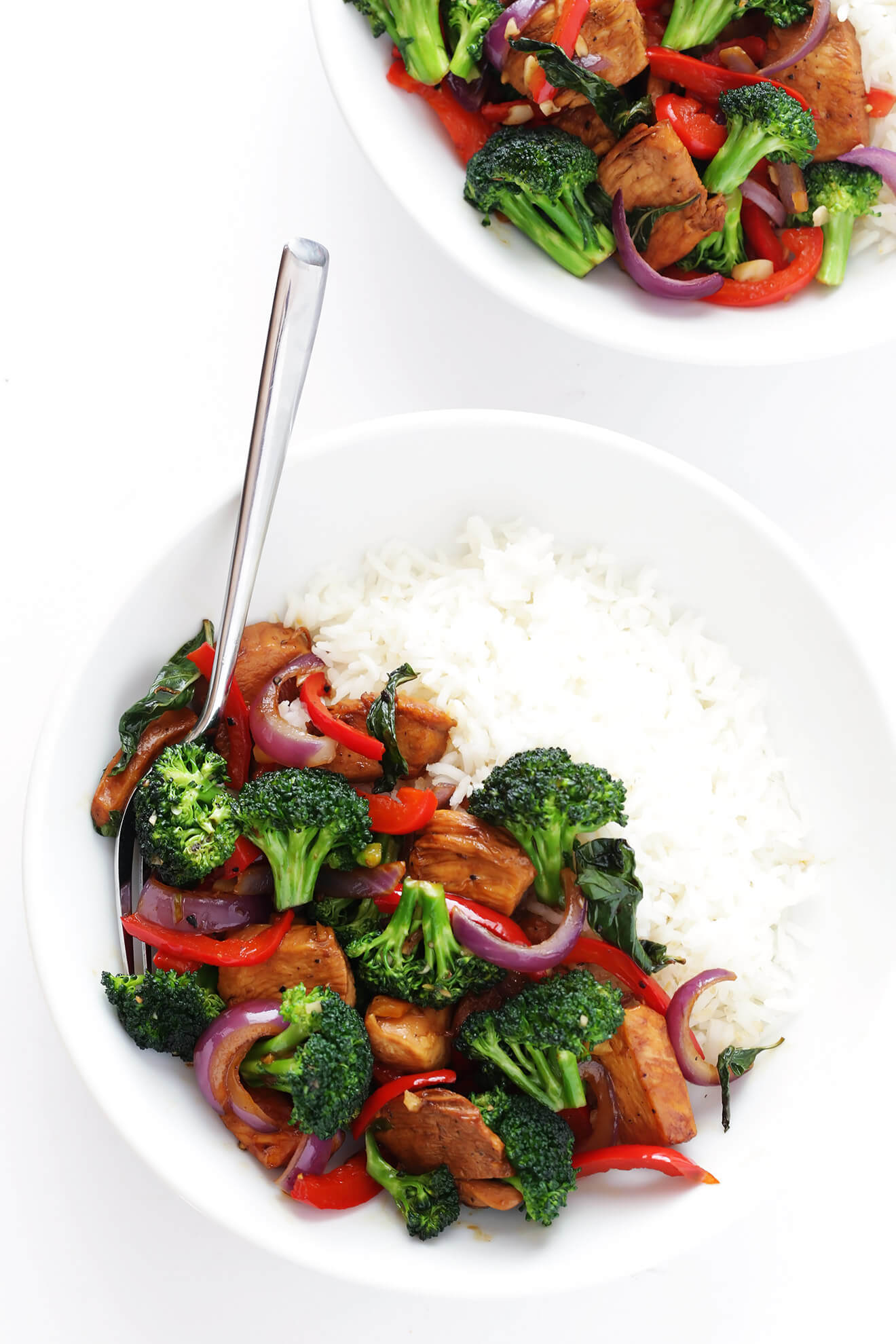 Actually, I hardly know anyone who wasn't at the City Market in Kansas City yesterday because it was absolutely gorgeous out all weekend.
75 degrees and sunny…in February!
Absolute heaven!!!
Nice weather is also always a sign — as any River Market resident will tell you — that pretty much the entire population of Kansas City will be descending upon the River Market. And sure enough, they did, and the neighborhood was absolutely packed with visitors all weekend long. Some neighbors complain about the crowds, but I actually love the hustle and bustle, and I especially appreciate seeing so many Kansas Citians out and about exploring the area on foot instead of being isolated in their cars. 😉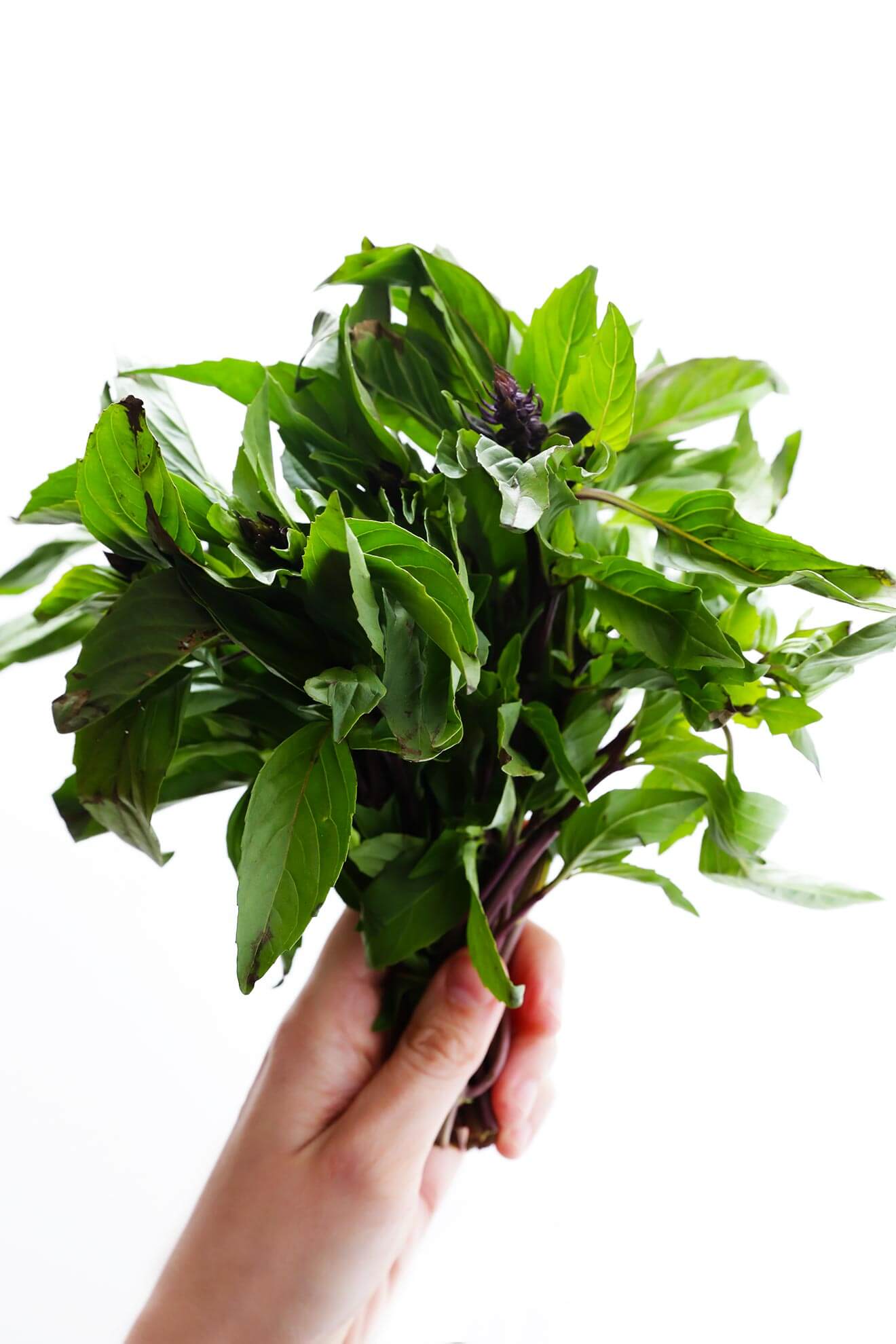 Sure enough, the City Market was packed with people (which is rare in February!), but they had an awesome selection of good produce to keep everyone happy. I arrived in a go-with-the-flow kind of mood, looking for inspiration to make something fresh and tasty for lunch. And then once I saw the gorgeous bouquets of Fresh basil on display, I knew without a doubt that it was a stir-fry kind of Sunday.
So I grabbed some colorful fresh broccoli, garlic, bell peppers, and red onion to make it happen…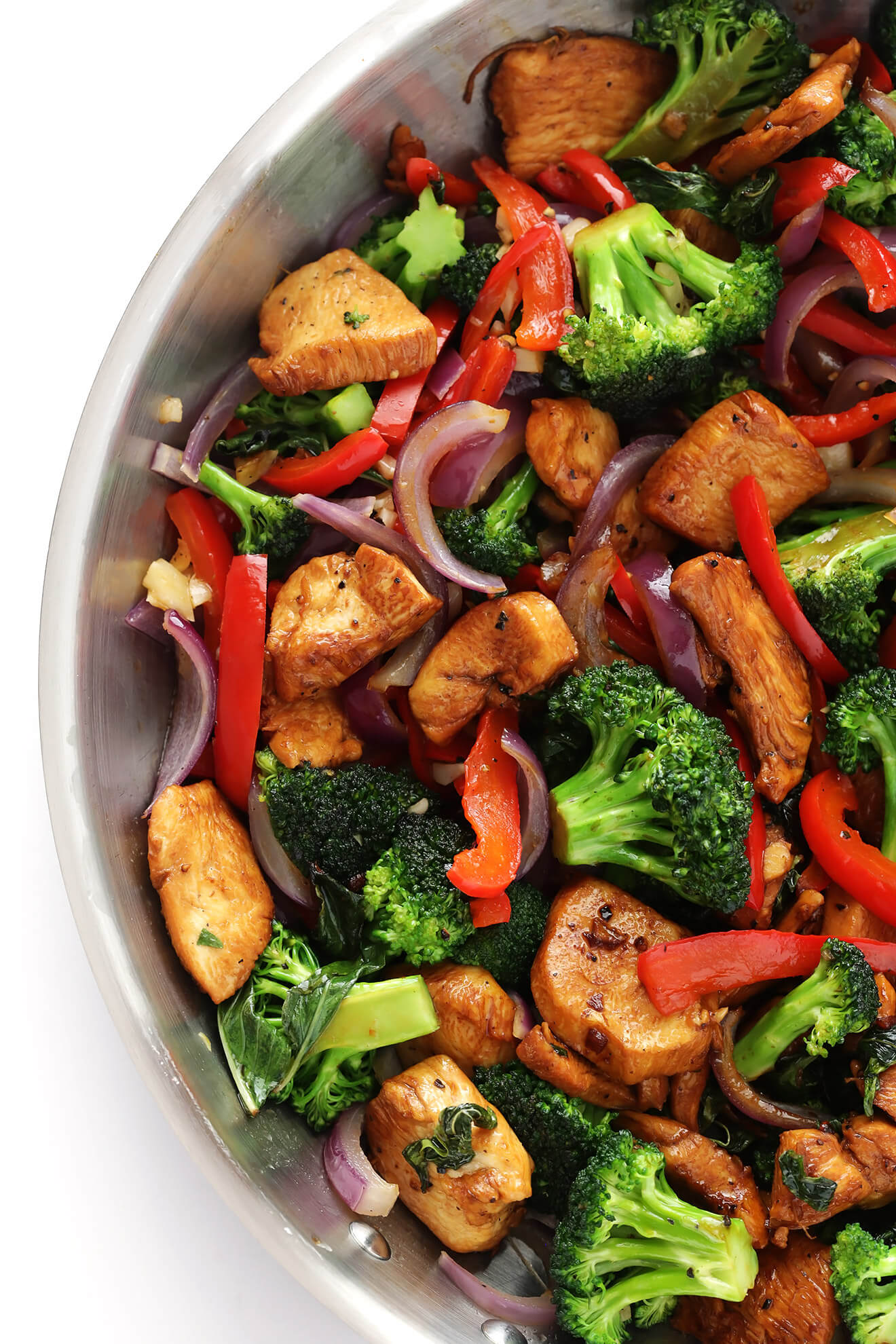 …then came home and sautéed everything together….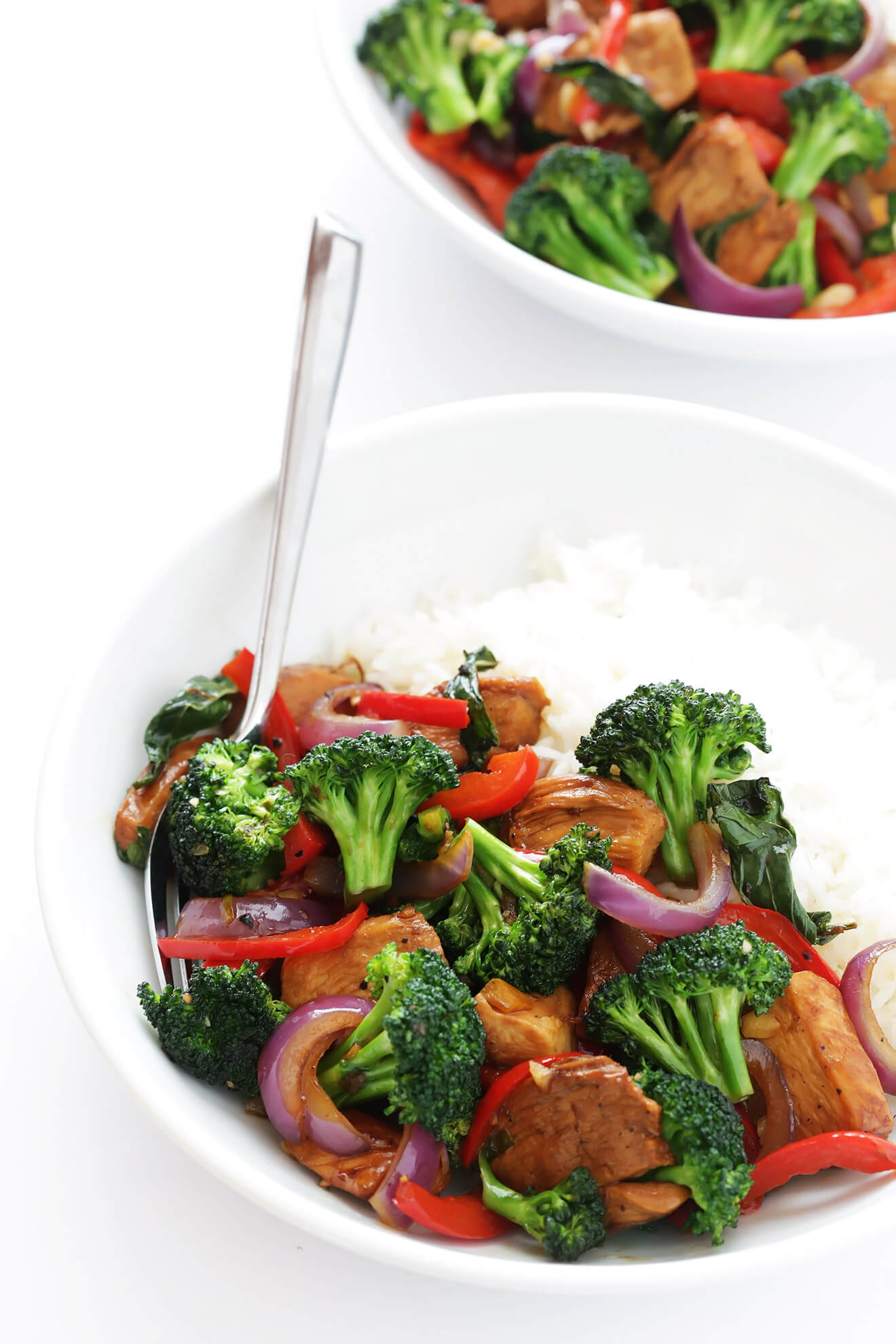 …and in less than 20 minutes, this gorgeous rainbow of a meal was ready to enjoy.
And you guys, it was so good! And so simple! And so versatile!!
Seriously, if you're not into chicken, you could substitute any protein from beef to pork to shrimp to tofu here. And you could also add/substitute just about any other veggies. I just recommend that you do add in lots of veggies. Because while traditional Thai Basil Chicken is delicious, it's usually served on its own with rice, and I much prefer to have a much higher veggies to meat ratio in this recipe…because why not?! 😉
Definitely a winner winner of a chicken "dinner", and one I look forward to making again soon. So thanks, City Market, for the delicious veggies and inspiration. And hope that you all enjoy this one too!
Print

20-Minute Thai Basil Chicken

Prep Time: 10 minutes


Cook Time: 10 minutes


Total Time: 20 minutes


Yield: 4 –6 servings 1x
---
Description
This 20-Minute Thai Basil Chicken recipe is quick and easy to prepare, and full of bold and delicious savory flavors!
---
Thai Basil Chicken Ingredients:
2 tablespoons

peanut oil, divided

1

small red onion, peeled and thinly-sliced

1

red bell pepper, cored and thinly-sliced

florets from

1

small head of broccoli, cut into bite-sized pieces

optional: 3-5 Thai bird chiles*, thinly-sliced

6

cloves garlic, peeled and minced

leaves from

1

bunch of Thai basil (about

2 cups

, lightly-packed)

1

pound boneless skinless chicken breasts, thinly-sliced into bite-sized pieces

1

batch simple soy marinade (see below)
Simple Soy Marinade:
1 tablespoon

dark soy sauce

1 tablespoon

light soy sauce

1 tablespoon

fish sauce

freshly-cracked black pepper
---
Instructions
To Make The Thai Basil Chicken:
Heat 1 tablespoon oil in a wok or large saute pan over high heat.  Add onion, bell pepper, broccoli, and Thai chiles (if using), and saute for 3-4 minutes, stirring occasionally.  Stir in garlic and Thai basil and saute for 1-2 minutes or until fragrant, stirring frequently.  (Time saving tip: slice your chicken and make the marinade while the veggies are sauteeing!)  Then transfer the entire mixture to a separate plate, and set aside.

Return wok/pan to high heat, and add the remaining 1 tablespoon oil.  Add the chicken and saute for 4-5 minutes, stirring occasionally, until cooked through and no longer pink inside.  Add in the marinade, and toss to combine.

Remove from heat and add in the vegetable mixture, tossing to combine.

Serve warm, over rice or noodles if desired.
To Make The Simple Soy Marinade:
Whisk all ingredients together until combined.
---
Notes
*These little chiles are pretty spicy, but also delicious and traditionally used in this dish.  I didn't have any on hand the day I made and photographed this dish, so I just subbed in a few pinches of crushed red pepper instead.  But I typically use them for Thai basil dishes and love them!