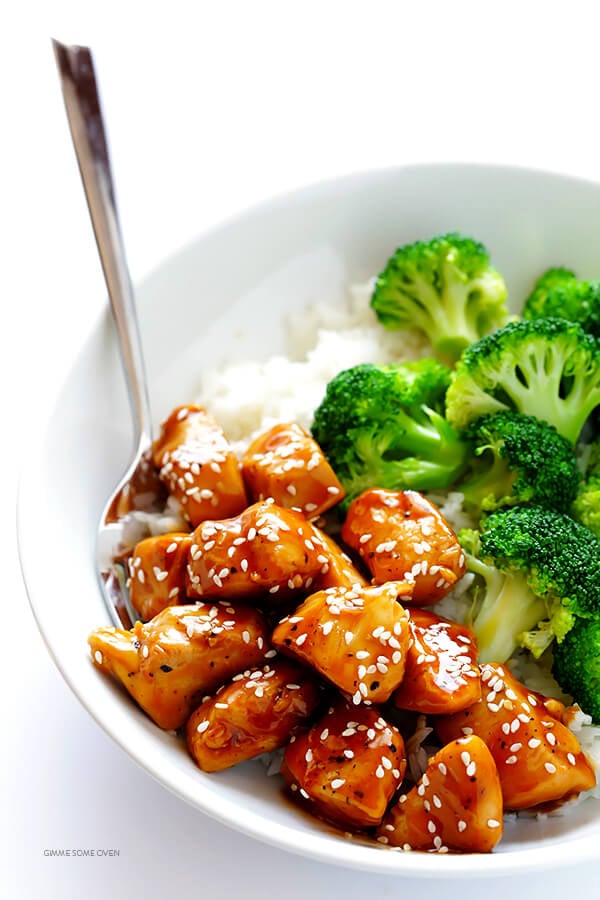 They always say that weddings come in waves, right?
I'll say.
Last night, Barclay and I attended our fifth — that's right, fifth — wedding in the month of May. It's been a whirlwind of showers, and ceremonies, and receptions, and toasts, and dances, and me-making-Barclay-pose-for-fancy-selfies (and caricatures!), to be sure. But it has been such a fun month. I always get so dang excited seeing people I love finding people they love, especially many of these friends who have been waiting for this season for years and years. And I love seeing all of the beautiful and unique ways our friends choose to celebrate. And I love getting to be there to celebrate with them! ♥
Without a doubt, last night was the perfect celebration to wrap up the month. My friends, Kevin and Stacey (who I mentioned a few years ago in this post), tied the knot out in the middle of a field on a stunning spring evening. It was my first time attending a full-on Egyptian Orthodox ceremony, and the liturgy and music and traditions were so beautiful and moving. As was, of course, seeing my radiant friend and her sweet daughter walk down the aisle together to become a family of three with this incredible man we all love. And then afterwards?! (I may have freaked out just the tiniest bit.)   Guys, they had a nacho bar!!!  Oh my goodness, I could not begin to imagine a more perfect dinner for a wedding, and the perfect fuel for the evening of dancing the night away in the setting spring sun. Yet one more reason why I love these friends, and why I loved this night.
Well, before we made our way out to the edge of town for this wedding, I was buzzing around trying to get 101 things done before the end of the weekend. And as the perfect fuel for my afternoon of errands, and bills, and all of the not-so-fun-jobs that needed to be done, I decided to use some leftovers in the fridge to whip up some simple teriyaki chicken. I had randomly been craving teriyaki this week, and already had some rice and broccoli in the house to serve up as sides. So I stir-fried up a quick batch, and within 20 minutes, this deliciousness was on the table.
Too good and too easy not to share with you!
20-Minute Teriyaki Chicken Recipe | 1-Minute Video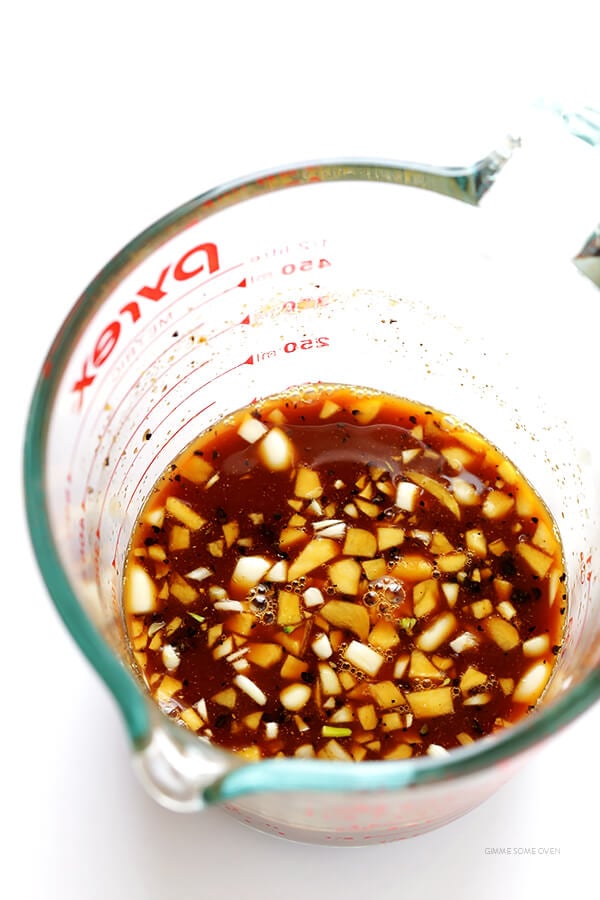 Many of you have probably tried out my recipe for Slow Cooker Teriyaki Chicken, which has been one of the most-viewed recipes on the blog for years. And also happens to be one of my favs.
But if you ever have the craving for chicken teriyaki and want it now — or, you know, like 20 minutes from now — then this quick and easy version may be for you.
Simply cut up some boneless skinless chicken breasts into bite-sized pieces, and start sauteing them in a skillet. Then while they're cooking, whisk together this simple teriyaki sauce shown above. (I also multitasked and popped some rice in my rice cooker, and steamed some broccoli while getting everything else ready, which I highly recommend. YUM.)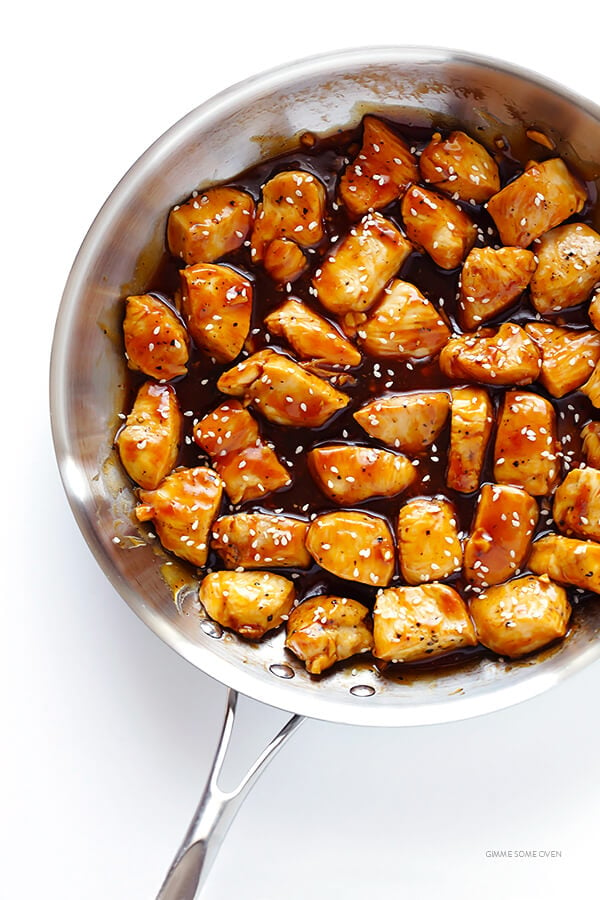 Then once the chicken is cooked and ready to go, just stir in the teriyaki sauce. And within about a minute, it will start to simmer and get nice and thick.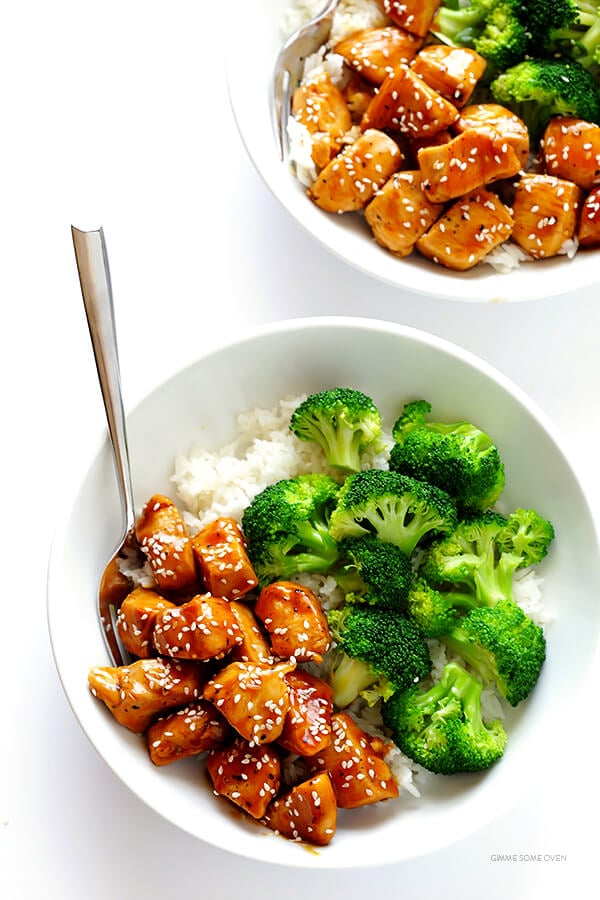 Then it'll be ready to go!!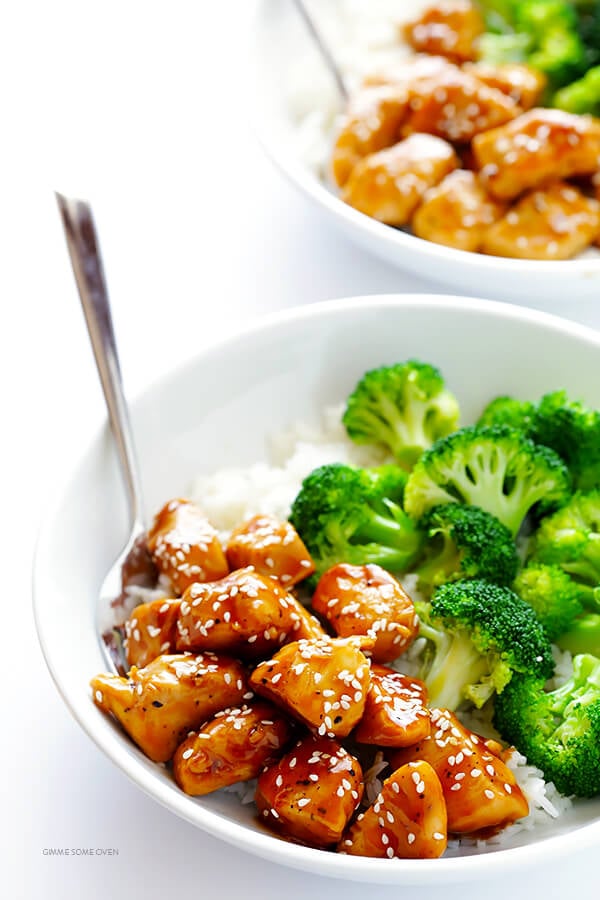 Feel free to serve it with any of your favorite sides. Or you're also welcome to saute some veggies in there along with the chicken, and toss everything together in the sauce. (<– Although if you add tons of veggies, I'd recommend making a little extra sauce.)
Definitely a classic meal that's always a crowd pleaser. And all the better when made in a snap!
Enjoy!
Print

20-Minute Teriyaki Chicken

Prep Time: 8 minutes


Cook Time: 12 minutes


Total Time: 20 minutes


Yield: 2 –3 servings 1x
---
Description
This 20-Minute Teriyaki Chicken recipe is quick and easy to make, naturally-sweetened with honey, and so flavorful!
---
20-Minute Teriyaki Chicken Ingredients:
1

pound boneless skinless chicken breasts, cut into bite-sized pieces

salt and pepper

1 tablespoon

peanut oil (or any cooking oil)

1

batch teriyaki sauce (see below)

optional toppings: toasted sesame seeds, thinly-sliced green onions
Teriyaki Sauce Ingredients:
1

clove garlic, peeled and minced

1/4 cup

soy sauce

2 tablespoons

honey

2 tablespoons

mirin (sweet rice wine)

2 tablespoons

rice wine vinegar

1 tablespoon

cornstarch

1/2 teaspoon

sesame oil

1/4 teaspoon

ground ginger
---
Instructions
To Make The 20-Minute Teriyaki Chicken:
Season the chicken with a few generous pinches of salt and pepper.  Set aside.

In a large saute pan or wok, heat oil over medium-high heat.  Add chicken and saute, stirring occasionally, until the chicken is cooked through and no longer pink on the inside.

Meanwhile, as the chicken is cooking, prepare your teriyaki sauce.

Once the chicken is ready to go, pour the teriyaki sauce over it, then toss to combine until the chicken is evenly coated.  Continue cooking until the sauce reaches a simmer and thickens.

Remove from heat, and serve immediately, garnished with optional toppings if desired.
To Make The Teriyaki Sauce:
Whisk all ingredients together until combined.
---