For all of you working on meal planning right now with pantry staples — I'm here to help! ♡
Below I have compiled a list of all of my favorite recipes made with pantry staples that are legit easy-to-make. And more importantly, totally delicious. I've divided the recipes up into the following categories to hopefully make them a bit easier to search, including:
Pantry-Friendly Breakfast Recipes

Pantry-Friendly Soup Recipes

Pantry-Friendly Pasta Recipes

Pantry-Friendly Rice & Grains Recipes

Pantry-Friendly Beans Recipes

Pantry-Friendly Casserole Recipes

Pantry-Friendly Snack Recipes

Pantry-Friendly Sauce Recipes

Pantry-Friendly Dessert Recipes
Each category is full of tried-and-true recipes that center around basic pantry and refrigerator staples. I have also included notes to help with potential ingredient substitutions/adaptions that you might need to make during the coming weeks, as well as tips for how best to store and freeze these recipes too.
I really hope that this list will helpful! Let me know in the comments below if there are any other questions or requests that you have for specific kinds of recipes right now. And of course, stay tuned for many more pantry-friendly recipes to come in the weeks ahead!
Sending lots of love to you all today. ♡  We're going to get through this together.

Pantry-Friendly Breakfast Recipes
Breakfast recipes are thankfully some of the easiest to source from your pantry! Right now in our house, we are relying on lots of granola and muffins. (It's a great time to break out the canned pumpkin for these!)  And when eggs are in stock at the grocery store, we especially love making menemen, migas, breakfast tacos and breakfast casseroles. Keep in mind that nearly all of the cooked dishes below (including pancakes, egg casseroles, etc) can be frozen (well, except for migas which might get soggy). And if you run out of dairy milk, any shelf-stable plant-based milk should also work well as a substitution in any of the recipes below.
Healthy Granola

Menemen (Turkish Egg Scramble)

The Best Migas!

Healthy Banana Bread

Healthy Pumpkin Muffins

1-Hour Cinnamon Rolls

Buttermilk Pancakes

Easy Breakfast Tacos

Healthy Chocolate Granola

Healthy Peanut Butter Granola

Mexican Breakfast Casserole

DIY Instant Oatmeal Mix

Sour Cream Coffee Cake

Breakfast Enchiladas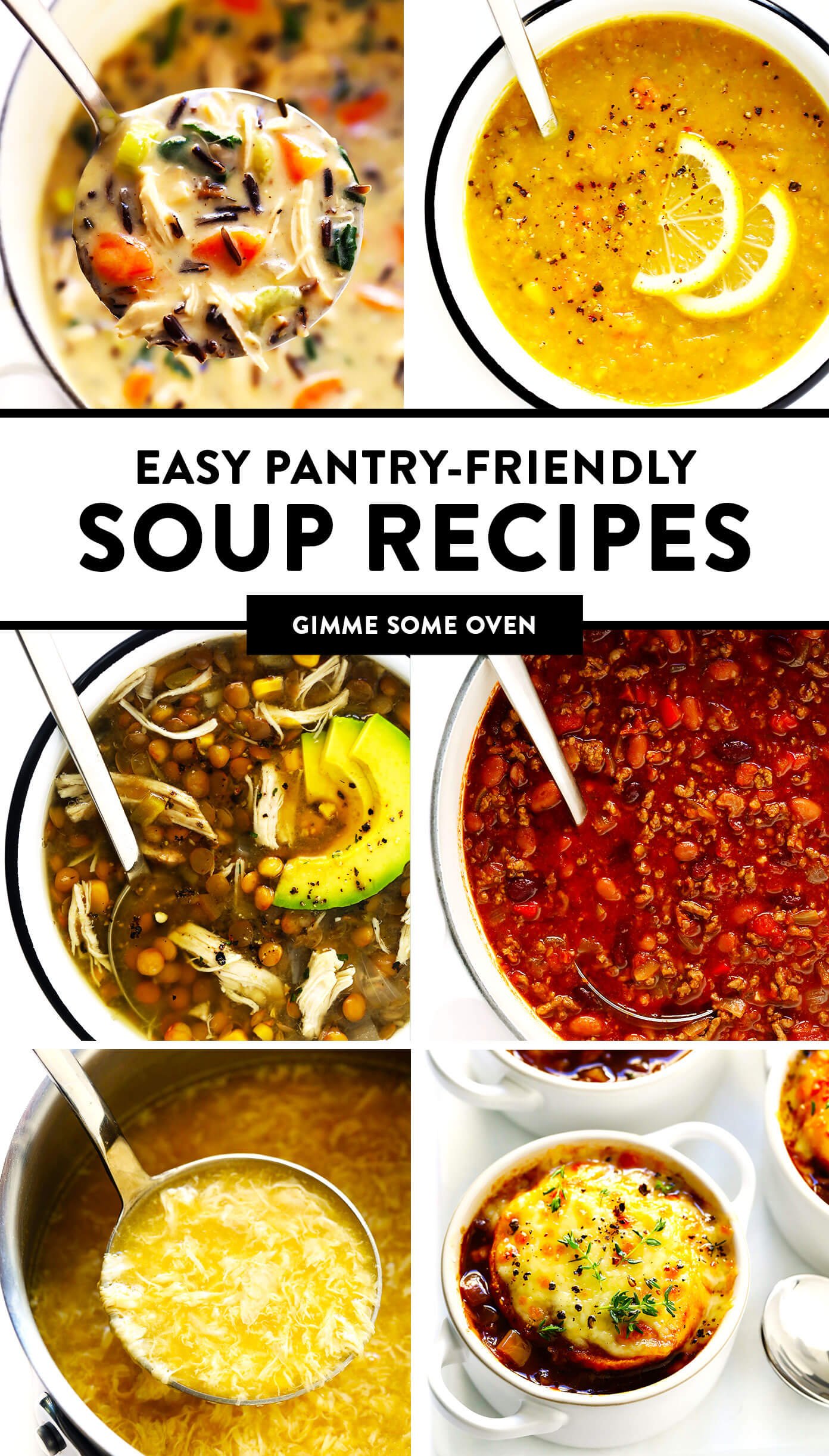 Pantry-Friendly Soup Recipes
Soups have been my favorite meal to cook lately because they are quick and easy to make, very forgiving with substitutions (you can almost always swap canned or frozen veggies in place of fresh in soups), and all of the recipes that I have included below also refrigerate and freeze beautifully. If you find yourself without chicken/beef/veggie broth right now, I recommend just using water and adding in an extra pinch of garlic powder and celery salt (per cup-ish of water) and you will be good to go. For any of the soups that include chicken, feel free to use frozen shredded or diced chicken or sub in some canned chickpeas.
Chicken Wild Rice Soup

Lemony Lentil Soup

Mexican Chicken Lentil Soup

Ultimate Chili

Egg Drop Soup

French Onion Soup

5-Ingredient White Chicken Chili

Quinoa Tortilla Soup

Cozy Autumn Wild Rice Soup

Can't-Believe-It's-Vegetarian-Chili

Lemony Orzo Chickpea Soup

Cozy Curry Chicken Soup

Everyday Thai Red Curry Soup

Pepperoncini Noodle Soup

Italian Orzo Spinach Soup

Pozole Rojo

20-Minute Tomato Soup

Pantry-Friendly Pasta Recipes
Italian pasta is of course a fantastic staple to keep stocked in your pantry — but don't forget to also stock up on other kinds of noodles too! We have been cooking at least once a week lately in our house with rice noodles or sweet potato noodles (to make our favorite japchae), which can be used in everything from noodle dishes to soups, curries, cold salads and more. As always with pasta/noodle recipes, I recommend following the recipe for the amount of noodles and sauce. But then from there, you can feel free to swap in whatever veggies (frozen or fresh) and/or proteins (chicken, beef, pork, shrimp, fish, tofu, etc) that you have on hand. All of the recipes below are extremely flexible. And if you're looking for a fun project to do with the family, I totally recommend trying your hand at homemade pasta and gnocchi!
Homemade Pasta

Pad Thai

Instant Pot Mac and Cheese

Japchae (Korean Noodle Stir-Fry)

The BEST Lasagna!

Italian Orzo Tuna Salad

20-Minute Ricotta Gnocchi

Cacio e Pepe

Sesame Noodles

Tortellini Pasta Salad with Artichokes

Cold Sesame Peanut Noodles

Lemony Artichoke Pasta Salad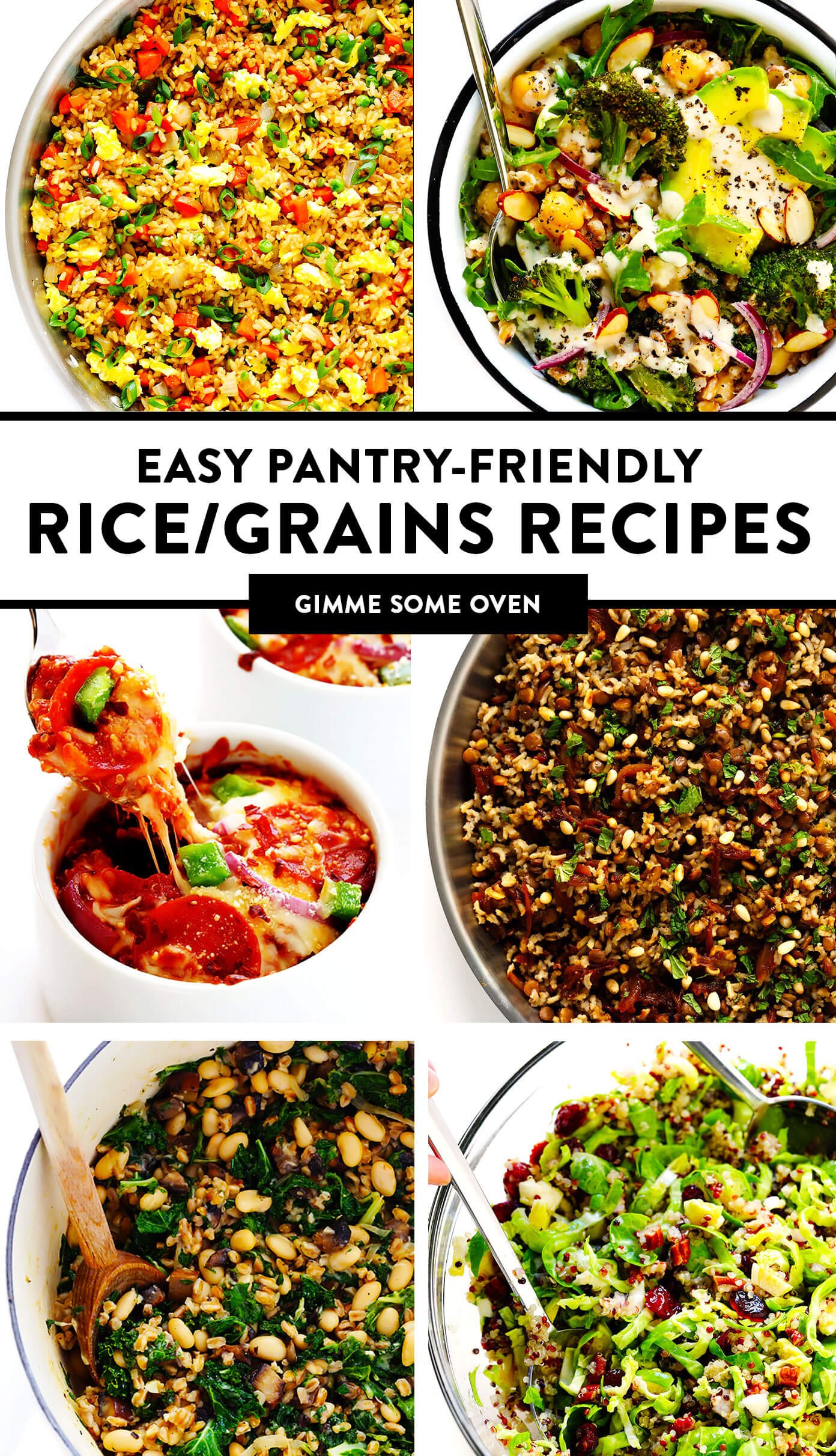 Pantry-Friendly Grain & Rice Recipes
Grains, rices and quinoa (which is technically a seed, but I've included it here) are also fantastic staples to keep in your pantry right now. And bonus — they can basically be used interchangeably in all of the recipes below! I'm especially partial to my favorite fried rice recipe, to which you can add any veggies, proteins and/or kimchi that you have on hand. And for any of the recipes below that call for veggies or greens, feel free to play around with frozen veggies and greens (especially frozen spinach) that you have on hand.
Fried Rice

Roasted Broccoli Farro Bowls

Easy Quinoa Pizza Bowls

Brown Rice Mujadarra

Creamy Farro with White Beans and Kale

Brussels Sprouts, Quinoa and Cranberry Salad

How To Cook Quinoa

How To Cook Farro

Quinoa Fried "Rice"

Easy Sesame Quinoa Slaw

BBQ Chicken Quinoa Casserole

Mediterranean Farro Salad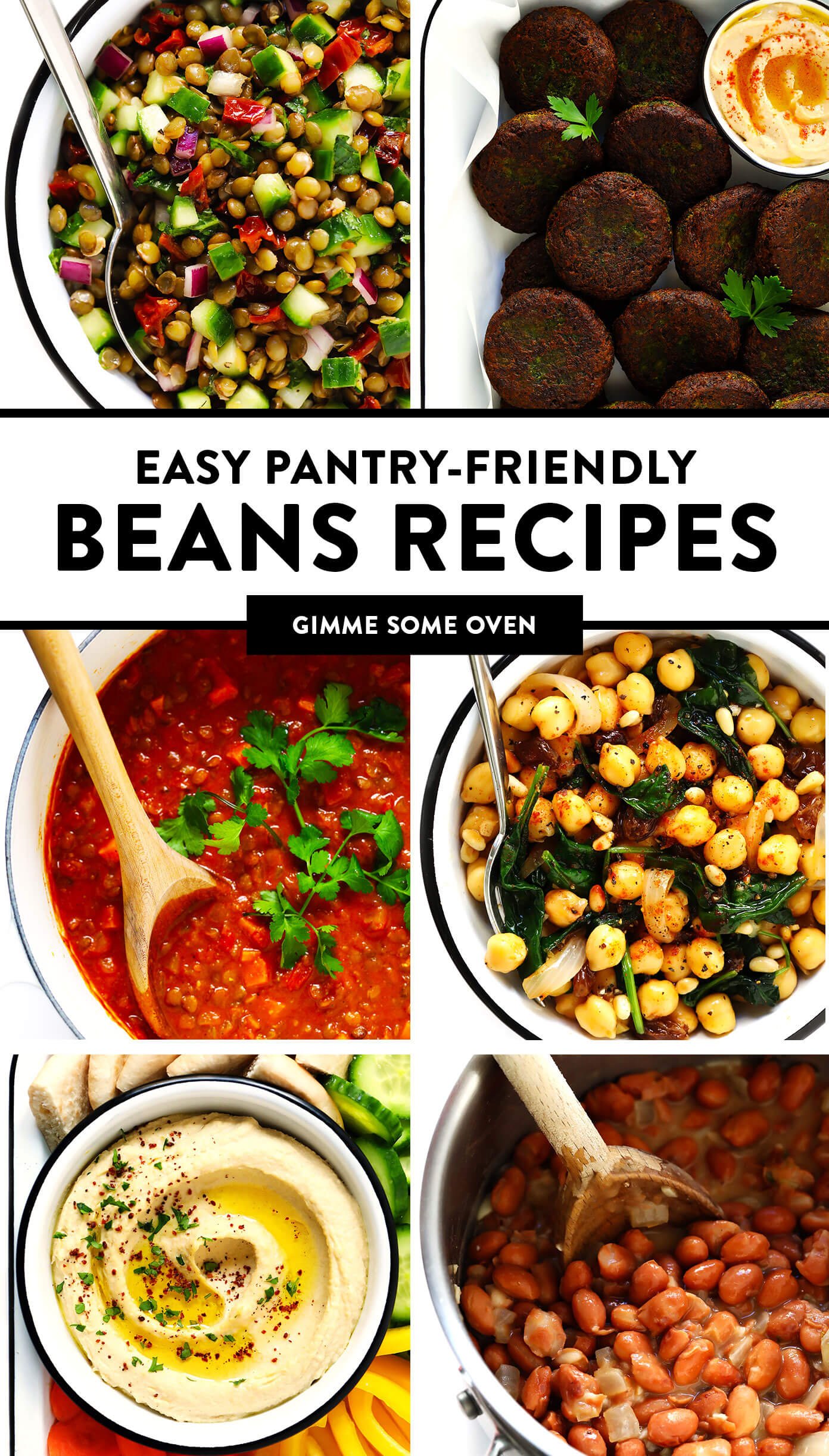 Pantry-Friendly Bean Recipes
With meat and seafood being out of stock in many grocery stores around the world right now, this is a great time to be cooking more with legumes! (Whether you are vegetarian or not!)  I'm especially partial to adding beans and lentils to soups right now, to give them some extra protein and heartiness. But they are also fantastic in curries, chilis, tacos, salads, and more. So stock up and get creative with them — and let me know how it goes!
Favorite Lentil Salad

Falafel

Tomato Lentil Curry

Catalan Chickpeas and Spinach

Hummus

Refried Beans

Drunken Beans

Easy Breakfast Tacos

Vegetarian Lentil Chili

Creamy Farro with White Beans and Kale

How To Cook Lentils (Of All Kinds!)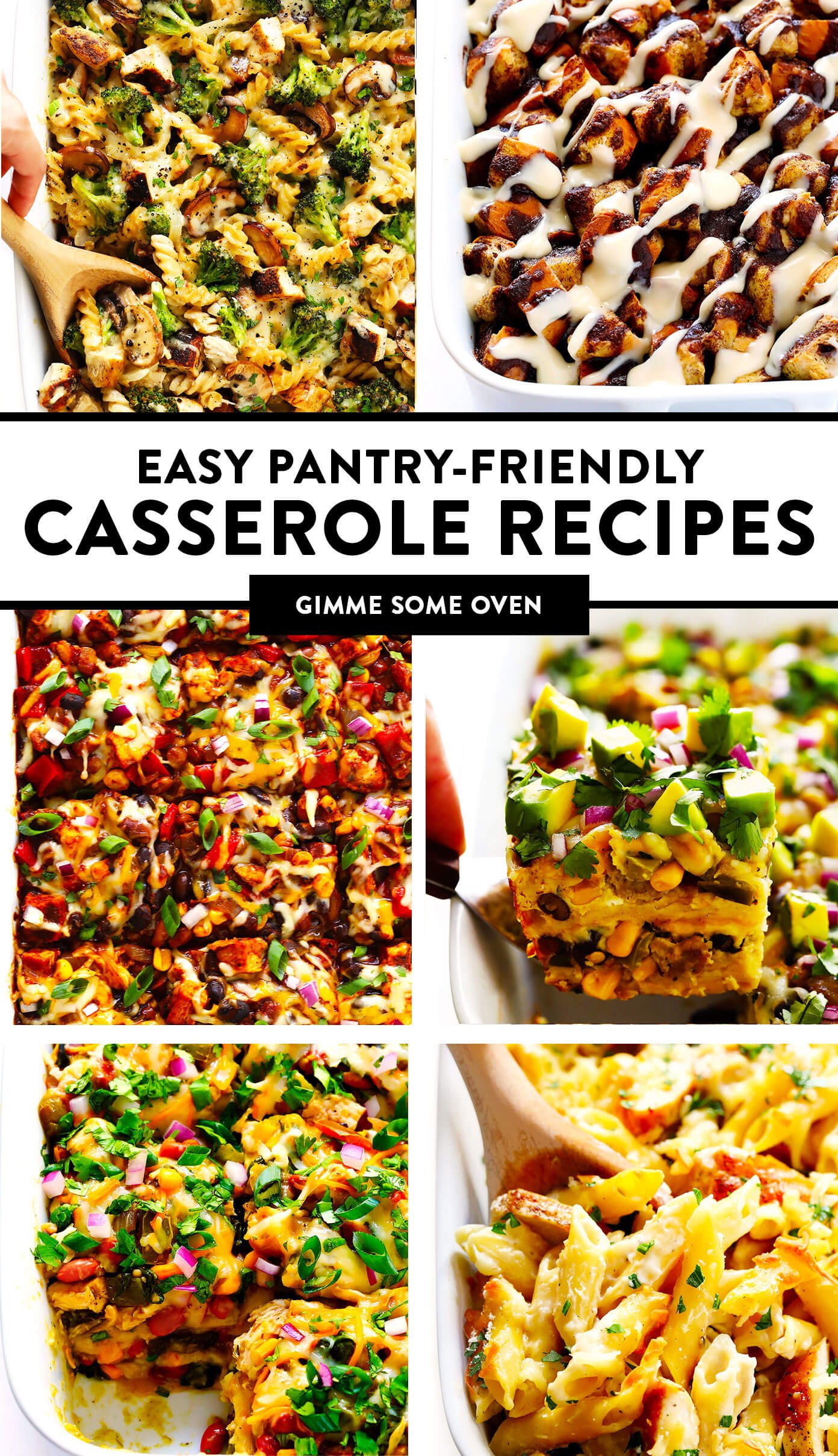 Pantry-Friendly Casserole Recipes
So many of you have told me that you love casseroles, and they are a fantastic option for larger-batch cooking right now! All of the recipes below also freeze and reheat beautifully. And don't forget that you can also freeze cheese (especially shredded cheese), if you are stocking up on ingredients right now to make some of your favorite cheesy casseroles.
Healthier Broccoli Chicken Casserole

Overnight Cinnamon Roll Casserole

Chicken Enchilada Casserole

Amazing Mexican Breakfast Casserole

Verde Chicken Enchilada Casserole

Chicken Alfredo Baked Ziti

BBQ Chicken Quinoa Casserole

Lighter Tuna Casserole

Shepherd's Pie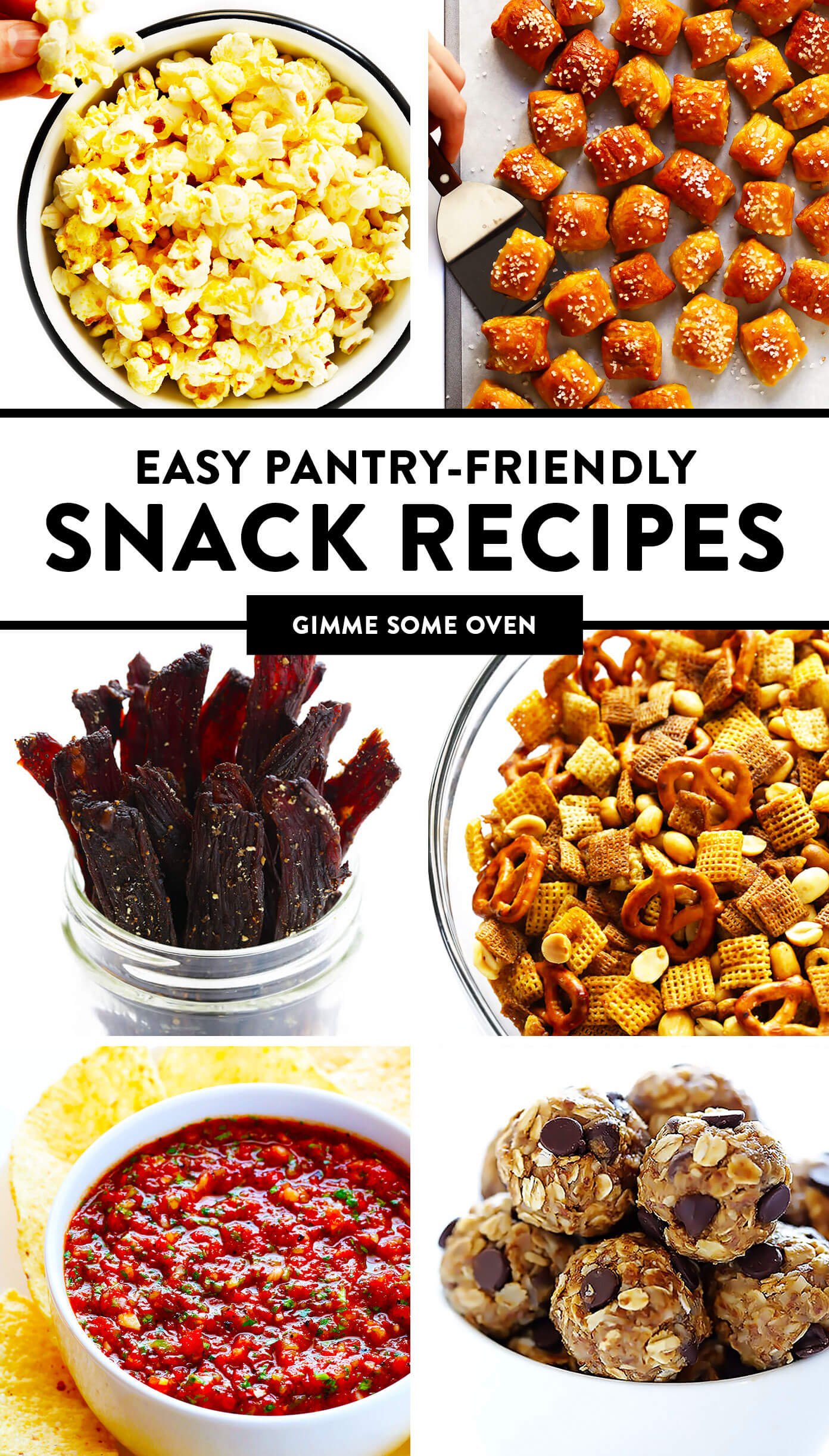 Pantry-Friendly Snack Recipes
With so much time around the house right, it's good to have some tasty snacks on hand! You all already know that I'm completely obsessed with nooch popcorn, but if you haven't tried it yet, now's the perfect time because it is made with 4 pantry ingredients (nutritional yeast, coconut oil, popcorn and salt). My favorite salsa recipe below is also made with canned tomatoes and basic pantry ingredients, and you can omit the fresh cilantro if you don't have any on hand.
Nooch Popcorn

Soft Pretzel Bites

Beef Jerky

Extra-Bold Chex Mix

Restaurant-Style Salsa

No-Bake Energy Bites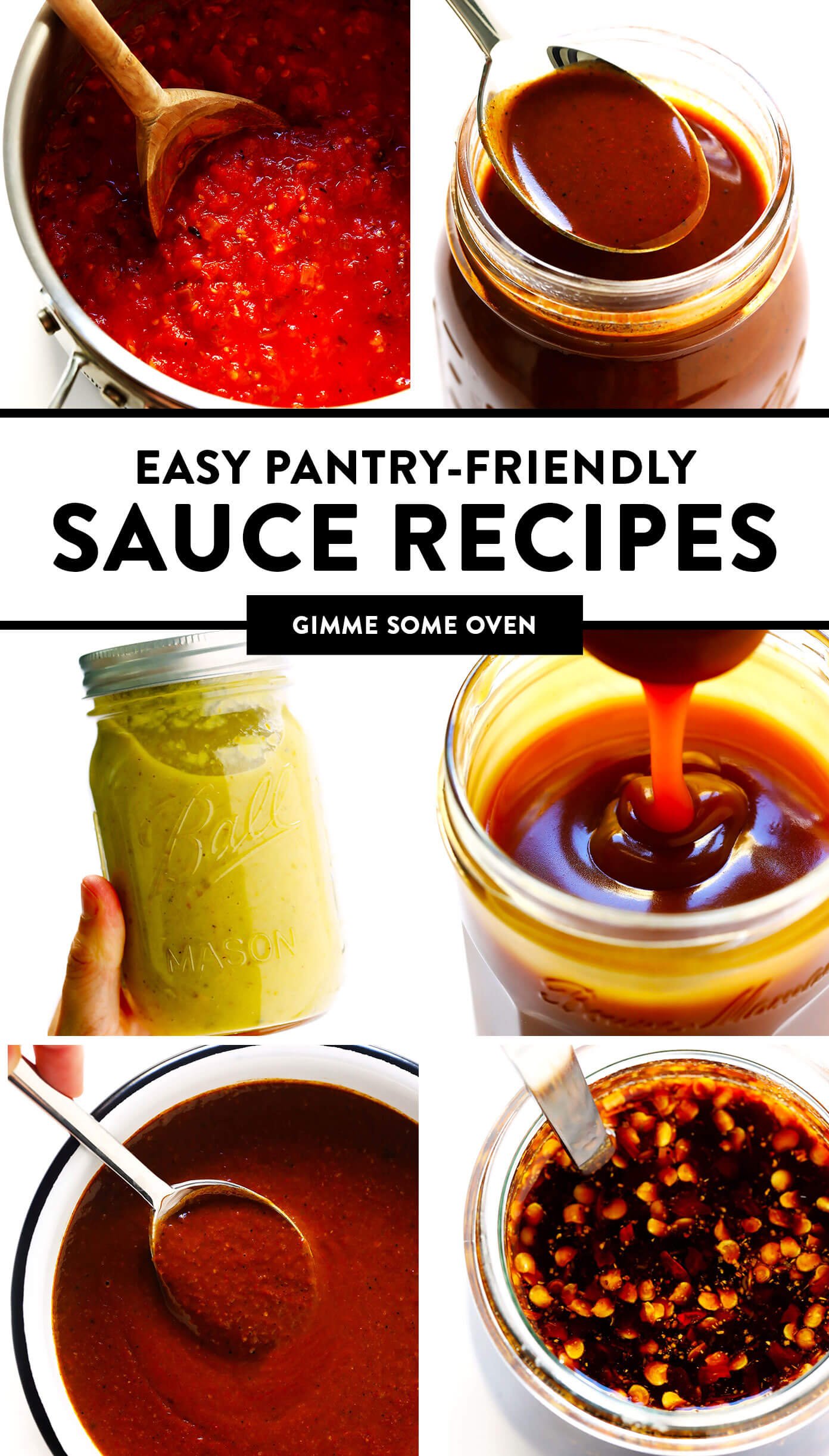 Pantry-Friendly Sauce Recipes
I also thought that it might be helpful to include a list of some of my favorite sauce recipes whose ingredients can be easily sourced from your pantry. The enchilada and mole sauces can be used in everything from enchiladas to tacos, burritos, quesadillas and more. The BBQ sauce is downright fantastic and proudly Kansas City-style. (KC girl, right here!)  The Szechuan sauce is nice and spicy. And the marinara and arrabbiata sauces are two of our family faves. Feel free to search through my various stir-fry and pasta recipes to save any of the sauces included in those recipes, which you can mix-and-match with ingredients that you have on hand.
The BEST Marinara Sauce

Spicy Arrabbiata (Marinara) Sauce

Red Enchilada Sauce

Green Enchilada Sauce

Bourbon Caramel Sauce

Holy Mole Sauce

Szechuan Sauce

Homemade BBQ Sauce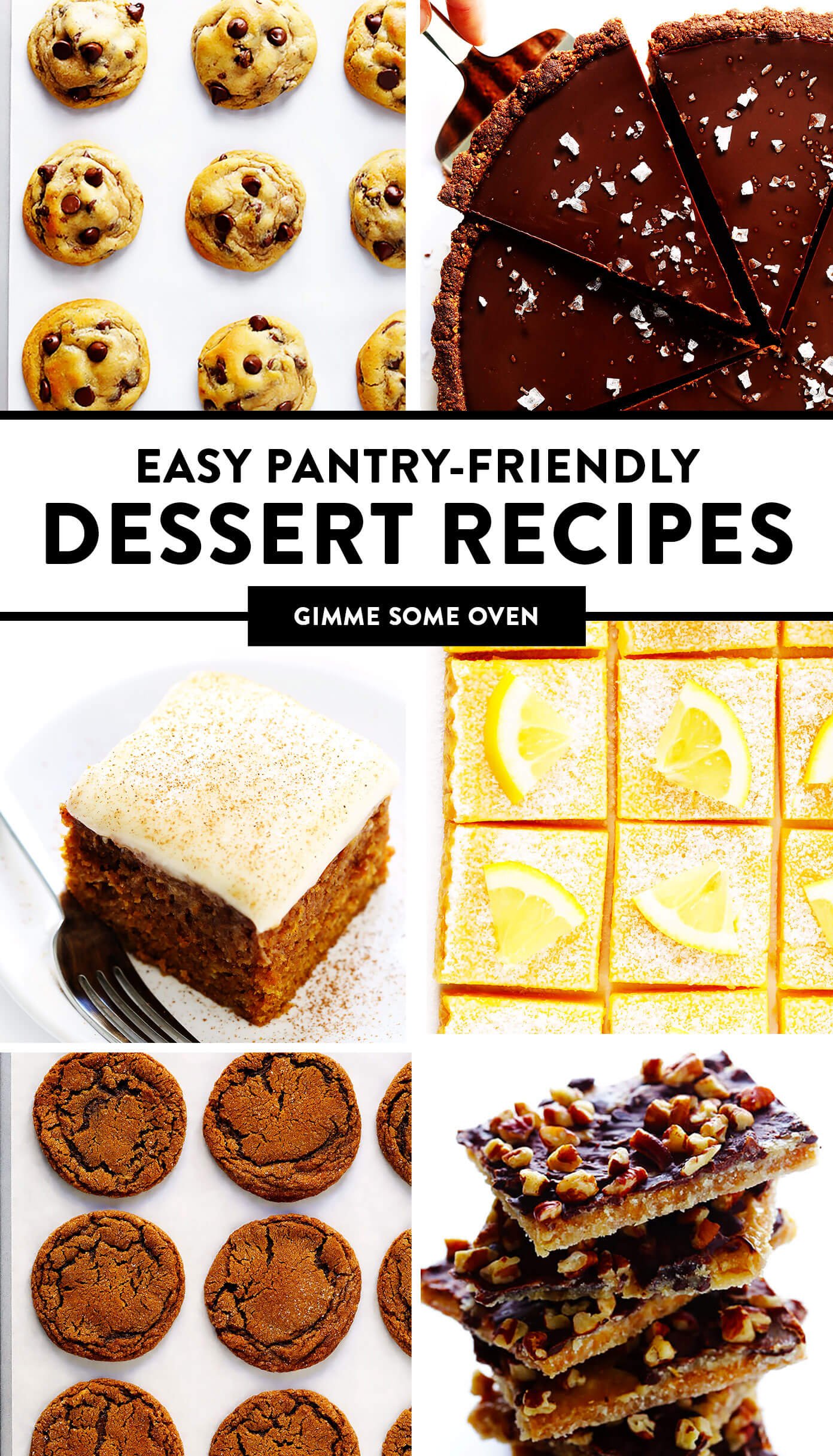 Pantry-Friendly Desserts
Finally, desserts. ♡  So many of you have said that baking has been a comforting and fun activity to do with your families right now while everyone is at home, and I couldn't agree more. All of the recipes below should be pretty easy to make with pantry staples. And don't forget my tutorial on how to freeze cookie dough too, if you want to just thaw and bake a few cookies at a time (instead of a whole cookie-sheet-full).
The BEST Chocolate Chip Cookies

Salted Dark Chocolate Tart

Pumpkin Bars with Cream Cheese Frosting

5-Ingredient Lemon Bars

Chewy Ginger Molasses Cookies

5-Ingredient Graham Cracker Toffee

Peanut Butter Cookies

No Bake Cookies

Brown Sugar Cookies

Chocolate Brownie Cookies

Coconut Lime Shortbread Cookies

Puppy Chow

Rum Cake

Vegan Brownies

Chocolate Lava Cakes
Take care, everyone! ♡♡♡