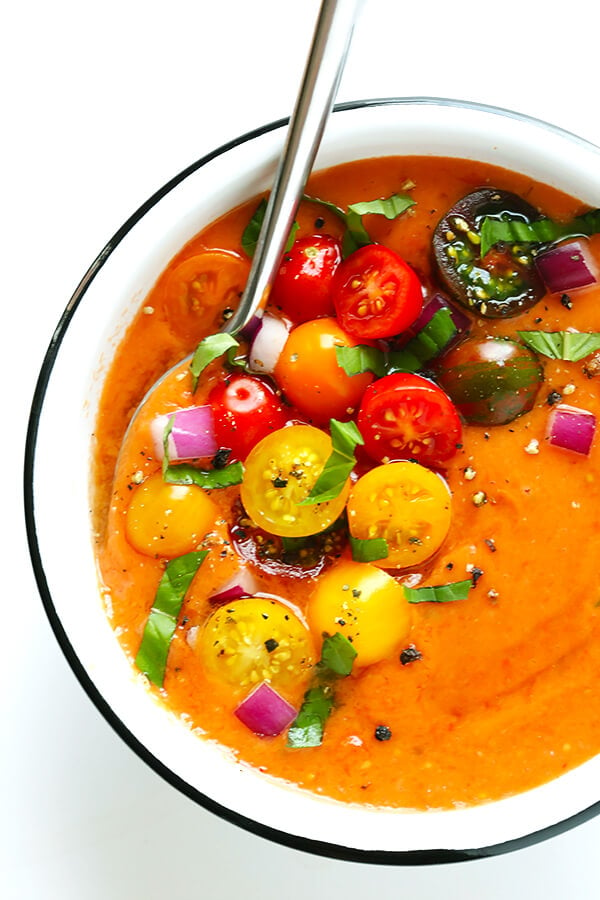 What's a girl to do in the middle of August with a broken air conditioner, an abundance of fresh tomatoes and veggies hangin' out in the fridge, a quick break in the middle of the day, and a craving for something wonderfully savory?
Why, make gazpacho! (Obvs.)
For some reason, I always forget about gazpacho in the middle of summer, probably usually because any surplus of tomatoes in my life usually go into making a big batch of salsa. (<– One of my primary food groups.)  But if we're honest, gazpacho basically salsa disguised in soup form. So it's a win-win for salsa-lovers all around. 🙂
I hardly ever use an actual "recipe" for gazpacho, usually just tossing in whatever fresh veggies and herbs are laying around into a blender, reserving a few to use as pretty garnishes when serving. And this recipe was no exception. I happened to have an assortment of tomatoes, cucumbers, bell peppers, and onions on hand. And since I also have managed to keep my fresh basil plant alive this month, I decided to go the Italian seasoning route, adding in lots of garlic and lemon juice and a pinch of crushed red pepper to give it a kick.
The result?
A perfectly refreshing end-of-summer gazpacho. (That's also perfectly easy to customize with whatever ingredients you have on hand. Here I'll show you…!)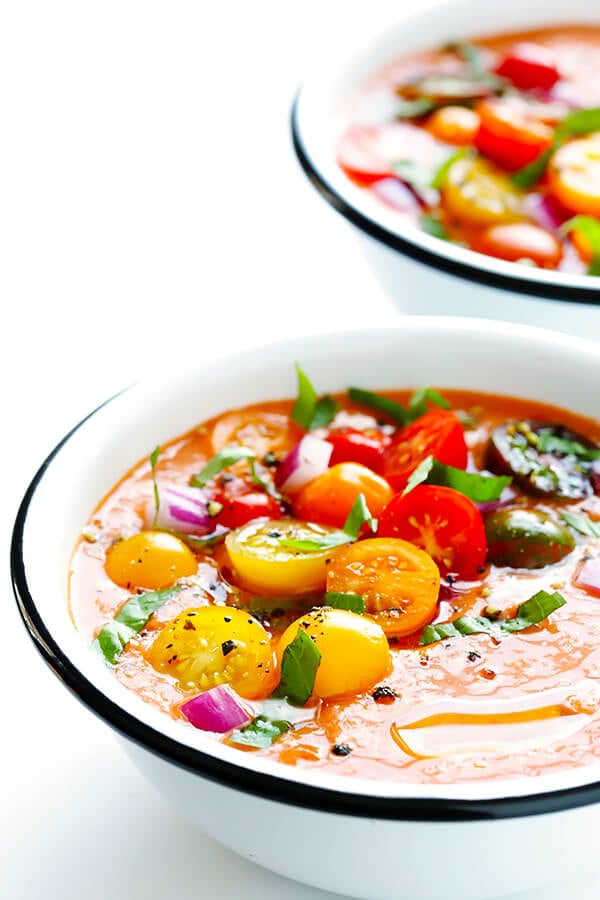 The basic ingredients you need for gazpacho are pretty simple: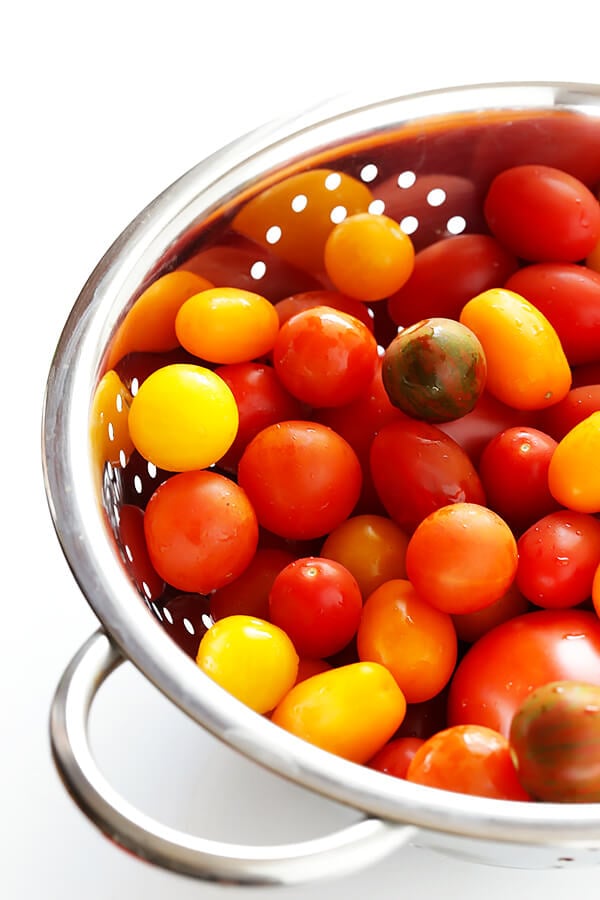 If you're making a tomato-based gazpacho, just gather any kind of ripe tomatoes you enjoy. (I used a random mix of roma and cherry and grape tomatoes.)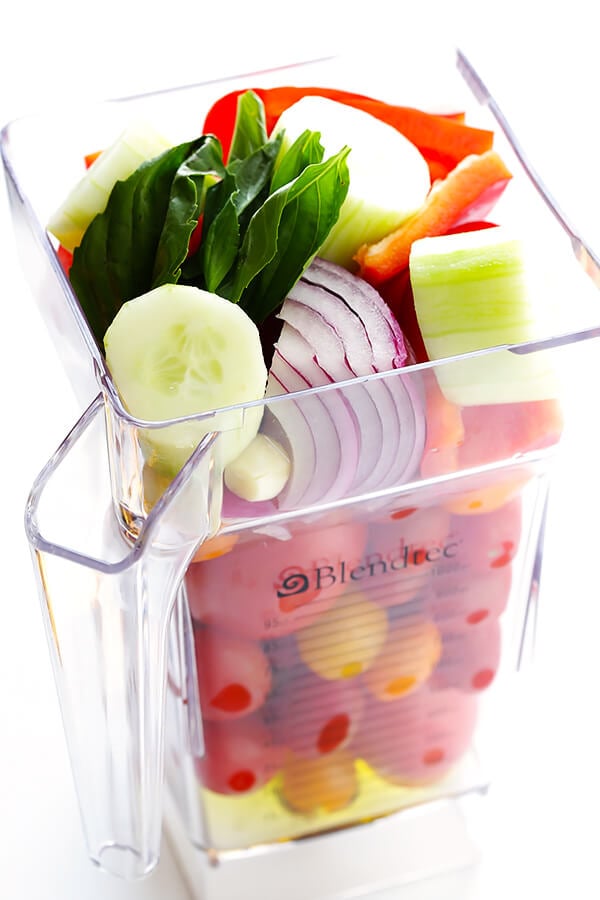 Then toss them in a blender or food processor with whatever other fresh veggies you have on hand — ideally those that you can usually eat raw. For this recipe, I added a red bell pepper, an English cucumber, and some red onion. But carrots, celery, jicama, radishes, etc. would also be good in a red gazpacho.
Then add in whatever kinds of seasoning sounds good. I went the Italian route with this recipe, adding in lots of fresh basil, garlic, lemon juice, a pinch of crushed red pepper, etc. But you could just as easily go the Latin American route, adding in fresh cilantro, garlic, lime juice, a pinch of cumin and cayenne, etc. Or go the Indian route, or Thai, or seriously — whatever sounds good!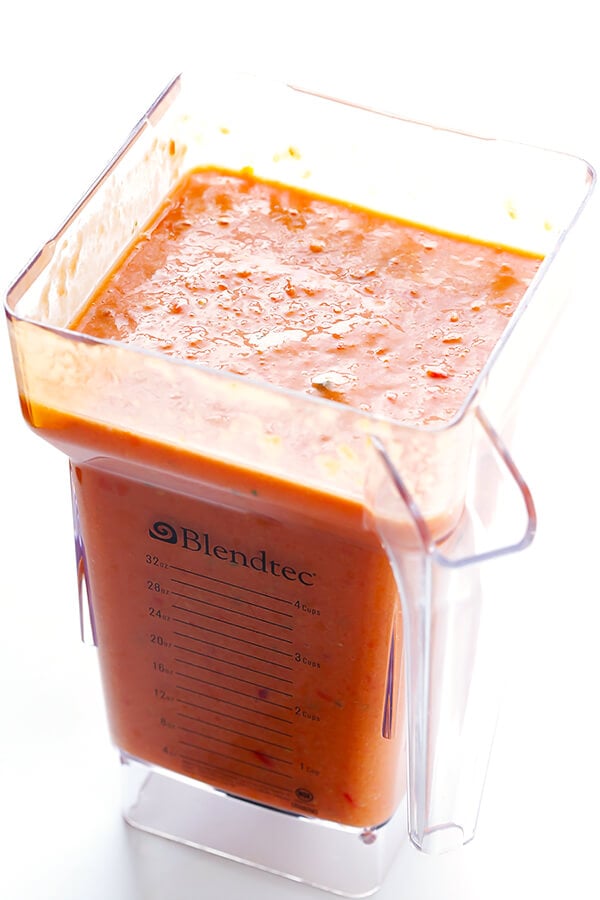 Then blend it all up, adding the veggies in batches if they don't all fit in your blender or food processor at first. Give it a taste, and add extra seasonings if necessary.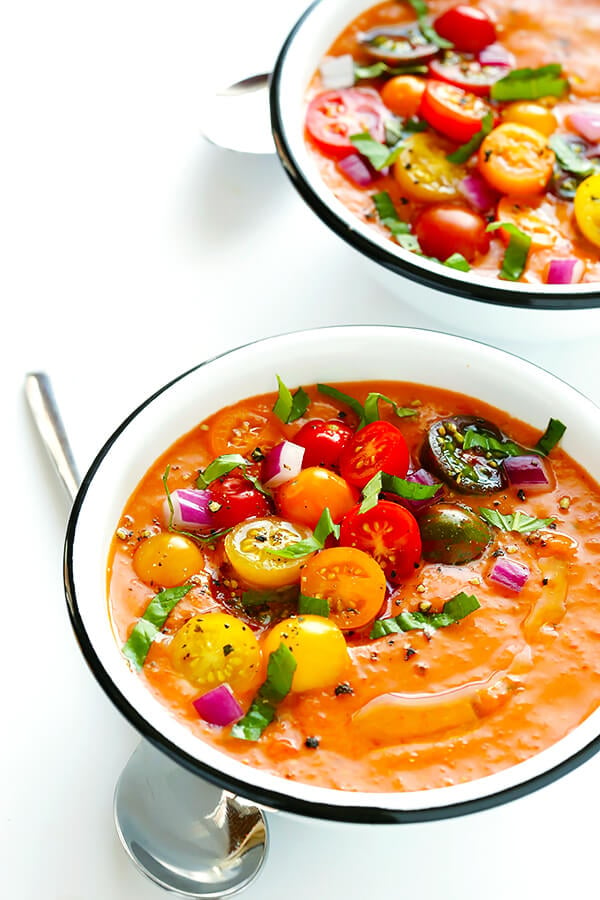 Then you can either cover and chill the mixture in the fridge for a few hours, or serve it right away!
I always love reserving a few ingredients to use as garnishes for my gazpachos, which always make it look a little less like salsa, and a little more like soup. 😉  But however you serve it will be lovely, I'm sure.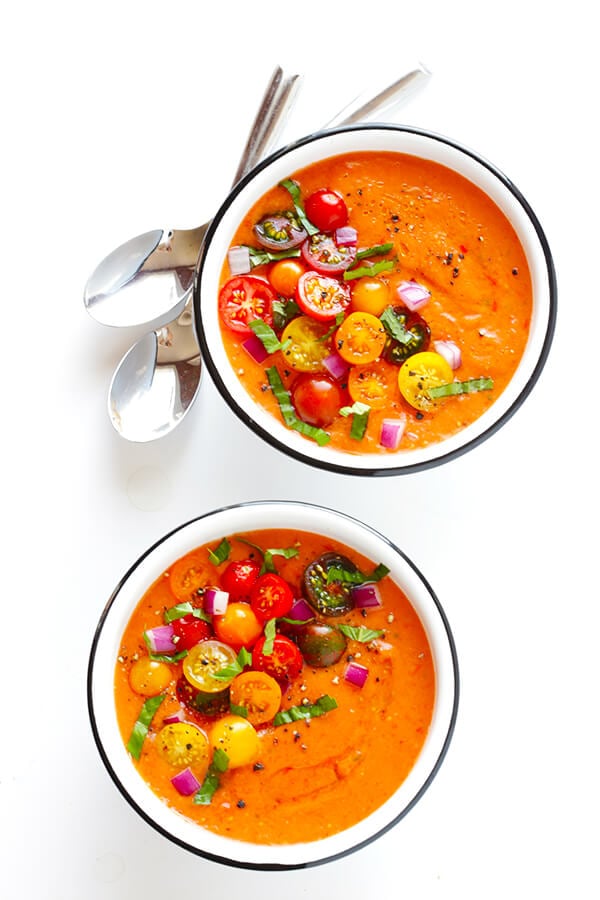 Definitely the perfect way to use up end-of-summer produce, and a delicious way to cool off too.
Enjoy, friends!
Print

10-Minute Gazpacho

Prep Time: 10 minutes


Total Time: 10 minutes


Yield: 4 servings 1x
---
Description
This easy 10-Minute Gazpacho recipe is overflowing with fresh summer veggies, it's quick and easy to make, and it's so light and refreshing.
---
2

pounds fresh tomatoes (I used a mixture of roma and cherry tomatoes)

1

English cucumber, peeled and cut into large chunks

1

small red bell pepper, cored and cut into large chunks

quarter of a red onion, peeled

2

garlic cloves, peeled

1/4 cup

lightly-packed fresh basil leaves

2 tablespoons

fresh lemon juice

1 tablespoon

olive oil

pinch of Kosher salt and freshly-cracked black pepper (optional: and crushed red pepper flakes)

optional garnishes: extra chopped tomatoes, red onion, basil, olive oil, and/or salt and pepper
---
Instructions
Add all ingredients to a blender or large food processor, and puree until completely smooth.  (If all of the ingredients don't initially fit, you can puree the first half of the ingredients, then gradually add more in as there is more room available.)

Taste, and season with extra salt and pepper and/or lemon juice if needed.

Cover and refrigerate for a few hours to chill.  Or serve immediately, topped with your desired garnishes.
---