This 10-Minute Chia Seed Jam recipe is my fave!! It's super quick and easy to make, thickened with chia (instead of tons of extra sugar), totally delicious, and made with real ingredients you can feel great about.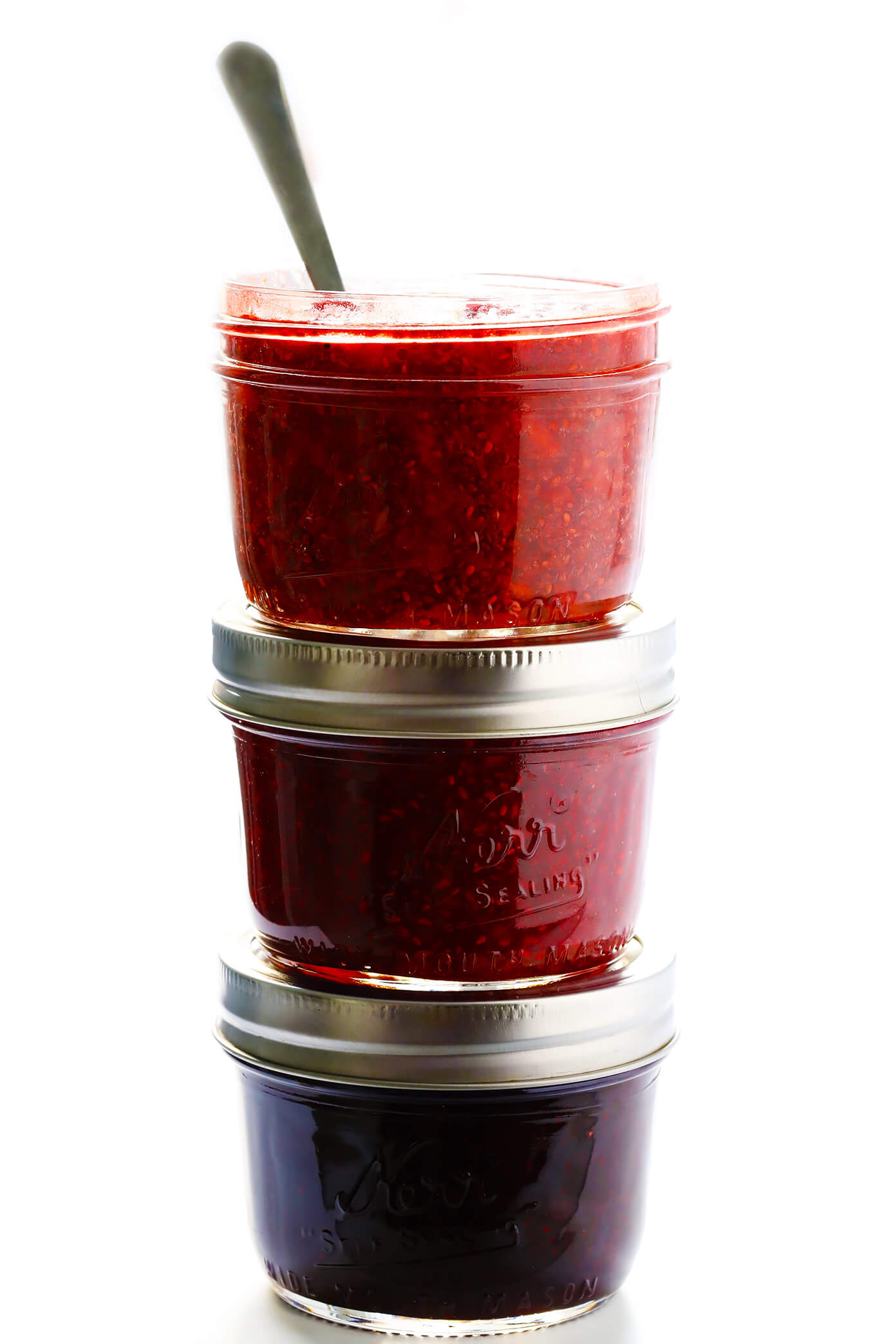 After yesterday's post sharing my all-time favorite healthy granola recipe, I couldn't resist following it up with my favorite add-in when making granola and yogurt breakfast parfaits…
…ch-ch-ch-chia seed jam!
Have you guys jumped on the chia jam train yet?! I first started making it for myself three years ago, when I cut out sugar from my diet for 90 days, and have been a total convert ever since. Why?
Chia seeds

thicken the jam…not tons of added sugar! Traditional jams contain an insane amount of sugar. But not chia jam. In fact, most of the time I add zero added sweetener to this recipe, since the fruit is usually sweet enough on its own. For fruits that are more tart (i.e. raspberries), I still only add about 1 tablespoon honey.

You can use fresh or frozen fruit.  Perfect for leftover fresh fruit in the summertime when it's in season. And perfect for digging into the freezer during the wintertime.

No canning is required.  Which is a good thing, since I'm still a canning novice.

It's easy to make in small batches. This recipe yields about 1 cup, or you can scale it for more/less.

One batch only takes about 10 minutes.  Easy peasy, made in the same amount of time it takes to brew your morning coffee.

This recipe works with nearly any juicy fruit. Strawberries, raspberries, blueberries, blackberries, cherries, peaches, apricots, kiwi, pineapple…you name it! Just about any juicy fruit will work here. And feel free to customize yours with any other seasonings as well!
But the number one reason I love chia seed jam? It just tastes great. Specifically, it tastes like real fruit.  I mean, what a concept with a fruit spread. ?
So if you love spreading a dab of jam on your toast, in your PB&J, in a granola and Greek yogurt parfait, on your waffle, on your cheese boards, in the middle of thumbprint cookies, you name it…if you love jam, this recipe's for you. Let's make a batch together that we can feel great about!
10-Minute Chia Seed Jam Recipe | 1-Minute Video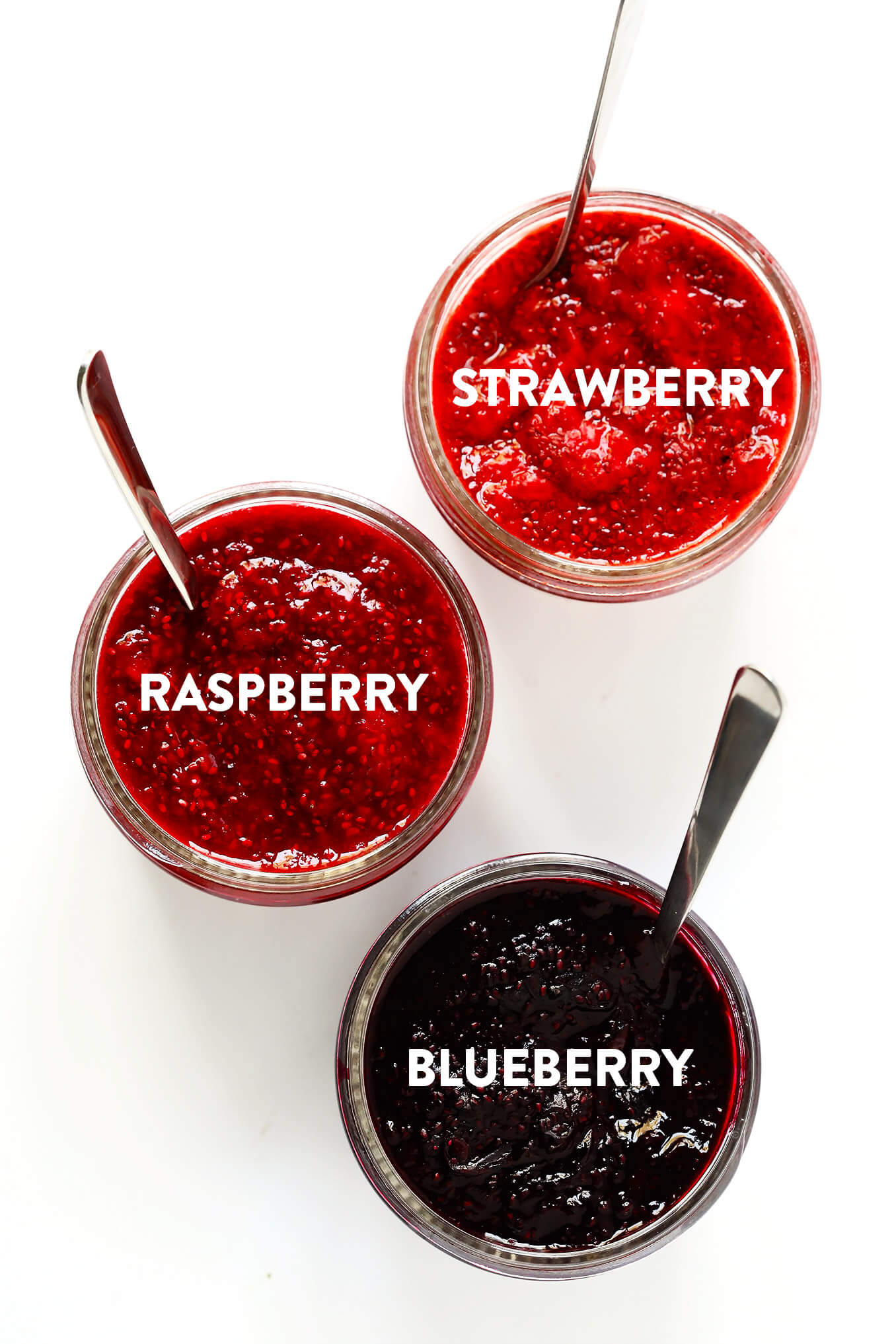 Alright, so to begin, simply add about 2 cups of fruit (fresh or frozen) to a saucepan over medium-high heat. The fruit should quickly begin to warm up and break down. Then you can mash it with a spoon (or with a potato masher) until it reaches your desired consistency. I still like my jam to have a few chunks of fruit, instead of being completely smooth.
(Also note, all of those seeds in this photo below are purely from the raspberries themselves, although they look like chia!)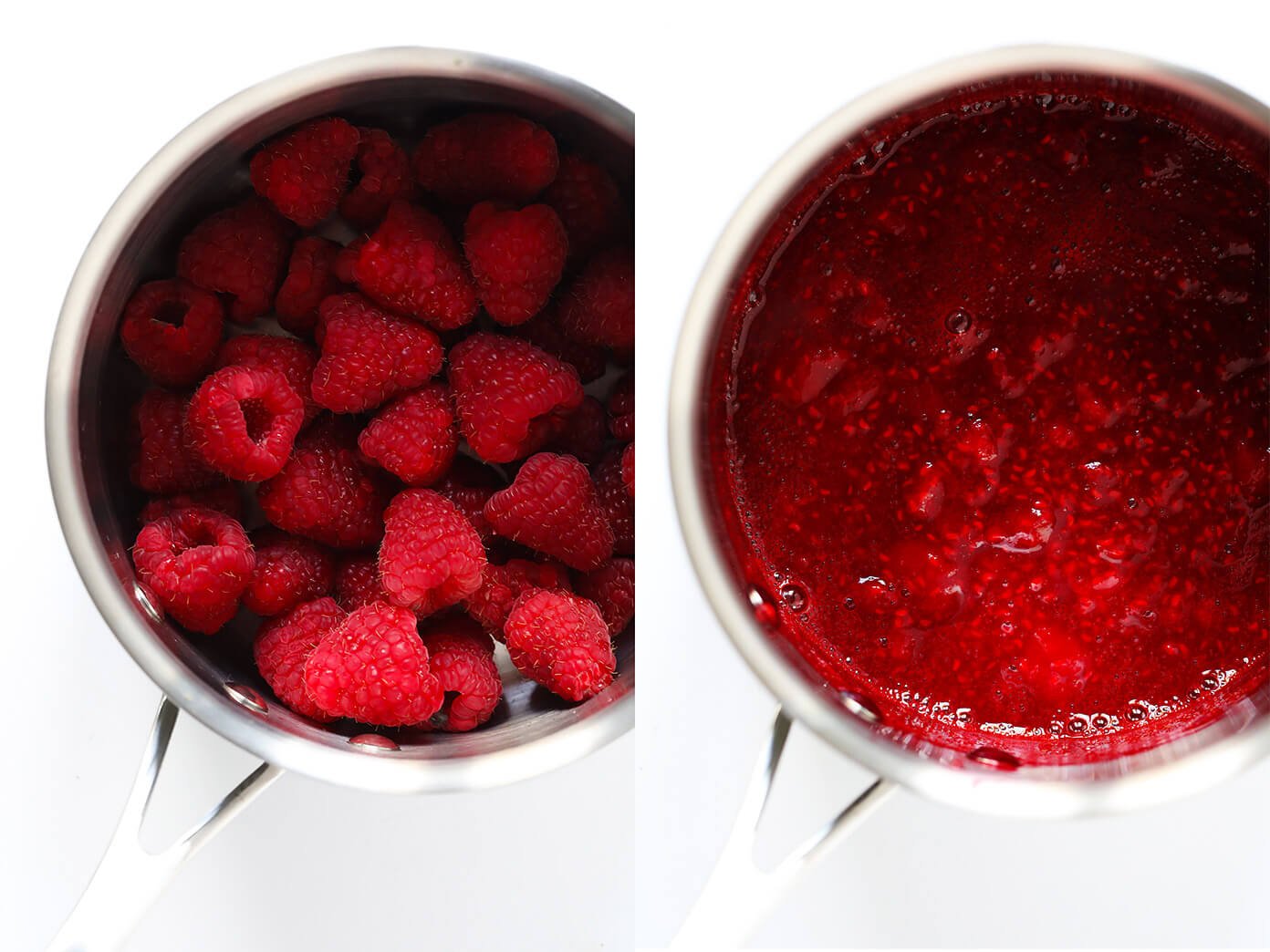 Then sprinkle in 2 tablespoons or so of chia seeds, and give them a good stir until combined. Remove from heat, and the jam will start to thicken quickly as it cools.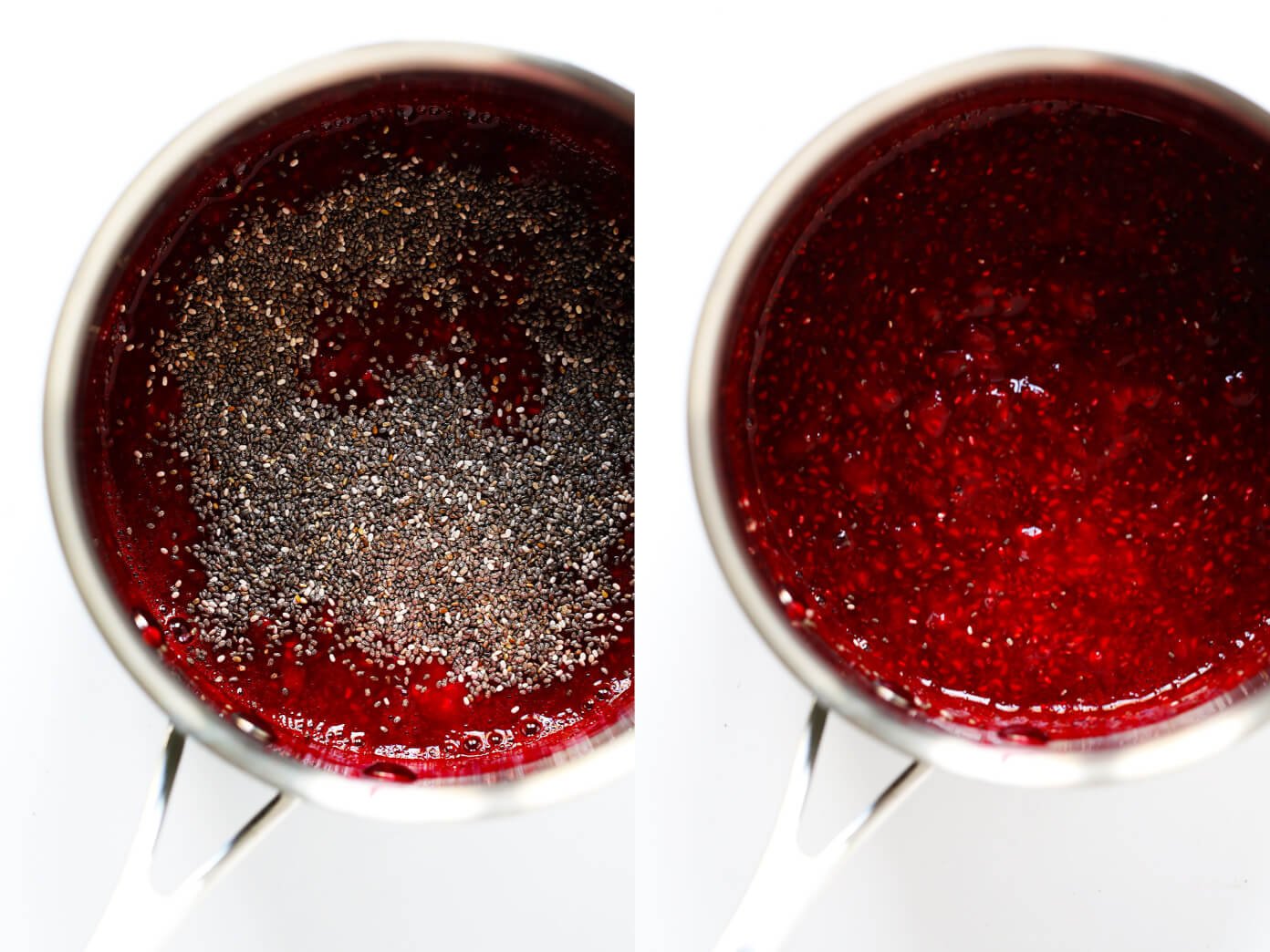 Then after only about 5 minutes or so, it'll be ready to go!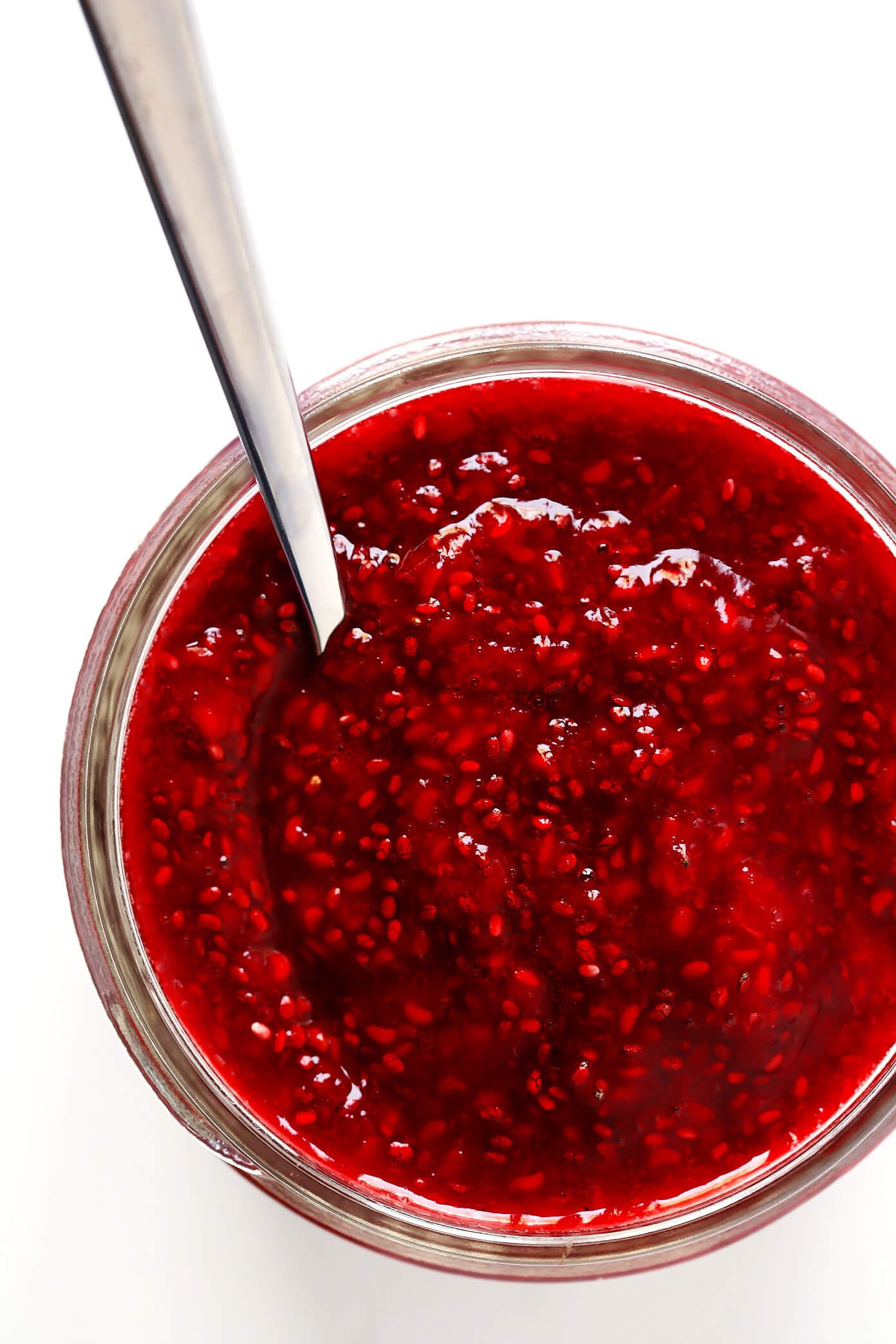 You can either pop it into a sealed container and refrigerate for future use. (<– It lasts about 1 week in the fridge.)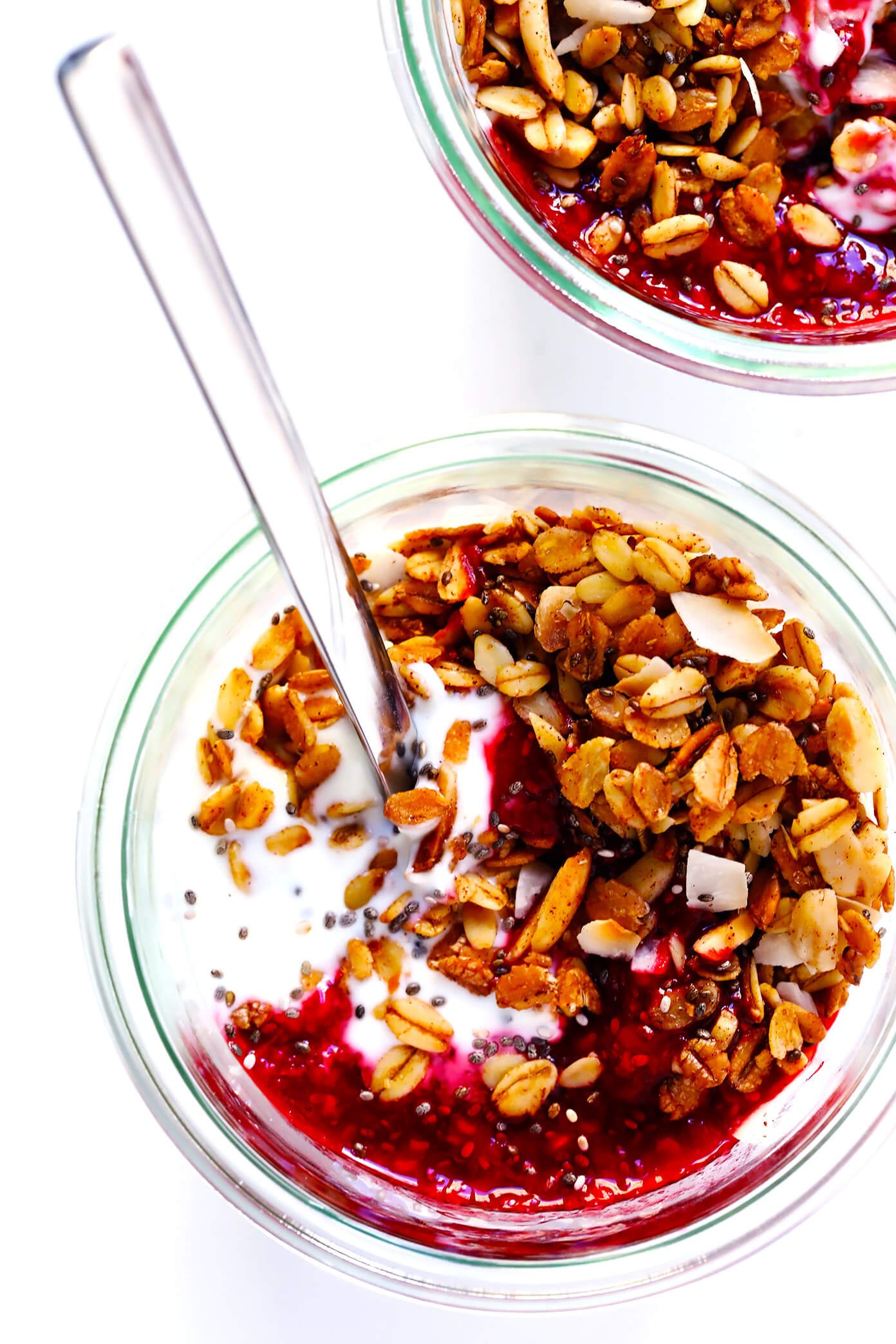 Or you can go ahead and add it to your toast, bagel, waffle, pancake, sandwich, etc. I'm obsessed with using mine to make granola and Greek yogurt parfaits, which I love to meal prep at the beginning of the week by filling a few mini mason jars with chia seed jam and Greek yogurt. Then just add in your crunchy granola when you're ready to eat and — boom — a delicious, clean, feel-good breakfast parfait is ready to go each morning in seconds.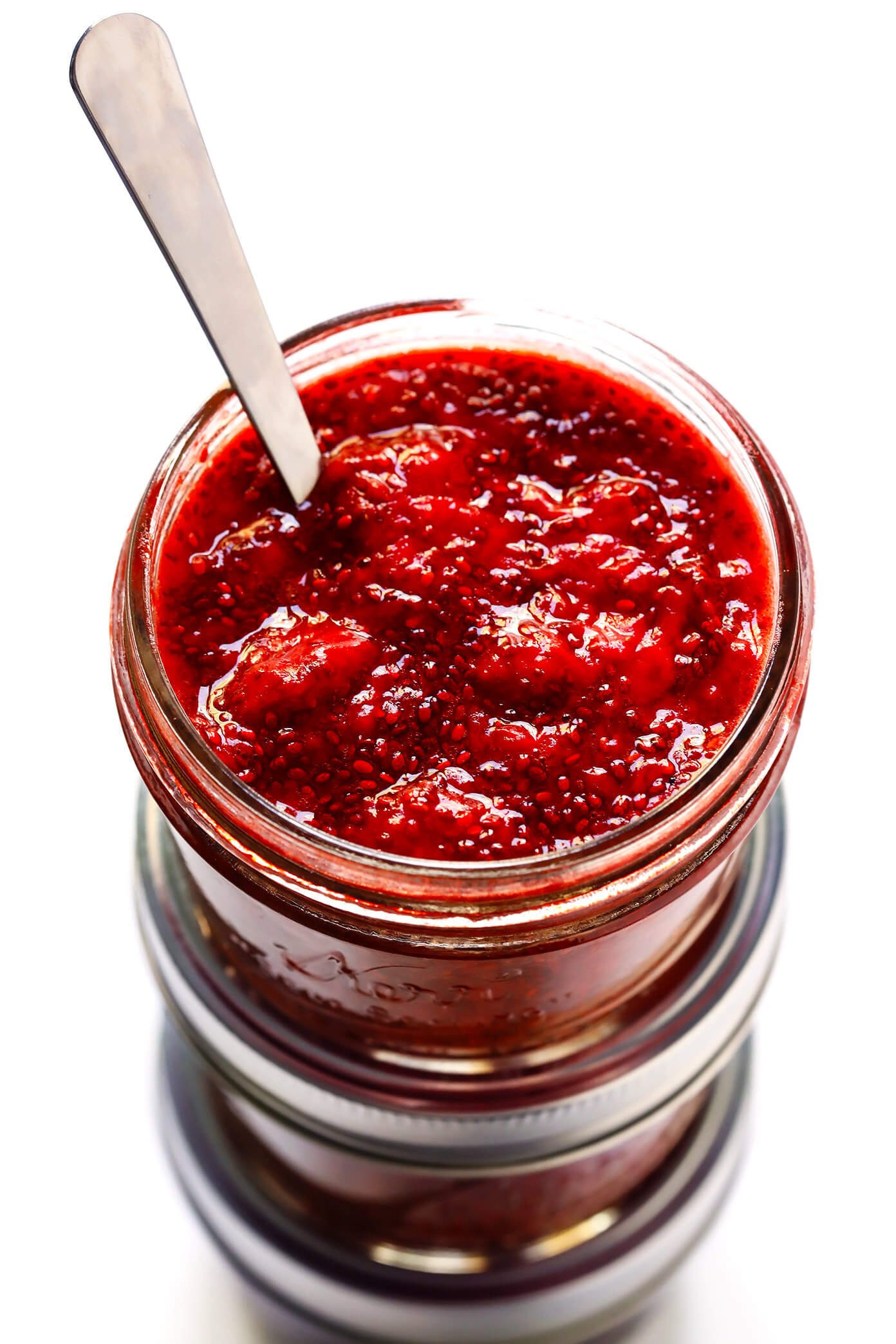 Feel free to experiment and play around with your favorite flavors, consistency, and extra add-ins here. The sky's the limit to what you can create. So have fun with this one!
Print

10-Minute Chia Seed Jam

Prep Time: 1 minutes


Cook Time: 9 minutes


Total Time: 10 minutes


Yield: 0 About 1 cup 1x
---
Description
This 10-Minute Chia Seed Jam recipe is my fave!!  It's super quick and easy to make, thickened with chia (instead of tons of extra sugar), totally delicious, and made with real ingredients you can feel great about.
---
2 cups

fresh or frozen fruit (see suggestions below)

2 tablespoons

chia seeds

1 tablespoon

freshly-squeezed lemon juice

1

–

2

tablespoons honey or maple syrup (only if needed)
---
Instructions
Heat fruit in a small saucepan over medium-high heat, stirring occasionally, until the fruit is heated through and begins to break down and bubble.  Use a spoon or potato masher to mash the fruit to your desired consistency.

Stir in the chia seeds and lemon juice until combined.  Then taste, and stir in 1 or 2 tablespoons sweetener if needed.

Remove from heat and let cool for 5 minutes.  (The jam will thicken considerably as it cools.)

Give the jam one final good stir.  Then serve immediately, or transfer to a sealed container and refrigerate for up to 1 week, or freeze for up to 3 months.
---
Notes
Fruits that work well in chia jam: 
Berries (strawberries, blackberries, blueberries, raspberries), cherries, peaches, apricots, plums, pineapple, kiwi…basically any "juicy" fruits.
Optional add-ins: 
1/2 teaspoon vanilla extract

lemon zest (to make your jam a little more tangy)

a pinch of spices (such as cinnamon, ginger, or nutmeg, etc.)
ALSO!  Keep in mind that different kinds of fruit will yield different textures, flavors, etc.  So taste and adjust your jam as needed.  For example…
Some fruits may need more sweetener than others.  (Ex. Raspberries are much more tart than blueberries.)

Some fruits are juicier than others.  (Ex. Pineapple will make a much juicier/thinner jam than strawberries.)

Feel free to nix the lemon juice if your fruit is already tart.

You get the idea.  Taste…adjust as needed…enjoy.