I am one of "those people" who totally loves holiday parties.
Like, fa-la-la-la-loves them.
I know they're not everyone's jam. But I look forward to them every year. ♥  And if you invite me over for any kind of festive gathering during November and December, you can count on the fact that I'll do everything I can to clear my calendar (and jump through whatever party-themed hoop there may be) and show up to celebrate. Like, Friendsgiving? Always there in a heartbeat. Cookie exchange? You bet, and I'll bake a batch of these to bring along. Caroling party? I'll be there in the front row, singing loud for all to hear. (<- Name it!)  Fancy-pants gala? Oooh, any excuse to dress up and wear something sparkly. Tacky Christmas sweater party? Hrmm, well, if you insist. Listening to my handsome boyfriend's Christmas band play around town? #1 fan, right here. Chill evening around the fireplace with good friends and a mug of mulled wine? My favorite.
Whatever the occasion, I'll be there (with "jingle" bells on, if need be). Any excuse to spend more time with the people I love.
That said, I don't know about you all, but it seems like every gathering I go to includes an invitation to bring some sort of food. And during a busy month, that doesn't need to add extra stress to the day. So if you happen to be looking for an ultra-easy appetizer to serve (or bring along!) to holiday parties this year, I've got you covered with a new one today. It calls for just 3 simple ingredients, it takes about 10 minutes total and, oh my goodness, it is sure to be a hit.
Caramel Apple Baked Brie!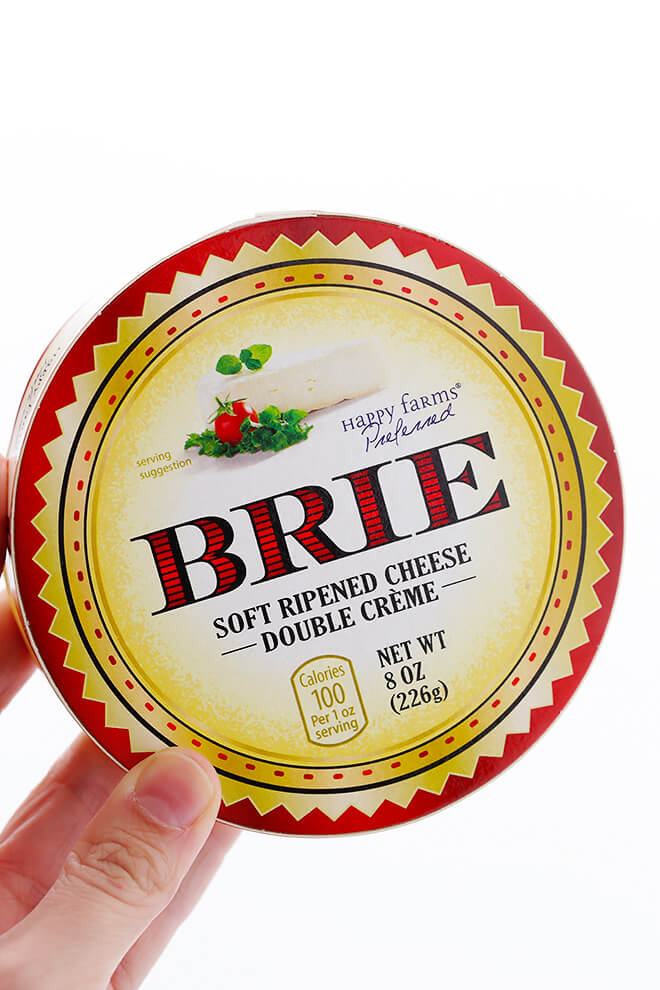 This recipe actually came about somewhat by accident. I was cleaning out my fridge before leaving for Korea a few weeks ago, and noticed that I had a wheel of brie from ALDI (<– which I stock up on regularly there, they're so affordable!) that needed to be used up before I left. So I poked around the fridge and my cabinets to see what I could serve with it, and realized that I also had a bunch of apples to use up. And thus, this delicious idea was born.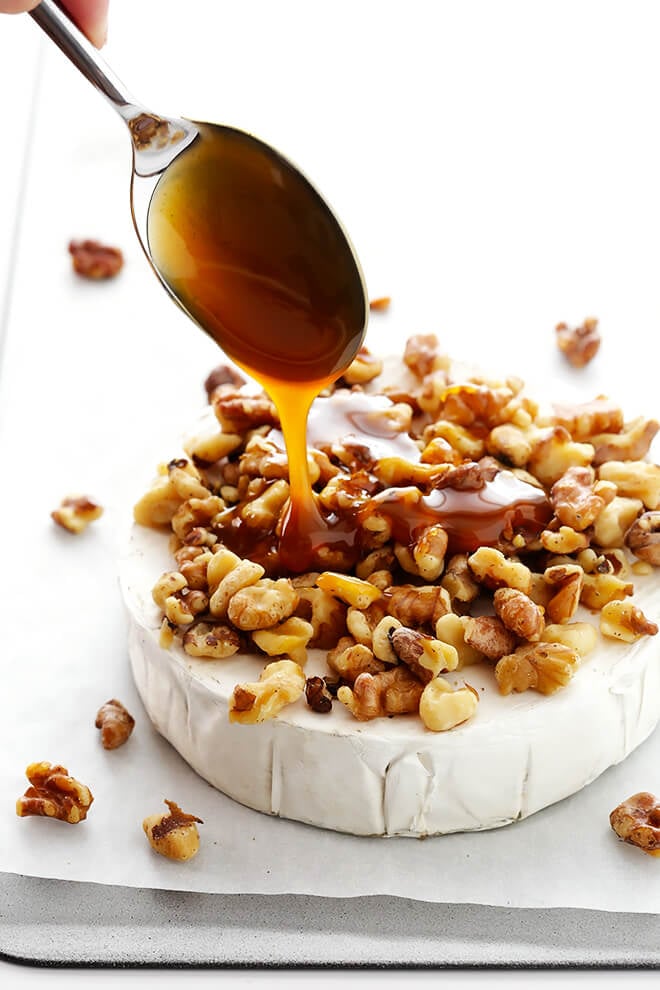 I just popped the wheel of brie on a baking sheet, sprinkled on some chopped walnuts that I had on hand (also from ALDI), and baked it up in the oven until it was nice and warm and melty. And then while the brie was baking, I chopped up a bunch of fresh apples into slices.
Once it was ready to go, I drizzled some leftover caramel sauce on top (you can use homemade or store-bought caramel sauce — I used the stuff from the ice cream topping section).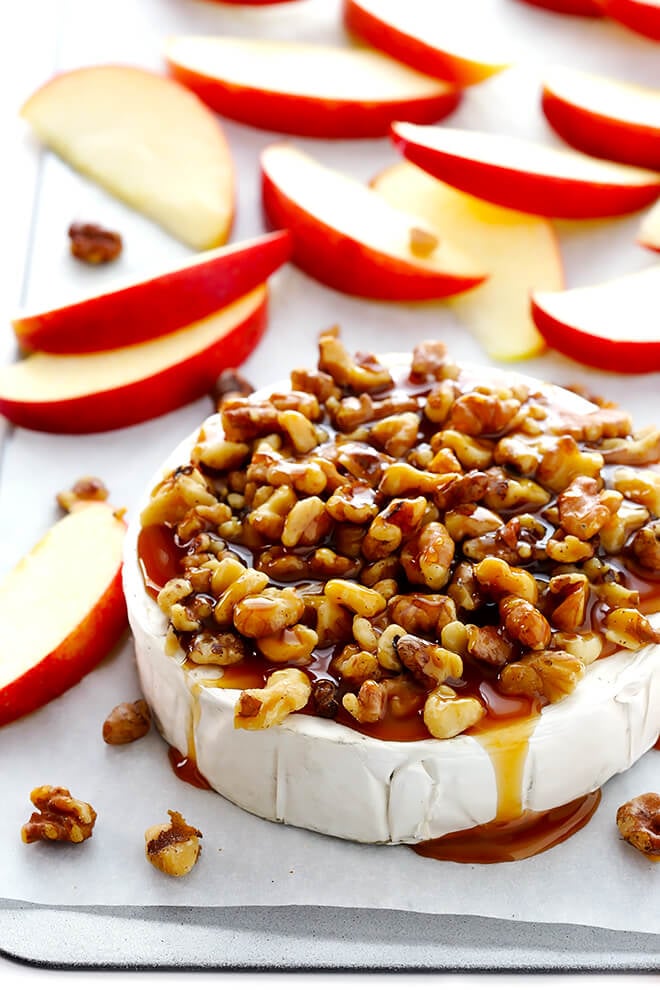 And then voila! This delicious sweet and savory dessert was ready to go!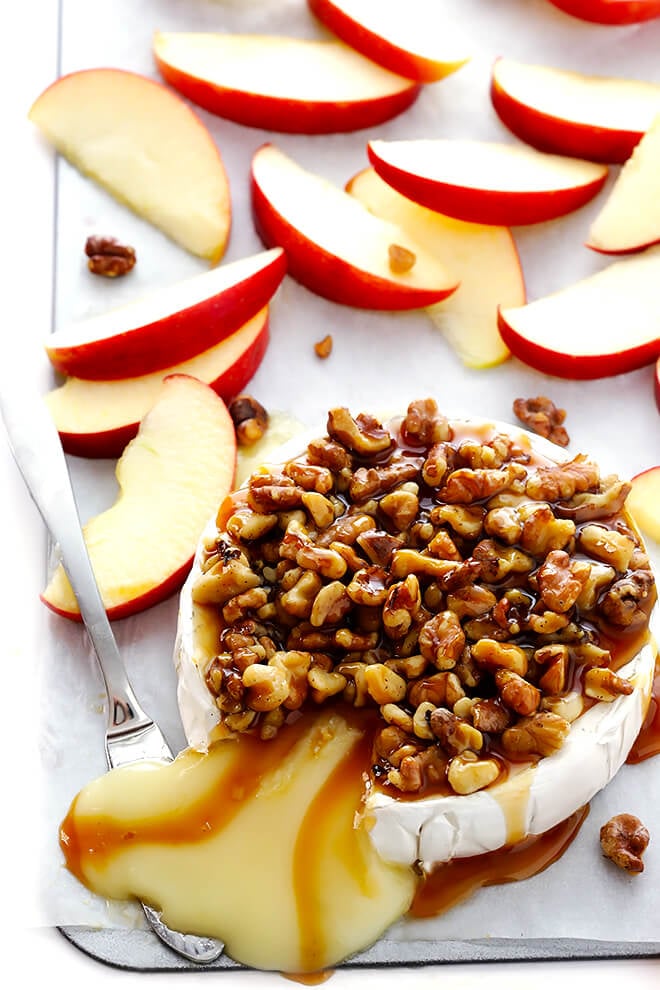 I served mine with just some crispy apple slices, which was super yummy. But feel free to also serve with your favorite crackers, if you'd like, and/or chop up the apples to sprinkle on top with the nuts. Choices, choices. 🙂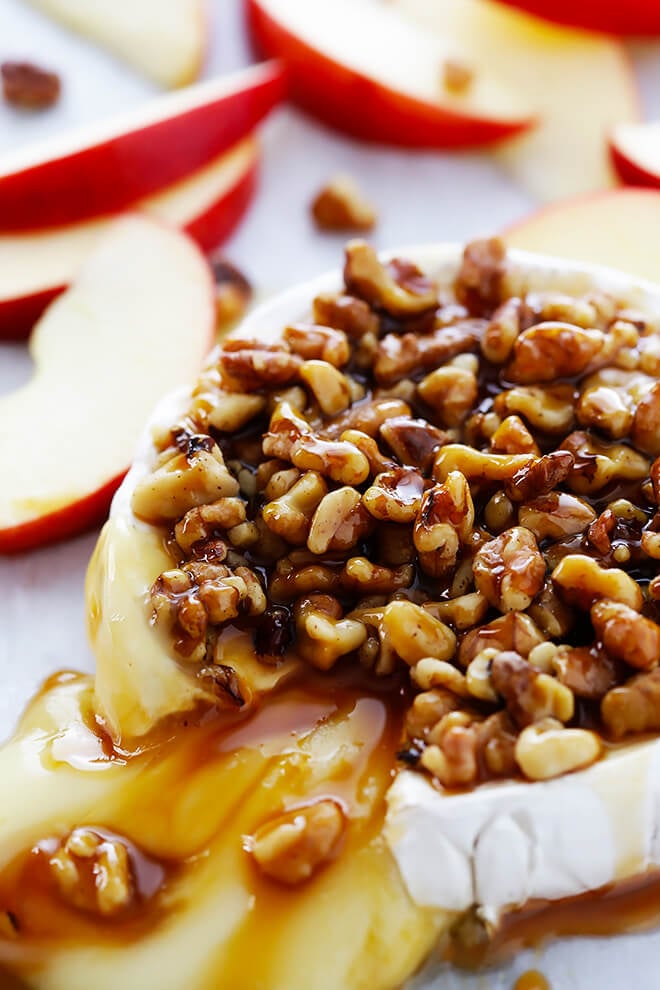 However you serve it, I'm pretty positive this one will be a hit with all of your loved ones. And with it being so quick and easy (and affordable!), it will hopefully give you all the more time to spend with them. Enjoy, everyone!
Print
10-Minute Caramel Apple Baked Brie

Prep Time: 1 minutes


Cook Time: 9 minutes


Total Time: 10 minutes


Yield: 8 –10 servings 1x
---
Description
This delicious Caramel Apple Baked Brie recipe can be ready to go from start to finish in about 10 minutes, and it's the perfect sweet and savory appetizer for a party!
---
1

wheel Happy Farms brie (from ALDI)

1/2 cup

chopped walnuts or pecans

1/3 cup

caramel sauce, homemade or store-bought

3

apples, cored and sliced
---
Instructions
Preheat oven to 350°F.  Line a small baking sheet with parchment paper.

Place brie on the baking sheet, and sprinkle the chopped walnuts evenly on top of the brie.  Bake for 8-10 minutes, or until the brie is warmed through and starts to ooze out a bit.  (To save time, I recommend slicing the apples while the brie is baking.)

Remove from heat, and drizzle the caramel sauce on top of the brie.

Serve immediately with apples for dipping.
---
This post has been sponsored by ALDI, one of my long-time favorite places to buy groceries. For more holiday ideas check out their Facebook, Twitter, Instagram, Pinterest and www.aldi.us/holidays! Thanks for continuing to support the brands who help make this site possible!